Briquette machine has advanced technology, reliable quality, multiple usage and strong pressure, which is suitable for large, medium and small enterprises to establish a certain production scale of production line. It is suitable for various molding of industrial gas, boiler, cold pressing focus, ignition briquette, briquette, civil metallurgy, refractory, medicine and other materials.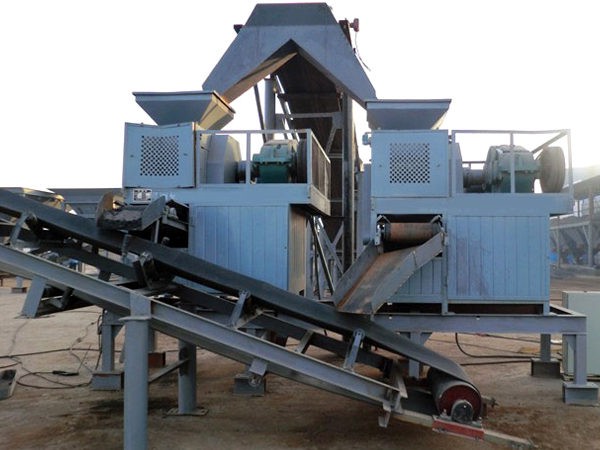 Through industrial use and improvement for many years, Fote briquette machine has many advantages such as high ball forming rate, small power consumption, compact structure, convenient maintenance and debugging when compared with other similar products. As everyone knows, when it is working, the material will enter into the device and then pressed by the double rollers, finally, they will become finished product. Therefore, the feeding mode of briquette machine is very important, and there are several specific ways which are commonly used during its daily operation. We believe that most people do not know, and some of the notes are very important, here we will introduce the main feeding modes of briquette machine for you:
One is the absorption of the material by the briquette machine, which is also known as the suction method. When the grinding hole of the briquette machine is very narrow, the material will enter into the machine very slowly, at this time, the suction method must be used, or it will cause the low ball forming rate, and the work efficiency will greatly fall behind, so as to affect the overall progress of the whole process. The second is the most common used one with wide application ranges, which is the falling method. It makes the material to fall into the briquette machine through the feed box or conveying equipment. So that the materials will be pressed into balls, and its effect is relatively good, which is also one of the easiest ways to control, so it has a wide range of applications. There are also up filling and down filling methods, the two methods are the opposite ways, but they are basically do not use very often.
The several feeding forms mentioned above can be chosen according to the different needs, but no matter what kind of method, you need to ensure the evenness of the material in the roller, which is directly linked to the finished product. If it cannot keep the homogeneous case, the ball forming rate can be greatly reduced, which needs more attention.