Application
Hydropower, building material, highway, city construction, metallurgy, coal mining and so on in granite, basalt, bank gravel, bauxite, cement clinker, quartz silicon carbide,limestone, river stone, etc.
Production Capacity: 500TPH
Configuration: Vibrating feeder, jaw crusher, vibrating screen, impact crusher, sand washing machine.
The Introduction of Limestone
Limestone is mainly composed of calcium carbonate (CaCO3), which can be directly processed into stone and fired into quicklime. The large amount of lime and limestone is used as a building material, and is also an important raw material for many industries. Lime has quicklime and cooked lime. Lime is mixed into lime paste, lime mortar and so on, which is used as coating material and brick and tile adhesive.

The Characteristics of Limestone
The particles are regularly dispersed and distributed in a variety of forms.
Broad granularity level
Soluble in acid, almost insoluble in water.
It is an important material of toothpaste medical medicine.
It is easy to decompose into calcium oxide and carbon dioxide at room temperature.
It has chemical resistance, acid resistance and various gas properties.
Configuration and Process
Limestone belongs to medium and low hardness. The configuration of jaw crusher and impact crusher can complete its gravel production operations. If it needs to produce mechanism sand, a sand maker can be configured after the impact crusher.
Standard Configuration
Vibrating feeder → jaw crusher → vibrating screen → impact crusher → vibrating screen → sand making machine → vibrating screen → sand washing machine → stockpile of finished materials.
Crushing Process>
The bulk limestone material is fed evenly by the vibrating feeder and conveyed to the jaw crusher for coarse crushing by belt conveyor. The materials after the coarse crushing are screened by a vibrating screen and then transported to the impact crusher.
After being crushed by impact crusher, the secondary crushed materials will be screened by a circular vibrating screen. Larger materials will return to impact crusher for re-crushing. The crushed materials will send to sand making a machine for further processing if finer materials and reshaping are needed.
The standard aggregates for general construction are between 0mm to 31.5mm. The vibrating screen can screen them into different sizes.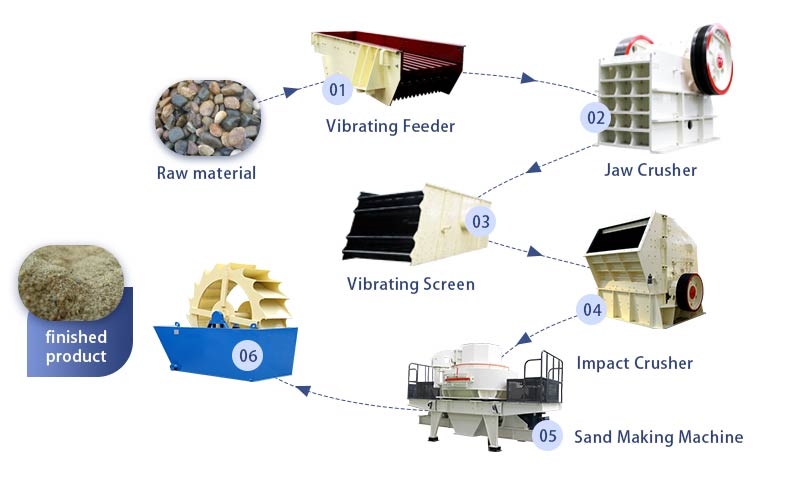 Manufacturer-Fote Machinery
At present, Fote Machinery has established thousands of limestone gravel production lines in more than 130 countries and regions, of which 500t/h large-scale limestone production lines are very popular. With the advantages of high production efficiency, stable operation, perfect grain shape, and environmental protection and less dust, 500t/h large limestone crushing plants have wide acclaim at home and abroad.
For more details and price of 500t/h large-scale limestone production line, please click online customer service, we will customize a professional production plan for you.