Abstract: Through the analysis of the current charcoal market, especially in India, this paper mainly introduces Fote charcoal briquetting plant in India and shows how to produce charcoal balls needed in various fields to meet the flourish charcoal market.
Charcoal is one of the main products of wood or lignin raw materials after incomplete combustion or pyrolysis of isolated air. As a substitute for coal, charcoal maintains wood's original structure as an impure carbonaceous substance, usually dark brown or black porous solid.
Main Applications of Charcoal
Compared with wood, charcoal has the advantage of no water or other components. This means that when burning charcoal at high temperature, there are less smoke and soot. In addition, it is easy to burn charcoal with no open fire, which makes it a good heat source for barbecue. In ancient times, it was often used to keep warm. And in modern times, charcoal has been used in many fields. About 50% of charcoal demand comes from the industrial sector.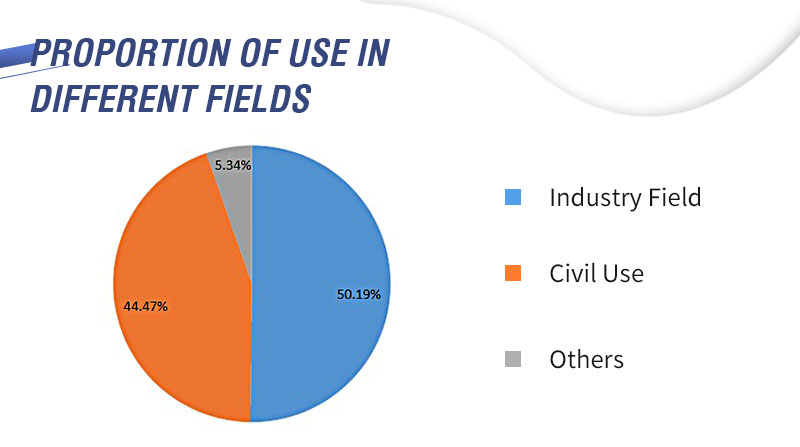 Data source: QYR Chemical & New Material Industry Research Center, July, 2018
Charcoal application as industrial fuel is mainly in smelting non-ferrous metals like iron, chromium and manganese.
As fuel, charcoal can also be used for boiler in power plants.
Charcoal is also used as the reductant for crystalline silicon, activated carbon, and alloy, etc.
Modern charcoal briquettes are widely used in outdoor cooking, especially camping barbecue.
Household heating equipment like fireplace, usually uses charcoal balls as fuel.
Compressed charcoal can also be used in art and as a drawing tool.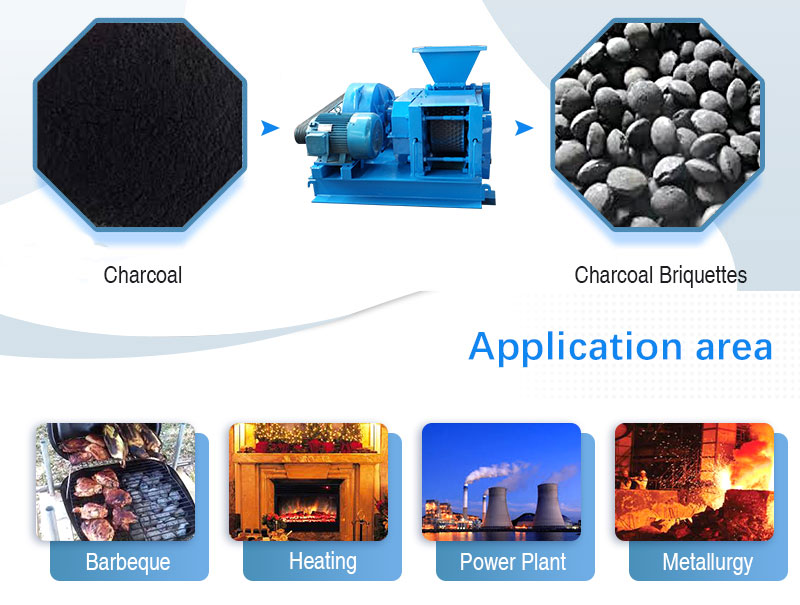 Applications of Charcoal
Charcoal Briquetting Machine Produces Barbeque Charcoal
Charcoal briquetting machine produces mechanism charcoal that is applied in various fields. The most important and closest to life is for camping barbecue and barbecue restaurants. Carbonized lignin materials are fed into charcoal ball press machine to produce smokeless charcoal. These materials are mainly sawdust, wood chips, bamboo chips, rice husk, peanut shell, cotton husk, corncob, cornstalk, etc.
This kind of mechanism charcoal is also called as raw charcoal or smokeless and clean charcoal. It has high density, high calorific value, smoke-free, tasteless, less pollution and other benefits, for which it is regarded as the environmentally friendly products internationally.

BBQ Charcoal from Charcoal Briquetting Machine
Traditional Mechanism Charcoal V.S. New-Type Mechanism Charcoal
Charcoal has a porous structure that makes it with a certain degree of water-absorbing quality. In addition, the charcoal occupies more space in transportation for its porous structure. Therefore, charcoal manufacturers usually use charcoal briquette machine for more convenient charcoal storage and transportation.
At present, there are mainly two methods to make charcoal balls, traditional charcoal briquettes making and new-type mechanism charcoal briquettes making.
The traditional charcoal briquettes making is to mold the wood materials first and then realize the carbonization. That is, in the production of traditional charcoal, manufacturers prepare raw materials firstly, mainly being sawdust or bamboo dust. After drying, these materials are molded and then carbonized.
The new-type charcoal briquettes making is rather simple. There is less requirements for the raw materials. Due to the carbonization is firstly happen, the raw materials can be powdery, particle or other shapes. Then a compound crusher can be alternatively used for decreasing the material size to make it qualified to be molded.
Either traditional mechanism charcoal or new-type mechanism charcoal making, the molding principle is the same. While the finished products have different quality and investors will spend different cost.
Adopting the latter method to produce charcoal briquettes, it is easy to crush the carbonized charcoal, which means the power consumption and the cost is rather low. Besides, crushed charcoal has strong malleable to meet different shape requirements.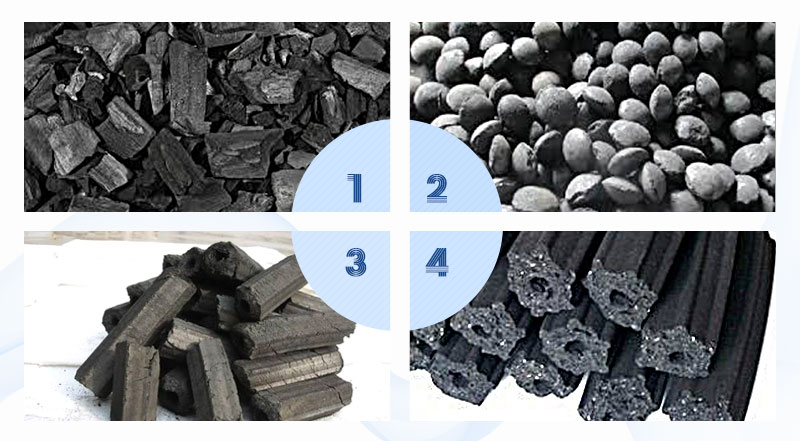 Different Types of Charcoal
Mechanism Charcoal Demand is in Big Demand
Currently, there are mainly three kinds of charcoal in the market, raw charcoal, mechanism charcoal and synthetic charcoal, among which mechanism charcoal is mostly used. According to statistics, mechanism charcoal accounted for 45% of global charcoal consumption in 2017.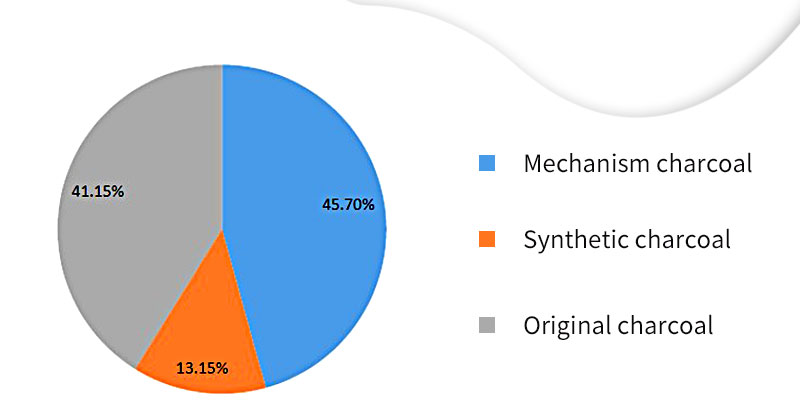 Data source: QYR Chemical & New Material Industry Research Center, July, 2018
As a famous agricultural and populous country, India's charcoal demand has always been among the highest in the world. It once reached 23,314 tons in 2014.
Charcoal Market in India
In 2017, India exported 32,858 tons of charcoal, an increase of 4,588 tons and 1,322 tons, respectively compared with 28,270 tons in 2015 and 31,536 tons in 2016. Export value reached $13,834, an increase of $4,517 and $3,587, respectively compared with $9,317 in 2015 and $10,247 in 2016.
| | | |
| --- | --- | --- |
| Year | Export Amount (Tons) | Export Value (USD) |
| 2015 | 28,270 | 9,317 |
| 2016 | 31,536 | 10,247 |
| 2017 | 32,858 | 13,834 |
Based on the table above, although in 2014, the charcoal export in India reached the highest in recent years, causing some impact on exports over the next three years. While since 2015, the charcoal exports have continued to grow. We can see that India's charcoal market still has promising prospects.
India BBQ Charcoal Briquetting Plant Cost
Mr. Mahesh, an investor from India searched our website online. Fote engineer communicated with him online and learned that he needed a charcoal briquettes production line to deal with carbonized coconut shells, sawdust and other wood materials. The finished products are used as exported barbeque charcoal. After several communications, he got the most suitable charcoal briquetting production line solution in line within budget.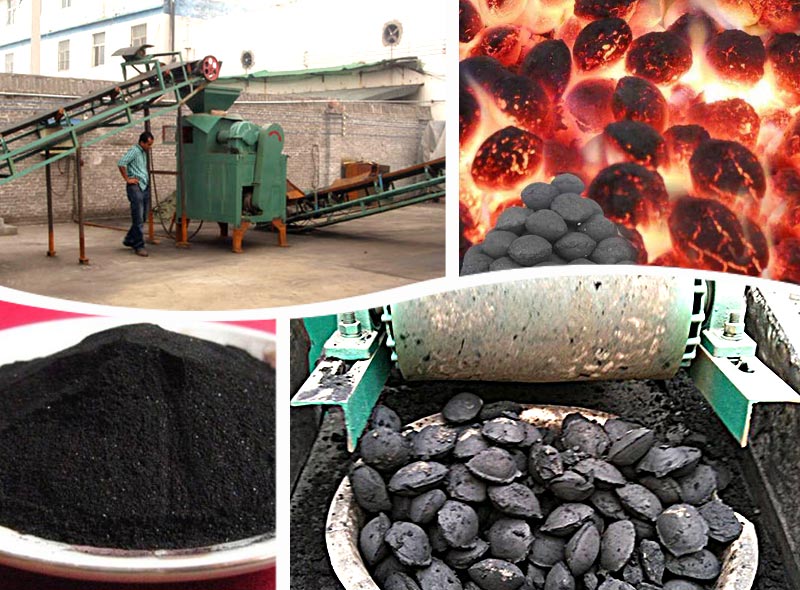 Fote Charcoal Briquetting Plant
Details of this Briquetting Line
According to the data from Mr. Mahesh, this briquetting line equips a compound crusher to crush large material to meet the feed size requirement of charcoal briquetting machine, a binder batcher to fully mix the binder and material and the key equipment, strong press briquette machine to finish the final process.
Name: Charcoal Briquetting Plant
Brand: Fote Machinery (FTM)
Processed Material: Carbonized coconut, sawdust
Capacity: 15TPH
Discharge Size: 90mm (Diameter)
Product Shape: Round

(Customized)

Warranty: 12 Months
Machine Color: Green (Customized)
Configuration: compound crusher, strong press briquetting machine, belt dryer, binder batcher, mixing mill, etc.
Compound Crusher
Compound crusher is also called combination crusher. When a compound crusher works, the material is thrown into the cylinder inner wall by the centrifugal force from the material dump plate. Then the crushing efficiency is improved by the collision, shear, extrusion and other forces. These forces are mainly between material and high speed rotating conical rotors and between the materials.
Benefits of the Compound Crusher
>>The gap between hammers and counterattack plates can be adjusted, which can meet a variety of material conditions. The compound crusher gets the function of fine crushing and rough grinding.
>>The vulnerable parts are made of high hardness, high toughness and multi-component alloy wear-resistant material. This material makes the crushing equipment service time improved by 2-3 times.
>>The working noise is less than 75 decibels (DB grade). It means less noise and dust pollution.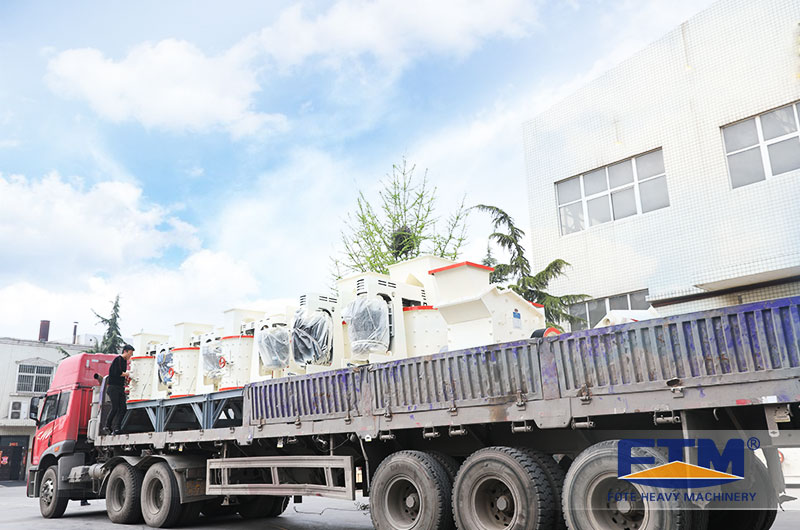 Compound Crusher in Shipment
Strong Press Charcoal Briquetting Machine
As the key equipment in this barbeque charcoal production line, strong press charcoal briquetting machine is to realize finished barbeque charcoal briquettes.
The raw material is fed evenly into two opposite rotating rollers. The unit forming pressure of the rollers to compress material changes from small to large with the rotation and reaches the maximum at the center line of the opposite roller. After the center line, the pressure turns to small again and the products falls down on the conveying belt.
Benefits of Strong Press Charcoal Briquetting Machine
>>High pressure from opposite rotating rollers makes the finished charcoal briquettes have high density, high strength, and high hardness.
>>Strong press briquetting machine has a strong adoptability. It can also be utilized to press various mineral powder, metal powder, pulverized coal and other materials.
>>The wearable parts are made of 65Mn. This arrangement allows a good wear resistance and a long service life.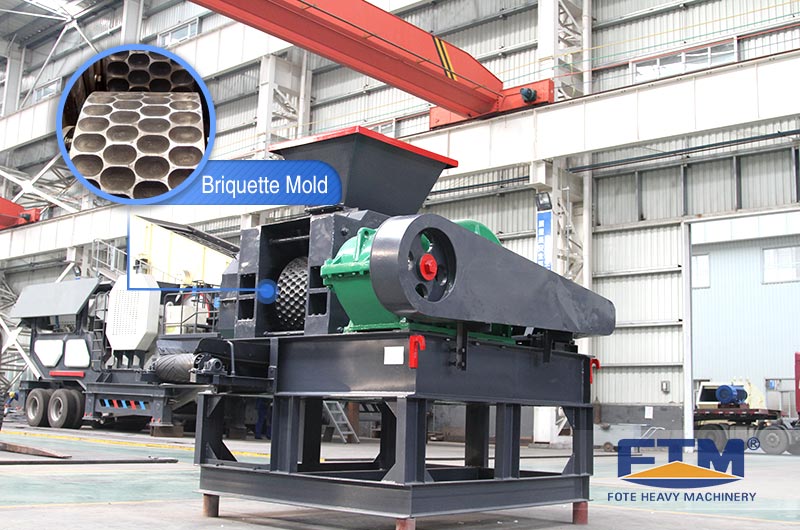 Charcoal Briquetting Machine
Belt Dryer
Belt dryer is a kind of drying equipment with volume and continuous work. It is primarily for dehydration and drying of flake, strip and granule materials with good air permeability.
In this BBQ charcoal briquette line, finished product is transported to the plate conveyor. Then it is evenly distributed on the net of the dryer through the hanging plate at the upper end. The transmission device drives the net and the heat exchange is realized in the material forward moving.
Benefits of Belt Dryer
>>Small occupied area makes this type of dryer a suitable equipment in charcoal briquetting plant.
>>Belt dryer works standardized. Based on different need, amount of the drying belt can be changed.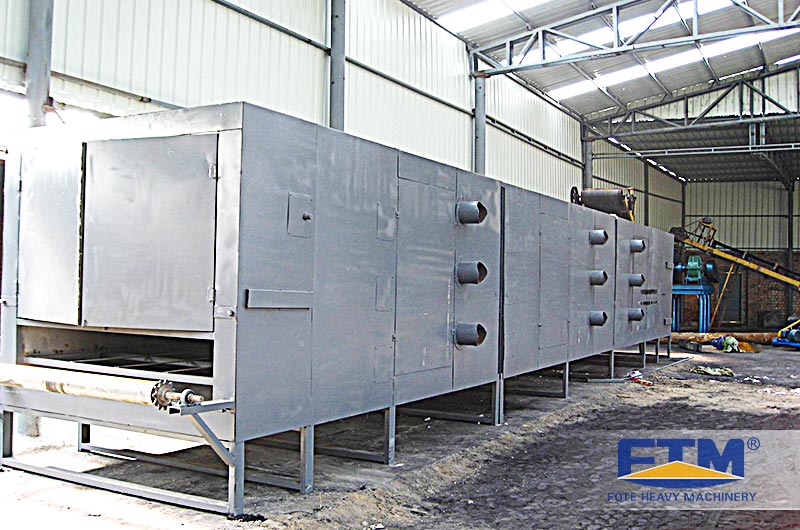 Belt Dryer
Other Devices
Wheel Grinding Mixer
This wheel grinding mixer in this India charcoal briquetting plant is to grind, stir and mix the crushed charcoal powder to ensure its molding technique.
Binder Batcher
Binder batcher is also called adhesive mixer. It is mainly used to mix materials and adhesives evenly and quickly. This machine has the function to increase the viscosity of charcoal, which is conducive to the molding of charcoal pressure ball.
Dosing Feeder Machine
Dosing feeder machine is applied in different workplaces. This feeder machine equipped in BBQ charcoal briquettes production line is to convey batched charcoal powder from binder batcher. It is composed of storage hopper, weighing system, feeding system, etc.
Material Requirements in Barbeque Charcoal Briquetting Line
1. The feed size shall be below 8mm to ensure the briquette efficiency.
2. There should be clear of large amount of impurities, especially large metal particles to avoid harm to the roller surface.
3. The feed shall be evenly and stable to ensure the charcoal briquetting efficiency.
BBQ Charcoal Briquetting Plant Setup Cost
From material selection to machine introduction and then to production, the cost of charcoal pressing ball production line is mainly reflected in raw material cost, machine purchase and labor investment.
Raw Material Cost
The raw material of charcoal briquettes has a wide source. Commonly, it is from carbonized sawdust, bamboo powder, wood chips, fruit shell, fruit core (coconut shell, peach stone) and other wood raw materials. Besides, there is some other material used in charcoal production line like charcoal residue, charcoal powder, natural coke, or charred charcoal. Either common material or other material, they are mostly tailings to give the charcoal briquettes production a low cost.
Machine Purchase
One investor will definitely spend differently on each machine of a production line from on a whole set. No matter the matching products, vibrating screen, conveyor belt, or the main products, compound crusher, briquetting machine, each machine in the charcoal ball press production line has lower cost than many other mining machines. There will be surely a discount if a whole set is introduced.
Besides, the compound crusher and belt dryer can be equipped or not based on different requirements and the material. Therefore, a barbecue charcoal briquetting production line price is very friendly for cash-strapped investors.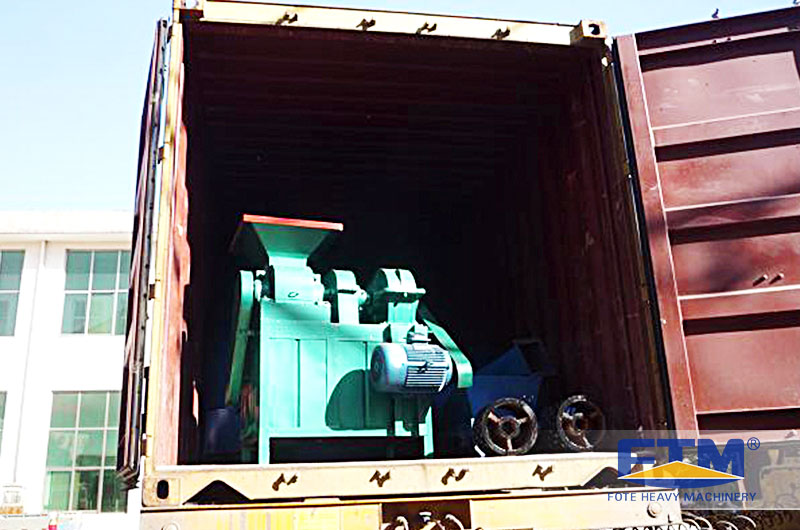 Fote Charcoal Briquetting Machine in Shipment
Labor Cost
From selective crushing, to stirring, molding and drying, vibrating screen, conveyor belt and other combining devices can connect each individual machine into a whole. This design greatly improves the automation and work continuity of the whole briquetting line. Therefore, the labor investment in the BBQ charcoal briquettes production line can also be adjusted according to investors' needs.
Customer Feedback
Mr. Mahesh sent a feedback to Kristen, indicating that the customized BBQ charcoal briquetting plant solution has a reasonable cost and has worked well so far. The finished products, charcoal briquettes have a uniform shape and qualified size. Besides, each product has a high density. It is convenient for storage and transportation.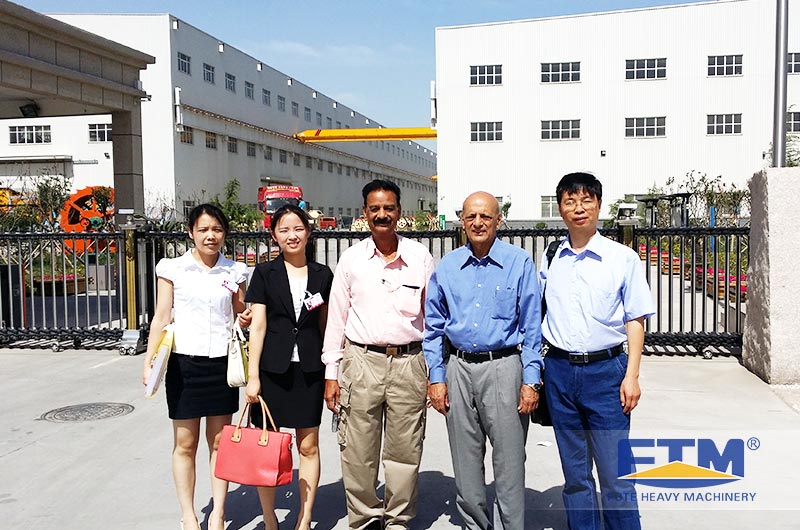 Customers Visited Fote Factory
Flourish Charcoal Market
Biomass fuels are the fourth largest energy source in the world, meeting basic energy needs from folk cooking, heating and industrial fuels. Most charcoal producers are of small and medium-sized, with Brazil, Nigeria, Ethiopia, India and China as the leading charcoal suppliers.
In 2017, the global production of charcoal was 5.0995 million tons. Despite many adverse factors, including environmental problems, the market demand is gradually expanding. According to the prediction from some institution, by 2024, global charcoal production is expected to reach $17.2 billion.
It is easy to take material for charcoal production, and carbonization technology and charcoal briquettes production line technology are more mature than before. As one of the largest exporters and consumers of charcoal, India's energy needs can be effectively met through charcoal. The investment in the production line of charcoal pressure ball will be in line with the demand.
Data Source:
[1]. https://www.qyresearch.com
[2]. http://www.factfish.com