What is Calcium Carbonate?
Calcium carbonate(CaCO3) is an inorganic compound, commonly known as lime, limestone, stone powder, marble, etc. Calcium carbonate is neutral, substantially insoluble in water and soluble in hydrochloric acid. It is one of the common substances on the earth which can be found in calcite, cretaceous, limestone, marble, etc. Besides, it is also the main component of animal bones or shells. Calcium carbonate plays an important role in building material and is widely used in the industry. For example, it can be used in papermaking, metallurgy, glass, alkali making, rubber, medicine, pigment, organic chemical, etc.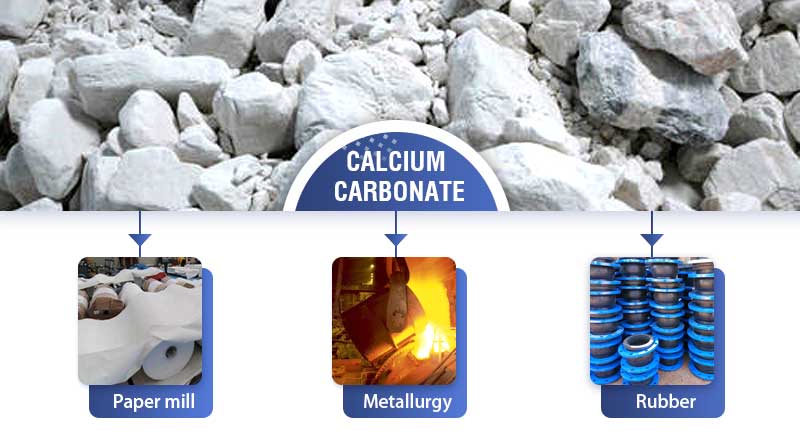 Applications of Calcium Carbonate
Main Classification of Calcium Carbonate
According to the production methods, calcium carbonate can be subdivided into ground calcium carbonate, light calcium carbonate, colloidal calcium carbonate and crystal calcium carbonate. The main difference between ground calcium carbonate and light calcium carbonate is the size of sedimentation volume. The principal difference between crystal calcium carbonate and other calcium carbonate is whether the atoms and ions that make up calcium carbonate are arranged regularly.
Brief Introduction of Calcium Carbonate Plant
As a dry production process, the grinding line is primarily used in ground calcium carbonate production. It is made of natural carbonate minerals such as calcite, marble, limestone and so on. Whole calcium carbonate production includes the coarse crushing process, grinding process, and separating process. The core equipment is the grinding machine. Fote Machinery supplies a variety of grinders including Raymond mill, HGM or European series grinding mill, Three-ring medium-speed micro grinding mill and other customized grinding machines.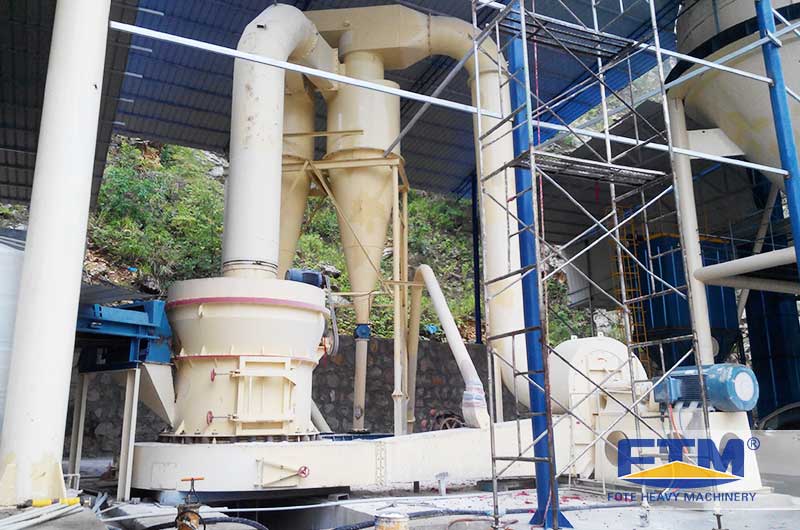 Calcium Carbonate Plant
Calcium Carbonate Grinding Plant Main Process--Taking Indian Production Line
Taking the Indian calcium carbonate grinding production line as an example, here briefly introduces the solution of this grinding line. The grinding line production capacity at our Indian customer site is about 50TPH, the discharge particle size is 650 mesh. The customer found our salesperson on LinkedIn. We contacted the customer within 24 hours after the request was sent to us and soon provided him with a whole solution to customize the machine design and delivery. After using for a period of time, the customer has good feedback, feels that the finished powder is good, and the machine operates reliably.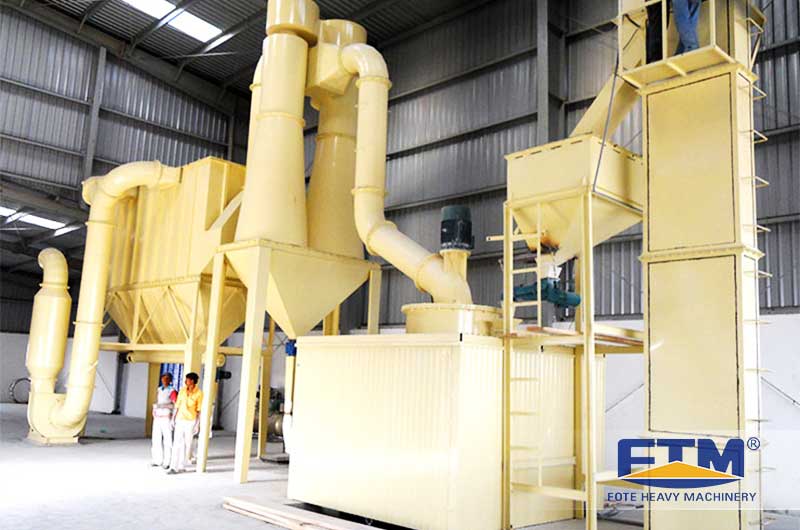 Calcium Carbonate Grinding Plant in India
This India calcium carbonate grinding line includes Raymond mill, bucket elevator, dust removal machine, dust collector, powder separator, vibrating feeder, etc.
Calcium carbonate powder making line is mainly composed of jaw crusher, calcium carbonate miller, powder concentrator, bucket elevator, vibrating feeder, pulse dust collector, high-pressure fan, electrical control system, etc. To improve grinding efficiency, the raw materials shall be first crushed into smaller pieces. The jaw crusher is such a machine to do the coarse crushing. Under the extrusion of two jaws, raw materials get primary crushed and then are sent into the grinder by bucket elevator. The separator inside the grinder will classify powder into different particles. Disqualified particles will be back to the grinding rollers for another grinding. Qualified ones are exhausted out and conveyed to be packed.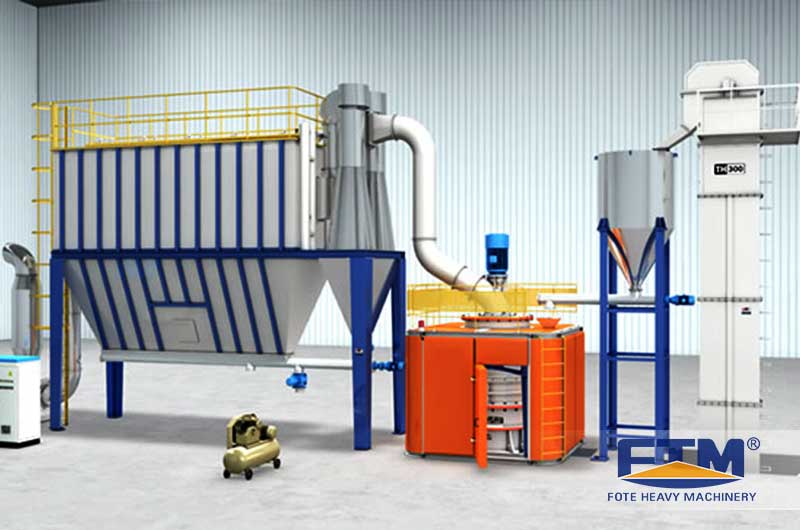 Calcium Carbonate Production Flow
Selection of Calcium Carbonate Mill
Calcium carbonate mill is mainly utilized for processing limestone, calcite, dolomite, barite, talc, calcium carbonate, gypsum, bentonite, and other materials.
>>Coarse Powder Processing (0-3mm)
High-strength grinding mill is an ideal choice for coarse powder production, which can produce 30 to 80 mesh calcium carbonate coarse powder.
>>Fine powder Processing (20mesh to 400mesh)
R-type Raymond mill is suitable for producing 20mesh to 400mesh calcium carbonate powder.
>>Superfine powder Processing (400 mesh-1250mesh)
HGM series grinding mill with German advanced technology can produce the superfine powder. The fineness of calcium carbonate can be adjusted arbitrarily between 80-1250mesh.
>>Micro powder Processing (1250 mesh-3250 Mesh)
Three-ring medium-speed micro grinding mill has the features of high fineness and low energy consumption. This makes it the ideal equipment for dry process production of ground calcium carbonate powder.
Calcium Carbonate Grinding Machine Manufacturer
As a professional calcium carbonate grinding machine manufacturer, Fote Machinery has witnessed about 40-year development of miller machine. We have exported grinding machines to over 200 countries, like India, Indonesia, South Africa, Turkey, Malaysia, Hayti, America, etc. Over 360 experienced engineers and more than 2300 skilled employees are waiting here to offer you customized solution. Fote supplies customers site installation guidance and operator training. Welcome to chat online with Fote engineers 7X24 hours or email at quote@sinoftm.com.