Application
Gypsum, feldspar, calcite, talc, barite, fluorite, rare earth, marble, ceramics, coal, bauxite, manganese, phosphate rock, etc. in building materials, chemicals, fertilizer, metallurgy, mining, refractory, ceramic, steel, thermal power, etc.
Production Capacity: 1-30 TPH
Configuration: Jaw crusher, impact crusher, Raymond mill, bucket elevator, vibrating feeder, vibrating screen, etc.
Brief Introduction of Gypsum
Gypsum is a kind of mineral, which is widely used in industrial materials, medical materials and building materials. It can be used as cement retarder, gypsum building products, model making, medical food additives, sulfuric acid production, paper making, paint making, fracture fixation and so on. Besides, it can also be used as chalk for blackboard. The micro porous structure and heating dehydration of gypsum and its products guarantee an excellent sound insulation, heat insulation and fire resistance.
Brief Introduction of Gypsum Grinding Plant
Gypsum powder plant is a kind of micronized line that turns natural dihydrate gypsum ore (raw gypsum) or industrial by-product gypsum (desulphurization gypsum, phosphate gypsum, etc.) into construction gypsum (calcined gypsum) through crushing, grinding, heating and certain-temperature calcination. Fineness demand of architectural gypsum is generally 200 meshes. Fote Raymond mill, ultra-fine mill, and HGM series mill can meet its production requirements.

FTM Solution on Gypsum Powder Making Line
On the basis of more than 20 years of experience in the development and production of grinding equipment, Fote Machinery designs a complete set of gypsum powder production line according to the characteristics of gypsum. The production line is a dry process, which can directly grind the gypsum into appropriate fineness that meets the "architectural gypsum" GB/t9776-2008 standard through the frequency conversion and high-efficiency separator. So there is no need to undergo external screening or sorting.
At the same time, this production line uses the internal circulation wind, which can quickly elect qualified gypsum powder and completely avoids the attrition phenomenon, thus greatly enhancing the output and the production efficiency. Furthermore, this system uses an advanced dust catcher, so its production can meet environmental requirements.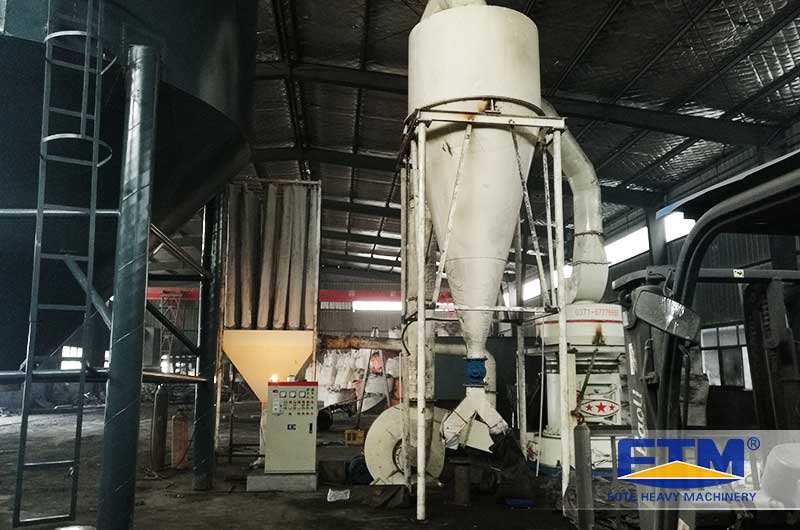 Simple Work Process of 200-Mesh Gypsum Powder Production Line
>>Crusher will crush the large size gypsum ore into small pieces of particles less than 30mm. Then the small particles are fed into the mill by bucket elevator for grinding.
>>Powder separator sends the raw gypsum powder that reaches the required fineness into the rotary kiln for calcination. The unqualified powder will return to the grinding mill for regrinding until being qualified.
>>The qualified gypsum powder after calcination is conveyed into the clinker storage or the product workshop for using.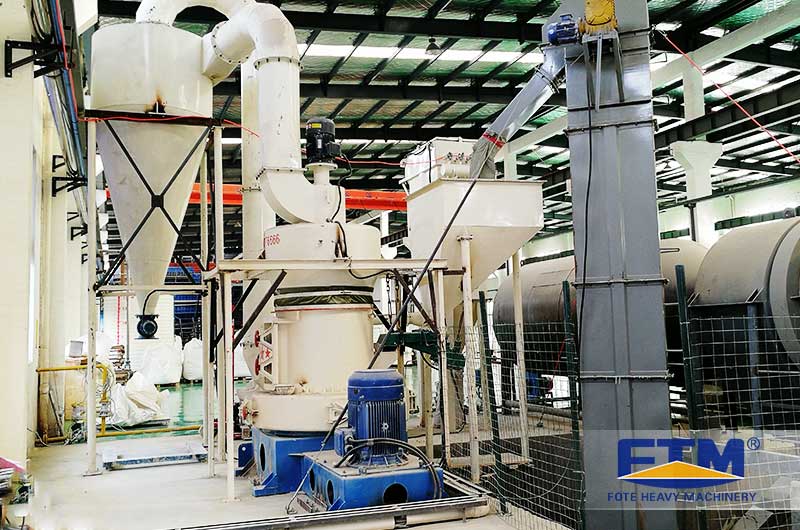 Cases of FTM Gypsum Grinding Solution
So far, hundreds of Fote Machinery gypsum grinding solutions have applied in Iran, Nigeria, Romania, Mexico, Ethiopia, Tanzania, and other regions. For the well-running production lines, Fote Machinery is unanimously recognized and affirmed by the vast number of international customers. For more information about the gypsum powder plant, please click online chat or leave the details of your requirements. We will customize the professional solution for you and send the price.