Limestone is kind of carbonate rocks mainly composed of square-solution stone. It is an important raw material in metallurgy, building materials, chemical industry, light industry, construction, agriculture and other special industrial sectors. At the same time, limestone is also the main raw material for burning lime and cement, which is the flux of iron-making and steelmaking.
Lime has excellent properties, such as thermal conductivity, firmness, water absorption, airtight, sound insulation, polishing, good cementation and machinability. It can be directly used as raw ore or deep processing. With the development of steel and cement industry, the importance of limestone will be further enhanced. The limestone resources in China are large in reserves and good in quality. Therefore, China's larger limestone mines usually use the methods of washing, crushing and grading to eliminate the pollution of surface soil, gravel, viscous mud group on sand and gravel.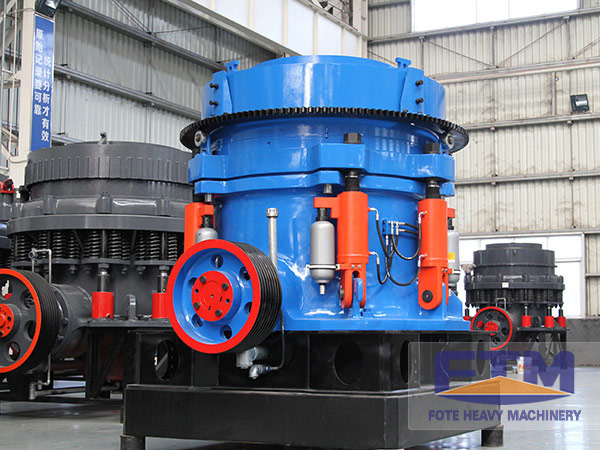 Crushing as the main processing method cannot be separated from crushers. There are so many crushers with various types and specifications in the market, how to choose a suitable crusher to process limestone? Fote Machinery recommends cone crusher. It has higher efficiency on limestone crushing.
Why is the Cone Crusher More Suitable for Processing Limestone?
1. Good Product Quality
Fote cone crusher uses lamination crushing principles. The large pieces of limestone are repeatedly squeezed between the crushing walls and the mortar walls and then crushed into smaller limestone stones. Limestone that meets the requirements can go through the narrow gap of crushing cavity and then discharged from the bottom of the discharge opening. The finished products of cone crusher are more uniform and less needle flake content.
2. High Production Capacity
Cone crusher has higher processing capacity on limestone crushing. It uses optimized structure, which has 5% to 15% higher efficiency than the old equipment.
3. High Yield
For the crushing of limestone, cone crusher combines crushing stroke, speed and cavity, which has 35% to 60% higher capacity than usual.