Crawler mobile crusher is a kind of high efficiency crushing equipment, which adopts self drive mode, advanced technology and complete functions. In any terrain conditions and any position, this equipment can reach the working sites. So that it can reduce the material handling operations and all auxiliary mechanical equipment coordination. Mobile crushing plant is operated through a wireless remote control and you can very easily drive the crusher to the trailer, and deliver it to the work place. Because it has no assembly time, so the equipment can be put to work immediately as soon as it reaches the crushing sites. It has large crushing ratio, and the optimized design can meet the needs of crushing technology, which is mostly in need of high productivity and product uniformity.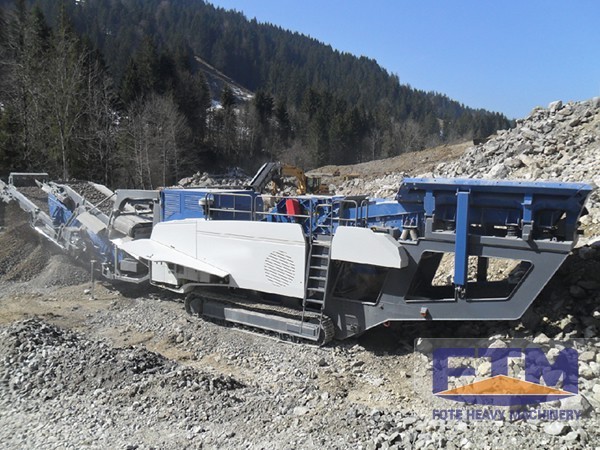 Mobile crusher has wide application fields, such as mining industry and construction waste disposal industry. Crawler mobile crusher is the integration of feeding, crushing and conveying, through the optimized process; it has excellent rock crushing, aggregate production and open pit mining crushing performance. It can also be combined with different models to form a powerful crushing for industry pipeline. With the market demand, independent research and development, mobile crusher has been successfully developed, which is the tracked vehicle with full hydraulic driving, walking mobile chassis for crushing and screening. The machine has the advantages of high performance, high reliability and beautiful appearance, which has reached the level of the international similar products. Mobile crusher is the most stable crushing equipment with most advanced production technology.
Fote Machinery has complete mobile crusher models, which can be divided into the jaw mobile crusher, impact mobile crusher, cone crusher mobile crusher and so on. At the same time, we can put forward multi combination according to expanded demand for the high-end customers to maximum extent. It also can be configured with the primary, secondary and tertiary crushing of materials according to the different needs of customers, as well as the portfolio optimization of crushing and screening systems.