Rotary kiln is mainly used in the grinding of products or raw material in cement plants, which is also applied to the grinding all kinds of ores and other materials in metallurgical, chemical industry, electric power and other industrial and mining enterprises. It can be used for open circuit grinding, and also applies to the circle flow grinding with powder selecting machine. Rotary kiln has high adaptability to raw materials, continuous production, high crushing ratio, easy speed grinding fineness of product, etc. Rotary kiln can realize dry production, which can also realize wet process production, and it can also realize the simultaneous operation of grinding and drying.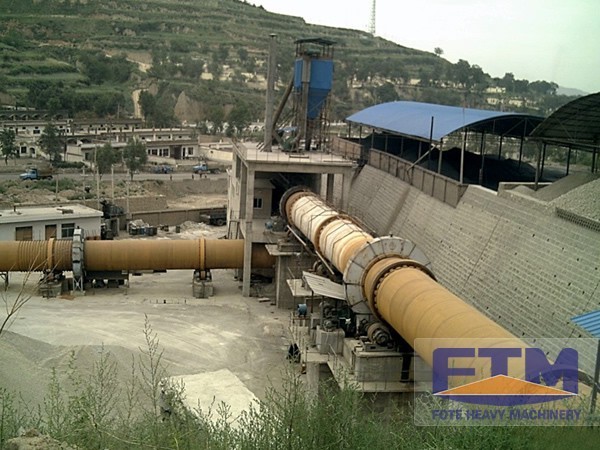 Fote rotary kiln equipment breaks the traditional rotary kiln structure mode, the dispersal and burdening plan of wind has been further improved, which improves the clinker quality and energy consumption reduction. In the dry process of rotary kiln, the used raw material is powder, which has less moisture, thus greatly reducing the heat of evaporation. But the dry hollow kiln and no residual heat utilization device will lead to the occurrence of pollution phenomenon; therefore it takes place of wet type. The further development of dry process production has low energy consumption and good quality. The new technology of rotary kiln device has become a trend in recent years. The kiln cylinder body is short, the yield is high and the use of the dust collector can highlight the advantages in energy saving and environmental protection aspects.
Fote rotary kiln technology and performance products have a direct relationship with its quality. In the building materials industry, it is mainly used for calcining clinker for general use. In the mineral processing industry, it is used in rotary kiln roasting magnetic iron ore, which is more conducive to the magnetic separation. The progress of science and technology has promoted the efficient environmental protection and energy-saving device of rotary kiln in the development direction of the rotary kiln. With the processing of rotary kiln, it can make full use of resources. Fote Machinery not only provides high quality rotary kiln equipment, but also offers comprehensive technical support for the vast number of users. New and old customers are warmly welcomed to contact us!