As the main equipment of the sand making production line, sand maker has a direct effect on the production capacity and quality of finished sand. However, sand make will suffer problems of rust and abrasion after long term use and working, which will result in serious wear and tear problem and shorten its service life. Fote Machinery has made a summary on how to effectively remove rust on the sand maker after its long term practice. They are can be referenced.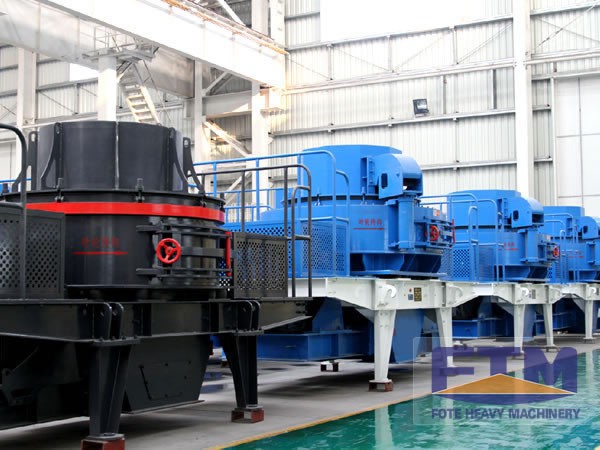 1. Apply Anti-Oxidant Paint
Paint mineral oil,firing enamel or spray on the surface of iron products and plate with a layer of rust-proof metal, such as zinc, tin, chromium and nickel on the surface of steel. A layer of dense oxide film formed on these metal surfaces will effectively prevent touch between products and water, air or other substances.
2. Chemical Rust Removal
Use the chemical reaction between the acid and metal oxide to remove the metal products on the surface of sand maker. This method is generally called acid pickling and rust removing that is only operated in the workshop.
3. High Pressure Abrasive Water Rust Removal
Using high pressure water jet impact (in addition to the role of abrasive grinding) and the prized role of water damages the adhesion force between the corrosion and the coating. This method has advantages of free dust pollution and steel plate damage, high rust removal efficiency. However, the removing rust is easy back to the shelf plate again. The paint prones to be wet with a special coating rust paints
4. Small Pneumatic or Electric Rust Removal
Rust removal equipment is drove by electric or compressed air to make reciprocating or rotary motion. This kind of rust removal equipment is semi-mechanized equipment consisting of angle wind needle beam derusting, pneumatic knock rust hammer, tooth type rotary derusting and wire brush. With advantages of lightweight tool, large mobility and thorough dust removal work, it is easy to make a furring treatment to the coating. However, High-quality surface treatment is not available.