Coal briquette machine is also called coal briquetting machine, which is a kind of briquette machine to press powdered materials into balls. Its application is very extensive in briquette production fields; coal briquette machine can press pulverized coal into balls, so as to improve the combustion value of the coal, which is convenient for transportation. With the increasingly rising of coal prices, coal briquette machine is widely used. During the following passage, we will talk about the influence of coal briquette machine rollers on the molding process.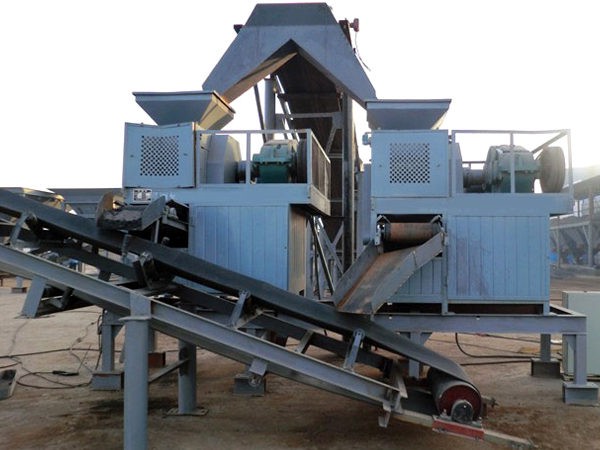 First of all, the distance between the two pressing rollers of coal briquette machine and the compression ratio is inversely proportional, although the reduction of distance can improve the molding pressure. When the distance between the two rollers is small, the coal is not easy to fill the ball bowl, which would affect the quality of coal briquette. When the distance is too large, the coal briquette will fall off when the forming pressure has not yet passed to the central part, which will not only affect the strength of briquettes, briquettes will become too thick, many flash cinder, or even different to be pressed into balls. Therefore, in the assembly of the pressing rollers, special attention should be paid to adjust the distance between them; the general control in the 2-3m is appropriate. In addition, in the assembling of pressing rollers, you should pay special attention to install them according to the row, column and strict alignment, so as to avoid the influence of the strength of briquettes and the fault mode.
In addition, although the compression time can reduce the pressure of the roller speed and increase the coal feeding on the pressure rollers, it is conducive to the transfer reaction between coal particles, so as to promote more close of coal particles. It also can overcome the shear ball bowl on the interface stress, which can enhance the briquette strength, but if the speed is too low, it will greatly reduced the yield of briquettes. If the pressure roller speed is too fast, it will not only make the compression time coal shortened, so as to reduce the briquette strength and release the impact of briquettes.
In a word, the updating and improving of briquette machine can effectively improve the overall coal production efficiency of the equipment. In the actual production, we must pay attention to every detail in the update of coal briquette equipment. If you do not pay attention to equipment economic effect and improve its utilization rate, it will not fully play the role of the investment, and the ultimate aim will not be achieved.