Preface: Waste mill scale occupies land resources and results in the waste of iron. Well, with the increasing need of steel and decreasing iron ore, a new recycling mode of mill scale that used in steelmaking industry appears. That is to make mill scale briquettes by metal powder briquetting machine. The recovered mill scale can used again in steelmaking and other industrial fields.
In this article, you will see:
3. Metal Powder Briquetting Machine for Recycling Mill Scale
4. Case of Metal Powder Briquetting Machine for Recycling Mill Scale in Russia
5. Other Applications of Metal Powder Briquetting Machine
6. Conclusion
What is Mill Scale?
Mill scale, also named as iron scale, is the iron oxide. It is produced on the surface of the steel when the rolled piece is cooled sharply in water during the forging and rolling process. Mill scale is generally referred to as scale. It accounts for 3-5% of the treated steel, in which the content of Fe element is up to 80-90%.
Generally, depending on the concentration of oxygen and iron in the oxidation process, different iron oxide products are formed. They are mainly FeO, Fe3O4 and Fe2O3, which are in blue, black and red respectively. The structure of mill scale is loose and porous, and the adhesive force is small. Therefore, it is easy to be removed and collected for industrial use.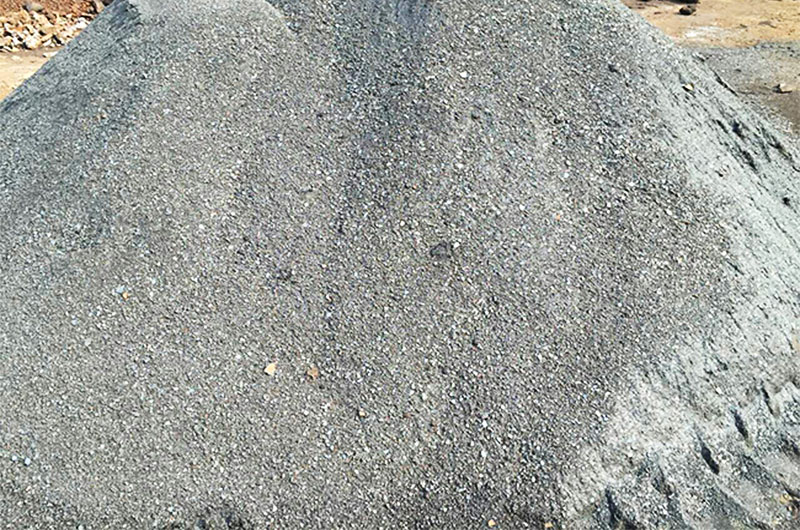 Mill Scale
Why Recycle Mill Scale?
The rational use of mill scale can reduce the production cost and play a role of environmental protection and energy saving. Moreover, collected mill scale are transported to sinter plant and are used in many other industrial fields.
1) Iron Oxide Red Production in Chemicals
Mill scale can be used in chemical plants to produce iron oxide red, iron oxide yellow, ferric chloride, ferrous sulfate and other materials. To be more specific, liquid phase precipitation method is usually used with mill scale as the main raw material to produce various hues of iron oxide red from yellow to purple.
2) Electric Furnace Steelmaking
Steel chips or steel dust is the main raw material in silicotitanium production. At present, the technology of silicotitanium with iron oxide instead of steel chips is mature and got a wide application. With silica and metallurgical coke particles, recycled mill scale is the raw material to make silicon iron under reduction.
3) Iron-Bearing Addictive to Sinter
On the one hand, mill scale has a rather big and relative relative granularity, which can improve the air permeability of sinter bed. On the other hand, FeO in mill scale releases a large amount of heat during combustion and oxidation to Fe2O3.
This can reduce solid fuel consumption and increase sintering productivity. Experience tells that 8% iron oxide scale can increase production by about 2% in sinter.
4) Fluxing Agent in Steelmaking
Mill scale can be used as cosolvent for ore melting and converter steelmaking. As a cosolvent in converter smelting, mill scale plays an efficient role in steelmaking. It can also reduce the consumption of coke and coal as well as extend the service life of converter body.
5) Sponge Iron Production
Sponge iron can be used in steelmaking to make up for the lack of steel scrap. With the increasing steel production of electric furnace, sponge iron is becoming more and more important. Adopting suitable technological process helps to recover iron oxide scale with coal powder.
This idea guarantees steelmaking industries sponge iron that bears more Fe, less impurity and stable composition. This kind of sponge iron is more suitable to be the alternative of steel scrap than that produced from ore, for which the latter contains more gangue impurities.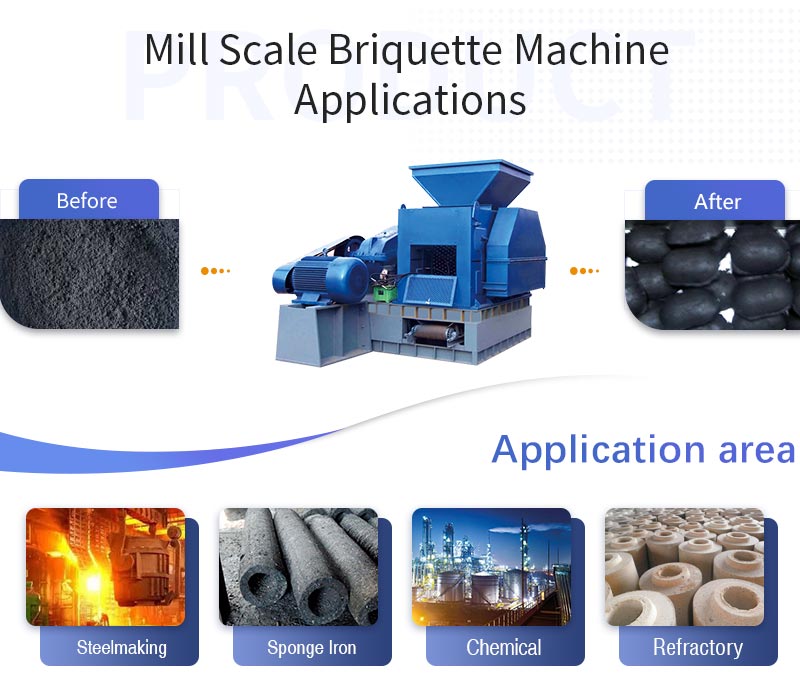 Mill Scale Briquette Machine Applications
Iron oxide scale is used in many industrial fields, while sometimes in the process, customers encounter some issues like storage and transportation inconvenience, serious pollution in direct use, etc.
After years of experience and research, a new recycle mode came out. That is to make mill scale briquette by metal powder briquetting machine. In this way, factories get energy consumption narrowed, production cost saved, and convenient storage.
Metal Powder Briquetting Machine for Recycling Mill Scale
As a kind of high-strength briquetting machine, metal powder briquetting machine works mainly by two opposite-rotating rollers. It is suitable for powder or particle materials which are difficult to be made into briquettes or can be mixed with water. For example, it can make briquettes for various oxide, metal ore powder, steel craps, iron slag, lead-zinc waste, aluminum ash powder and so on.
Thanks to the strong material adaptability, metal powder briquetting machine is widely used in smelting plants, refractory manufacturing, power plants, heating, transportation and other industrial fields. Where there are waste accessories in metallurgy and other industries that need to be baked, there is metal powder briquetting machine.
How Mill Scale Briquettes Form?
There is no need to add water when making mill scale briquettes. Only a small amount of adhesive is needed. Wheel-type mixer fully stirs the binder and mill scale. Mixed mill scale is fed into the briquette machine evenly by the conveyor belt. Lastly, the two rollers are driven to rotate in an opposite position and press the materials into required shapes.
Sometimes, the screw preloading is arranged to improve the productivity. The temperature of iron oxide scale briquettes is usually up to 30℃ or 40℃. It can be cooled just by stacking.
In order to meet the requirements of iron oxide briquettes forming, the metal ore powder briquetting machine equips electromagnetic speed-adjust motor to preload with a screw pillar. The speed regulation is realized manually. According to the iron scale ball forming situation, the operator can change the speed to adjust the forming rate and production capacity.
Pressed iron oxide scale is screened. Those qualified products are packed while the rest will be return for another briquetting process with new material. While if there are too large masses in the return material, crushing process is needed to break them to 2-3mm.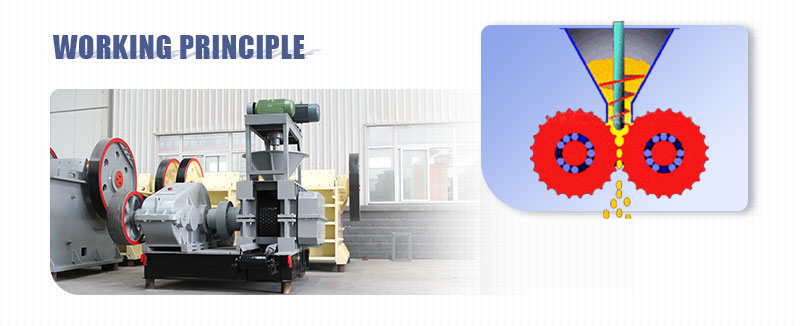 Metal Powder Briquetting Machine Working Principle
And if there are large bulks or there is more returned material than new material, the operator shall slow down the preloading or speed up the rollers to avoid overloading of the motor.
Generally, the c line is equipped with belt conveyor, dosing machine, binder mixer and so on. The conveyor ensures the uniform feed and the production line efficiency, reduce the idling and production cost.
Benefits of the Metal Powder Briquetting Machine
1. Simple and Compact Structure Makes It Convenient for Daily Maintenance
Metal ore powder briquetting machine is designed simply and reasonably. The whole machine is integrated with components such as a motor, two rollers, a spiral feeding device and the like. This invention makes the briquette machine small and save the occupied area. And it is very convenient to do daily maintenance.
2. Visual Operation, Stable Performance
There is an observation door to inspect the briquette process. Operators can adjust the metal powder briquetting machine based on the production situation during operation at any time. The adjustable automatic feeding system and the spiral preloading device also help to ensure the stability.
3. Special-Material Wear Parts, Long Service Life
The machine shell is cast with nodular cast iron, which is of high strength and good stability. It is not easy to deform, which prolongs the bearing service life. The rollers are made of 65Mn. After the strict heat treatment and careful machining, the rollers service time is prolonged.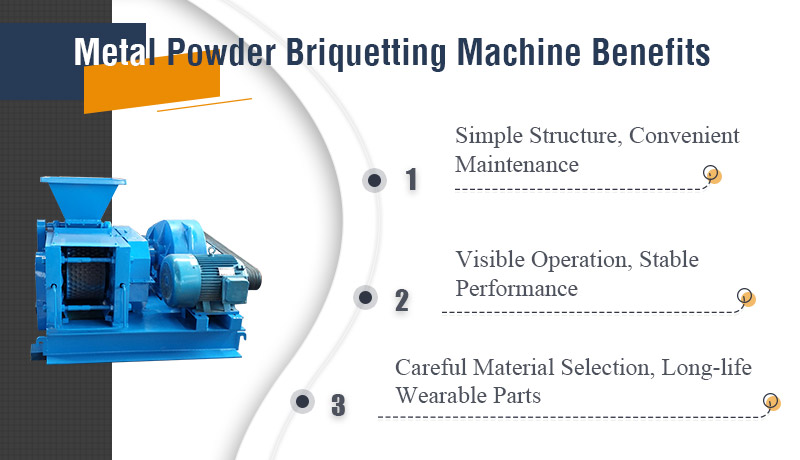 Metal Powder Briquetting Machine Benefits
Improve Mill Scale Briquetting Efficiency by Daily Maintenance
Clean the internal parts including the bearings, spiral, triangular liner, feed port, etc. Replace the lubricating grease of the bearing. When check the oil pressure of the cylinder, shut down the briquette machine in advance.
Besides, most metal powder briquetting machine works in bad working environment usually with continuous production. In the regular daily maintenance, be sure to check the tightness of the screw, the quantity of bunkers, the temperature of bearing and so on.
The maintenance of the rollers also needs to be carried out after each use of the machine. The operator should remember to clean the materials left in the rollers each time. If the metal powder briquetting machine is left used for a long time, it is difficult to clean the residue. This may affect the mill scale formation.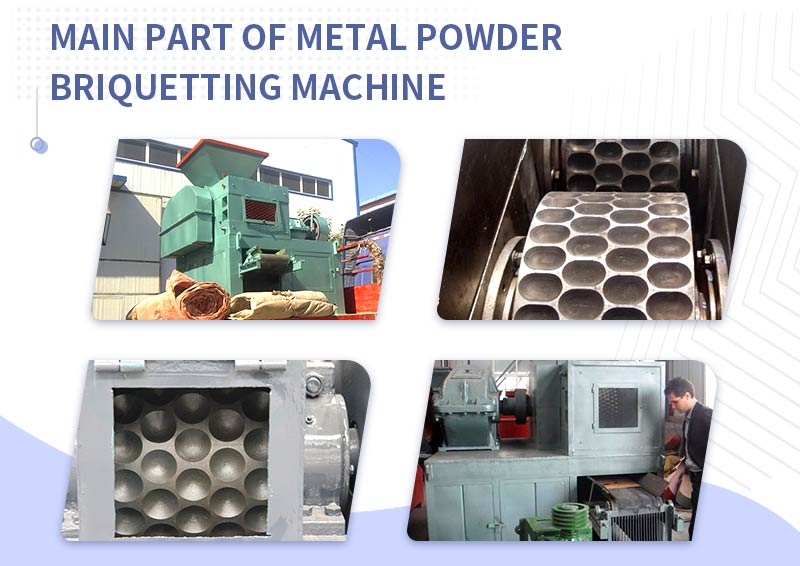 Main Part of Metal Powder Briquetting Machine
Case of Metal Powder Briquetting Machine for Recycling Mill Scale in Russia
Mr. Anton runs a steel-making plant in Samara, Russia. Due to the oxidation, a large amount of iron oxide sheet and other metal slag with high iron content are produced. Based on the principle of recycling resources and improving benefits, he found Fote Machinery through friends.
He expressed the specific needs through communication with online engineers, including the requirement of round finished products, about 35mm molding size and 15TPH capacity. The iron oxide briquettes are mainly used to replace partial iron ore in steelmaking, which reduces the production cost and saves resources.
Last week, Fote got feedback from Russia that the metal powder briquette production line is running well. Each machine including binder mixer, batching machine has very low failure rate. Most importantly, the molded iron oxide is even and solid. This makes it convenient and saves storage space for the iron oxide scrap.
Case of Metal Powder Briquetting Machine
Other Applications of Metal Powder Briquetting Machine
In addition to recovering iron oxide scale, metal powder briquetting machine also plays a role in iron powder briquette making, steel dust recovery, various alloy powder briquettes making and other industries. The following is a brief introduction to three applications.
Iron Powder Briquette Making
In the smelting, there are lots of metal powder which can be reused. Most powder are high in metallic element content, especially in iron. The powder can be collected and melted for second time.
However, it is easy to produce dust pollution if the metal powder is directly into the furnace. While the sintering method will cause high consumption. Metal powder briquetting machine can chill press iron powder into briquettes with the minimum energy consumption to create benefits for enterprises.
In addition, this kind of iron powder forming method is environmentally friendly and conforms to the environmental protection standards of most countries. Therefore, it is a favorite treatment method for many metallurgical enterprises.

Iron Powder Briquettes
Steel Dust Recovery
The international environmental protection policy is becoming more and more strict. The iron and steel enterprise, as a big environmental polluter, produces a large amount of steel chips or steel dust. This directly threatens the surrounding environment.
While these steel chips or dust contain iron, they are wasted and also pollutes the environment if thrown away. Therefore, using the metal powder briquetting machine is popular.

Alloy Powder Briquettes
Alloy Powder Briquettes Making
With the development of society, the demand for special materials is increasing day by day. Especially in the steelmaking process, it is necessary to add various alloy blocks. The traditional way is melting and casting the alloy materials into blocks by electric furnace, which is of high energy consumption. Due to the characteristics of low energy consumption, high efficiency and flexible production, metal powder briquetting machine can replace the traditional block method.

Steel Dust/Chips Briquettes
Conclusion
Environmental protection and energy saving are a permanent theme of common concern to all countries and enterprises. In the process of rapid development, enterprises and countries should not only make rational use of the developed ore resources, but also find new way to make full use of abandoned resources.
For example, metal powder briquetting machine is used to make briquettes of mill scale, metal slag and other metal waste into steelmaking production one more time. This is not only to save resources, but also to reduce the cost of raw materials and improve the efficiency of enterprises.