Introduction of Metal Powder Briquetting Machine
The metal powder briquette machine can form various metal powder, such as iron powder, copper powder, aluminum powder, tungsten powder, nickel powder, lead powder and so on, without adding any adhesive. The metal powder pressing machine directly processes raw materials into pressing blocks through cold forming process, without heating, adding additives and so on. In response to customer requests, Fote Machinery has developed a new generation of metal powder briquette machine that can press materials into various shapes, such as squares and ovals.
Applications of Metal Powder Briquetting Machine
The metal powder press machine can also be used to press other materials, such as gypsum, coal powder, ore powder, oxide skin, steel slag, iron powder and aluminum ash, which can also produce a variety of powder materials. Using forced pressurization, precision machining, and prepressing spiral steel billets can also be widely used in metallurgical material, chemical, coal, refractory, and other industries. Metal powder briquetting machine can press oxidize iron, dust, ash, blast furnace slag, manganese ore powder, silicon manganese alloy powder, iron smelting slag, ore concentrate and various ore powder materials in nonferrous metal industry into balls. So it is also called nonferrous metals briquetting machine.
Applications of Metal Powder Briquetting Machine
Metal power briquetting machine can be used to suppress coal powder, coke coal, , iron scrap, iron oxide sheet, carbon powder, tailings, sludge, kaolin, activated carbon, coke as well as other powder materials and waste residue.
Characteristics of Metal Powder Briquetting Machine
Good quality of finished products: The forming pressure is larger than before, so the finished product quality is better.
Easy to maintain: Molding system is safe and reliable, easy to replace internal parts, and less maintenance work
Small occupation: The structure is simple and compact, save the site and work reliably.
Smooth stripping, low noise and less dust.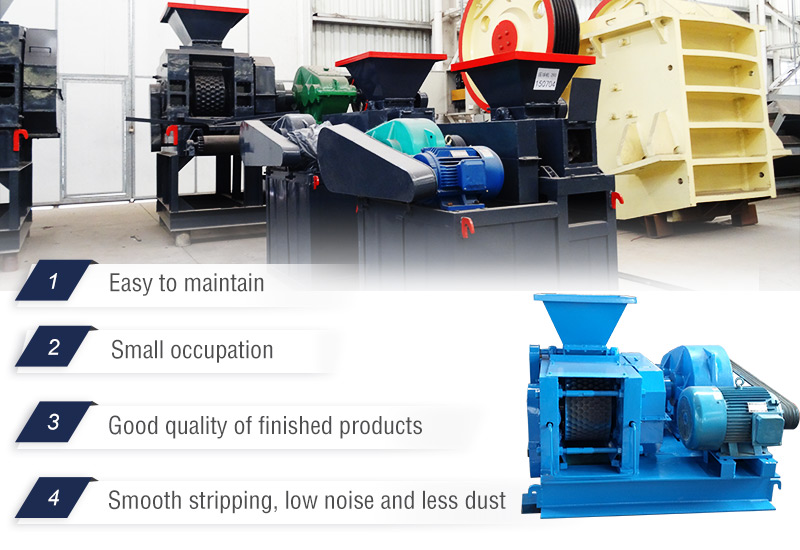 Features of Metal Powder Briquetting Machine
Structure and Composition
Metal powder briquette machine consists of three parts: Feeding part; Transmission part; Molding part.
1.Feeding part:The main purpose is to ensure the uniform feeding of materials into the roller. The screw feeding device is driven by an electromagnetic speed regulating motor and rotated by belt pulley and worm reducer to force the pressed material into the feed port. Due to the characteristics of constant moment of electromagnetic speed regulating motor, when the material quantity of screw feeder is equal to the material quantity required by the host machine, the constant feeding pressure can be maintained to stabilize the pellet quality.
2.Transmission part:The main drive system is motor - triangle belt - reducer - gear - roller. The main engine is powered by electromagnetic speed regulating motor, which is transmitted to the drive shaft through belt pulley, cylindrical gear reducer and coupling. Drive shaft and passive shaft ensure synchronous operation through gear.
3.Molding part:Mainly refers to the main part, the core part is the roll.
In the whole process, metal powder briquette machine can be free to choose according to the customer's actual situation.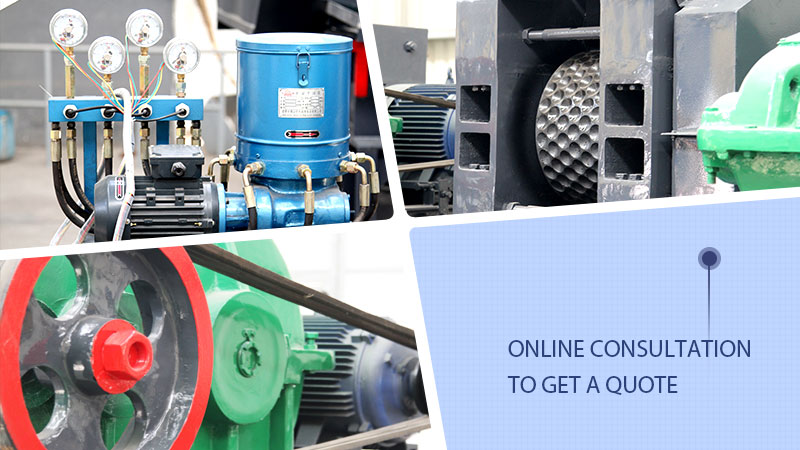 Structures of Metal Powder Briquetting Machine
Operation Instruction
1.The operator must carefully understand the contents of this manual in order to understand the performance of the machine and electrical control system, and cannot start work before relevant training.
2.In operation, the operator should first confirm the correctness of the machine work plan before continuous production.
After the machine stops, the operator should turn off the power switch, clean the mold cavity and other parts, so as to avoid curing the raw materials caused by the poor performance of the machine.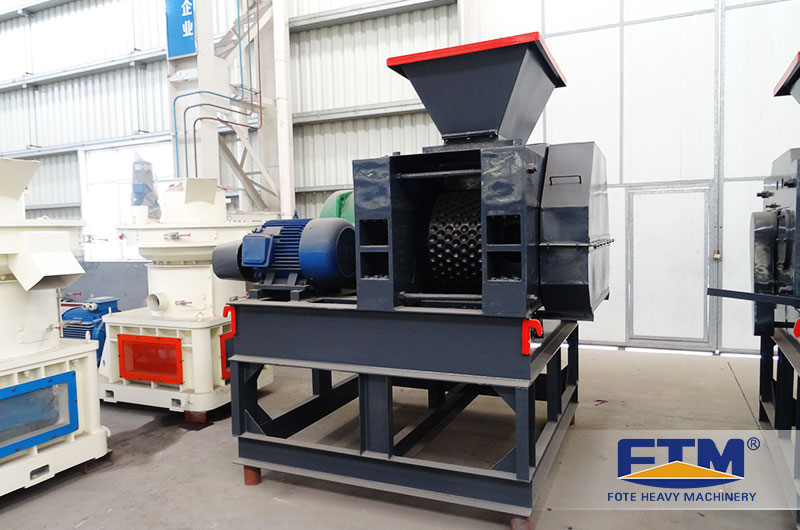 Customer Case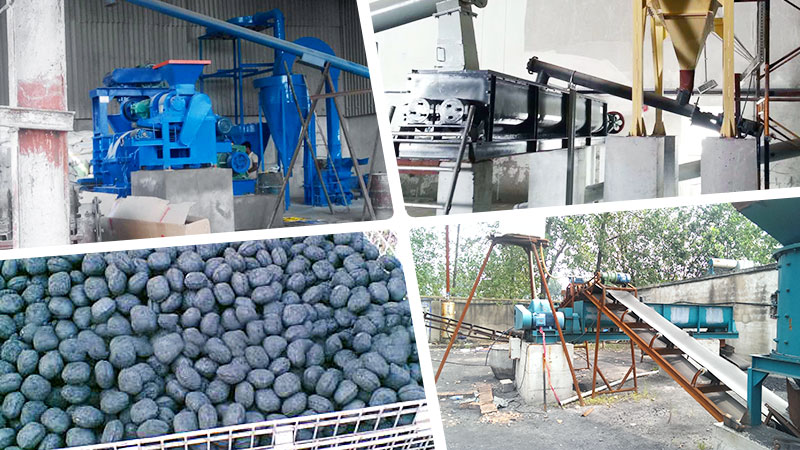 Metal Powder Briquetting Machine Manufacturer
At the same time, Fote Machinery also produces other metal briquetting machine, such as copper briquetting machine, steel briquetting machine, scrap metal briquette system, and can also provide a complete set of coal ball production lines.
General Specification
Model
Roll diameter
(mm)
Roll width
(mm)
Total pressure
(t)
Main motor power
(kw)
Output
(t)
Weight
(t)
GY520-150
520
196
150
55
2.2-3.5
13
GY650-220
650
200
220
110
4-6.5
19.2
GY750-300
750
280
300
185
6-8.5
34
GY1000-350
1000
440
350
250
10-15
50.8
GY1000-450
1000
504
450
280
14-17
58.5
GY1000-500
1000
504
500
315
15-20
58.5
GYS1000-500
1000
600
500
280
17-21
56.5
GY1000-540
1000
900
540
185Kw×2
30-35
60
GY1200-800
1200
900
800
280Kw×2
40
110
GY1400-1000
1400
1000
1000
400Kw×2
50
156
Model
Roll diameter
(mm)
Roll width
(mm)
Total pressure
(t)
GY520-150
520
196
150
GY650-220
650
200
220
GY750-300
750
280
300
GY1000-350
1000
440
350
GY1000-450
1000
504
450
GY1000-500
1000
504
500
GYS1000-500
1000
600
500
GY1000-540
1000
900
540
GY1200-800
1200
900
800
GY1400-1000
1400
1000
1000