Introduction of Coal Briquette Machine
The coal briquetting machine also known as coal dust briquetting machine, can press fly ash or particle coal slime, raw coal and lignite into spherical, oval, flat shape, referred to as briquettes. The finished coal briquetting can be used in power generation, furnace calcination, daily life and other fields.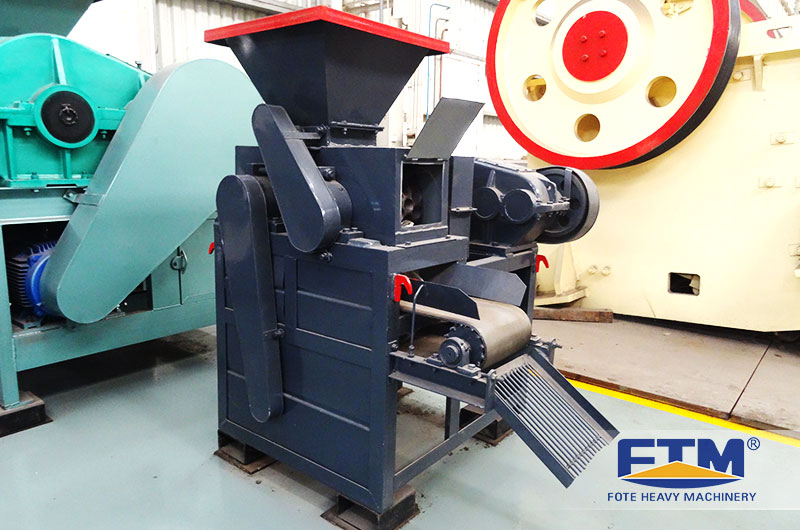 Applications of Coal Briquetting Machine
The coal briquetting machine is mainly used for pressing materials with low moisture content, such as various coal briquettes, mineral powder and refractory materials. Pulverized coal briquetting machine and charred coal briquetting machine are suitable for refractory industry, power plant, metallurgy, chemical industry, energy, transportation, heating and other industries.
Coal briquetting machine can be used to press all kinds of powdery materials like coal power, iron powder, coking coal, aluminum powder, iron slag, oxide scale, carbon powder, slag, gypsum, tailings, sludge, kaolin, clay, activated carbon, coke and waste residue in refractory, power plant, metallurgy, chemistry, energy, transportation, heating and other industries.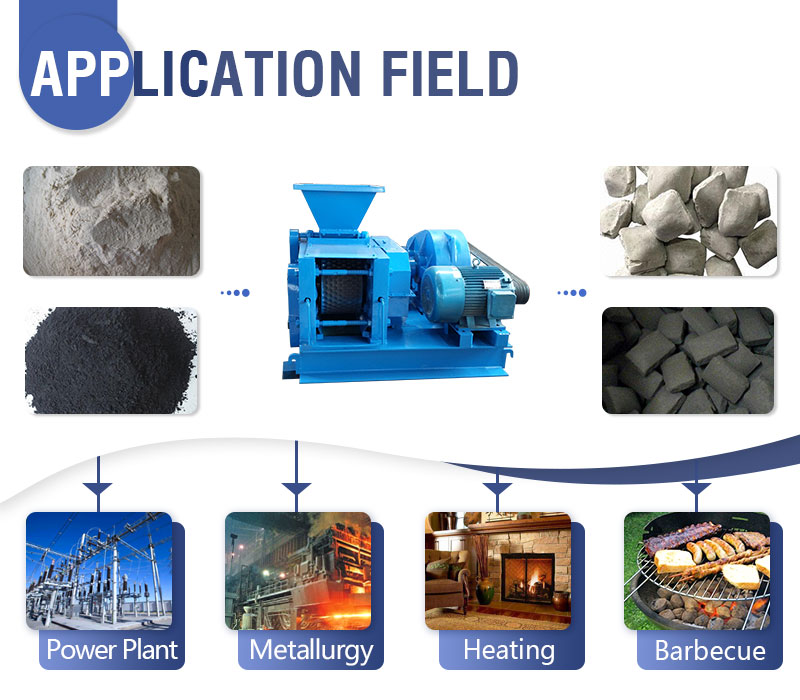 Applications of Coal Briquette Machine
Performance and Structure Advantages of Coal Briquetting Machine

The Performance Advantages
This coal briquetting machine can save energy and protect the environment.The final products are convenient to be transported, thus improve the utilization of the waste materials and have excellent economic and social benefits. In addition, the power consumption of this ball press machine is low.
The Structure Advantages
The performance of the coal briquetting machine is mainly determined by the roller skin of the main engine. This type of coal briquette machine is cast with 65 manganese, and with special heat treatment, its hardness can reach over 58°. The roller skin adopts composite assembly, so that it can be changed when abraded. This briquette machine has a shock absorber which can better protect the equipment from the impact of hard materials. The briquette machine is designed with ball bowl adjustable device to make sure the ball bowls of the two rollers are always in the adjustable range.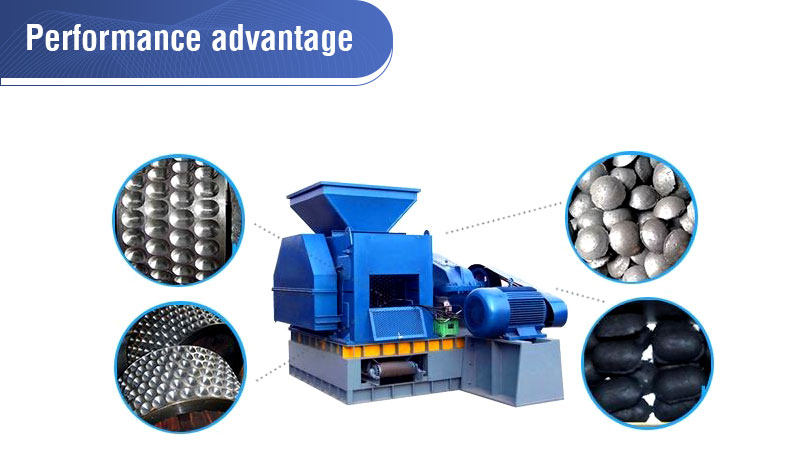 Structral Features of Coal Briquetting Machine
Customer Case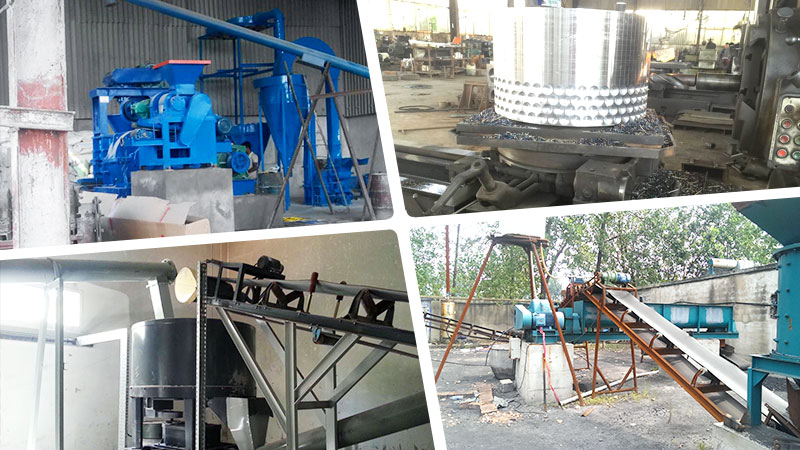 Brand Power of Fote Machinery
Fote Machinery specializes in the production of coal briquetting machine and auxiliary equipment. The raw material can be molded by one press, and the output is high and the hardness is high. It has been used in many domestic power plants, coal washing plants and coal briquette plants and achieved good results. Fote Machinery as a professional coal briquetting machine manufacturer, the production of briquettes with a high ball formation rate, pressure ball hardness is high, not easy to break in the process of handling, which has been recognized by the customer. The coal briquette machine price of our company is favorable and preferential, and we have simple coal briquette press production process, which is available to customers for the on-site testing. If you want to know more, you can pay a visit to coal briquette production sites.
General Specification
Model
Roll diameter
(mm)
Roll width
(mm)
Total pressure
(t)
Main motor power
(kw)
Output
(t)
Weight
(t)
GY520-150
520
196
150
55
2.2-3.5
13
GY650-220
650
200
220
110
4-6.5
19.2
GY750-300
750
280
300
185
6-8.5
34
GY1000-350
1000
440
350
250
10-15
50.8
GY1000-450
1000
504
450
280
14-17
58.5
GY1000-500
1000
504
500
315
15-20
58.5
GYS1000-500
1000
600
500
280
17-21
56.5
GY1000-540
1000
900
540
185Kw×2
30-35
60
GY1200-800
1200
900
800
280Kw×2
40
110
GY1400-1000
1400
1000
1000
400Kw×2
50
156
Model
Roll diameter
(mm)
Roll width
(mm)
Total pressure
(t)
GY520-150
520
196
150
GY650-220
650
200
220
GY750-300
750
280
300
GY1000-350
1000
440
350
GY1000-450
1000
504
450
GY1000-500
1000
504
500
GYS1000-500
1000
600
500
GY1000-540
1000
900
540
GY1200-800
1200
900
800
GY1400-1000
1400
1000
1000