Introduction of Iron Powder Briquetting Machine
The iron powder briquetting machine is also called powdered iron briquetting machine or oxide scale briquetting machine. The raw material can be directly put into production after crushing without adding water. Iron ore powder (iron powder, iron ore) is one of the most important metal powder materials in metallurgical industry, which is used in large amount in the powder metallurgy production and its consumption accounts for about 40% of the total consumption of metal powder. The iron powder briquetting machine can guarantee the intensity and density of iron powder briquettes.
The iron briquette machine is a kind of high-pressure ball press which is used to press the hard-granular material. The iron powder briquette machine is characterized by large forming pressure, adjustable revolution of main engine and screw feeding device. It is widely used, and many materials can be pressed into a ball.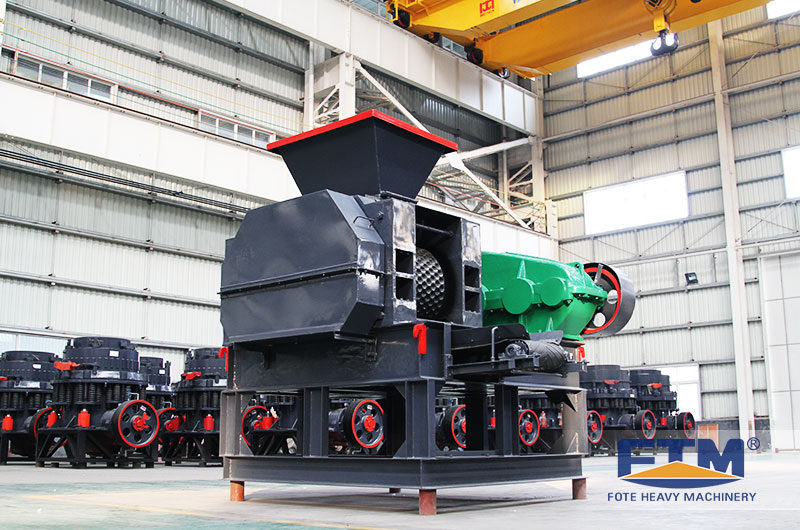 Structural Features of Iron Powder Briquette Machine
The roller skin is made of composite components, which can be replaced in case of wear. This type of briquette machine has shock absorbers, which can better protect the equipment from the impact of hard materials. Iron powder briquetting machine is designed with ball bowl adjustable device to ensure that the ball bowl of two rollers is always in the adjustable range.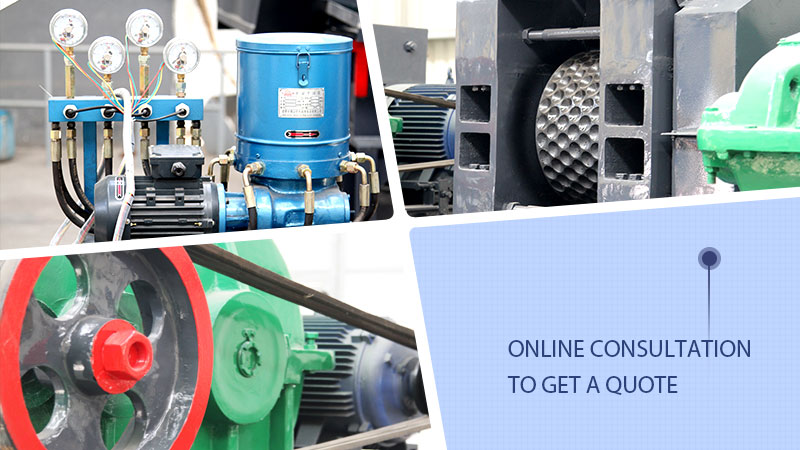 The Structure of Iron Powder Briquetting Machine
Applications of Iron Powder Briquette Machine
The iron powder briquetting machine is a kind of widely used metal powder processing equipment in coal industry, metallurgy industry and chemical industry materials. The briquettes made by this equipment can be used as metal smelting materials and chemical reactant. Some good cases in point are as follows. Steel plant reprocess iron ore powder briquettes to make steel; chemical plant uses mill scale briquettes to make ferrosilicon.
It can be used to suppress coal powder, iron powder, coking coal, aluminum powder, iron filings, iron oxide sheet, carbon powder, slag, gypsum, tailings, sludge, kaolin, activated carbon, coke and other powder material and waste residue in power plants, metallurgy, refractory material industry, chemical industry, energy, transportation, heating, etc.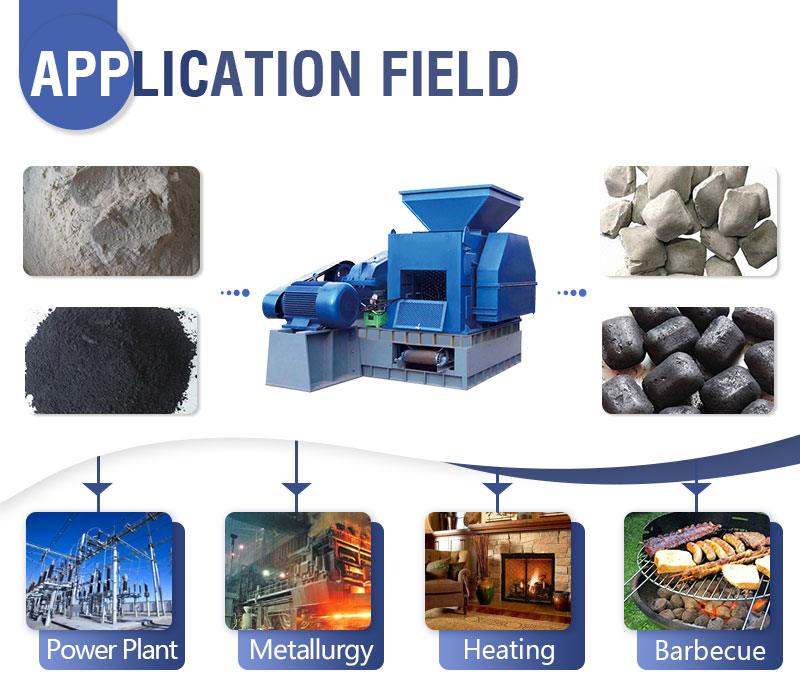 Applications of Iron Powder Briquetting Machine
Oxide Scale Briquetting Machine
Oxide scale briquetting machine mainly adopts waste iron materials such as oxidation, dust, ash, blast furnace slag,manganese powder, silicon manganese alloy powder, iron ore concentrate powder as well as minerals of nonferrous metal industry. It can complete the smelting and ball pressing of all powdery materials which require to be melted by the furnace.

Powdered Iron Briquetting Machine
Powdered iron briquetting machine is specially used to suppress iron powder. In the pressing process, it needs to add special dry powder adhesives. The one-time molding and forming rate canreach about 90%. The iron concentrate after pressing can be used in various industries, which can reduce the loss of resources and greatly increase the production efficiency. In China, many large iron ore mines have bought powderediron briquetting machines and put them into use, which have good effect with less investment and soon benefits.
Performance Advantages of Iron Powder Briquette Machine
The powdered iron briquetting machine is suitable for pressing wet powders, which means that it is necessary to add the proper amount of water or other liquid adhesives into the materials. This product has an excellent pressing effect on various materials such as caustic-burned magnesia powder, sinter, sludge in steel plant and an iron fine meal. Iron powder briquette machine is equipped with reducer, and the motor and the reducer drive the machine through arc tooth coupling and the two rollers of the main engine rotate in the opposite direction driven by the synchromesh gear.
Customer Case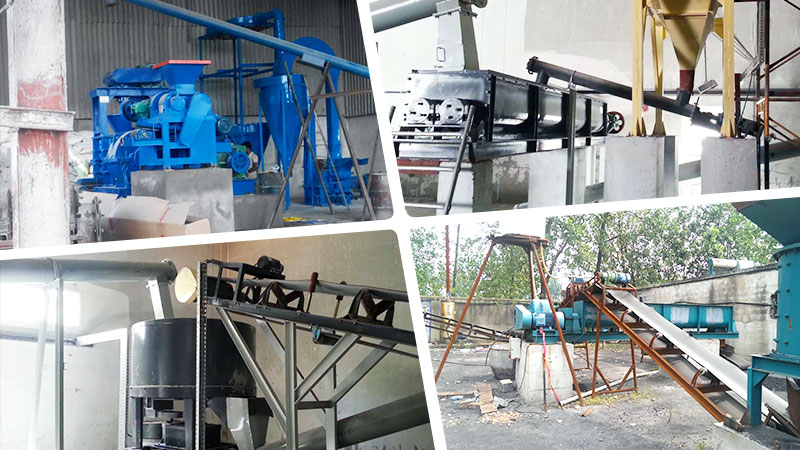 Fote Manufacturer for Your Choice
Where to Buy Iron Power Briquetting Machine?
As a professional Iron Powder Briquette Machine manufacturer, Fote Machinery is specialized in manufacturing various types of high-quality briquette machines, and we can configure a series of high quality and efficient production lines of these machines. Our goal is to provide the best equipment, best quality service and the most assured choice for customers!
General Specification
Model
Roll diameter
(mm)
Roll width
(mm)
Total pressure
(t)
Main motor power
(kw)
Output
(t)
Weight
(t)
GY520-150
520
196
150
55
2.2-3.5
13
GY650-220
650
200
220
110
4-6.5
19.2
GY750-300
750
280
300
185
6-8.5
34
GY1000-350
1000
440
350
250
10-15
50.8
GY1000-450
1000
504
450
280
14-17
58.5
GY1000-500
1000
504
500
315
15-20
58.5
GYS1000-500
1000
600
500
280
17-21
56.5
GY1000-540
1000
900
540
185Kw×2
30-35
60
GY1200-800
1200
900
800
280Kw×2
40
110
GY1400-1000
1400
1000
1000
400Kw×2
50
156
Model
Roll diameter
(mm)
Roll width
(mm)
Total pressure
(t)
GY520-150
520
196
150
GY650-220
650
200
220
GY750-300
750
280
300
GY1000-350
1000
440
350
GY1000-450
1000
504
450
GY1000-500
1000
504
500
GYS1000-500
1000
600
500
GY1000-540
1000
900
540
GY1200-800
1200
900
800
GY1400-1000
1400
1000
1000