What is Calcite Grinding Mill?
Calcite belongs to a common calcium carbonate mineral that is easy to be ground for its 3 Mohs hardness. It can be used as raw material in the silicate industry. Generally, calcite grinding requires a large meshes of the finished products, that is, an extreme fineness of grinding is a need. Therefore, ultra-fine grinding mill is generally utilized in calcite grinding. Calcite ultra-fine grinding mill works in an efficient and stable way as well as with a long service life. FTM calcite ultra-fine grinding miller is customized and an ideal choice.
Applications of Calcite Grinding Machine
Based on the use of calcite stone and calcite powder, calcite powder making machine has a wide application. For example, it can be used for artificial stone, artificial floor tile, paint, cable, asphalt and so on in building materials, paper making, toothpaste, cosmetics, textile, etc. in daily chemical products, and in the production of natural rubber, synthetic rubber, ink, electrical insulation and so on. In addition, calcite ultra-fine grinding mill can make calcite powder applied as the product modification, purifier, detergents in the oil industry and applied in machinery manufacturing, high-temperature superconducting, aerospace and other high-tech areas.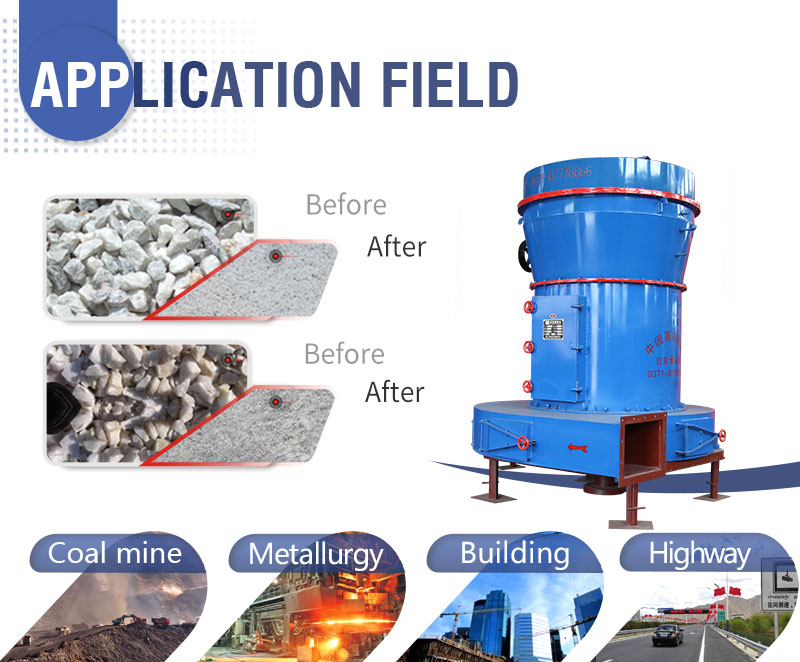 Application of Cilcite Grinding Mill
Working Principle of Calcite Mill Grinder
First Stage, Crushing.
Large-sized calcite is crushed into small pieces under 40mm by jaw crusher or hammer crusher
Second Stage, Grinding.

Crushed calcite pieces are elevated to the store and fed into the grinding body evenly by electric-magnetic vibrating feeder
Third Stage, Separating.

Ground powder is separated by the separating system. Disqualified powder is sent back to have another grinding process.
Fourth Stage, Collecting.

Qualified powder flows with the air into the collector. Here, finished product is collected separately and then conveyed out to the end product bin.
Packaged by the automatic packager, the entire grinding process is realized.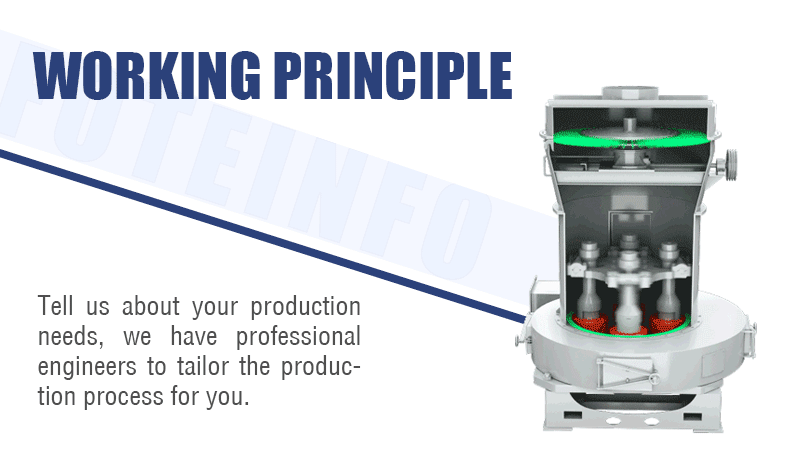 Working Principle of Calcite Grinding Mill
Structure and Advantages of Calcite Grinding Mill
Calcite grinding line mainly includes a jaw crusher or hammer crusher, bucket elevator, vibrating feeder, ultra-fine grinding mill and pulse dust collecting system, etc.
High efficiency. Compare to other millers, the pressure of calcite grinding mill roller on materials is increased by 800 - 1200Kg with the force of the spring.

Energy-saving. In the condition of the same output and fineness, the system energy consumption is only 1/3 of the airflow mill.
Less investment. In the similar circumstances of yield and fineness, its price is only 1/4 of the airflow mill.
Fewer production links. Still make an example of the airflow mill. Airflow mill grinds materials into fine powder after crushing the 20mm materials into 100 meshes. The ultra-fine grinding mil can directly grind materials with particle size below 20mm into the average particle size of less than 6.5μm.
The grinding device adopts multistage sealing, which has excellent sealing effect.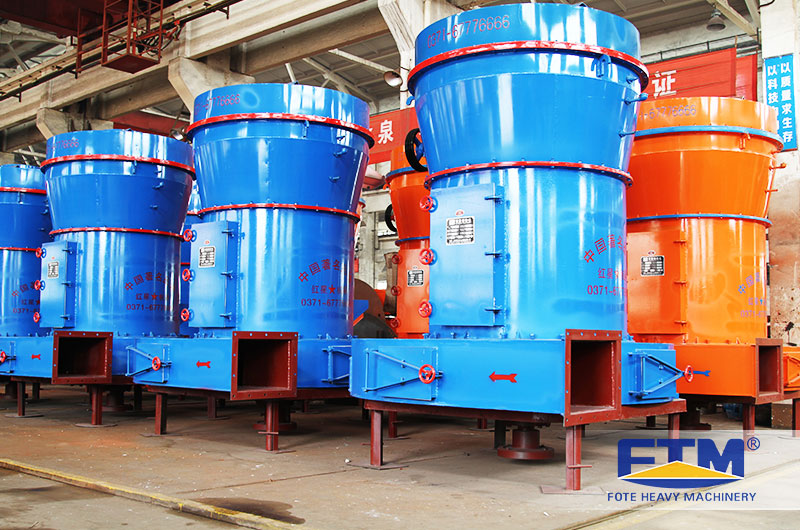 Customized FTM Grinding Machines

Tips for Better Operation of Calcite Grinding Mill
>>The operator shall have a definite knowledge of this production line or machine and be in charge of the operation.
>>Professional maintenance tools, lubricating grease and accessory concerned are needed to ensure normal operation of calcite ultra-fine grinding mill;
>>Frequent check on parts of grinder is required, such as on the rollers, rolling rings and blades, etc. Pay special attention to the spiral bolts of the rollers and the lubricating grease;
>>Timely replacement of worn parts and cleaning work is required.
Classic Case of Calcite Grinding Mill
In Indonesia, FTM calcite grinding mill in a grinding line with a capacity of 5TPH, feeding size of 23cm and discharging size of 850 meshes.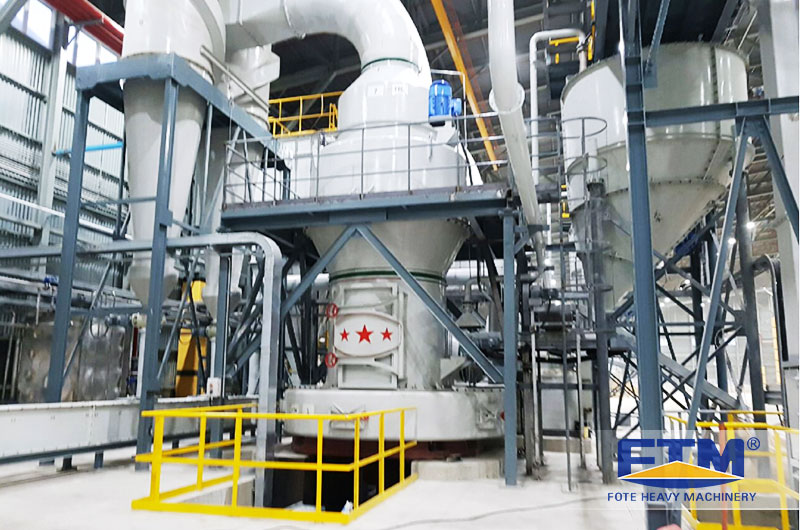 HGM Grinder Used in Calcite Grinding Plant
Fote Machinery has calcite grinding mill for sale, which arises out of advanced technology, low price and complete models. Over 360 professional FTM engineers are ready to offer you service with their rich experience. Free consultation online or leaving a message online are both available.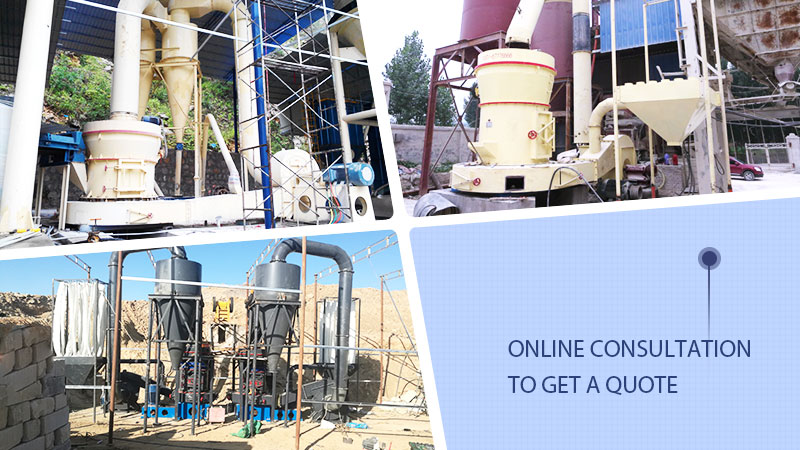 General Specification
| | | |
| --- | --- | --- |
| Model | 4525 | 4119 |
| Feeding Size(mm) | ≤30 | ≤25 |
| Output Size(mm) | 0.173-0.044 | 0.173-0.044 |
| Shift Output of Different Material Fineness(t) | 16-176 | 8-78 |
| Rotation Speed of Central Shaft(r/min) | 82 | 105 |
| Ring Diameter(mm) | 1770 | 1400 |
| Roller Diameter(mm) | 450 | 410 |
| Roller Height(mm) | 250 | 190 |
| Main Motor(kw) | Y315M-4-132 | Y280S-4-75 |
| Fan Motor | Y315M-4-132 | Y280S-4-75 |
| Analyzer Motor | YCT250-4A-18.5 | YCT200-4B-7.5 |
Model
Output Size
(mm)
Shift output of different
materia fineness(t)
4525
0.173-0.044
16-176
4119
0.173-0.044
8-78