What is Drum Dryer?
Drum Dryer or Single Drum Dryer is of strong adaptability to kind of materials. This equipment is the most commonly used drying equipment in cement plant for drying limestone, clay, coal powder and mixed materials and widely used in metallurgy, mining, electricity, chemical industry, and other sectors. As key equipment, drum dryer is known for its advantages such as simple and reliable operation, excellent dust prevention, good sealing effect, and convenient maintenance. Besides, this equipment can be set up as an independent unit as well as a complete system which is including dust collector, feeder, conveyor and other necessary machines.
Video of Drum Dryer
Applications of Single Drum Dryer
>>Slag, clay, bentonite, limestone, sand, silica sand, quartz sand, kaolin, etc. in building material industry;
>>Ore, metal powder, diatomite, Coal slime, coal, mixed fine coal, etc. in coal industry, chemical industry, mining, metallurgy and other industries;
>>Organic compound fertilizer, sludge, organic fertilizer, inorganic fertilizer, etc. in the fertilizer industry;
>>Other moist powder and granular materials of special requirements like all kinds of crystal, light calcium carbonate, active white earth, magnetic powder, graphite, inorganic mud, argil, lime slurry, mineral mud, phosphorus slag, red mud in aluminum plant, etc.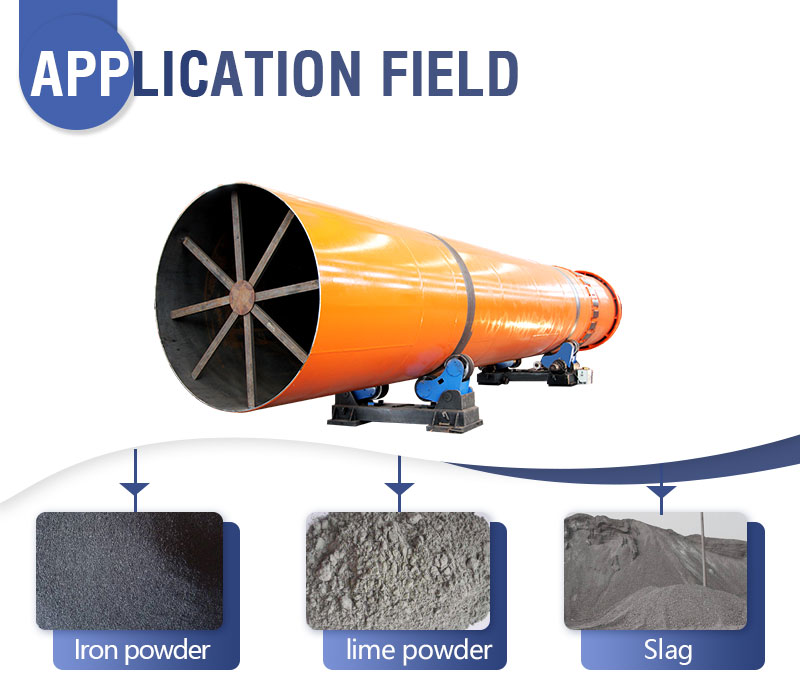 Single Cylinder Dryer Application
Structure and Advantageous Functions of the Drum Dryer
With the working principle of heat transfer and effect of the gravity, Drum Dryer is mainly composite with the drum, the lifting plate, the dryer roller, and the feeding box. The drum is set at a certain angle of the processing of the materials. The plates lift the wet powder or particles up and down so that the heat transfer is accomplished. The roller is the force for the drum to whirl around in order that the materials can get enough the heat of the inner wall. Fote Drum Dryer is of the following advantages:
Adapt to a variety of materials drying operation, can reasonably adjust machine parameters depending on different material humidity and nature, more targeted and higher drying quality.
Concurrent drying, heating medium and wet materials high temperature in and low temperature out; highly efficient and reasonable.
High-temperature resistance, fast drying, less fuel consumption, and low drying cost.
After drying, the moisture content of coal slime is lower than 8% and the granularity under 8mm.
Difference Between Single Drum Dryer and Three Drum Dryer


Single Drum Dryer
Three Drum Dryer
Diameter of Outer Cylinder(m)
1.2-3.6
2.5-3.6
Length(m)
8.0-28.0
7.0-8.0
Volume(m³)

9.0-285.0

16.63-81.38
Capacity(T/H)
1.9-76.0

Yellow Sand:25-70

Slag: 20-65
There are types of drum dryer like single drum dryer, double drum one, three-drum one, and air-flow dryer, etc. Two of mostly used drying machines are compared here. Hope it arises a little help. From this table, it is clear that:
1> Three Drum Dryer takes less space but a better utilization of the heat;
2> Three Drum Dryer is of lower energy consumption than a single drum dryer when they take the same space;
3> Single Drum Dryer is of larger capacity and lower price;
4> Single Drum Dryer is easier operated and maintained.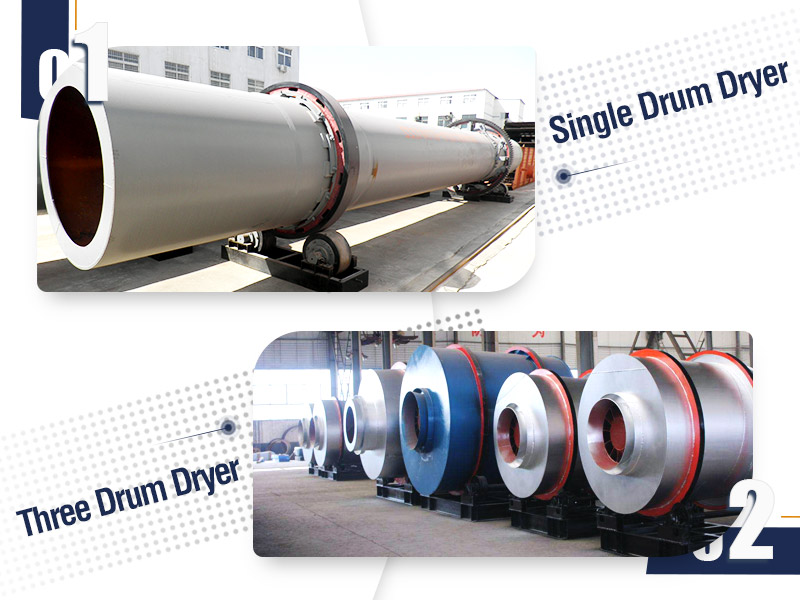 Attention Needed When Operating a Single Cylinder Dryer
Pay attention to the burning system, sir-blower fan, and the dust collector, because the efficiency of the machine mainly depends on the operation of the burning system;
Light the oven 1 hour before the work of the dryer and give a careful check to all the attached equipment;
Turn on the Drum Dryer Equipment in this order: the motor, the wet materials conveyor and the dry materials conveyor, which is a constant and even process;
Control the temperature of each bearing under 50℃ when the dryer is working. Besides, keep the wheels, the cylinder and other rolling parts rotate stably and normally.
Drum Dryer Case
Fote drum dryer in Morocco for silica sand with capacity of 50-65TPH, input humidity of 8-25% and output humidity of 1%.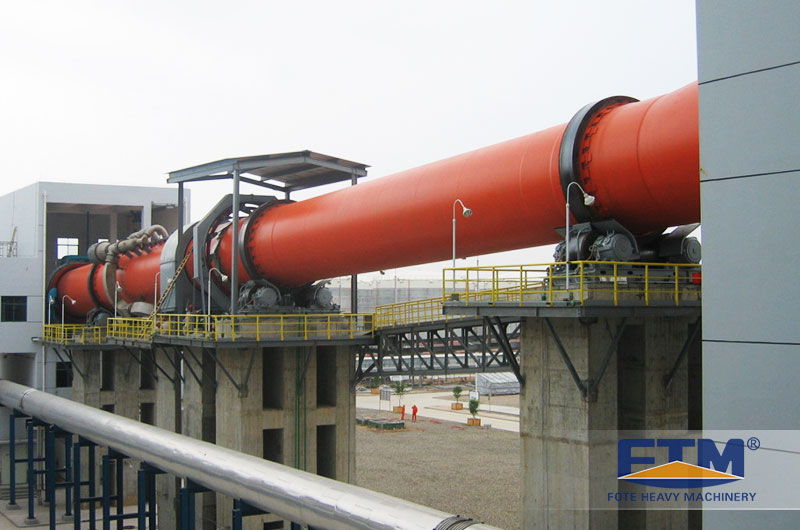 As a professional drum dryer supplier, Fote Machinery has high quality drum dryer for sale. If you want to get the latest drum dryer price, please feel free to contact us. Thank you!
General Specification
Spec./m
(Dia.×Length)

Shell Cubage
(m³)

Capacity
(t/h)

Installation
Obliquity
(%)

Highest Inlet
Air Temperature
(℃)

Main Motor
(kw)

Weight
(t)

Φ1.2×8.0

9.0

1.9~2.4

3~5

700~800

7.5

9

Φ1.2×10

11.3

2.4~3.0

3~5

700~800

7.5

11

Φ1.5×12

21.2

4.5~5.7

3~5

700~800

15

18.5

Φ1.5×14

24.7

5.3~6.6

3~5

700~800

15

19.7

Φ1.5×15

26.5

5.7~7.1

3~5

700~800

15

20.5

Φ1.8×12

30.5

6.5~8.1

3~5

700~800

18.5

21.5

Φ1.8×14

35.6

7.6~9.5

3~5

700~800

18.5

23

Φ2.2×12

45.6

9.7~12.2

3~5

700~800

22

33.5

Φ2.2×14

53.2

11.4~14.2

3~5

700~800

22

36

Φ2.2×16

60.8

13.0~16.2

3~5

700~800

22

38

Φ2.4×14

63.3

13.5~16.9

3~5


700~800

37

45

Φ2.4×18

81.4

17.4~21.7

3~5

700~800

37

49

Φ2.4×20

90.4

19.3~24.1

3~5

700~800

45

54

Φ2.4×22

99.5

21.2~26.5

3~5

700~800

45

58

Φ2.6×24

127.4

27.2~34.0

3~5

700~800

55

73

Φ3.0×20

141.3

30.1~37.7

3~5

700~800

75

85

Φ3.0×25

176.6

37.7~47.1

3~5

700~800

75

95

Φ3.2×25

201

42.9~53.6

3~5

700~800

90

110

Φ3.6×28

285

60.8~76.0

3~5

700~800

160

135
Technical parameters of indirect heat dryer:
Shell
diameter
×shell
Length
Items
Inside
diameter
of outer
shell
(mm)
Inside
diameter
of inner
shell
(mm)
Shell
Length
(m)
Shell
cubage
(m³)
Shell
obliquity
Lifting
blade
form
Highest
inlet air
temperature
(℃)
Dimensions
(m)
Φ1.5×15m
1500
500
15
20.27
3-5%
Lifting form
850
16.2×2.7×2.7
Φ1.5×17m
17
22.97
18.2×2.7×2.7
Φ1.5×19m
19
25.68
20.0×2.9×2.9
Φ1.8×21m
1800
650
21
35.91
3-5%
Lifting form
850
22.5×2.7×2.7
Φ1.8×23m
23
39.33
24.5×2.9×2.9
Φ1.8×25m
25
42.75
26.5×2.9×2.9
Φ2.2×21m
2200
800
21
58.10
3-5%
Lifting form
850
----
Φ2.2×23m
23
63.61
Φ2.2×25m
25
69.15
Spec./m
(Dia.×Length)

Shell Cubage
(m³)

Capacity
(t/h)

Φ1.2×8.0

9.0

1.9~2.4

Φ1.2×10

11.3

2.4~3.0

Φ1.5×12

21.2

4.5~5.7

Φ1.5×14

24.7

5.3~6.6

Φ1.5×15

26.5

5.7~7.1

Φ1.8×12

30.5

6.5~8.1

Φ1.8×14

35.6

7.6~9.5

Φ2.2×12

45.6

9.7~12.2

Φ2.2×14

53.2

11.4~14.2

Φ2.2×16

60.8

13.0~16.2

Φ2.4×14

63.3

13.5~16.9

Φ2.4×18

81.4

17.4~21.7

Φ2.4×20

90.4

19.3~24.1

Φ2.4×22

99.5

21.2~26.5

Φ2.6×24

127.4

27.2~34.0

Φ3.0×20

141.3

30.1~37.7

Φ3.0×25

176.6

37.7~47.1

Φ3.2×25

201

42.9~53.6

Φ3.6×28

285

60.8~76.0
Technical parameters of indirect heat dryer:
Shell
diameter
×shell
Length
Items
Inside
diameter
of outer
shell
(mm)
Inside
diameter
of inner
shell
(mm)
Shell
cubage
(m³)
Φ1.5×15m
1500
500
20.27
Φ1.5×17m
22.97
Φ1.5×19m
25.68
Φ1.8×21m
1800
650
35.91
Φ1.8×23m
39.33
Φ1.8×25m
42.75
Φ2.2×21m
2200
800
58.10
Φ2.2×23m
63.61
Φ2.2×25m
69.15