What is Rotary Dryer?
Rotary dryer is the most commonly used drying machine among mining equipment, which is widely used for drying slag, limestone, coal, clay, compound fertilizer, etc. in the mining industry, metallurgy industry, chemical industry, building materials, compound fertilizer production, and also in cement industry. Industrial rotary dryer is also referred to as the rotary drum dryer and rotary dryer machine. It is suitable for drying metallic and non-metallic minerals, magnetic, heavy and floating concentration, the clay of the cement industry as well as coal slime in the coal industry.
Video of Fote Rotary Dryer at Customer Site
Applications of the Rotary Dryer Machine
Rotary Drying Machine is a drying machine which can handle a large number of materials. Because of its reliable performance, flexible operation, rotary dryer is widely used in metallurgy industry, building materials industry, light industry, chemical industry, coal, mining industry, and medicine industry. The drum dryer is generally adapted to granular materials, and it can also be used for drying sticky and paste materials or materials with high water content like sand, slag, sludge, coal slime, limestone, quartz stone / silica, granular material, powder material, etc.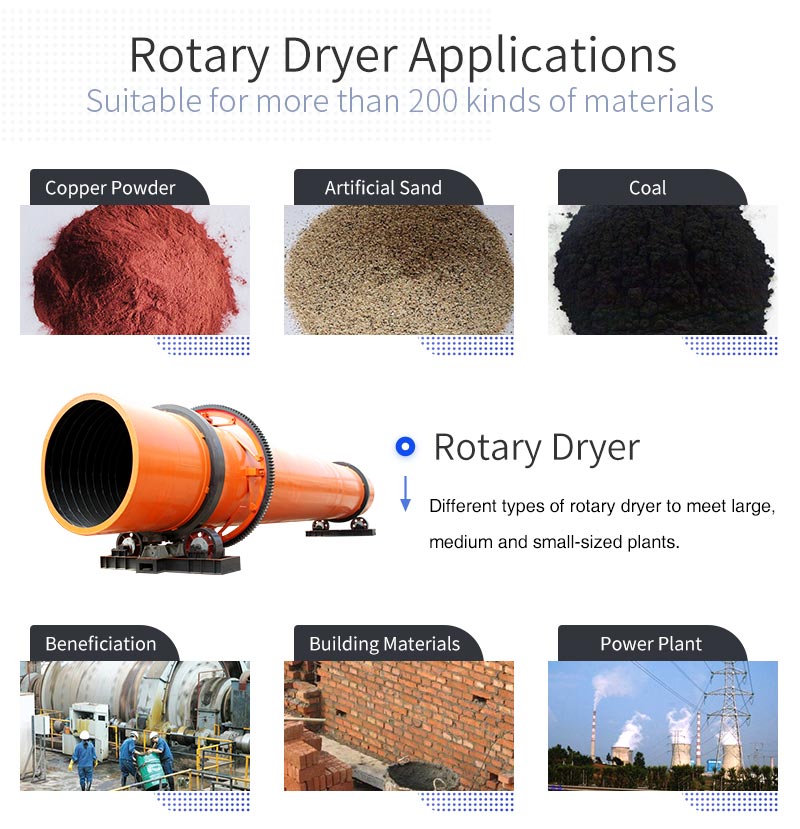 Examples of Rotary Dryer Applications
How Rotary Dryer Works?
The heat source is from the burning equipment and the materials are heated with the flow of the hot wind. Under the effect of the gravity, materials go with and are dried by the scorching wind from one end of the drum to the other. During the process, they get up and down by the plates constantly. Heat exchanges are done here and we go to get dry materials.
Rotary Dryer Working Principle
Advantages of Fote Rotary Drying Machine
Taking the requirements from small, middle and large-sized plants into consideration, Fote rotary dryer has the advantages as followings:
High efficiency. The hot wind is speeded up so that the wet material is well separated and with the stirring from the plate, the effective area is enlarged.
Strong adaptability and large capacity.The advanced technology strengthens the cleaning and hot-exchanges of the separated materials and reduces the sticking.
Different heat sources and fuels of the motor are selectable. The heat source can be oil, gas, and steam. And the fuel can be oil and electricity.
Others: Small flow resistance, Large operational ranges, Convenient operation, etc.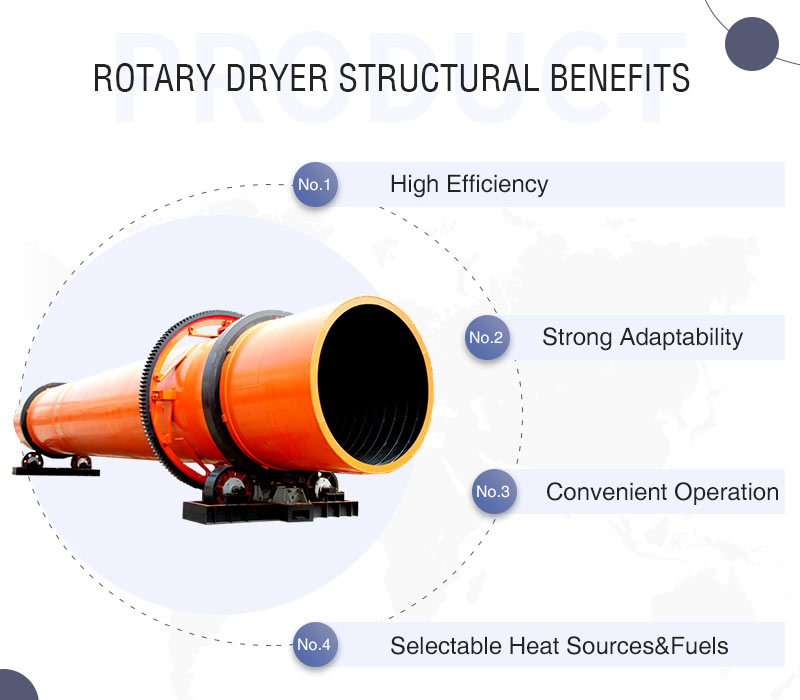 Benefits of Rotary Dryer
Classification of Rotary Drum Dryer
According to the heat transfer between the drying medium and wet materials, the rotary dryer machine can be divided into direct heat transfer rotary dryer and indirect heat transfer one. Direct here means absolute contact and heat transfer between drying medium and wet materials. And indirect one means the heat required by the drying process is indirectly passed to the moist materials by the cylinder wall. Indirect heat transfer rotary dryer is rarely used due to its low transmission efficiency and complex structure. Direct heat transfer type is recommended here.
Classic Case of Rotary Dryer
In Indonesia, Fote rotary dryer is used in a clay production line with a capacity of 20TPH and moisture reduction from 65% to about 1.5%. This Φ2.4×18 clay rotary dryer arrived at the Port of Tanjung Perak after about two-week delivery. Fote engineers offered on-site installation guidance as well as operator training. Our Indonesian customers also got a one-year warranty. For about three years, the Φ2.4×18 has worked well with an extremely low failure rate, for which we received good feedback from our customers.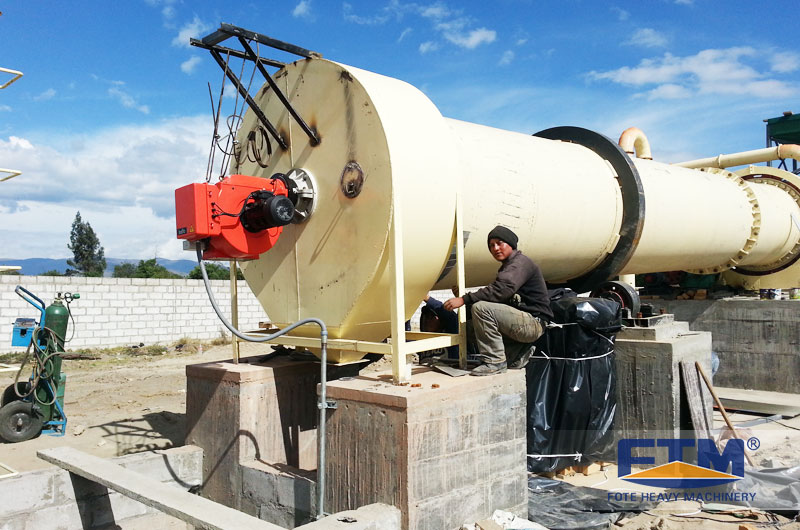 Fote Rotary Dryer in Indonesia
Rotary Dryer Manufacturer
Has introduced advantaged technology from countries like Germany, America, Japan, etc., Fote Machinery is experienced in producing rotary dryer and has established our own products series. Over 360 professional engineers are ready to offer you free consultation including customized process solutions, the flow chart and favorable rotary dryer price. We have models of high-quality rotary kiln dryer for sale. Welcome to chat online with Fote skilled sales and get the latest quotation and discount!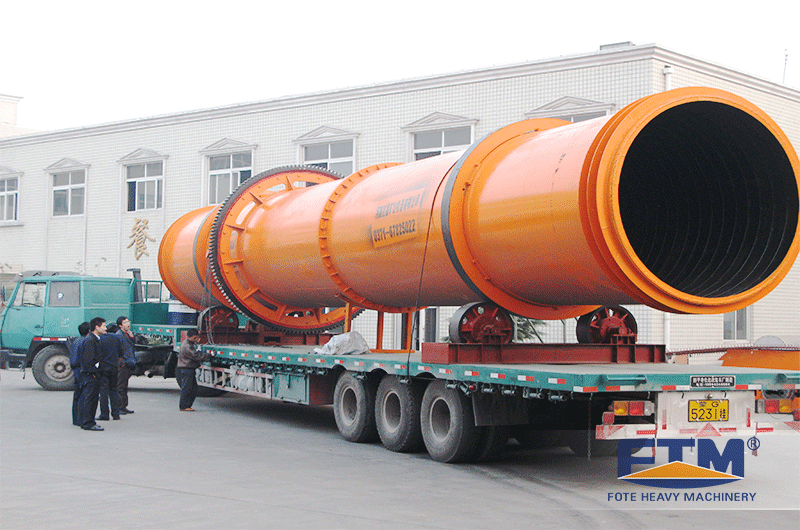 Fote Rotary Dryer Shipment
General Specification
Spec./m
(Dia.×Length)

Shell Cubage
(m³)

Capacity
(t/h)

Installation
Obliquity
(%)

Highest Inlet
Air Temperature
(℃)

Main Motor
(kw)

Weight
(t)

Φ1.2×8.0

9.0

1.9~2.4

3~5

700~800

7.5

9

Φ1.2×10

11.3

2.4~3.0

3~5

700~800

7.5

11

Φ1.5×12

21.2

4.5~5.7

3~5

700~800

15

18.5

Φ1.5×14

24.7

5.3~6.6

3~5

700~800

15

19.7

Φ1.5×15

26.5

5.7~7.1

3~5

700~800

15

20.5

Φ1.8×12

30.5

6.5~8.1

3~5

700~800

18.5

21.5

Φ1.8×14

35.6

7.6~9.5

3~5

700~800

18.5

23

Φ2.2×12

45.6

9.7~12.2

3~5

700~800

22

33.5

Φ2.2×14

53.2

11.4~14.2

3~5

700~800

22

36

Φ2.2×16

60.8

13.0~16.2

3~5

700~800

22

38

Φ2.4×14

63.3

13.5~16.9

3~5


700~800

37

45

Φ2.4×18

81.4

17.4~21.7

3~5

700~800

37

49

Φ2.4×20

90.4

19.3~24.1

3~5

700~800

45

54

Φ2.4×22

99.5

21.2~26.5

3~5

700~800

45

58

Φ2.6×24

127.4

27.2~34.0

3~5

700~800

55

73

Φ3.0×20

141.3

30.1~37.7

3~5

700~800

75

85

Φ3.0×25

176.6

37.7~47.1

3~5

700~800

75

95

Φ3.2×25

201

42.9~53.6

3~5

700~800

90

110

Φ3.6×28

285

60.8~76.0

3~5

700~800

160

135
Technical parameters of indirect heat dryer:
Shell
diameter
×shell
Length
Items
Inside
diameter
of outer
shell
(mm)
Inside
diameter
of inner
shell
(mm)
Shell
Length
(m)
Shell
cubage
(m³)
Shell
obliquity
Lifting
blade
form
Highest
inlet air
temperature
(℃)
Dimensions
(m)
Φ1.5×15m
1500
500
15
20.27
3-5%
Lifting form
850
16.2×2.7×2.7
Φ1.5×17m
17
22.97
18.2×2.7×2.7
Φ1.5×19m
19
25.68
20.0×2.9×2.9
Φ1.8×21m
1800
650
21
35.91
3-5%
Lifting form
850
22.5×2.7×2.7
Φ1.8×23m
23
39.33
24.5×2.9×2.9
Φ1.8×25m
25
42.75
26.5×2.9×2.9
Φ2.2×21m
2200
800
21
58.10
3-5%
Lifting form
850
----
Φ2.2×23m
23
63.61
Φ2.2×25m
25
69.15
Spec./m
(Dia.×Length)

Shell Cubage
(m³)

Capacity
(t/h)

Φ1.2×8.0

9.0

1.9~2.4

Φ1.2×10

11.3

2.4~3.0

Φ1.5×12

21.2

4.5~5.7

Φ1.5×14

24.7

5.3~6.6

Φ1.5×15

26.5

5.7~7.1

Φ1.8×12

30.5

6.5~8.1

Φ1.8×14

35.6

7.6~9.5

Φ2.2×12

45.6

9.7~12.2

Φ2.2×14

53.2

11.4~14.2

Φ2.2×16

60.8

13.0~16.2

Φ2.4×14

63.3

13.5~16.9

Φ2.4×18

81.4

17.4~21.7

Φ2.4×20

90.4

19.3~24.1

Φ2.4×22

99.5

21.2~26.5

Φ2.6×24

127.4

27.2~34.0

Φ3.0×20

141.3

30.1~37.7

Φ3.0×25

176.6

37.7~47.1

Φ3.2×25

201

42.9~53.6

Φ3.6×28

285

60.8~76.0
Technical parameters of indirect heat dryer:
Shell
diameter
×shell
Length
Items
Inside
diameter
of outer
shell
(mm)
Inside
diameter
of inner
shell
(mm)
Shell
cubage
(m³)
Φ1.5×15m
1500
500
20.27
Φ1.5×17m
22.97
Φ1.5×19m
25.68
Φ1.8×21m
1800
650
35.91
Φ1.8×23m
39.33
Φ1.8×25m
42.75
Φ2.2×21m
2200
800
58.10
Φ2.2×23m
63.61
Φ2.2×25m
69.15