What is Bentonite Dryer?
Bentonite is a kind of clay rock, which often contains a small amount of illite, kaolinite, chlorite, zeolite, etc. Due to the changes of iron content, it is usually in white and pale-yellow color and easily become light gray, light green, pink, brown-red, etc. Aimed at the adsorptivity and other characteristics of bentonite, bentonite dryer is designed with large capacity. Fote bentonite drying technology adopts new grouped lifting blades equipment to improve the material filling rate and extend the stay time of wet bentonite in the cylinder. With improved production efficiency, Fote bentonite dryer machine is customized.
Applications of Bentonite Dryer
The bentonite dryer is simple and reliable, which can dry various kinds of materials which are of huge humidity and large specific gravity, such as cement, concentrate powder, slag, limestone, coal, slag, clay and kaolin in building materials, metallurgy, chemical industry, etc.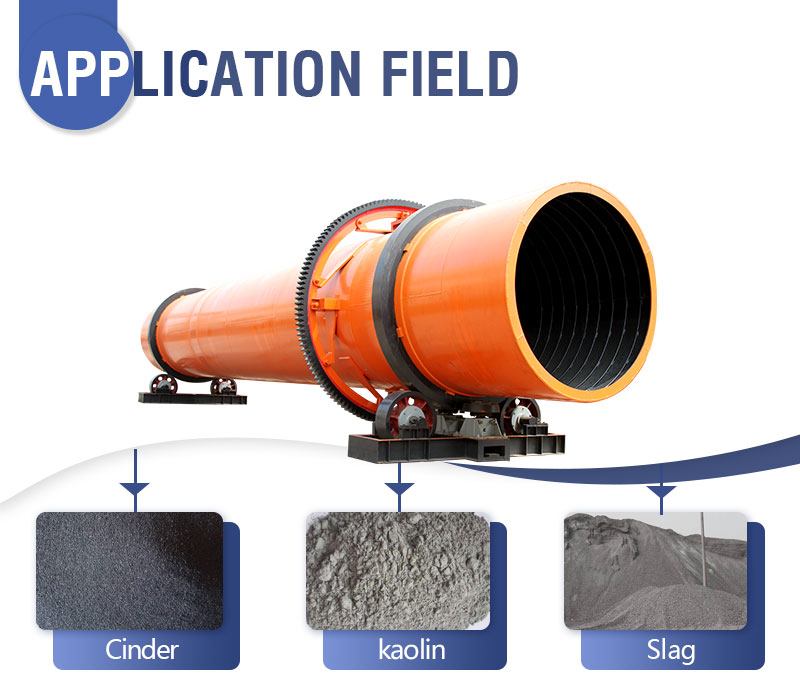 Examples of Bentonite Dryer Application
How Bentonite Dryer Works?
When bentonite drying machine is operated, the law of heat transformation and the effect of gravity play the main role. The drum is set at an angle of about 3-5。. Wet bentonite is conveyed into the higher end of the cylinder by feeding system and falls down into a screen, which favors the efficiency of heat transformation. When the drum rotating, bentonite is raised by the blades and falls. Here heat transformation between scorching wind and wet materials works best. Under the gravity, dried bentonite steps down to the lower end of the drum and is blenched out. In the gradual stepping down, the excessive liquid is removed. There equips a professional dust collector to collect waste gas.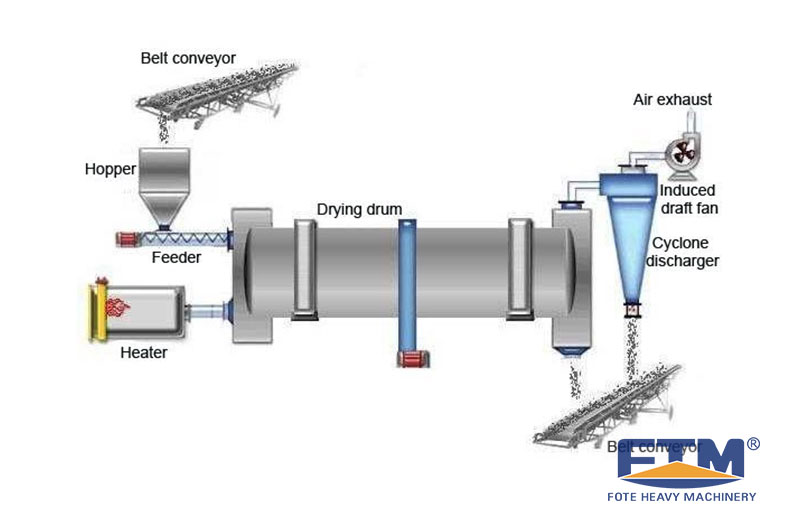 Working Principle of Bentonite Dryer
Structural Advantages of FTM Bentonite Dryer
The drying of bentonite always adopts bentonite dryer, which can process a large number of materials. Bentonite dryer machine has reliable running, flexible operation, strong adaptability, large capacity, and strong adaptability. It is suitable for drying various materials with simple and reliable operation.
Large processing capacity, low fuel consumption, low drying cost;
High temperature resistant, which can realize fast drying of materials with high-temperature wind;
Strong scalability. It takes the production surplus into account, even small increases of the yield; there is no need to replace the equipment;
It adopts self-aligning tug structure so that the tug and rolling ring have good matching, which greatly reduces the wear and power consumption;
The specially designed wheel structure greatly reduces the horizontal thrust caused by the inclined working of the equipment;
The strong anti-overload ability, the cylinder has a smooth operation and high reliability.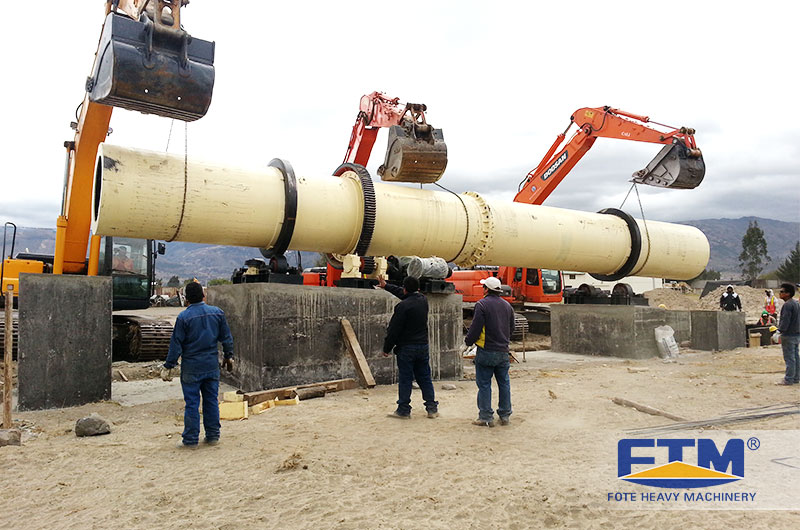 Bentonite Dryer Installation
Classic Cases of Fote Bentonite Dryer
FTM bentonite drying equipment in Turkey with a capacity of 10TPH, the input humidity of 22% and the output humidity of 8%.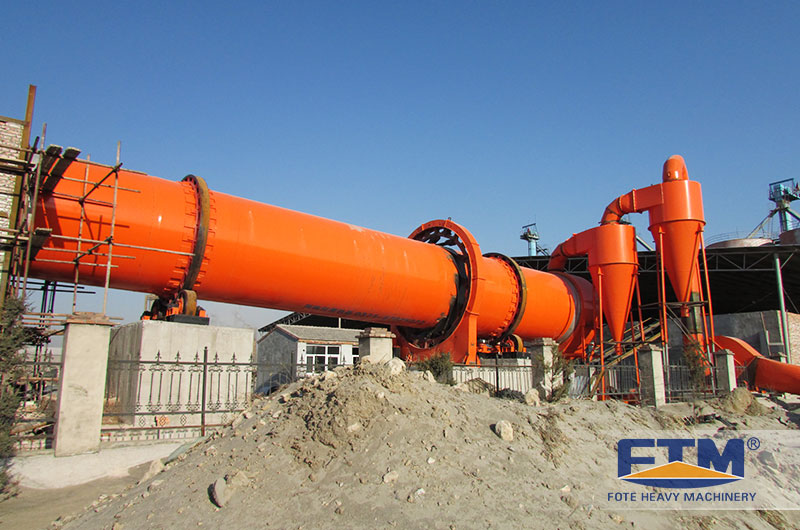 Fote Machinery is a professional bentonite powder dryer supplier in China, and we have high-quality products for sale, especially for intensive research and the manufacturing process of drying equipment. We have won a very good appraisal of the market. In addition, our bentonite dryer price is poor with the same quality. We can also offer free consultation on how to choose suitable drying equipment for customers according to their actual requirements.
General Specification
Spec./m
(Dia.×Length)

Shell Cubage
(m³)

Capacity
(t/h)

Installation
Obliquity
(%)

Highest Inlet
Air Temperature
(℃)

Main Motor
(kw)

Weight
(t)

Φ1.2×8.0

9.0

1.9~2.4

3~5

700~800

7.5

9

Φ1.2×10

11.3

2.4~3.0

3~5

700~800

7.5

11

Φ1.5×12

21.2

4.5~5.7

3~5

700~800

15

18.5

Φ1.5×14

24.7

5.3~6.6

3~5

700~800

15

19.7

Φ1.5×15

26.5

5.7~7.1

3~5

700~800

15

20.5

Φ1.8×12

30.5

6.5~8.1

3~5

700~800

18.5

21.5

Φ1.8×14

35.6

7.6~9.5

3~5

700~800

18.5

23

Φ2.2×12

45.6

9.7~12.2

3~5

700~800

22

33.5

Φ2.2×14

53.2

11.4~14.2

3~5

700~800

22

36

Φ2.2×16

60.8

13.0~16.2

3~5

700~800

22

38

Φ2.4×14

63.3

13.5~16.9

3~5


700~800

37

45

Φ2.4×18

81.4

17.4~21.7

3~5

700~800

37

49

Φ2.4×20

90.4

19.3~24.1

3~5

700~800

45

54

Φ2.4×22

99.5

21.2~26.5

3~5

700~800

45

58

Φ2.6×24

127.4

27.2~34.0

3~5

700~800

55

73

Φ3.0×20

141.3

30.1~37.7

3~5

700~800

75

85

Φ3.0×25

176.6

37.7~47.1

3~5

700~800

75

95

Φ3.2×25

201

42.9~53.6

3~5

700~800

90

110

Φ3.6×28

285

60.8~76.0

3~5

700~800

160

135
Technical parameters of indirect heat dryer:
Shell
diameter
×shell
Length
Items
Inside
diameter
of outer
shell
(mm)
Inside
diameter
of inner
shell
(mm)
Shell
Length
(m)
Shell
cubage
(m³)
Shell
obliquity
Lifting
blade
form
Highest
inlet air
temperature
(℃)
Dimensions
(m)
Φ1.5×15m
1500
500
15
20.27
3-5%
Lifting form
850
16.2×2.7×2.7
Φ1.5×17m
17
22.97
18.2×2.7×2.7
Φ1.5×19m
19
25.68
20.0×2.9×2.9
Φ1.8×21m
1800
650
21
35.91
3-5%
Lifting form
850
22.5×2.7×2.7
Φ1.8×23m
23
39.33
24.5×2.9×2.9
Φ1.8×25m
25
42.75
26.5×2.9×2.9
Φ2.2×21m
2200
800
21
58.10
3-5%
Lifting form
850
----
Φ2.2×23m
23
63.61
Φ2.2×25m
25
69.15
Spec./m
(Dia.×Length)

Shell Cubage
(m³)

Capacity
(t/h)

Φ1.2×8.0

9.0

1.9~2.4

Φ1.2×10

11.3

2.4~3.0

Φ1.5×12

21.2

4.5~5.7

Φ1.5×14

24.7

5.3~6.6

Φ1.5×15

26.5

5.7~7.1

Φ1.8×12

30.5

6.5~8.1

Φ1.8×14

35.6

7.6~9.5

Φ2.2×12

45.6

9.7~12.2

Φ2.2×14

53.2

11.4~14.2

Φ2.2×16

60.8

13.0~16.2

Φ2.4×14

63.3

13.5~16.9

Φ2.4×18

81.4

17.4~21.7

Φ2.4×20

90.4

19.3~24.1

Φ2.4×22

99.5

21.2~26.5

Φ2.6×24

127.4

27.2~34.0

Φ3.0×20

141.3

30.1~37.7

Φ3.0×25

176.6

37.7~47.1

Φ3.2×25

201

42.9~53.6

Φ3.6×28

285

60.8~76.0
Technical parameters of indirect heat dryer:
Shell
diameter
×shell
Length
Items
Inside
diameter
of outer
shell
(mm)
Inside
diameter
of inner
shell
(mm)
Shell
cubage
(m³)
Φ1.5×15m
1500
500
20.27
Φ1.5×17m
22.97
Φ1.5×19m
25.68
Φ1.8×21m
1800
650
35.91
Φ1.8×23m
39.33
Φ1.8×25m
42.75
Φ2.2×21m
2200
800
58.10
Φ2.2×23m
63.61
Φ2.2×25m
69.15