What is Ore Powder Dryer?
Fote Machinery is a specialist in the production of various ore powder dryers, including manganese ore powder dryer, nickel ore powder dryer, as well as for drying powder or particle of cobalt, tin, chromium, gold and mercury, etc. This drying equipment is indispensable in the rare metal ore dressing operation. FTM fine ore powder dryer is a new type adopting indirect hot-blast stove technology (electricity as the heat source also available), in case that the fine ore powder is blended in sulphide and its hazardous materials.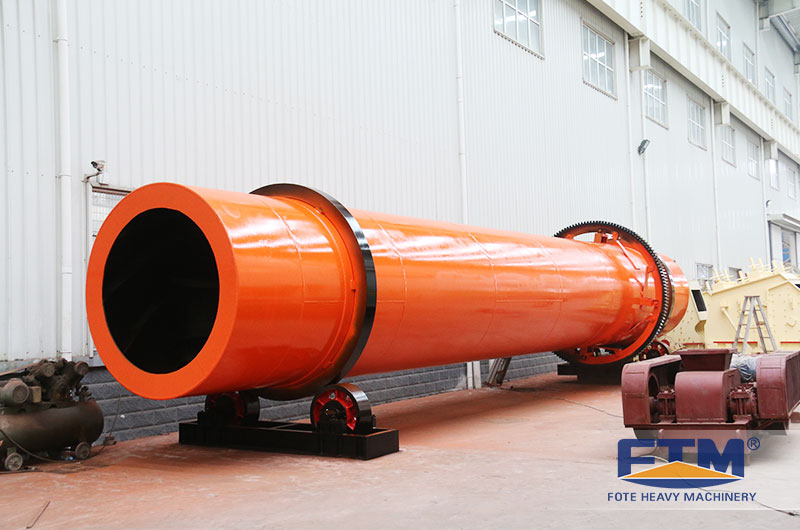 Ore Powder Dryer
Applications of Ore Powder Dryer Machine
Ore powder dryer or mineral powder dryer is widely used in building materials, metallurgy, mineral processing, chemical industry, cement and other industries, which is mainly used for drying wet and heavy materials such as mineral powder, slag, limestone, clay, sand, quartz sand, grain slag, etc. Fote ore powder dryer can also be used for drying metal powder, so it can be called metal powder dryer.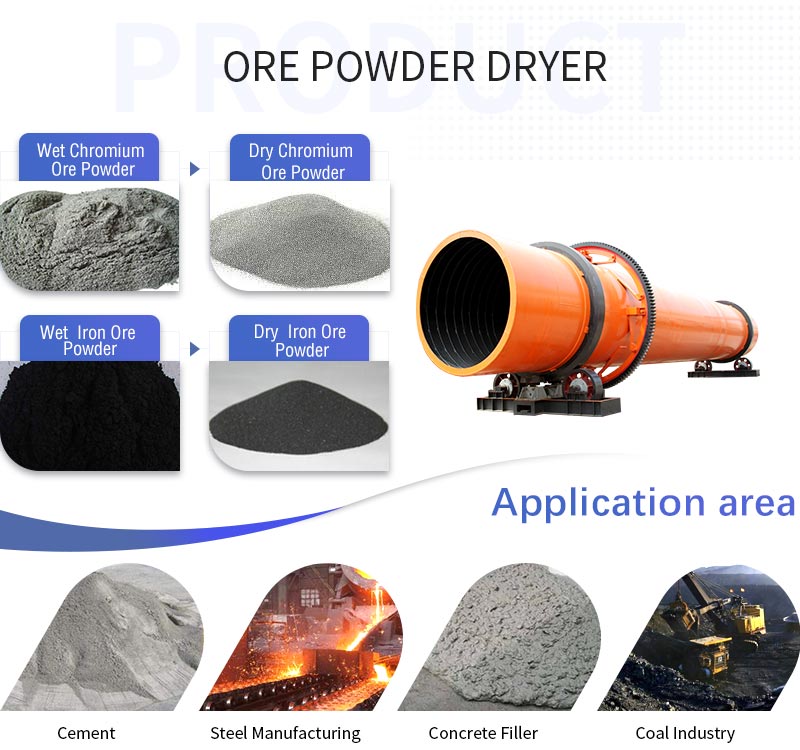 Examples of Ore Powder Applications
Advantages of Fote Ore Powder Drying Machine
Advanced technology of high-temperature and rapid drying adopted, which is of great efficiency;
Specially designed for drying ore powder with variable rotating blade angle and adjustable rotor speed.
Equipped with a special scraper device to avoid the sticking of wet ore powder
A wet material reflux layer is arranged on the upper part of the dryer, and the dryer is equipped with special stirrer.
High-speed stirring and air drying are combined to fully decentralize the viscous powder and improve the contact area between the materials and the heat medium, which are conducive to drying process.
Working Principle of Ore Powder Dryer
Ore powder drying machine adopts high-temperature and rapid drying technology, which is a successful combination of hot-air slot rotary-plate drying machine and air-flow dryer. Wet powder is thrown up and impacted into pieces by the high-speed rolling blades. Meanwhile, well decentralized powder gets adequate and effective contact with the scorching wind. Thus, the heat transformation is realized. In addition, there is cleaning device on the inner wall of the dryer to clean the lumpy material and those are stuck on the inner wall, which can expeditiously avoid blocking.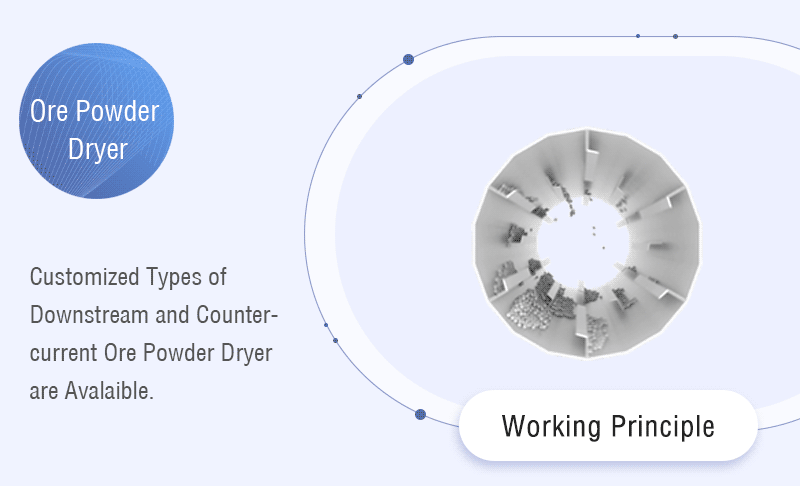 Working Principle of Ore Powder Dryer
How to Maintain Ore Powder Dryer?
Due to the working environment and often process corrosive materials, ore powder dryer needs good antiseptic protection. Two frequently used methods to protect the drying machine from corrosion.
1. Electrostatic coating. It is a means of spraying a new type powder on the cylinder, which is safer and causes less environmental pollution. This new powder is of the same anticorrosion as stainless steel. Besides, this powder is excellently resisted from outdoor weather and heat. Therefore, stainless steel can be replaced with plain carbon steel in dryer production, which has lower cost.
2. Deactivation and phosphorization. These two methods are grouped as a one-time process through electrical and electrochemical reactions. The stained steel layer can be recovered to its original color. A dense anti-rust layer is formed by phosphorization at the same time. Easy operation and cost savings make this method the most welcome and commonly used one.
Classic Case of Ore Powder Dryer
Fote ore powder dryer in India for drying zinc oxide with a capacity of 110 TPH, the input humidity of 30% and the output humidity of 3%. This ore powder dryer is used in the zin ore processing plant with a flotation method. This Fote Indian customer found a video about zin ore dressing and searched our web on Google. After comparison with other companies, he decided to leave a message online. Fote engineer contacted him and supplied three customized solutions within 24 hours after the customer replied to him. The goods were delivered to the Port of Kolkata and installed with the on-site guidance of Fote engineers. So far we have received high praise on this solution especially this ore powder dryer.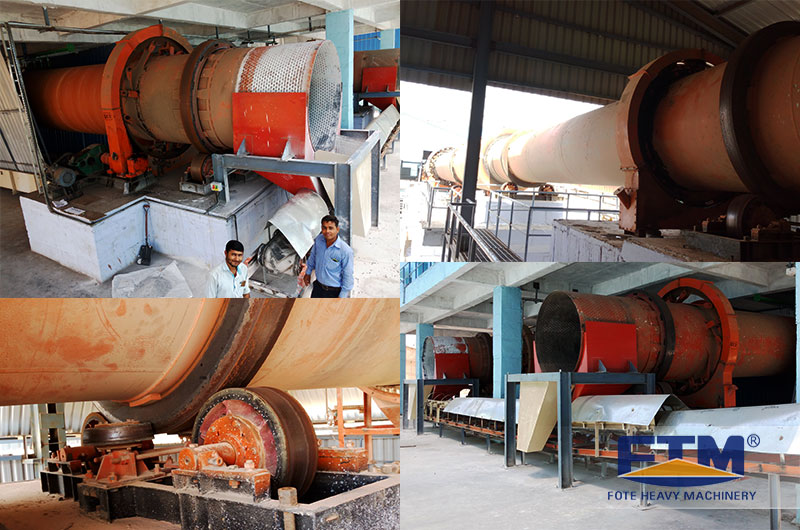 Fote Ore Powder Dryer at Customer Site
Ore Powder Dryer Manufacturer
For about 40 years, Fote has worked itself so hard that a series of rotary dryers have been formed. In addition to professional consultation, Fote engineers offer customized solutions according to your requirements including the material, processing environment, etc. Two-week delivery, timely emergency solutions and site installation guidance are available. You can get the latest factory quotation by chatting online with our sales, leaving message or email at quote@sinoftm.com.
General Specification
Spec./m
(Dia.×Length)

Shell Cubage
(m³)

Capacity
(t/h)

Installation
Obliquity
(%)

Highest Inlet
Air Temperature
(℃)

Main Motor
(kw)

Weight
(t)

Φ1.2×8.0

9.0

1.9~2.4

3~5

700~800

7.5

9

Φ1.2×10

11.3

2.4~3.0

3~5

700~800

7.5

11

Φ1.5×12

21.2

4.5~5.7

3~5

700~800

15

18.5

Φ1.5×14

24.7

5.3~6.6

3~5

700~800

15

19.7

Φ1.5×15

26.5

5.7~7.1

3~5

700~800

15

20.5

Φ1.8×12

30.5

6.5~8.1

3~5

700~800

18.5

21.5

Φ1.8×14

35.6

7.6~9.5

3~5

700~800

18.5

23

Φ2.2×12

45.6

9.7~12.2

3~5

700~800

22

33.5

Φ2.2×14

53.2

11.4~14.2

3~5

700~800

22

36

Φ2.2×16

60.8

13.0~16.2

3~5

700~800

22

38

Φ2.4×14

63.3

13.5~16.9

3~5


700~800

37

45

Φ2.4×18

81.4

17.4~21.7

3~5

700~800

37

49

Φ2.4×20

90.4

19.3~24.1

3~5

700~800

45

54

Φ2.4×22

99.5

21.2~26.5

3~5

700~800

45

58

Φ2.6×24

127.4

27.2~34.0

3~5

700~800

55

73

Φ3.0×20

141.3

30.1~37.7

3~5

700~800

75

85

Φ3.0×25

176.6

37.7~47.1

3~5

700~800

75

95

Φ3.2×25

201

42.9~53.6

3~5

700~800

90

110

Φ3.6×28

285

60.8~76.0

3~5

700~800

160

135
Technical parameters of indirect heat dryer:
Shell
diameter
×shell
Length
Items
Inside
diameter
of outer
shell
(mm)
Inside
diameter
of inner
shell
(mm)
Shell
Length
(m)
Shell
cubage
(m³)
Shell
obliquity
Lifting
blade
form
Highest
inlet air
temperature
(℃)
Dimensions
(m)
Φ1.5×15m
1500
500
15
20.27
3-5%
Lifting form
850
16.2×2.7×2.7
Φ1.5×17m
17
22.97
18.2×2.7×2.7
Φ1.5×19m
19
25.68
20.0×2.9×2.9
Φ1.8×21m
1800
650
21
35.91
3-5%
Lifting form
850
22.5×2.7×2.7
Φ1.8×23m
23
39.33
24.5×2.9×2.9
Φ1.8×25m
25
42.75
26.5×2.9×2.9
Φ2.2×21m
2200
800
21
58.10
3-5%
Lifting form
850
----
Φ2.2×23m
23
63.61
Φ2.2×25m
25
69.15
Spec./m
(Dia.×Length)

Shell Cubage
(m³)

Capacity
(t/h)

Φ1.2×8.0

9.0

1.9~2.4

Φ1.2×10

11.3

2.4~3.0

Φ1.5×12

21.2

4.5~5.7

Φ1.5×14

24.7

5.3~6.6

Φ1.5×15

26.5

5.7~7.1

Φ1.8×12

30.5

6.5~8.1

Φ1.8×14

35.6

7.6~9.5

Φ2.2×12

45.6

9.7~12.2

Φ2.2×14

53.2

11.4~14.2

Φ2.2×16

60.8

13.0~16.2

Φ2.4×14

63.3

13.5~16.9

Φ2.4×18

81.4

17.4~21.7

Φ2.4×20

90.4

19.3~24.1

Φ2.4×22

99.5

21.2~26.5

Φ2.6×24

127.4

27.2~34.0

Φ3.0×20

141.3

30.1~37.7

Φ3.0×25

176.6

37.7~47.1

Φ3.2×25

201

42.9~53.6

Φ3.6×28

285

60.8~76.0
Technical parameters of indirect heat dryer:
Shell
diameter
×shell
Length
Items
Inside
diameter
of outer
shell
(mm)
Inside
diameter
of inner
shell
(mm)
Shell
cubage
(m³)
Φ1.5×15m
1500
500
20.27
Φ1.5×17m
22.97
Φ1.5×19m
25.68
Φ1.8×21m
1800
650
35.91
Φ1.8×23m
39.33
Φ1.8×25m
42.75
Φ2.2×21m
2200
800
58.10
Φ2.2×23m
63.61
Φ2.2×25m
69.15