Introduction of Slag Dryer
To recycle slag produced in ore dressing or smelting industry, Fote Machinery develops new advanced dryer for slag drying. FTM slag dryer machine is commonly used in building materials, chemical industry, cement, etc. Mainly composed of rotary cylinder, lifting blades, self-cleaning device and other equipped devices, slag dryer, or slag drying machine operates stably as well as is of mature technology, high production capacity and efficiency.
Various Combustion Furnace Selectable for Slag Dryer
√ High temperature fluidized furnace
√ Pulverized coal duster furnace
√ Artificial coal furnace.
Applications of Slag Dryer Machine
Thanks to its own cleaning device and material lifting plate, slag dryer is extensively applied to dewater wet materials with large specific gravity.
Slag dryer is mainly used in smelting field like iron industry for the tailings of blast furnace slag drying;
In cement industry, the slag dried by the slag drying machine is milled into powder and is used as the raw materials in cement and concrete production;
Slag dryer is also be used in building materials production and as the raw material in chemical industry.
Other applications: slag dryer is used for drying carbide slag, granulating slag, limestone, metal powder, clay, river sand, coal slime, sludge and other materials.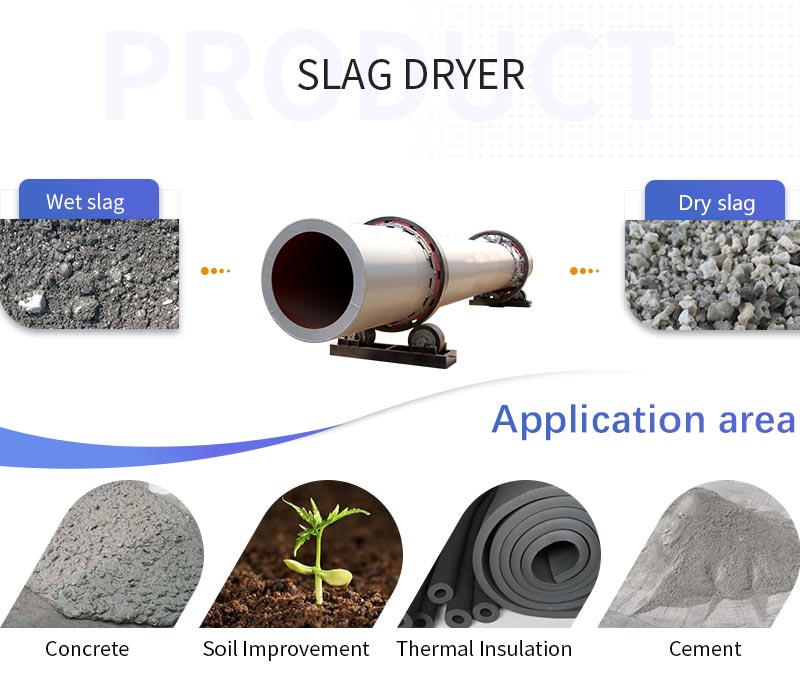 Applied Fields of Slag Dryer
How Slag Drying Equipment Works?
Co-current heating mainly works in slag drying process. Wet slag is transmitted into the cylinder by the feeding box and feeding conveyor. Then it is pushed back to the other end of the cylinder of the drum by spiral blades inside. The dryer is set at a certain angle. On one side, the wet slag flows down to the exit under the effect of gravity and rolling. On the other, it is brought up to the top end of the cylinder by the blades and falls into a screen to get in full touch with the scorching wind. Thanks to this repeated proceeding, wet slag is dried step by step.

Working Principle of Slag Dryer
Structural Advantages of Fote Slag Dryer
Slag Dryer Machine Structure
Slag dryer is also a kind of rotary dryer, which is mainly composed of a rotating cylinder, induced draft fan, high-speed scattering equipment, lifting plates, self-cleaning device, transmission device, conveyor, hot air equipment, reducer, supporting device, sealing device and other components.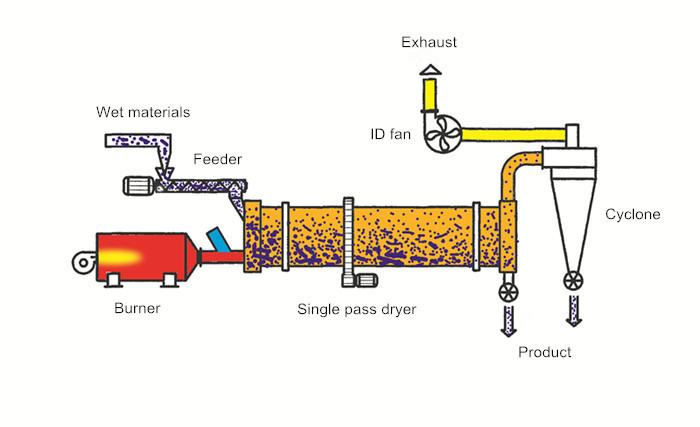 Structure of Slag Dryer
Slag dryer can meet different particle size and moisture need of slag, fly ash and other materials.
Large processing capacity, strong anti-overload capacity, low fuel consumption, which can reduce the drying cost.
Concurrent flow drying design is adopted to achieve the best drying effect. Material and heat flow enter into the drying equipment from the same side. The dryer outlet temperature is low with high thermal efficiency.
New kind of feeding and discharging device to prevent the feeding jam, discontinuous, inhomogeneous and feeding returning phenomena, which reduces the load of the dust collecting system.
The innovation of inner structure strengthens the cleaning and heat transfer effect of dispersed materials and eliminates the sticking phenomenon of the inner cylinder wall.
How to Prolong Slag Drying Machine Service Life?
The key to extend the service life of the slag dryer is to do often maintenance and check. Based on experience, Fote engineers give some tips for reference.
1, Bearings take all the load of the machine. Therefore, satisfactory lubrication is much concerned with the service life. Lubricant oil infused shall be clean and the container shall be sealed well;
2, Frequently check the newly installed tyre, which is easily loosed;
3, Pay more attention to the easily-worn parts and be ready to replace those need to;
4, Pay much attention to the oil temperature of the bearing parts. Put an end to the dryer immediately, if it goes up higher. Find the cause and figure it out.
5, An impacting sound from the rotating wheels shall call your attention to stop this drying machine. Immediate check and solutions are needed.
Classic Case of Slag Dryer
In India, Fote slag dryer machine is used in cement plant. The customer got the contact from his friend and searched on the net. He saw our web of slag dryer and chatted with our skillful engineer online. And in about 24 hours, he got an email enclosed with two customized solutions including the slag dryer price, the production line flow, etc.
Being pressed by quick reply and professional suggestions from Fote engineer, he paid a visit to our factory and introduced the drying line from Fote Machinery. The followings are the details of this production line.
Capacity: 50TPH
Feed moisture: about 30%
Discharge moisture: 1-1.5%
Use of the dried slag: raw material in cement production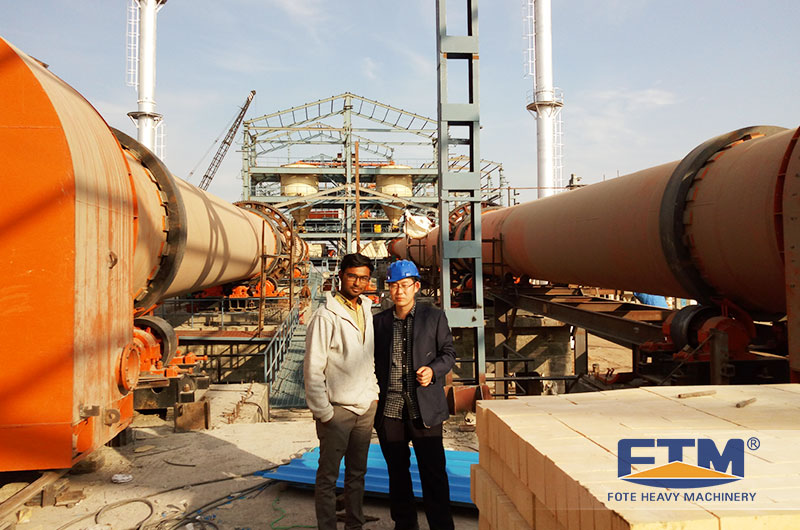 Our Indian Customer with FTM Engineer
Slag Dryer Manufacturer
Located in Zhengzhou, China, the mining machinery center, Fote Machinery is a professional slag drying equipment manufacturer in China, who has various slag dryer for sale like steel slag dryer, granulating slag dryer, etc. Our engineers have advanced international technology as support and are specialized in designing and producing slag dryer based on your need. Customers are warmly welcomed to chat online with the skillful engineer for slag dryer price and the production flow!
General Specification
Spec./m
(Dia.×Length)

Shell Cubage
(m³)

Capacity
(t/h)

Installation
Obliquity
(%)

Highest Inlet
Air Temperature
(℃)

Main Motor
(kw)

Weight
(t)

Φ1.2×8.0

9.0

1.9~2.4

3~5

700~800

7.5

9

Φ1.2×10

11.3

2.4~3.0

3~5

700~800

7.5

11

Φ1.5×12

21.2

4.5~5.7

3~5

700~800

15

18.5

Φ1.5×14

24.7

5.3~6.6

3~5

700~800

15

19.7

Φ1.5×15

26.5

5.7~7.1

3~5

700~800

15

20.5

Φ1.8×12

30.5

6.5~8.1

3~5

700~800

18.5

21.5

Φ1.8×14

35.6

7.6~9.5

3~5

700~800

18.5

23

Φ2.2×12

45.6

9.7~12.2

3~5

700~800

22

33.5

Φ2.2×14

53.2

11.4~14.2

3~5

700~800

22

36

Φ2.2×16

60.8

13.0~16.2

3~5

700~800

22

38

Φ2.4×14

63.3

13.5~16.9

3~5


700~800

37

45

Φ2.4×18

81.4

17.4~21.7

3~5

700~800

37

49

Φ2.4×20

90.4

19.3~24.1

3~5

700~800

45

54

Φ2.4×22

99.5

21.2~26.5

3~5

700~800

45

58

Φ2.6×24

127.4

27.2~34.0

3~5

700~800

55

73

Φ3.0×20

141.3

30.1~37.7

3~5

700~800

75

85

Φ3.0×25

176.6

37.7~47.1

3~5

700~800

75

95

Φ3.2×25

201

42.9~53.6

3~5

700~800

90

110

Φ3.6×28

285

60.8~76.0

3~5

700~800

160

135
Technical parameters of indirect heat dryer:
Shell
diameter
×shell
Length
Items
Inside
diameter
of outer
shell
(mm)
Inside
diameter
of inner
shell
(mm)
Shell
Length
(m)
Shell
cubage
(m³)
Shell
obliquity
Lifting
blade
form
Highest
inlet air
temperature
(℃)
Dimensions
(m)
Φ1.5×15m
1500
500
15
20.27
3-5%
Lifting form
850
16.2×2.7×2.7
Φ1.5×17m
17
22.97
18.2×2.7×2.7
Φ1.5×19m
19
25.68
20.0×2.9×2.9
Φ1.8×21m
1800
650
21
35.91
3-5%
Lifting form
850
22.5×2.7×2.7
Φ1.8×23m
23
39.33
24.5×2.9×2.9
Φ1.8×25m
25
42.75
26.5×2.9×2.9
Φ2.2×21m
2200
800
21
58.10
3-5%
Lifting form
850
----
Φ2.2×23m
23
63.61
Φ2.2×25m
25
69.15
Spec./m
(Dia.×Length)

Shell Cubage
(m³)

Capacity
(t/h)

Φ1.2×8.0

9.0

1.9~2.4

Φ1.2×10

11.3

2.4~3.0

Φ1.5×12

21.2

4.5~5.7

Φ1.5×14

24.7

5.3~6.6

Φ1.5×15

26.5

5.7~7.1

Φ1.8×12

30.5

6.5~8.1

Φ1.8×14

35.6

7.6~9.5

Φ2.2×12

45.6

9.7~12.2

Φ2.2×14

53.2

11.4~14.2

Φ2.2×16

60.8

13.0~16.2

Φ2.4×14

63.3

13.5~16.9

Φ2.4×18

81.4

17.4~21.7

Φ2.4×20

90.4

19.3~24.1

Φ2.4×22

99.5

21.2~26.5

Φ2.6×24

127.4

27.2~34.0

Φ3.0×20

141.3

30.1~37.7

Φ3.0×25

176.6

37.7~47.1

Φ3.2×25

201

42.9~53.6

Φ3.6×28

285

60.8~76.0
Technical parameters of indirect heat dryer:
Shell
diameter
×shell
Length
Items
Inside
diameter
of outer
shell
(mm)
Inside
diameter
of inner
shell
(mm)
Shell
cubage
(m³)
Φ1.5×15m
1500
500
20.27
Φ1.5×17m
22.97
Φ1.5×19m
25.68
Φ1.8×21m
1800
650
35.91
Φ1.8×23m
39.33
Φ1.8×25m
42.75
Φ2.2×21m
2200
800
58.10
Φ2.2×23m
63.61
Φ2.2×25m
69.15