What is Kaolin Dryer?
Kaolin is the mineral raw materials required in dozens of industries such as papermaking, ceramics, rubber, chemical industry, coatings, pharmacy and national defense. Kaolin is commonly used in papermaking industry. Its power consumption is only 30% of the parallel products. Coal consumption is only 50%, and the index of material is higher than the nationwide standard after drying process.
Kaolin dryer is otherwise known as kaolin drying machine or kaolin drum dryer, which is not only applicable for granular materials, but also used for drying viscous, pasty materials or materials with higher water content and special requirements. The covers for the two ends of kaolin dryer host are highly sealed, which is energy saving and environmental protection.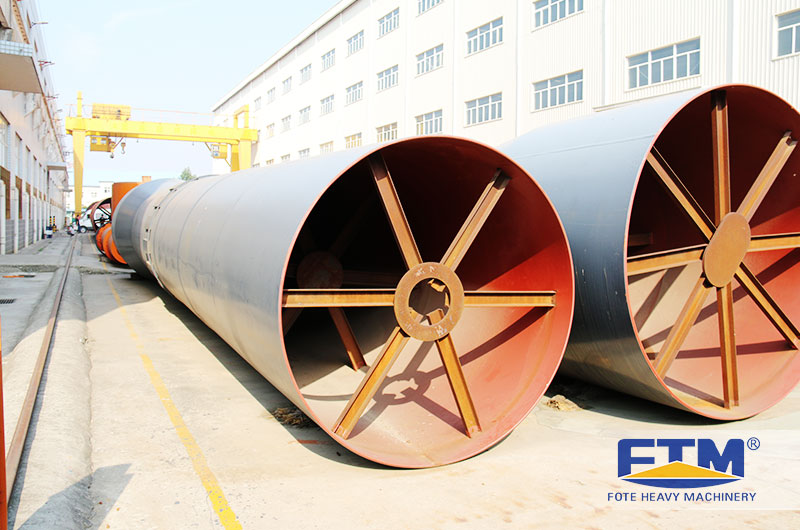 Kaolin Dryer in Fote Factory
Applications of Kaolin Dryer
Kaolin drying machine is utilized extensively for drying concentrate powder, slag, limestone, coal, slag, clay, kaolin in and other materials in building materials, metallurgy, chemical industry, cement industry, etc. It is especially suitable for kaolin, clay and bentonite. After nearly 25 years of development, the new generation of kaolin dryer is energy saving and consumption reducing.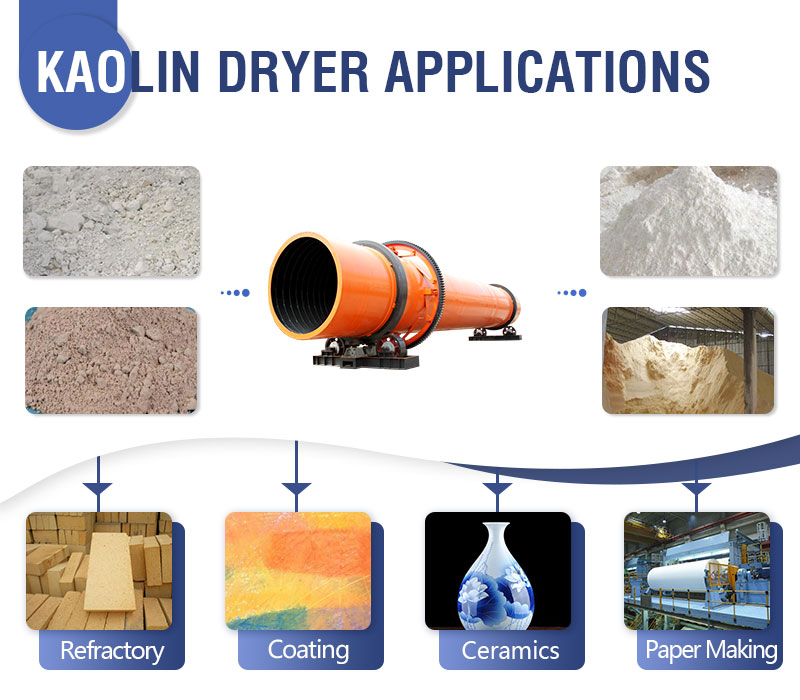 Application of Kaolin Dryer
How Kaolin Rotary Dryer Works?
As key equipment in kaolin drying process, kaolin drying machine can be installed as a standard alone device as well as a complete system with other machines like dust collecting system, feeding machine, conveyor, mixer, etc.
The kaolin dryer is installed at a certain angle. When the kaolin rotary drying machine works, wet kaolin is introduced into the drum and is lifted up to the top of the interior by the lifting plates inside. During the falling, the moist material is crushed by the blades which are rolling at a high speed. This process is repeated until the wet kaolin is dried and moved to the exit of the cylinder under the effect of the gravity. At the same time, scorching wind from the direct-fired hot-blast furnace makes the heat transformation realized and blows the dried kaolin out into the conveyor. Thus, the drying process is completed.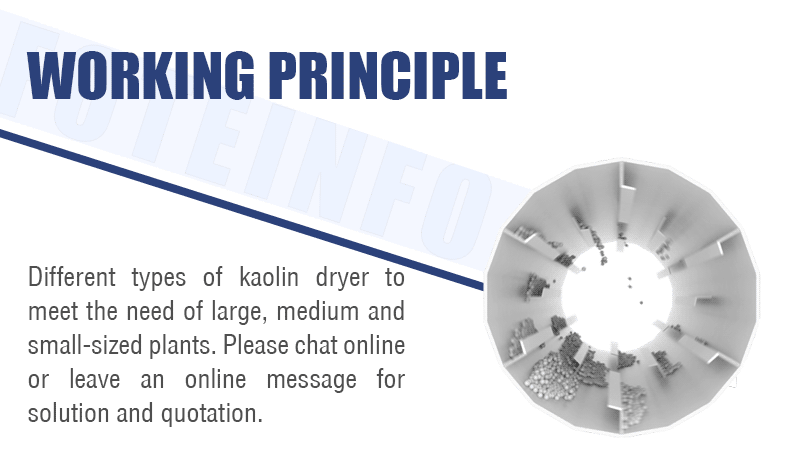 Working Principle of Kaolin Dryer
Advantages of Fote Kaolin Dryer Machine
Large processing capacity, which is from 1.9-76TPH, and the drum volume is alternative from 9m3 to 285m3, thus it is of low fuel consumption and low drying cost;
High temperature resistant, which is targeted at the refractoriness of kaolin and can realize fast drying of kaolin with high temperature wind;
Strong scalability. It takes the production surplus into account, even small increases of the yield; there is no need to replace the equipment;
It adopts self-aligning tug structure, so that the tumor rolling ring has good matching, which greatly reduces the wear and power consumption;
The specially designed wheel structure greatly reduces the horizontal thrust caused by inclined working of the equipment;
Strong anti-overload ability, the cylinder has a smooth operation and high reliability.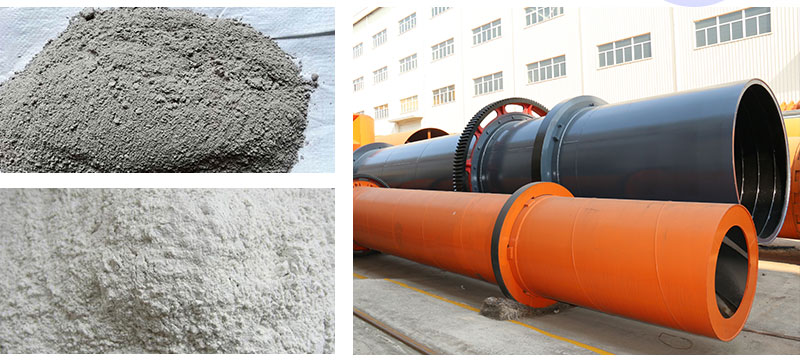 Fote Kaolin Dryer
Environmental Protection Value of the Kaolin Drum Dryer
>>> Equipped with pulse dust collector, the kaolin dryer can further reduce the dust content of the exhaust;
>>> Well-sealed host of the drum, the electricity consumption is 30% of parallel machines and the coal consumption only 50%, which is energy-saving and environmental protected.
Classic Case of Kaolin Dryer
In Malaysia, Φ1.5x12 kaolin dryer is used in kaolin wet processing line with a capacity of 5TPH. Kaolin is dried from 30% to less than 1%, which is directly used for papermaking and ceramics production. This customer was introduced by his friend who had bought Fote rotary dryer before. After contact with him and got details of the working environment and his project, Fote engineer offered him two solutions with capacity from 2.4-5.7TPH. Finally, he chose the kaolin dryer of ModelΦ1.5x12. This rotary dryer machine has worked well for him for about two years according to the feedback from him. Besides, Fote engineers assure him a reliable after-service.
Fote Kaolin Dryer Customer Site
Kaolin Dryer Manufacturer
Fote Machinery is an experienced kaolin dryer supplier with an about 40-year history. Fote has introduced advanced technology from Germany, America, Japan and other countries and has established its own production series. We have types of high-quality kaolin dryer machine for sale to meet the requirements of different sizes of plants. When it comes to kaolin dryer price, we have the greatest affordable price in the same industry. Free consultant and 24-hour service are offered here. You can chat online with our skilled sales or leave an online message. We will contact you within 24 hours and offer you customized solutions based on your need.
General Specification
Spec./m
(Dia.×Length)

Shell Cubage
(m³)

Capacity
(t/h)

Installation
Obliquity
(%)

Highest Inlet
Air Temperature
(℃)

Main Motor
(kw)

Weight
(t)

Φ1.2×8.0

9.0

1.9~2.4

3~5

700~800

7.5

9

Φ1.2×10

11.3

2.4~3.0

3~5

700~800

7.5

11

Φ1.5×12

21.2

4.5~5.7

3~5

700~800

15

18.5

Φ1.5×14

24.7

5.3~6.6

3~5

700~800

15

19.7

Φ1.5×15

26.5

5.7~7.1

3~5

700~800

15

20.5

Φ1.8×12

30.5

6.5~8.1

3~5

700~800

18.5

21.5

Φ1.8×14

35.6

7.6~9.5

3~5

700~800

18.5

23

Φ2.2×12

45.6

9.7~12.2

3~5

700~800

22

33.5

Φ2.2×14

53.2

11.4~14.2

3~5

700~800

22

36

Φ2.2×16

60.8

13.0~16.2

3~5

700~800

22

38

Φ2.4×14

63.3

13.5~16.9

3~5


700~800

37

45

Φ2.4×18

81.4

17.4~21.7

3~5

700~800

37

49

Φ2.4×20

90.4

19.3~24.1

3~5

700~800

45

54

Φ2.4×22

99.5

21.2~26.5

3~5

700~800

45

58

Φ2.6×24

127.4

27.2~34.0

3~5

700~800

55

73

Φ3.0×20

141.3

30.1~37.7

3~5

700~800

75

85

Φ3.0×25

176.6

37.7~47.1

3~5

700~800

75

95

Φ3.2×25

201

42.9~53.6

3~5

700~800

90

110

Φ3.6×28

285

60.8~76.0

3~5

700~800

160

135
Technical parameters of indirect heat dryer:
Shell
diameter
×shell
Length
Items
Inside
diameter
of outer
shell
(mm)
Inside
diameter
of inner
shell
(mm)
Shell
Length
(m)
Shell
cubage
(m³)
Shell
obliquity
Lifting
blade
form
Highest
inlet air
temperature
(℃)
Dimensions
(m)
Φ1.5×15m
1500
500
15
20.27
3-5%
Lifting form
850
16.2×2.7×2.7
Φ1.5×17m
17
22.97
18.2×2.7×2.7
Φ1.5×19m
19
25.68
20.0×2.9×2.9
Φ1.8×21m
1800
650
21
35.91
3-5%
Lifting form
850
22.5×2.7×2.7
Φ1.8×23m
23
39.33
24.5×2.9×2.9
Φ1.8×25m
25
42.75
26.5×2.9×2.9
Φ2.2×21m
2200
800
21
58.10
3-5%
Lifting form
850
----
Φ2.2×23m
23
63.61
Φ2.2×25m
25
69.15
Spec./m
(Dia.×Length)

Shell Cubage
(m³)

Capacity
(t/h)

Φ1.2×8.0

9.0

1.9~2.4

Φ1.2×10

11.3

2.4~3.0

Φ1.5×12

21.2

4.5~5.7

Φ1.5×14

24.7

5.3~6.6

Φ1.5×15

26.5

5.7~7.1

Φ1.8×12

30.5

6.5~8.1

Φ1.8×14

35.6

7.6~9.5

Φ2.2×12

45.6

9.7~12.2

Φ2.2×14

53.2

11.4~14.2

Φ2.2×16

60.8

13.0~16.2

Φ2.4×14

63.3

13.5~16.9

Φ2.4×18

81.4

17.4~21.7

Φ2.4×20

90.4

19.3~24.1

Φ2.4×22

99.5

21.2~26.5

Φ2.6×24

127.4

27.2~34.0

Φ3.0×20

141.3

30.1~37.7

Φ3.0×25

176.6

37.7~47.1

Φ3.2×25

201

42.9~53.6

Φ3.6×28

285

60.8~76.0
Technical parameters of indirect heat dryer:
Shell
diameter
×shell
Length
Items
Inside
diameter
of outer
shell
(mm)
Inside
diameter
of inner
shell
(mm)
Shell
cubage
(m³)
Φ1.5×15m
1500
500
20.27
Φ1.5×17m
22.97
Φ1.5×19m
25.68
Φ1.8×21m
1800
650
35.91
Φ1.8×23m
39.33
Φ1.8×25m
42.75
Φ2.2×21m
2200
800
58.10
Φ2.2×23m
63.61
Φ2.2×25m
69.15