What is Sand Dryer?
Sand dryer is drying equipment to dewater granular materials in general, especially suitable for artificial sand, river sand, quartz/silica sand, etc. This dryer has advantages of high production capacity, wide scope of applications, small flow resistance, larger fluctuation range in operation, easy operation and so on. Sand drying machine is also commonly used to dry mineral powder, coal cinder, slag, etc. Sand dryer adapts to a variety of fuels such as coal, oil and gas.
Classification of Sand Dryer
According to volume, sand dryer can be divided into large sand dryers and small sand dryers; While according to the materials to be dried, it can be divided into silica sand dryer, quartz sand dryer, river sand dryer, yellow sand dryer, zircon sand dryer, garnet sand dryer, etc.
Applications of Sand Dryer Machine
Artificial sand, river sand, quartz/silica sand, yellow sand, etc. in building materials;
Iron powder, zinc ore powder and other ore powder in ore dressing process;
Particles like fly ash, limestone in cement industry;
Raw coal powder, semi-coke, coal gangue, coal ash, etc. in the coal industry and power plant;
Other power like dry-mixed mortar, slag, clay, gypsum, chemical industry, foundry, and other industries.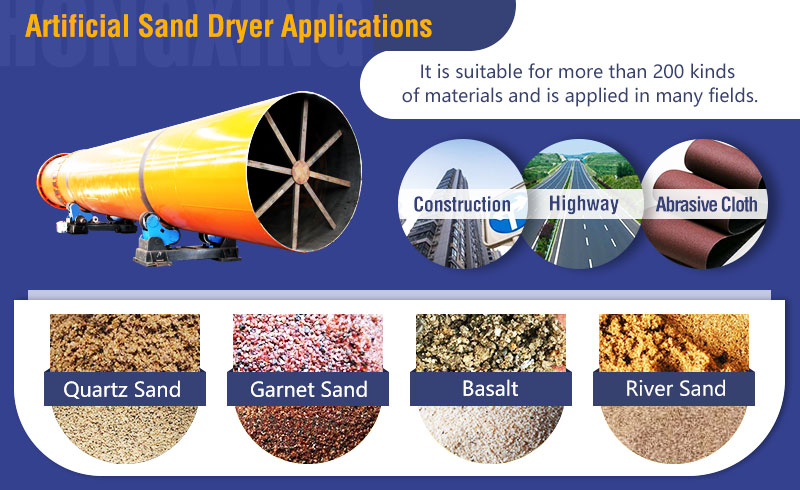 Applications of Sand Dryer
Working Principle of Sand Drying Equipment
There are three principal systems work when sand dryer machine operates, boiler system, heat exchange system and dust collecting system. The first system adopts hot-blast stove technology. The heat exchange system is mainly referred to the three-cylinder drum, in which moist sand is raised up to get full contact with the scorching wind. Lifting blades fixed in the inner wall are organized in a spiral. Dried material is easily blown away by the flowing air. Here, dust collector starts to work to avoid resource waste or air pollution.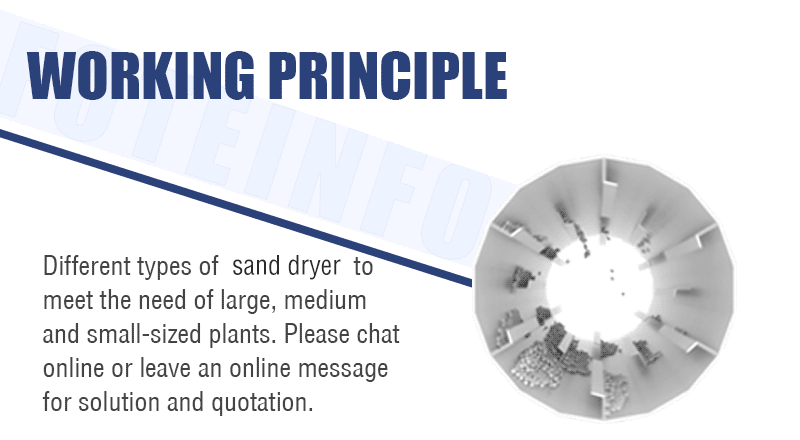 Working Principle of Sand Dryer
Structure and Advantages of Rotary Sand Dryer
Sand dryer is mainly composed of rotary cylinder, air inducing equipment, high-speed scattering equipment, lifting plate, automatic cleaning device, transmission device, conveying equipment, hot air equipment, speed reducer, supporting and sealing device, etc.
Exquisite workmanship: wear-resistant manganese plate is adopted, which is 3-4 times more wearable than ordinary steel plate;
Stable performance and advanced process: the output humidity of sand can be controlled to 0.5-1% or below according to your requirements and the sand in dryer keeps its quality;
Small occupied area for its reasonable design: compared with traditional dryer machine, new sand drying equipment takes 60% less area;
Other benefits: low-cost maintenance, low energy consumption, and high mechanization.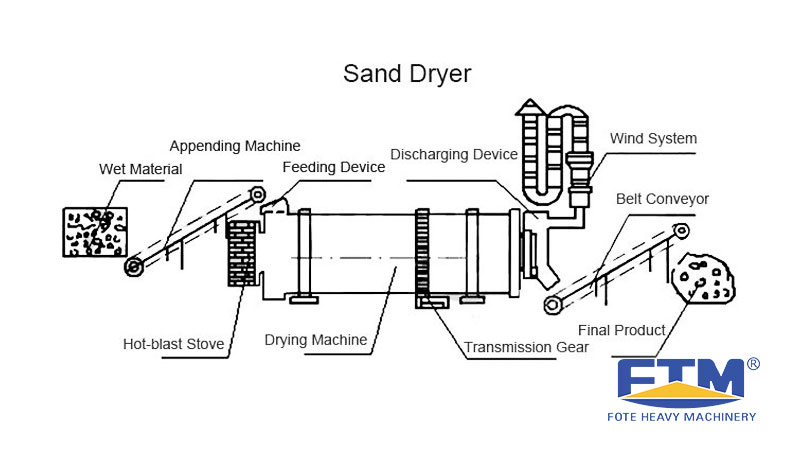 Structure of Sand Dryer
Attentions to in Sand Dryer Machine Installation

>> Sand dryer machine shall be installed on horizontal concrete bed and fixed by anchor bolts;
>> The main body of the rotary sand dryer shall be perpendicular to the horizontal ground;
>> Check every anchor bolt and the door of the main engine to see if it is locked well;
>> Allocate wires and control switch based on the indications;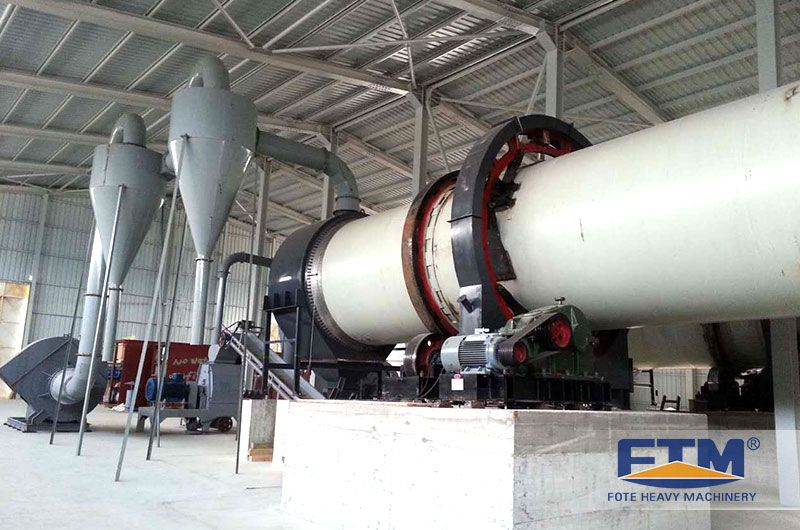 Classic Case of Sand Dryer
As the applied fields of artificial sand, the sand dryer is usually used in plants that supply construction sand for building industries. Here is a case in Vietnam of the sand dryer that is used for drying quartz sand and garnet sand which are for water treatment filter, blast cleaning, and other industries. In this drying line, the sand dryer works with a capacity of 50TPH. The artificial sand is dried from 10% humidity to 0.7% humidity. With the on-site guidance of installation from Fote engineers, this sand dryer was put into production within 15 days after the shipment. In addition, our engineers offered operation training to the operators.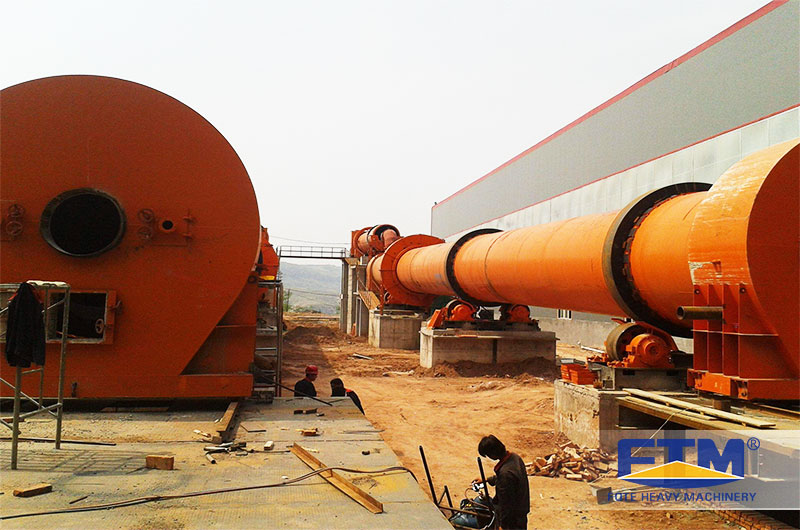 Sand Dryer Customer Site
Sand Dryer Manufacturer
Located in the machinery center, Henan Fote Heavy Machinery Co. Ltd. is one of the most professional sand dryer manufacturers. With more than 2,300 online employees including 360 skilled engineers are glad to offer you pre-sale consultation, in-sale guidance, and after-sales service. Our consultation includes sand dryer price, solutions and flow charts according to your need. You are much welcome to chat online with our sales or leave an online message to get the quotation.
General Specification
Item/Unit/Model
Φ2.5×7m
Φ2.7×7m
Φ3.0×7.0m
Φ3.2×7.0m
Φ3.6×8m
Diameter of outer cylinder(m)
2.5
2.7
3.0
3.2
3.6
Length of outer cylinder(m)
7
7
7.0
7.0
8
Cylinder volume( m³ )
16.63
16.63
52.678
52.678
81.38
Rotating speed of cylinder(rpm)
4-10
4-10
4 -10
4 -10
4 -10
Initial moisture of slag(%)
10-12
10-12
10-12
10-12
10-12
Final moisture of slag(%)
1
1
1
1
1
Initial moisture of yellow ground(%)
8-10
8-10
8-10
8-10
8-10
Final moisture of yellow ground (%)
0.5-1
0.5-1
0.5-1
0.5-1
0.5-1
Highest intake air temperature(℃)
700-750℃
700-750℃
700-750℃
700-750℃
700-750℃
Production capacity(T/h)
Yellow sand: 25-30
Slag: 20-25
Yellow sand: 30-35
Slag: 25-30
Yellow sand: 35-40
Slag: 30-35
Yellow sand: 45-50
Slag: 35-40
Yellow sand: 65-70
Slag: 60-65
Motor type
Y2-132m-4E
Y2-132m-4E
Y2-160m-4
Y2-160m-4
Y2-160m-4
Motor power(kw)
7.5×2
11×2
7.5×4
7.5×4
15×4
Reducer type
XWD7-23-11W
XWD7-23-11W
XWD6-23-7.5KW
XWD6-23-7.5KW
XWD8-23-15KW
Velocity ratio of reducer
29
29
29
29
29
Item/Unit/Model

Cylinder volume( m³ )

Production capacity(T/h)

Φ2.5×7m
16.63
Yellow sand: 25-30
Slag: 20-25
Φ2.7×7m
16.63
Yellow sand: 30-35
Slag: 25-30
Φ3.0×7.0m
52.678
Yellow sand: 35-40
Slag: 30-35
Φ3.2×7.0m
52.678
Yellow sand: 45-50
Slag: 35-40
Φ3.6×8m
81.38
Yellow sand: 65-70
Slag: 60-65