What is Sludge Dryer?
Sludge drying is a process to dewater and recycle high-moisture sludge as resource. there are mainly two ways to dry sludge, natural drying and mechanical drying. The latter is more efficient. The removal of water reduces the sludge quality and volume, which is to make it convenient to be store and transport the sludge. With mature and advanced international technology from Europe, etc., Fote solution on sludge drying process is based on the properties, like high water content, high organics content, and low specific gravity, etc.
Video of sludge dryer work site
Sludge dryers with different fuels
According to different customers' needs, Fote offers sludge drying machine with different heat sources.
✔ Solid fuel like coal
✔ Gaseous fuel like gas, steam, etc.
✔ Liquid fuel like oil, etc.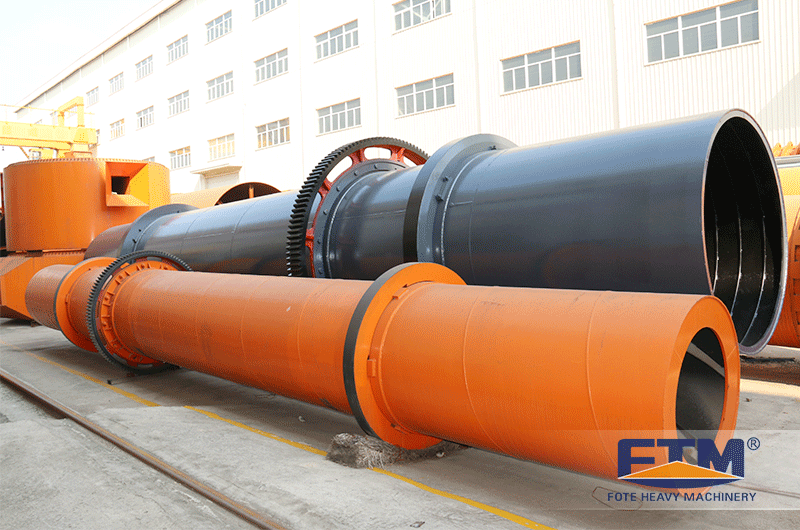 Sludge Dryer
Applications of Sludge Dryer Machine
Produced from sewage disposal, sludge actually can be transformed by special designed sludge dryer equipment into a kind of green fuel and resource. Sludge is an extremely complex heterogeneous material composed of organic fragments, bacteria, inorganic particles, colloids, etc. Sludge has the characteristics of high moisture, high organic matter content, fine particle and small specific gravity.
Sludge dryer plays a key role in dehydrating and drying wet sludge to a certain moisture. Dried sludge can be used in agriculture to improve the soil, in building materials production to be the raw material of cement and in brick making. Besides, sludge dryer can be used to make biochemical fiberboard.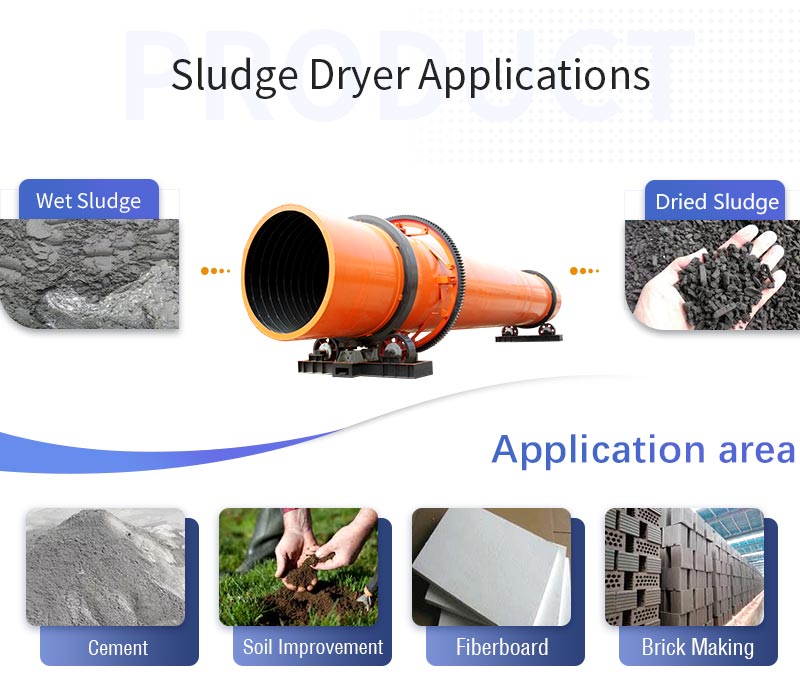 Applications of Sludge Dryer
Fote Sludge Drying Machine Structural Advantages and Benefits
It is mainly composed of barrel, supporting device, driving device and sealing device, etc. The working areas include discharging area, lifting board area, cleaning area and feeding area.
Advanced structure, wide applications and strong adaptability. New grouped self-cleaning device inside the inner wall makes it easier to dry various sludge and other materials of high viscosity.
Wearable parts and durability. Our sludge dryer machine uses high-quality steel in the dryer production, which is of extreme hardness and toughness; the under rollers are designed reasonably and ways to lubricate are available.
Effective drying and high thermal efficiency. Well-equipped transmission, exhaust and feeding and discharging radiator help the dryer machine perform excellently. Scorching air blows at high speed, so the material is fully dispersed.
Stable quality of finished products. Dried granular or powder sludge volume is lessened 4-5 times but the quality stays. It is a great improvement of sludge nature
Other benefits: Smooth running, elegant appearance, low noise, etc.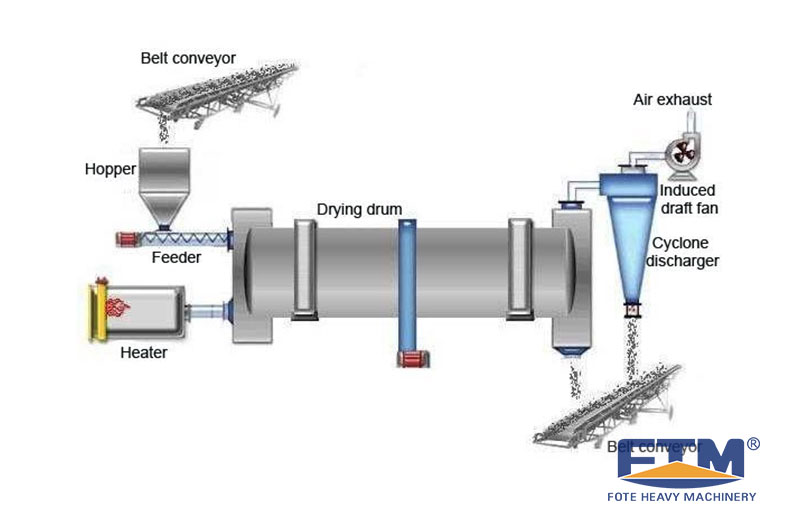 Stucture of Sludge Dryer
What a Sludge Dryer Brings to You?
An efficient use of sludge brings environmental protection as well as over-expected economic benefits.
Ⅰ. Reducing Weight and Volume
Sludge dryer reduces the sludge volume and weight by evaporation of water in it, making it easier to store and transport.
Ⅱ. Stabilize Sludge
Drying can stabilize the sludge, thus reducing the putrid smell and improving the disinfection effect.
Ⅲ. Simplify the Next Process
Either in following sludge disposal or in direct recycle process, sludge drying equipment plays an essential part of boosting the calorific value of sludge, which makes sludge easier to be used as fuel.
Classification and Differences of Sludge Dryers
There are two commonly used types of sludge dryer machine, single-cylinder rotary sludge dryer and high-viscosity sludge drying equipment.
The first is newly developed from ordinary rotary dryer with cleaning device, breaking device and others inside. For drying material with a certain viscosity and smaller particle size, single-cylinder rotary sludge dryer is the better choice.
The latter usually uses hot-air spiral-blade drying technology with double or three shafts alternative according to the viscosity of the sludge. This drying machine can dry sludge with humidity below 85% to 12% or below just one time. And this drying process takes less time like 2-10 mins.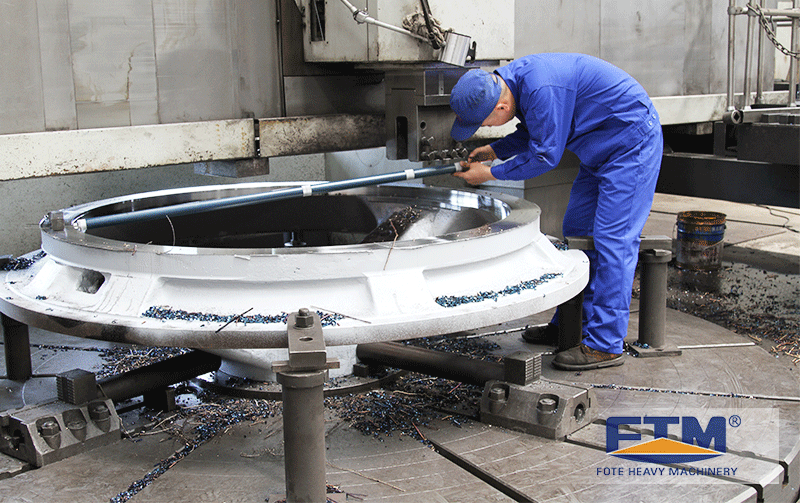 Fote Worker at Rotary Dryer Workshop
Typical Case of Sludge Dryer Machine
As mentioned, the main source of sludge is sewage disposal. In the city building, sewage disposal is always a hard nut to crack for local authorities. It is mainly for the reason that at present the urbanization is increasing at a surprising speed and the city improvement is one of the leading tasks.
In early 2019, an owner who runs a sewage plant in Singapore found the page of Fote sludge dryer. By chatting online with Fote sales, he came to know some details of sludge dryer selection. In the following communication, he was impressed by the profession and patience. Half and a month later, he introduced a medium sludge dryer machine from Fote Machinery (FTM).
With the site installation guidance and operation training, this sludge drying equipment has worked well for now. Here are the details of the drying line.
● Dried Material: Sludge
● Feed Moisture: About 75%
● Discharge Moisture: 2%
● Capacity: 15TPH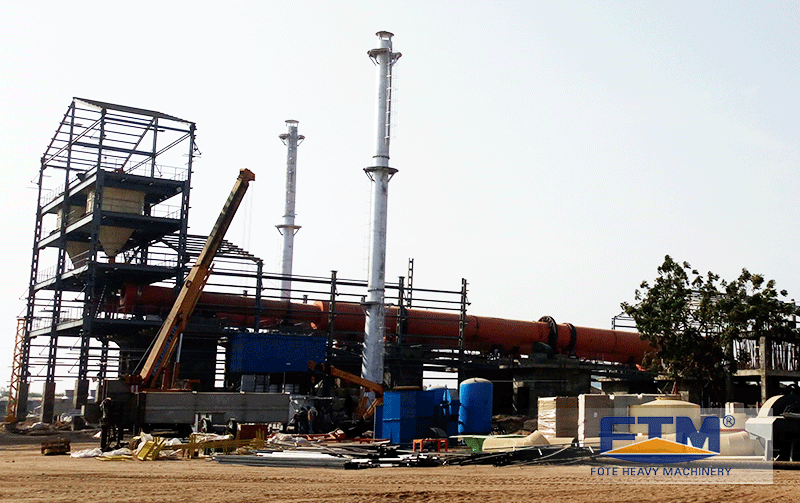 Fote Sludge Dryer at Customer Site
Sludge Dryer Manufacturer
Situated in the Machinery Central, Zhengzhou Province, Henan Fote Heavy Machinery Co., Ltd. is one of the most professional sludge dryer manufacturers in China, and there are many types of sludge dryer for sale. Professional Fote engineers offer free consultation based on your requirements including sludge dryer price, solutions, flow chart, etc. Besides, two-week delivery, site installation guidance and operation training are available.
General Specification
Spec./m
(Dia.×Length)

Shell Cubage
(m³)

Capacity
(t/h)

Installation
Obliquity
(%)

Highest Inlet
Air Temperature
(℃)

Main Motor
(kw)

Weight
(t)

Φ1.2×8.0

9.0

1.9~2.4

3~5

700~800

7.5

9

Φ1.2×10

11.3

2.4~3.0

3~5

700~800

7.5

11

Φ1.5×12

21.2

4.5~5.7

3~5

700~800

15

18.5

Φ1.5×14

24.7

5.3~6.6

3~5

700~800

15

19.7

Φ1.5×15

26.5

5.7~7.1

3~5

700~800

15

20.5

Φ1.8×12

30.5

6.5~8.1

3~5

700~800

18.5

21.5

Φ1.8×14

35.6

7.6~9.5

3~5

700~800

18.5

23

Φ2.2×12

45.6

9.7~12.2

3~5

700~800

22

33.5

Φ2.2×14

53.2

11.4~14.2

3~5

700~800

22

36

Φ2.2×16

60.8

13.0~16.2

3~5

700~800

22

38

Φ2.4×14

63.3

13.5~16.9

3~5


700~800

37

45

Φ2.4×18

81.4

17.4~21.7

3~5

700~800

37

49

Φ2.4×20

90.4

19.3~24.1

3~5

700~800

45

54

Φ2.4×22

99.5

21.2~26.5

3~5

700~800

45

58

Φ2.6×24

127.4

27.2~34.0

3~5

700~800

55

73

Φ3.0×20

141.3

30.1~37.7

3~5

700~800

75

85

Φ3.0×25

176.6

37.7~47.1

3~5

700~800

75

95

Φ3.2×25

201

42.9~53.6

3~5

700~800

90

110

Φ3.6×28

285

60.8~76.0

3~5

700~800

160

135
Technical parameters of indirect heat dryer:
Shell
diameter
×shell
Length
Items
Inside
diameter
of outer
shell
(mm)
Inside
diameter
of inner
shell
(mm)
Shell
Length
(m)
Shell
cubage
(m³)
Shell
obliquity
Lifting
blade
form
Highest
inlet air
temperature
(℃)
Dimensions
(m)
Φ1.5×15m
1500
500
15
20.27
3-5%
Lifting form
850
16.2×2.7×2.7
Φ1.5×17m
17
22.97
18.2×2.7×2.7
Φ1.5×19m
19
25.68
20.0×2.9×2.9
Φ1.8×21m
1800
650
21
35.91
3-5%
Lifting form
850
22.5×2.7×2.7
Φ1.8×23m
23
39.33
24.5×2.9×2.9
Φ1.8×25m
25
42.75
26.5×2.9×2.9
Φ2.2×21m
2200
800
21
58.10
3-5%
Lifting form
850
----
Φ2.2×23m
23
63.61
Φ2.2×25m
25
69.15
Spec./m
(Dia.×Length)

Shell Cubage
(m³)

Capacity
(t/h)

Φ1.2×8.0

9.0

1.9~2.4

Φ1.2×10

11.3

2.4~3.0

Φ1.5×12

21.2

4.5~5.7

Φ1.5×14

24.7

5.3~6.6

Φ1.5×15

26.5

5.7~7.1

Φ1.8×12

30.5

6.5~8.1

Φ1.8×14

35.6

7.6~9.5

Φ2.2×12

45.6

9.7~12.2

Φ2.2×14

53.2

11.4~14.2

Φ2.2×16

60.8

13.0~16.2

Φ2.4×14

63.3

13.5~16.9

Φ2.4×18

81.4

17.4~21.7

Φ2.4×20

90.4

19.3~24.1

Φ2.4×22

99.5

21.2~26.5

Φ2.6×24

127.4

27.2~34.0

Φ3.0×20

141.3

30.1~37.7

Φ3.0×25

176.6

37.7~47.1

Φ3.2×25

201

42.9~53.6

Φ3.6×28

285

60.8~76.0
Technical parameters of indirect heat dryer:
Shell
diameter
×shell
Length
Items
Inside
diameter
of outer
shell
(mm)
Inside
diameter
of inner
shell
(mm)
Shell
cubage
(m³)
Φ1.5×15m
1500
500
20.27
Φ1.5×17m
22.97
Φ1.5×19m
25.68
Φ1.8×21m
1800
650
35.91
Φ1.8×23m
39.33
Φ1.8×25m
42.75
Φ2.2×21m
2200
800
58.10
Φ2.2×23m
63.61
Φ2.2×25m
69.15