Fly Ash Dryer Introduction
Fly ash dryer produced by Fote Machinery is widely used for drying fly ash, phosphor gypsum, industrial dust and waste slag. It is also known as of powdered coal ash dryer or pond ash dryer. This dryer is a type of rotary drying equipment and also plays a key part. It has numerous features such as reliable operation, excellent drying effect, high thermal efficiency and large capacity.
Besides, fly ash dryer has resolved the pollution and tough disposal problems of fly ash, which not only narrows the pollution, but also turns waste into resources and improves the economic benefit.
Applications of the Powdered Coal Ash Dryer
Adopting new type international technology, Fote fly ash drying equipment is widely used in the advanced utilize of cement clinker, cement mixing materials, large hydro project, pump concrete, large-volume concrete products, high-grade filler, baked brick, etc.
In addition, fly ash dryer made by Fote Machinery is commonly used in ore processing, building materials, metallurgy, railway, highway, and other fields for drying materials with certain humidity like ore powder, zin powder, kaolin, limestone, fly ash, phosphor gypsum, industrial dust and waste slag, etc.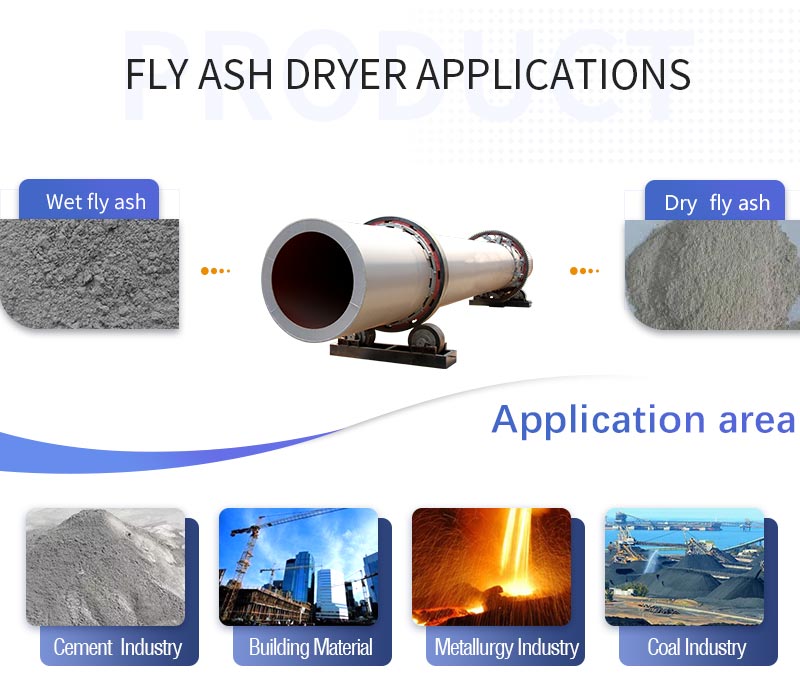 Applications of Fly Ash Dryer
Advantages of Fote Fly Ash Dryer
Professional pertinence, which is aimed at the properties of fly ash such as high humidity, low density and large change of liquidity;
Low investment cost with a wide range of fuel option, excellent drying effect and large capacity;
Adjustable humidity indicators according to requirements of customers, superb configuration, smooth and reliable operation and durability;
High economic values and solving difficulties in dealing with fly ash pollution.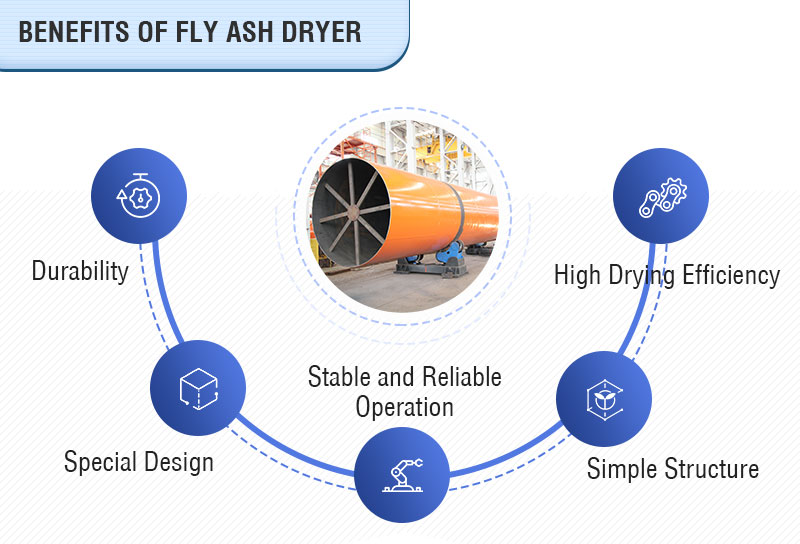 Benifits of Fly Ash Dryer
How Fly Ash Dryer Works?
Convection and heat conduction are mainly used in the drying process. When the hot wind in the oven gets the set temperature, the dryer works with the order from the PC system. Wet fly ash is then sent into the inner layer of the fly ash drying equipment by the feeder evenly and goes with the scorching wind. The wet material is sent spirally by the fixed shoveling plate.
Next, the material moves to another end of the oven and into the middle layer. This time, wet ash moves forward against the wind stepping back in two steps. Here in the intermediate layer, heat from the inner layer and the middle layer is fully utilized, thus the drying efficiency is improved to the best situation.
Lastly, dried fly ash gets to the other end of the intermediate layer and into the outer layer moving in rectangular and multi-loop mode. Fly ash that is dried to satisfactory is blown out of the dryer with the effect of the hot wind. The other will move more slowly on its weight and be dried one more time in the outer layer to required humidity.

Working Principle of Fly Ash Dryer
Environmental Protection Values of Coal Ash Dryer
In coal-fired boiler of the power plant system, the emission of coal ash can be divided into 2 types, dry emission, and wet emission. As a kind of favorite resources, dry coal ash is of great economic value; wet emission will cause certain pollution to the environment. Processing of moist coal ash has grown up to be an urgent problem at present.
Fly Ash Dryer recycles the burnt coal powder and dries it into fly ash that can be used in concrete and other fields. It is an energy-saving process. This dryer and the collector equipped collecting the ash avoiding it getting into the air or the rivers, which is environmental protection. Compared to the traditional dryer, this new type Fly Ash Dryer gives a maximum utilization of the heat. Efficiency is upgraded and fuel is saved.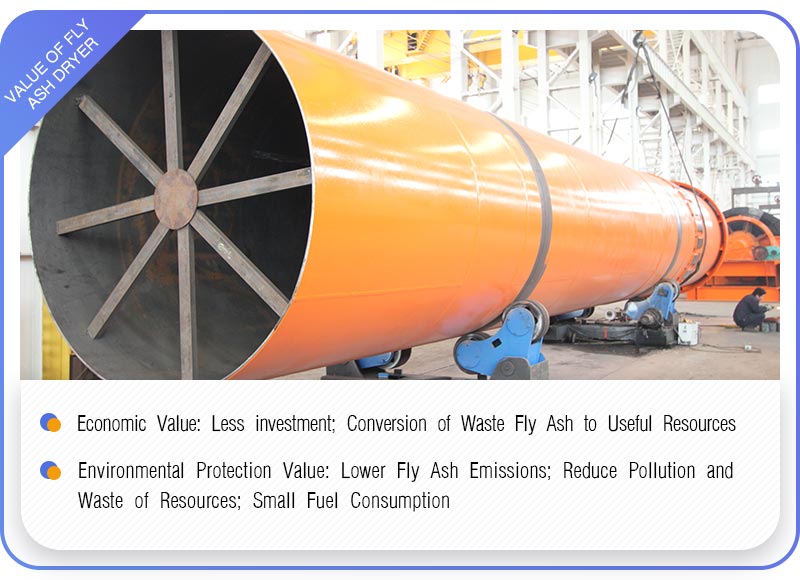 Value of Fly Ash Dryer
The Usage of Fly Ash:
Fly ash is mixed material produced by coal powder when it is burned at high temperature (some like volcanic ash). Coal powder is milled into particle less than 100 micrometers and is burnt into high temperature smoke mixed with lots of incombustible matter. With the dust collecting system, we go to get the fly ash. Environmental pollution and energy waste are aroused if fly ash is not utilized rationally. For the recycling, the Fly Ash Dryer is born.
Dried fly ash can be used to make cement clinker, baked brick, aerated concrete and hollow brick for the construction of roads and dams. In addition, the floating beads, microbeads, powdered iron, carbon and aluminum can be selected from fly ash to make other materials.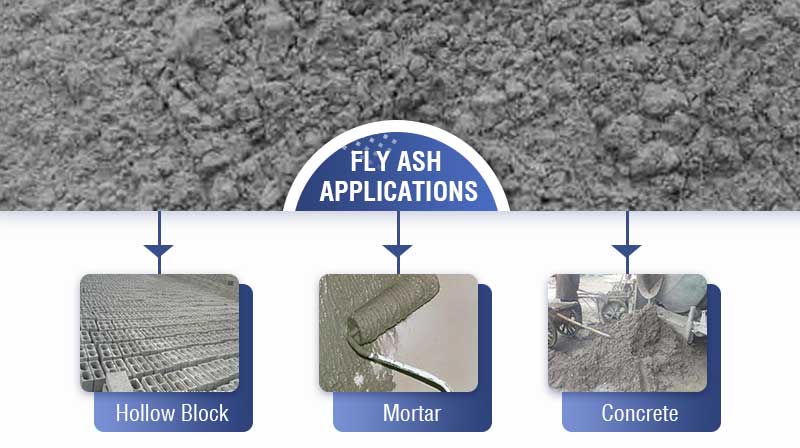 Applications of Fly Ash
Classic Case of Fly Ash Dryer
As the wide application of fly ash dryer, Fote fly ash dryers have been exported to many countries, like India, Russia, Kyrgyzstan, South Africa, etc. Here are some examples.
In this picture, the upper left side shows the fly ash dryer machine used in Namibia with a capacity of 5TPH and output humidity of 1%. The upper right side shows Fote fly ash dryer used in Russia with a capacity of 10TPH and output humidity of 2-5%. The below right fly ash customer site shows it used in India with a capacity of 30TPH and the output humidity of 2-7%.
Our customers found Fote sales on Linkedin and got solutions in 24 hours after they offered the details of requirements. Our engineers offered guidance on the installation site and operation training on our customers.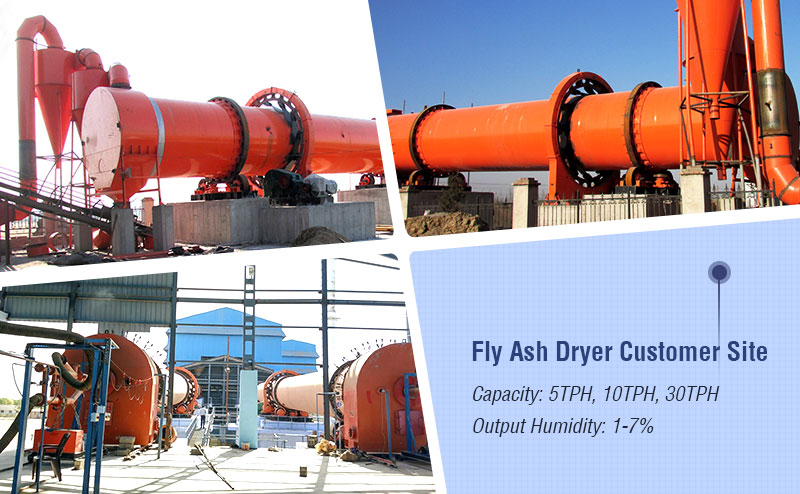 FTM Fly Ash Dryer at Customer Sites
Fly Ash Dryer Manufacturer
For over 40 years, Fote Machinery has been working at the research and production of mining machines professionally. With the target of supplying you products of low-cost and high-efficiency, we are making our best to meet your requirements. We have types of advanced Fly Ash Dryer for sale, and the price is favorable and reasonable compared with other suppliers.
Fote can also provide free instruction and professional on-site installation for customers. Most importantly, two-week delievery to your nearest port and one-year warranty are available. We are ready to offer sincere service! Welcome to contact us!
General Specification
Spec./m
(Dia.×Length)

Shell Cubage
(m³)

Capacity
(t/h)

Installation
Obliquity
(%)

Highest Inlet
Air Temperature
(℃)

Main Motor
(kw)

Weight
(t)

Φ1.2×8.0

9.0

1.9~2.4

3~5

700~800

7.5

9

Φ1.2×10

11.3

2.4~3.0

3~5

700~800

7.5

11

Φ1.5×12

21.2

4.5~5.7

3~5

700~800

15

18.5

Φ1.5×14

24.7

5.3~6.6

3~5

700~800

15

19.7

Φ1.5×15

26.5

5.7~7.1

3~5

700~800

15

20.5

Φ1.8×12

30.5

6.5~8.1

3~5

700~800

18.5

21.5

Φ1.8×14

35.6

7.6~9.5

3~5

700~800

18.5

23

Φ2.2×12

45.6

9.7~12.2

3~5

700~800

22

33.5

Φ2.2×14

53.2

11.4~14.2

3~5

700~800

22

36

Φ2.2×16

60.8

13.0~16.2

3~5

700~800

22

38

Φ2.4×14

63.3

13.5~16.9

3~5


700~800

37

45

Φ2.4×18

81.4

17.4~21.7

3~5

700~800

37

49

Φ2.4×20

90.4

19.3~24.1

3~5

700~800

45

54

Φ2.4×22

99.5

21.2~26.5

3~5

700~800

45

58

Φ2.6×24

127.4

27.2~34.0

3~5

700~800

55

73

Φ3.0×20

141.3

30.1~37.7

3~5

700~800

75

85

Φ3.0×25

176.6

37.7~47.1

3~5

700~800

75

95

Φ3.2×25

201

42.9~53.6

3~5

700~800

90

110

Φ3.6×28

285

60.8~76.0

3~5

700~800

160

135
Technical parameters of indirect heat dryer:
Shell
diameter
×shell
Length
Items
Inside
diameter
of outer
shell
(mm)
Inside
diameter
of inner
shell
(mm)
Shell
Length
(m)
Shell
cubage
(m³)
Shell
obliquity
Lifting
blade
form
Highest
inlet air
temperature
(℃)
Dimensions
(m)
Φ1.5×15m
1500
500
15
20.27
3-5%
Lifting form
850
16.2×2.7×2.7
Φ1.5×17m
17
22.97
18.2×2.7×2.7
Φ1.5×19m
19
25.68
20.0×2.9×2.9
Φ1.8×21m
1800
650
21
35.91
3-5%
Lifting form
850
22.5×2.7×2.7
Φ1.8×23m
23
39.33
24.5×2.9×2.9
Φ1.8×25m
25
42.75
26.5×2.9×2.9
Φ2.2×21m
2200
800
21
58.10
3-5%
Lifting form
850
----
Φ2.2×23m
23
63.61
Φ2.2×25m
25
69.15
Spec./m
(Dia.×Length)

Shell Cubage
(m³)

Capacity
(t/h)

Φ1.2×8.0

9.0

1.9~2.4

Φ1.2×10

11.3

2.4~3.0

Φ1.5×12

21.2

4.5~5.7

Φ1.5×14

24.7

5.3~6.6

Φ1.5×15

26.5

5.7~7.1

Φ1.8×12

30.5

6.5~8.1

Φ1.8×14

35.6

7.6~9.5

Φ2.2×12

45.6

9.7~12.2

Φ2.2×14

53.2

11.4~14.2

Φ2.2×16

60.8

13.0~16.2

Φ2.4×14

63.3

13.5~16.9

Φ2.4×18

81.4

17.4~21.7

Φ2.4×20

90.4

19.3~24.1

Φ2.4×22

99.5

21.2~26.5

Φ2.6×24

127.4

27.2~34.0

Φ3.0×20

141.3

30.1~37.7

Φ3.0×25

176.6

37.7~47.1

Φ3.2×25

201

42.9~53.6

Φ3.6×28

285

60.8~76.0
Technical parameters of indirect heat dryer:
Shell
diameter
×shell
Length
Items
Inside
diameter
of outer
shell
(mm)
Inside
diameter
of inner
shell
(mm)
Shell
cubage
(m³)
Φ1.5×15m
1500
500
20.27
Φ1.5×17m
22.97
Φ1.5×19m
25.68
Φ1.8×21m
1800
650
35.91
Φ1.8×23m
39.33
Φ1.8×25m
42.75
Φ2.2×21m
2200
800
58.10
Φ2.2×23m
63.61
Φ2.2×25m
69.15