What is Lignite Coal Dryer?
Lignite is a kind of mineral coal with minimum coalification degree. Because it is rich in volatile elements, it is easy to be burnt and generate smoke. It is mainly used in power plant, chemical industry, metal recycling as well as catalyst supports, adsorbents, sewage purification etc. Due to the washing process to improve the purity of lignite, drying machine is requisite. Thus, lignite dryer was born.
To meet environmental legislation and customers' need, FTM is keeping researching and has developed advanced lignite drying technology. Lignite dryer is also called brown coal dryer and wood coal drying machine, which can realize continuous, industrial and automatic operation. It can also be used for drying fly ash, coke, coal as well as other granular, paste and powder materials. Lignite coal dryer machine guarantees that the quality of coal slime and lignite unchanged after the drying process, which can dewater the coal slime to the moisture content below 13%, and improve the combustion efficiency.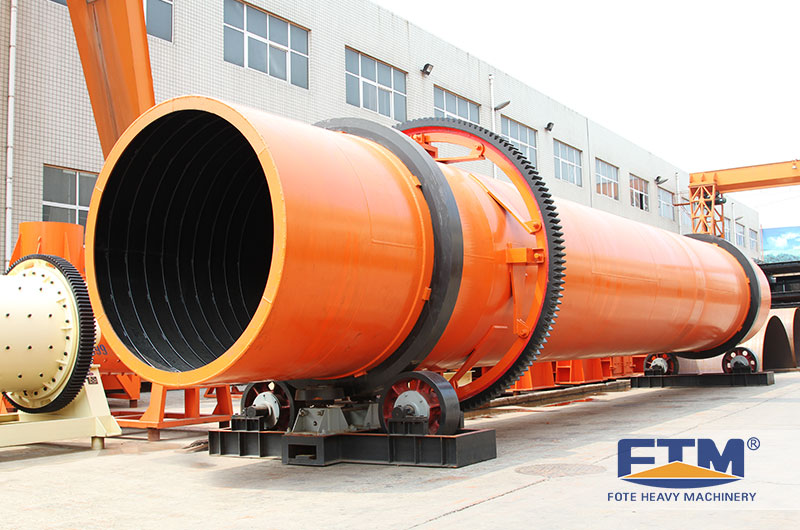 Fote Lignite Dryer
Applications of Lignite Rotary Dryer
Coal slime, raw coal, any kinds of fine coal in coal industry;
Iron powder, copper powder, zinc powder and any other metal granular materials in ore processing and mining;
Clay, limestone, sand, silica/quartz sand, bentonite, slag, etc. in building materials
Non-thermal sensitive materials in metallurgy;
Other kinds of powder and particle that need to be dried specially.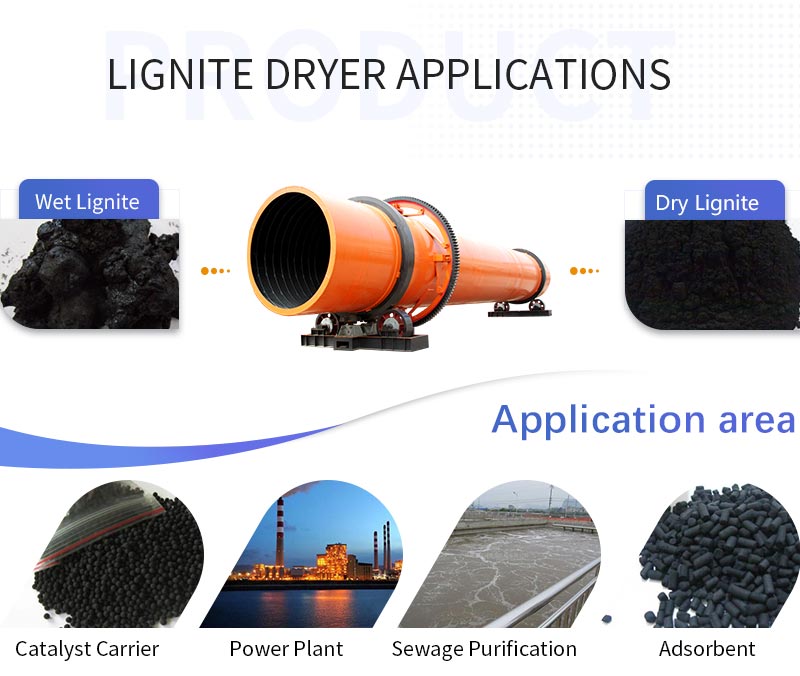 Liginite Dryer Application
How Lignite Dryer Works?
Lignite Dryer adopts the new technology of drying after crushing, which realizes the industrialization, automation and continuous production. When the lignite dryer machine works, wet lignite is fed into the crushing equipment firstly. Then low-temperature four-stage drying process is introduced and dries the wet lignite to the humidity of 13% or below.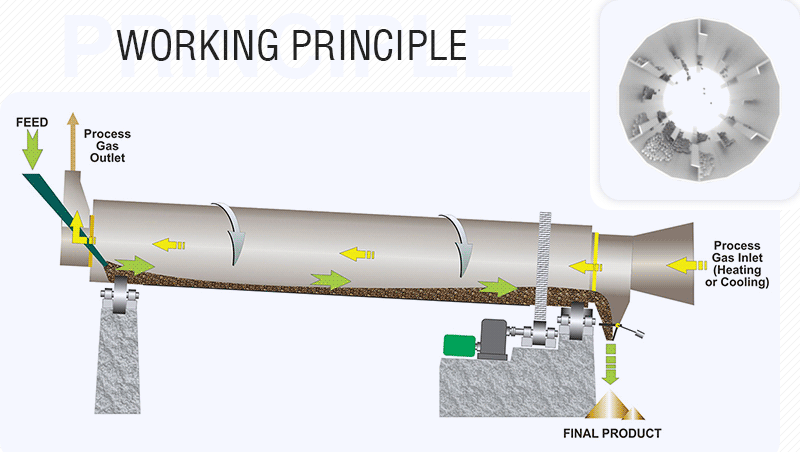 Working Principle of Lignite Dryer
Structural Functions of the Four Drying Stages of Lignite Dryer
First Level: 400 ℃, high temperature removes most of the moisture and make sure the lignite not change chemically;
Second Level: 300 ℃, strong wind produced works in high efficiency to ensure that the lignite is not coking;
Third Level: 120-210℃, with the crushing function of the cleaning devices inside the cylinder, wet lignite flows in the cylinder and is dried;
Fourth Level: 60-80℃, the removal of water depends on low-temperature current produced by the induced draft system.
Advantages of Fote Lignite Drying Machine
The realization of zero horizontal thrust reduces the bearing of the retaining wheels, so the cylinder rolls stably and reliably;
High anti-overload capacity of the lignite dryer bears a large production capacity. As a result, the fuel and the cost are saved;
New structure helps to strengthen the cleaning of lignite and heat transformation, which erases the sticky slime on the inner wall.
Therefore, lignite dryer can take full advantage of the coal resources and reduce the emission concentration, so as to achieve energy-saving emission reduction and environmental protection objectives.
Typical Case of Coal Drum Dryer
As for the wide application and structural advantages, Fote lignite dryer is popular with many countries. So far, Fote lignite dryers have been exported to over 200 countries like Indonesia, Brazil, Turkey, Canada, Russia, etc. Here introduces a case for your reference. In 2017, a lignite plant owner left an online message when he searched coal dryer and found our web. Fote engineer supplied him a solution within his budget according to the details he left. After two-week delivery and Fote engineers' on-site guidance, this lignite dryer has worked well since the installation.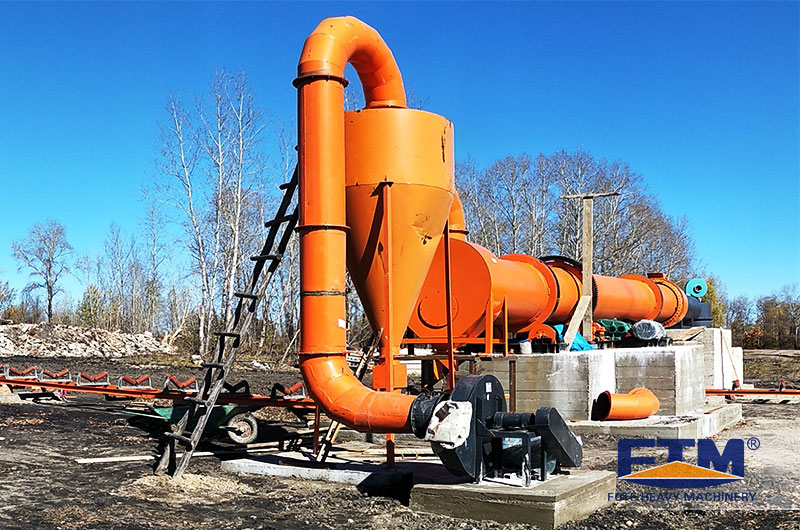 Lignite Dryers at Customer Sites
Lignite Dryer Manufacturer
Fote Machinery, as one of the most professional mining machine suppliers in China, has established its own production series for its 40-year research and development. Since 1982, Fote has built a good and reliable relationship with diverse famous universities like Zhejiang University, Tsinghua University, etc. More than 360 professional engineers are ready to offer you free and customized solutions 7X24 hours. You can chat online with them or leave an online message for more details like lignite dryer price, solutions as well as the flow chart.
General Specification
Spec./m
(Dia.×Length)

Shell Cubage
(m³)

Capacity
(t/h)

Installation
Obliquity
(%)

Highest Inlet
Air Temperature
(℃)

Main Motor
(kw)

Weight
(t)

Φ1.2×8.0

9.0

1.9~2.4

3~5

700~800

7.5

9

Φ1.2×10

11.3

2.4~3.0

3~5

700~800

7.5

11

Φ1.5×12

21.2

4.5~5.7

3~5

700~800

15

18.5

Φ1.5×14

24.7

5.3~6.6

3~5

700~800

15

19.7

Φ1.5×15

26.5

5.7~7.1

3~5

700~800

15

20.5

Φ1.8×12

30.5

6.5~8.1

3~5

700~800

18.5

21.5

Φ1.8×14

35.6

7.6~9.5

3~5

700~800

18.5

23

Φ2.2×12

45.6

9.7~12.2

3~5

700~800

22

33.5

Φ2.2×14

53.2

11.4~14.2

3~5

700~800

22

36

Φ2.2×16

60.8

13.0~16.2

3~5

700~800

22

38

Φ2.4×14

63.3

13.5~16.9

3~5


700~800

37

45

Φ2.4×18

81.4

17.4~21.7

3~5

700~800

37

49

Φ2.4×20

90.4

19.3~24.1

3~5

700~800

45

54

Φ2.4×22

99.5

21.2~26.5

3~5

700~800

45

58

Φ2.6×24

127.4

27.2~34.0

3~5

700~800

55

73

Φ3.0×20

141.3

30.1~37.7

3~5

700~800

75

85

Φ3.0×25

176.6

37.7~47.1

3~5

700~800

75

95

Φ3.2×25

201

42.9~53.6

3~5

700~800

90

110

Φ3.6×28

285

60.8~76.0

3~5

700~800

160

135
Technical parameters of indirect heat dryer:
Shell
diameter
×shell
Length
Items
Inside
diameter
of outer
shell
(mm)
Inside
diameter
of inner
shell
(mm)
Shell
Length
(m)
Shell
cubage
(m³)
Shell
obliquity
Lifting
blade
form
Highest
inlet air
temperature
(℃)
Dimensions
(m)
Φ1.5×15m
1500
500
15
20.27
3-5%
Lifting form
850
16.2×2.7×2.7
Φ1.5×17m
17
22.97
18.2×2.7×2.7
Φ1.5×19m
19
25.68
20.0×2.9×2.9
Φ1.8×21m
1800
650
21
35.91
3-5%
Lifting form
850
22.5×2.7×2.7
Φ1.8×23m
23
39.33
24.5×2.9×2.9
Φ1.8×25m
25
42.75
26.5×2.9×2.9
Φ2.2×21m
2200
800
21
58.10
3-5%
Lifting form
850
----
Φ2.2×23m
23
63.61
Φ2.2×25m
25
69.15
Spec./m
(Dia.×Length)

Shell Cubage
(m³)

Capacity
(t/h)

Φ1.2×8.0

9.0

1.9~2.4

Φ1.2×10

11.3

2.4~3.0

Φ1.5×12

21.2

4.5~5.7

Φ1.5×14

24.7

5.3~6.6

Φ1.5×15

26.5

5.7~7.1

Φ1.8×12

30.5

6.5~8.1

Φ1.8×14

35.6

7.6~9.5

Φ2.2×12

45.6

9.7~12.2

Φ2.2×14

53.2

11.4~14.2

Φ2.2×16

60.8

13.0~16.2

Φ2.4×14

63.3

13.5~16.9

Φ2.4×18

81.4

17.4~21.7

Φ2.4×20

90.4

19.3~24.1

Φ2.4×22

99.5

21.2~26.5

Φ2.6×24

127.4

27.2~34.0

Φ3.0×20

141.3

30.1~37.7

Φ3.0×25

176.6

37.7~47.1

Φ3.2×25

201

42.9~53.6

Φ3.6×28

285

60.8~76.0
Technical parameters of indirect heat dryer:
Shell
diameter
×shell
Length
Items
Inside
diameter
of outer
shell
(mm)
Inside
diameter
of inner
shell
(mm)
Shell
cubage
(m³)
Φ1.5×15m
1500
500
20.27
Φ1.5×17m
22.97
Φ1.5×19m
25.68
Φ1.8×21m
1800
650
35.91
Φ1.8×23m
39.33
Φ1.8×25m
42.75
Φ2.2×21m
2200
800
58.10
Φ2.2×23m
63.61
Φ2.2×25m
69.15