Wet magnetic separator for mining is aimed at separating wet magnetic minerals. When the dry-type magnetic separator is working, it requires the minerals to be dry, moveable and at a free state. While this wet-type magnetic separator uses water as solvent and achieves the purpose of separation in the liquid. Wet magnetic separator for mining has a big processing capacity, wide separation range of grade, high separating precision, simple structure, easy maintenance and low power consumption. Moreover, it gets rid of blockage. Its magnetic system is recombined by high-quality ferrite materials and rare earth magnet steel. The average magnetic induction intensity on the surface of magnetic drum is up to 800 to 8000 GS.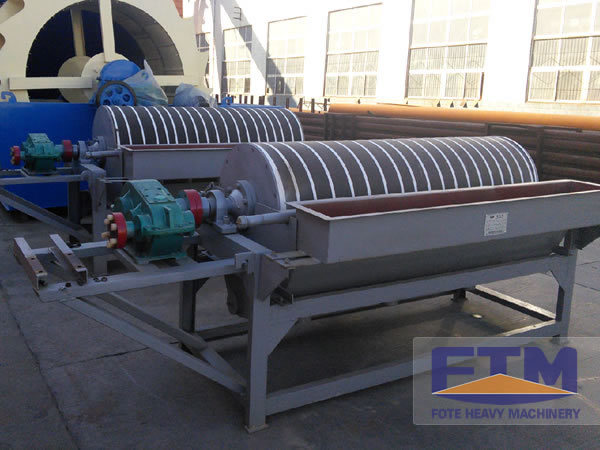 Wet magnetic separator for mining is the most prevalent high intensity magnetic separation machine. It has a very outstanding effect on separation and widely used in mining, metallurgy, electric power, ceramics, glass, cement, building materials, chemical industry and so forth. Besides, in the burgeoning construction waste disposal industry, it also can be used to recycling steel from the waste materials, so as achieve the goal of automatic clearing.
After the wet mining magnetic separator is used, we must pay attention to its maintenance and overhaul, to ensure it running normally for the next time. Wet magnetic separating machine is composed of drum, roller, brush roll, magnetic system, transmission section, cell and so on. So in the inspection, we must reach every aspect.
The wet magnetic separator for mining produced by Fote Machinery is featured by simple structure, easy operation and convenient maintenance. Welcome your consultation and specimen test!