Granite is a magma rock formed under the surface of magma, mainly composed of quartz, feldspar and mica. It has the features of Hard texture, beautiful color and good compression resistance, which is a kind of excellent building and gravel materials. But at the same time, it is because of its high hardness, wear-resistant and other high-quality natural stone characteristics, many customers complain that it's difficult to process granite, and the machine wear too much, which greatly increase the operation and maintenance costs.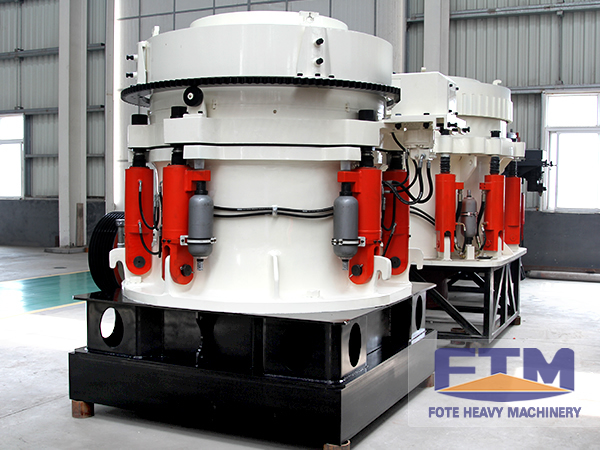 For the characteristics of granite and other hard rocks, Fote Machinery designed a high-performance crusher--HPT hydraulic cone crusher by introducing Germany high-end technology. This cone crusher is mainly for secodary crushing and tertiary crushing of hard rocks in mines, quarry, railway, construction and other industries.
Different from common crushers, HPT hydraulic cone crusher uses the special laminated crushing principle, which can effectively utilize the crushing effect between the particles, thus greatly reducing the wear and impact of the machine and making the finished product of the cube ratio significantly improved. The needle flake particle is also reduced, and the gradation is aslo more reasonable.
Compared with the spring cone crusher, the HPT hydraulic cone crusher adopts advanced hydraulic technology and multi point hydraulic lubrication control system, which can ensure the double protection and overload protection of the lubrication of equipment bearings, reduce the downtime and make the performance more stable and safe.
At present, Fote has established hundreds of HPT hydraulic cone crushing plants in the world. They performs well in the crushing operation of granite, basalt, diabase and other hard rock, as well as gold ore, copper ore and other metal ores , which are well received by the vast number of customers.