Glass that is the common substance in nature is widely used in chemical, construction, medical, nuclear engineering and electronics fields after its crushing process. Therefore, what are the better glass crushers? As the professional crushing equipment manufacturer, Fote Machinery has made deep analysis to this question. Now I will introduce some glass crushing equipment for you.
1. Jaw Crusher
As the common glass crushing equipment, jaw crusher has multi models and types in the nowadays market of which jaw crusher in Fote Machinery has the best quality and property.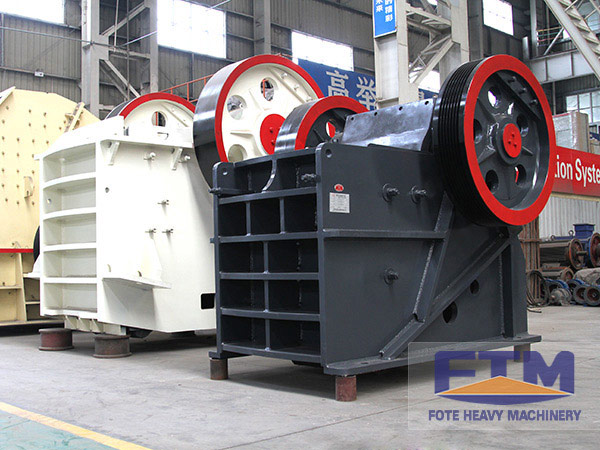 a. Higher Production Capacity
Relying on the squeezing between movable jaw plate and fixed jaw plate, the jaw crusher makes its crushing operation. The rational design of crushing cavity and tooth profile structure is conducive to its large glass content and high production capacity.
b. Superior Quality
Made of high quality wear-resistant materials of its eccentric shaft bearing and chromium alloy craft of its jaw plate, jaw crusher in Fote Machinery has more than 3 times service life than common jaw crushers.
c. Few Investment Costs
Its large running power and low energy consumption help it achieve the production aim of low carbon and environmental protection.
d. Lower Price
Without too much market and circulation link and no-extra expense, Fote Machinery sells equipments directly to customers, effectively reducing the investment costs of customers.
2. Impact Crusher
Based on the mutual collision between the glass and plat hammer, the impact crusher has advantages of uniform glass particle size and perfect shape.
a. Continuous lubrication way guarantees the less abrasion and broken rate.
b. Rational inner structure is helpful for the simple installation and maintain.
c. Free dust overflow and noise pollution make a more obvious low carbon and environmental protection effect.
d. Without the limitation of glass hardness and humidity, it is more flexible and well-adapted.
3. Roll Crusher
Fully combined with glass properties, roll crusher is the improvement of traditional crusher and has the super strong expertise and pertinence to the glass crushing.
a. Equipped with two motor devices, the roll crusher in Fote Machinery has a higher crushing efficiency and more than 2 times production capacity than traditional ones.
b. Roll crusher can make a flexible adjustment to the glass size and shape.
c. The Iron protection device effectively prevents the interfusion of foreign matter and avoids the equipment damage.
Fote Machinery will design and assemble most reasonable crushing types for our customers and guarantee the profit maximization. Consulting email: quote@sinoftm.com