Brief Introduction of Beryl
Beryl that is a typical beryllium - aluminum silicate mineral mainly consists of beryllium oxide, aluminum oxide and silicon oxide. Beryl most of which is green color is a transparent or translucent body with the glass luster. As the main mineral to extract metallic beryllium, beryl widely distribute in Austrian, China, Ireland, Germany and other countries.
Beryl flotation is the effective method to extract metallic beryllium. According to the features and properties of beryl, Fote Machinery that is the most professional beryl flotation manufacturer in China has designed a set of reasonable beryl flotation equipment.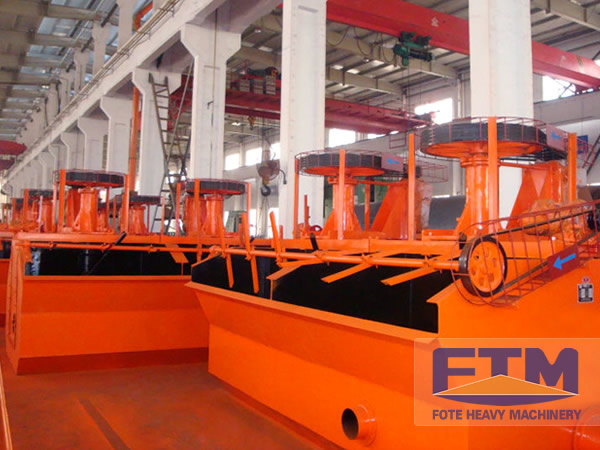 Beryl Flotation Equipment
1. Crushing Equipment------Jaw Crusher
Jaw crusher is the most widely used and best selling beryl crushing equipment in the current market. It includes PE jaw crusher and PEX jaw crusher; respectively they serve for the beryl primary crushing and fine crushing. Based on the German advanced crusher production technology, the two types of crusher have unsurpassable strengths of its production capacity and efficiency.
2. Grinding Equipment------Ball Mill
Compared with other ball mill manufacturers in China, Fote Machinery has its unique superiorities.
a. Longer Service Life
Made of world-class high-quality wear-resistant materials of its steel ball, the ball mill has incomparable ruggedness and toughness. Therefore, ball mill in Fote Machinery has 3 to 5 times longer service life than common ball mill.
b. Higher Production Capacity
Reasonable technical parameter design and large volume guarantee its 50%-60% production capacity improvement, which satisfies the purchasing demand of high production capacity.
c. Less Pollution
The sealing treatment and silencing equipment large reduce the extra dust and noise in the grinding process which decrease the environmental pollution to minimum.
3. Flotation Equipment------Flotation Machine
As the corn equipment in the beryl flotation process, the flotation in Fote Machinery has super pertinence and pertinence, guaranteeing the high comprehensive recycling rate and high beryllium concentrate grade.
4. Drying Equipment------Dryer
Dryer in Fote Machinery has more than 5 times drying efficiency than the same type dryer in the market. With strengths of simple operation, high production capacity, low energy consumption and free pollution, dryer in Fote Machinery is strongly favored by beryl processing manufacturer.
What's more, Fote Machinery has configurated vibrating feeder, spiral classifier, stirring barrels and thickener for the beryl flotation. The affordable price and high quality will bring large economic benefits for beryl processing manufacturers.