Recently, the 5th Guangzhou International Aggregates, Quarrying Tailings & Construction Waste Disposal Exhibition (hereinafter called Aggregates China, 2019) concluded with a perfect ending. The new type of construction waste dealing equipment, the mobile crushing plant from Henan Fote Machinery was exhibited received a good reputation.
The Aggregates Exhibition Ended Sucessfully
Construction waste disposal has been one of the focal points in mining machinery and related industry. This large exhibition, Aggregates China, is organized by Guangdong Sand-Stone Association and supported by China Sand-Stone Association. The Aggregates China has become a foothold for the exchange of sand and stone industry, covering the industrial chain of mining machinery and aggregates in the middle and downstream.
Besides, it gathers all forces from various sectors to create a large business and commercial ceremony. Nearly 10,000 professional procurement audience was organized, most of who are mainly from mining institutions and large-scale mineral development enterprises both at home and abroad. The volume of the transaction has reached about 150 million RMB.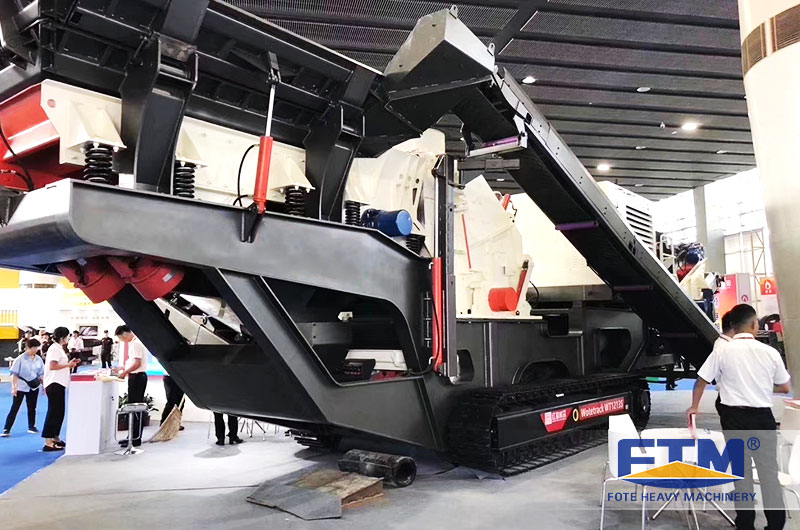 Fote Mobile Crushing Plant

Aggregates China has supplied a new thought and new force for artificial sand production as well as provided a new channel for the development and popularization of the industrial excellent products and technology achievement. During the exhibition, Henan Fote competes with equipment from hundreds of famous mining machine manufacturers in the world such as Sany, Metso-Shaorui, etc.
Fote Mobile Crushing Plant in Aggregates Exhibition
Fote construction waste disposal equipment adopts an integrated set of unit installation forms with high flexibility, which narrows the raw material transportation cost. This construction waste crushing plant breaks and screens the raw material. The finished products can be directly used to make concrete in different fields, realizing the changes from waste to treasure.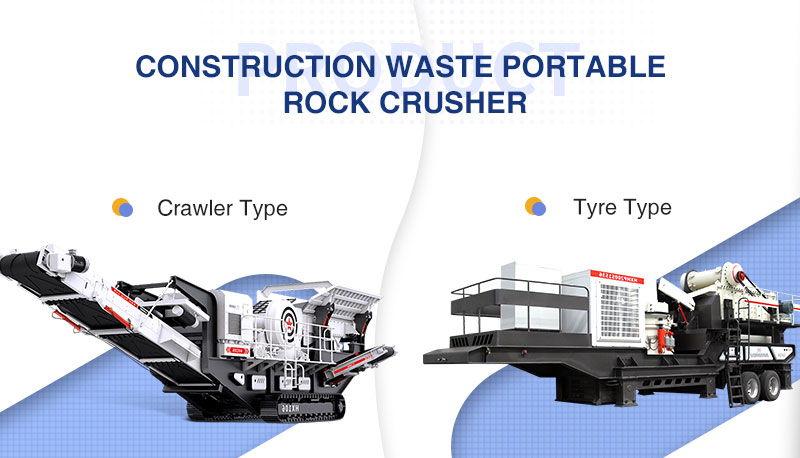 Fote Crawler Type Crushing Plant VS Tyre Type Crushing Plant
At present, over 80% of construction waste from all walks is waste concrete, waste bricks, waste mortar, etc., which can be as renewable resources after sorting and pulverizing.
For example, crushed brick, stone, concrete and other waste can not only be the alternative of sand used in masonry mortar, plastering mortar, concrete cushion and so on, but also make building blocks, pavement bricks, lattice bricks and other building materials products.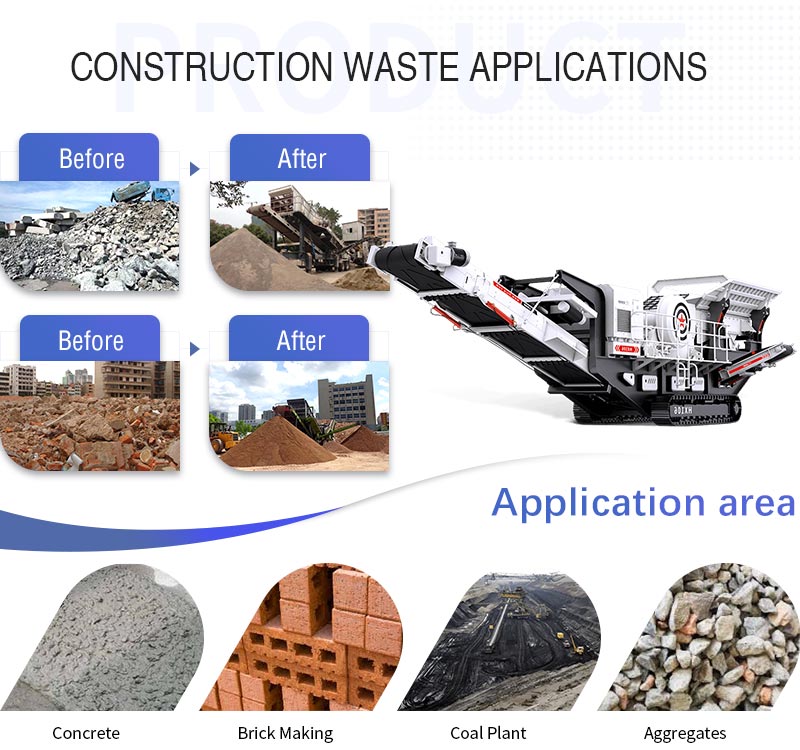 Fote Mobile Crushing Plant Applications
Fote Construction Waste Crushing Plant in Indonesia
Taking Fote tyre type mobile crushing plant in the construction waste disposal site in Bekasi, Java, Indonesia as an example, here introduces the details.
To stimulate economic growth, after 12 packages, the Indonesian government has proposed a "national reconstruction plan" with a total investment of up to $412 billion. The infrastructure construction has been an important concern of the plans.
The Indonesian customer seized the opportunity to introduce some conventional aggregates production equipment, such as jaw crusher, as well as construction waste crushing equipment. The latter has improved the recycling of construction waste and saved the cost of building materials to a certain extent.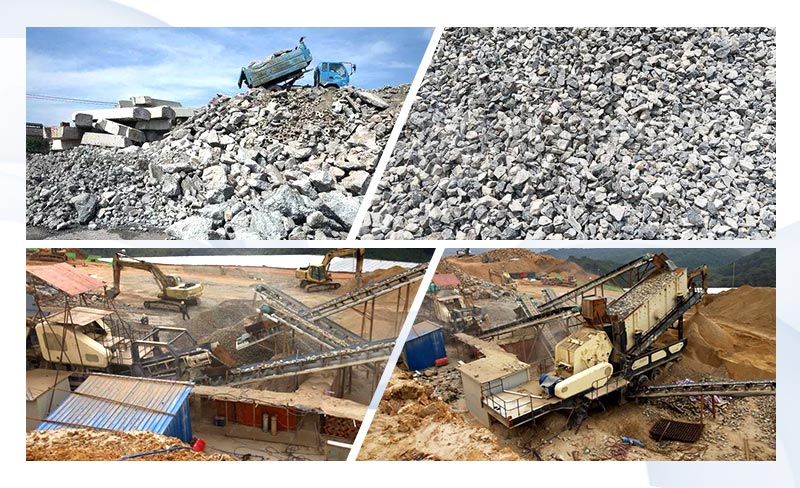 Indonesia Construction Waste Mobile Crushing Plant Site
This mobile crushing plant integrates conveying, screening and crushing into a whole. The jaw crusher, impact crusher, vibrating screen and belt conveyor are all reasonably arranged on the loading vehicle of jaw crusher and impact crusher.
This customer mainly introduced two mobile crushing plants including one mobile jaw crusher plant and an impact crusher and screen plant. The tyre type jaw crusher plant is for the primary crushing and the impact crusher and screen plant is for the second-stage crushing. These two mobile crushing plants are combined by the belt conveyors.
Tyre Type Jaw Crusher Plant-1349HD110
Specifics
Details
Jaw crusher Model
HD110
Vibrating Feeder Model
ZSW490x130
Tire Configuration
Three Axis
Max. Feed Size
660mm
Capacity
215-510TPH
Other device is equipped based on requirements.
Tyre Type Impact Crusher and Screen Plant-3S216HD1315
Specifics
Details
Impact Crusher Model
HD1315
Vibrating Screen Model
3YZS2160
Tire Configuration
Triaxial fitted
Feeding Belt Conveyor
B1000x15Mx2
Return Belt Conveyor
B1000x16M
Discharge Belt Conveyor
B1000x15Mx2
Capacity
300TPH
Other device is equipped based on requirements.
Fote construction waste crushing station processing capacity reaches 70-650 TPH. The feed size is controlled by the equipped jaw crusher and the discharge size by impact crusher. The mobile crushing plant processing details are as follows.
Capacity: about 300 TPH
Feed size: 450mm
Discharge size: 10-38mm
Benefits of the Indonesia Mobile Crushing Plant
Patents and strong reliability.
This Fote construction waste treatment equipment has several patents, in particular, the patented exchange system. And with the hydraulic driving device, the whole machine reliability is improved.
Integrated set and increased applicability.
The integrated set can make the machine reach the work site directly only by a trailer puller. This design reduces the transportation cost of the materials greatly and increases the field applicability of the mobile crushing plant.
More compact structure and low power consumption.
The matched power of the jaw crusher and impact crusher is small, which means low power consumption. Besides, this construction waste crushing plant is optimized and strengthened with a better performance more compact structure.
High yield and fine granularity.
There are over 80% of discharged products are below 10mm from Fote 1349HD110 and 3S216HD1315, which is double the traditional construction waste treatment equipment.
Virtuous cycle and improved value.
The discharged products can be widely used in the industries of baking-free bricks production, road bases buildings, and construction, providing a new way of virtuous development for urban construction.
With increasing global attention to the city infrastructure construction, construction waste will be an important source of aggregates production. the construction waste mobile crushing plant will welcome a remarkable development.
As an old-brand mining machine manufacturer, Henan Fote Machinery has focused and will keep focus on the research and development of mining machine including the construction waste crushing station to provide customers with excellent products.