Basic Introduction to Ball Mill
Ball mill is one of the mostly used grinding equipment with high efficiency. It is also one of the most ancient mining machines in the world, while the efficient ball mill was created until the industrial revolution and the invention of steam power.
Ball mill is usually classified based on different aspects:
● Working method: √ dry grinding ball mill; √ wet grinding ball mill
● Discharging methods: √ grate discharge ball mill; √ overflow discharge ball mill
Usually, investors are hesitated to choose ball mills of dry grinding or wet grinding. Here are some tips.
Wet grinding is more used than dry grinding to grind raw materials. Most of the grindable metallic ore and nonmetallic ore can be processed by wet grinding if it doesn't react to water or the reaction influences the finished product quality.
These materials include copper ore, iron ore, gold ore, molybdenum ore, phosphate ore, feldspar ore, fluorite ore, etc.
While other materials like cement, marble and other building aggregates that react to water and will produce other kind of materials only need dry grinding. If the finished product is required to be stored and sold as powder, dry grinding is also the better choice.
Video of Ball Mill Workshop
Sometimes, we also differ ball mills by the materials processed. For example, Fote Machinery has the following kinds of ball mills for sale, gold ore ball mill, black manganese ore ball mill, nickel ore ball mill, tin ore ball mill, copper ore ball mill, garnet ball mill, andalusite ball mill, aluminum gray ball mill, molybdenum ore ball mill, fluorite ball mill and so on.
Effects to the Discharge Particle Size of Ball Mill
The working principle of ball mill is simple, while there are several aspects playing part on the particle size adjustment. The followings are the main factors
• The size of grinding media
As the direct contact to the raw material inside the ball mill machine, grinding media is surely the primary matter that affects the discharge size.
The smaller the grinding media, the smaller the discharged particle. The grinding media shall be bigger than the raw materials. Usually, people fill the gap of larger grinding media with smaller ones to achieve a better grinding effect.
• The lining board surface
As another direct contact to raw material, lining board of ball mill also plays an important part in adjusting the discharge particle size.
The discharge size goes with the degree of the lining board flatness. Ball mill with flatter lining board produces finer product.
• The length of the grinding cylinder
If the diameter of the grinding cylinder is the same, the ball mill with longer cylinder has a better grinding efficiency to materials.
A longer grinding cylinder means a longer stay time inside the grinding cylinder. According to customer demand, cylinders of different length grind materials into different sizes.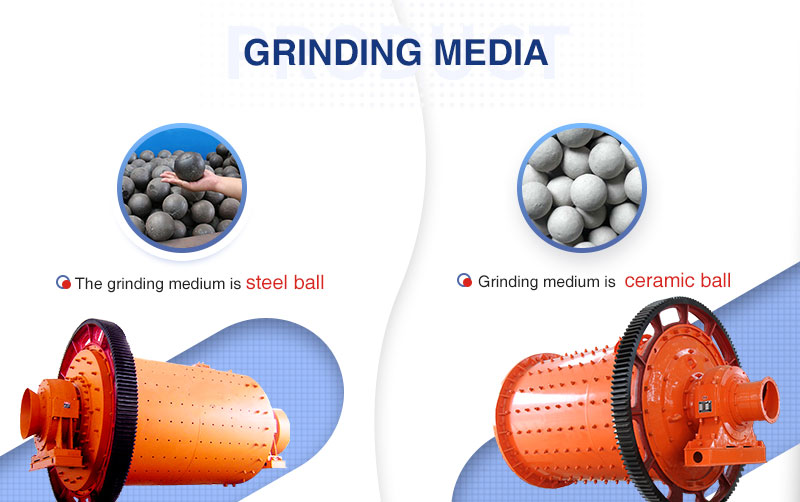 Different grinding media of ball mill

Applications of Ball Mill
Ball mill is extensively used in the production of cement, silicate, refractory materials, chemical products, black and nonferrous metal ore dressing, glass ceramics and other industrial products. In recent years, it is also used for artificial sand making in new building materials production.
All kinds of ore and other grindable materials process can be completed by ball mill for dry or wet grinding. Grinding of ball mill meets the high requirements for uniformity pf discharged products.
There are some examples of various ball mills used in different industrial fields.
1. Cement ball mill
Cement ball mill is also shortened as cement mill. It is the main equipment in cement industry with high grinding efficiency, capacity and low energy consumption. Cement mill has superiority in grinding slag cement.
2. Coal ball mill
Coal ball mill is also one kind of ball mill that used to mill raw coal. Usually, to be simplified, we call it coal mill. To improve the burning efficiency, coal need to be ground by coal mill and then used in the pulverized coal-fired boiler. And to prevent casting from burning on or to decrease the surface roughness, high-quality coal dust produced by coal mill is added in the iron casting process.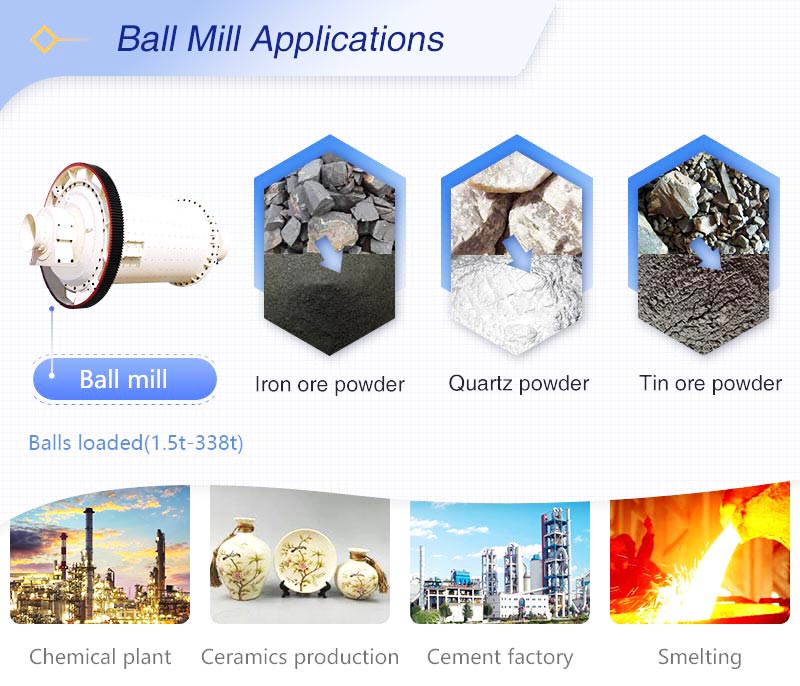 Applications of Ball Mill
Technical Benefits of Ball Mill
Main bearing performs well
The traditional sliding bearing is replaced by large-diameter double-row adjustable roller bearing. This has reduced friction and lowered the energy consumption. It is easier to start the ball mill.
Simple structure and stable operation
There are two kinds of feeding device, combined feeder and drum-shaped feeder. They are installed separately, which is structured simpler. That there is no inertia impact makes ball mill perform more stable and has reduced the maintenance time as well as improved the efficiency.
High anti-bending strength of gears
Profile shifted gear is adopted by the new type of ball mill to avoid undercutting. And the anti-bending strength is improved greatly by over one time.
Long bearing life
The hollow shaft diameter of ball mill rolling bearing is enlarged, which increases the radial distance between the rolling bearing and the feeding and discharging screw barrel. This plays a certain role of heat insulation and cooling and extends the service life of the bearing.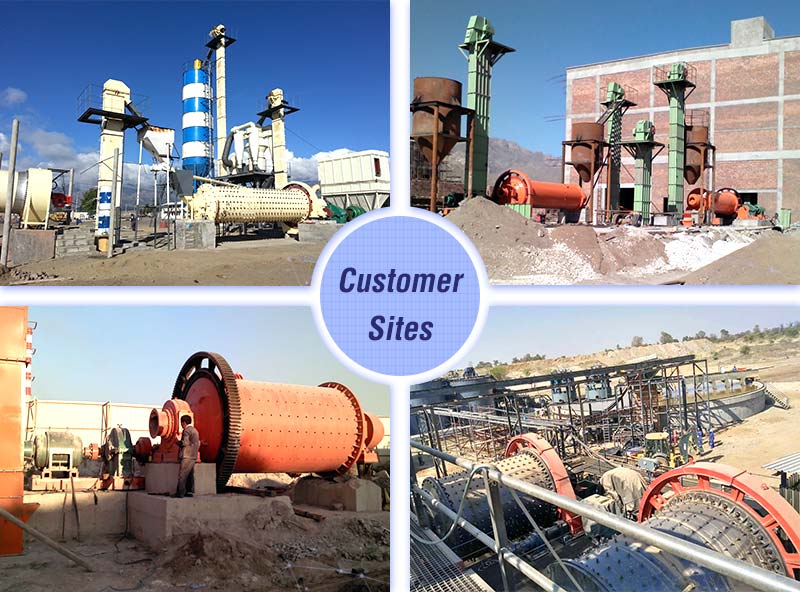 Global Customer Sites of Fote Ball Mill
Structures and Working Principle of Ball Mill
Ball mill is mainly composed of feed port, discharge port, grinding media, grinding cylinder, transmission department, liner, etc.
The hollow shaft is made of cast steel and the inner cylinder is set with a wear-resistant lining plate, which assures a long service life of this machine. Besides, the ball mill is easy to maintain for that the inner lining can be removed and replaced. Gear-hobbing-structured rotary gear ensures a smooth-rolling during the operation.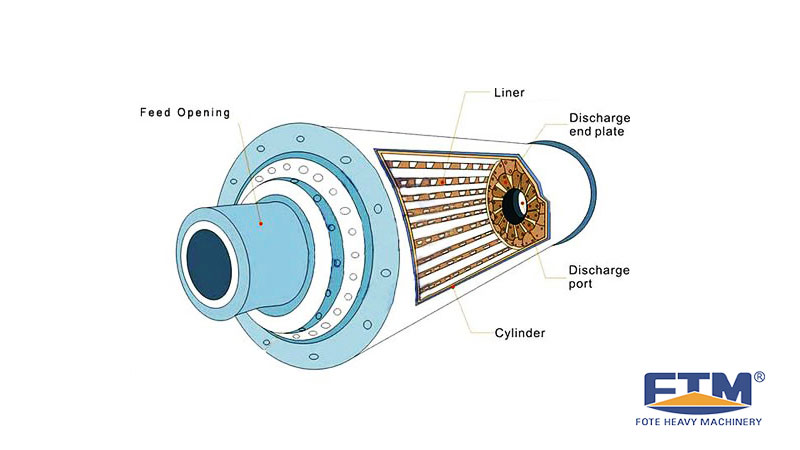 The Structure of Ball Mill
How does a Ball Mill Work?
1. The material uniformly enters the first chamber of the ball mill by the feeding device through the hollow shaft. The chamber has stepped lining or corrugated lining, which is filled with steel balls of different specifications.
2. Then the rotation of the grinding cylinder generates centrifugal force to bring the grinding media to a certain height. After falling, they hit and grind the material.
3. When the material is coarsely ground in the first warehouse, it enters the second warehouse through a single-layer compartment board. This warehouse is provided with a flat lining plate with steel balls inside to further grind the material.
4. The powder is discharged through the discharge raft to complete the grinding operation.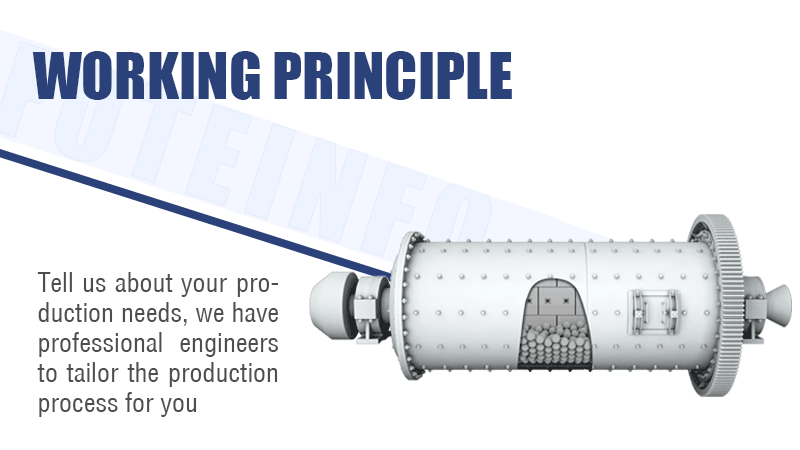 Ball Mill Working Principle
Customer Case
As the ball mill is an ordinary ore processing machine in many fields, here offer one of the most classic examples in industrial plants.
Fote Ball Mill Customer Site in Mongolia


Customer location

Mongolia

Processed material

Copper ore

Model

Φ2100x7000

Capacity

30TPH

Discharge size

about 200 mesh
Customer feedback: By the introduction by my friend, we contacted Fote sales engineer sending the details of our project. The details include capacity needed, the raw material size, the discharge needed. After seeing our working environment, Fote offered a suitable solution and the flow chart. This ball mill grinding line for processing copper ore has worked for us for about two years with all cost recovered and benefits increased.
Dry Type Ball Mill used for Production of Powdery Materials
Where to Buy Ball Mill?
Fote Machinery has been devoted to mineral processing technology research for more than 40 years. Its ball mill business division is specialized in the production of various types of ball mills. Mature production concept, professional technical research and development team are available for you to supply the high quality ball mill equipment!
As a professional ball mill manufacturer, Fote Machinery provides you with more real and more preferential equipment quotation, and it is the satisfactory choice for you purchasing affordable ball mill. If you want to know the detailed quotation, click chat online for free online consultation or contact us at quote@sinoftm.com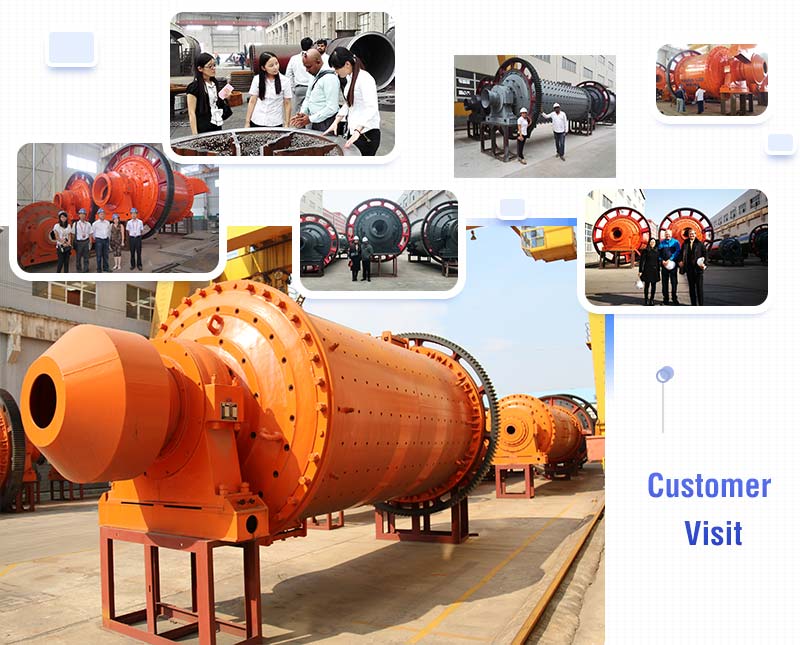 General Specification
Model
Shell rotation speed
(r/min)
Ball load
(t)
Feeding size
(mm)
Discharging size
(mm)
Capacity
(t/h)
Motor power
(kw)
Total weight
(t)
Ф900×1800
36-38
1.5
<20
0.075-0.89
0.65-2
18.5
5.85
Ф900×3000
36
2.7
<20
0.075-0.89
1.1-3.5
22
6.98
Ф1200×2400
36
3
<25
0.075-0.6
1.5-4.8
30
13.6
Ф1200×3000
36
3.5
<25
0.074-0.4
1.6-5
37
14.3
Ф1200×4500
32.4
5
<25
0.074-0.4
1.6-5.8
55
15.6
Ф1500×3000
29.7
7.5
<25
0.074-0.4
2-5
75
19.5
Ф1500×4500
27
11
<25
0.074-0.4
3-6
110
22
Ф1500×5700
28
12
<25
0.074-0.4
3.5-6
130
25.8
Ф1830×3000
25.4
11
<25
0.074-0.4
4-10
130
34.5
Ф1830×4500
25.4
15
<25
0.074-0.4
4.5-12
155
38
Ф1830×6400
24.1
21
<25
0.074-0.4
6.5-15
210
43
Ф1830×7000
24.1
23
<25
0.074-0.4
7.5-17
245
43.8
Ф2100×3000
23.7
15
<25
0.074-0.4
6.5-36
155
45
Ф2100×4500
23.7
24
<25
0.074-0.4
8-43
245
56
Ф2100×7000
23.7
26
<25
0.074-0.4
12-48
280
59.5
Ф2200×4500
21.5
27
<25
0.074-0.4
9-45
280
54.5
Ф2200×6500
21.7
35
<25
0.074-0.4
14-26
380
61
Ф2200×7000
21.7
35
<25
0.074-0.4
15-28
380
62.5
Ф2200×7500
21.7
35
<25
0.074-0.4
15-30
380
64.8
Ф2400×3000
21
23
<25
0.074-0.4
7-50
245
58
Ф2400×4500
21
30
<25
0.074-0.4
8.5-60
320
72
Ф2700×4000
20.7
40
<25
0.074-0.4
22-80
380
95
Ф2700×4500
20.7
48
<25
0.074-0.4
26-90
480
102
Ф3200×4500
18
65
<25
0.074-0.4
As per process conditions
630
149
Ф3600×4500
17
90
<25
0.074-0.4
As per process conditions
850
169
Ф3600×6000
17
110
<25
0.074-0.4
As per process conditions
1250
198
Ф3600×8500
18
131
<25
0.074-0.4
45.8-256
1800
260
Ф4000×5000
16.9
121
<25
0.074-0.4
45-208
1500
230
Ф4000×6000
16.9
146
<25
0.074-0.4
65-248
1600
242
Ф4000×6700
16.9
149
<25
0.074-0.4
75-252
1800
249
Ф4500×6400
15.6
172
<25
0.074-0.4
84-306
2000
280
Ф5030×6400
14.4
216
<25
0.074-0.4
98-386
2500
320
Ф5030×8300
14.4
266
<25
0.074-0.4
118-500
3300
403
Ф5500×8500
13.8
338
<25
0.074-0.4
148-615
4500
525
Note: Data may change for the improving technology; we reserve the right of changing without notice; Machine performance may vary depending on application; for more details, please chat online with Fote engineers.
Model
Feeding
size
(mm)
Capacity
(t/h)
Ф900×1800
<20
0.65-2
Ф900×3000
<20
1.1-3.5
Ф1200×2400
<25
1.5-4.8
Ф1200×3000
<25
1.6-5
Ф1200×4500
<25
1.6-5.8
Ф1500×3000
<25
2-5
Ф1500×4500
<25
3-6
Ф1500×5700
<25
3.5-6
Ф1830×3000
<25
4-10
Ф1830×4500
<25
4.5-12
Ф1830×6400
<25
6.5-15
Ф1830×7000
<25
7.5-17
Ф2100×3000
<25
6.5-36
Ф2100×4500
<25
8-43
Ф2100×7000
<25
12-48
Ф2200×4500
<25
9-45
Ф2200×6500
<25
14-26
Ф2200×7000
<25
15-28
Ф2200×7500
<25
15-30
Ф2400×3000
<25
7-50
Ф2400×4500
<25
8.5-60
Ф2700×4000
<25
22-80
Ф2700×4500
<25
26-90
Ф3200×4500
<25
As per process
conditions
Ф3600×4500
<25
As per process
conditions
Ф3600×6000
<25
As per process
conditions
Ф3600×8500
<25
45.8-256
Ф4000×5000
<25
45-208
Ф4000×6000
<25
65-248
Ф4000×6700
<25
75-252
Ф4500×6400
<25
84-306
Ф5030×6400
<25
98-386
Ф5030×8300
<25
118-500
Ф5500×8500
<25
148-615
Note: Data may change for the improving technology; we reserve the right of changing without notice; Machine performance may vary depending on application; for more details, please chat online with Fote engineers.