As a crushing equipment with simple structure and convenient operation, roller crusher has been very welcome recently. Fote Machinery has models of 2PG roller crusher for sale. This 2PG series roller crusher development is based on the introduction of international advanced technology and Fote engineers' years of working experience as well as the customer feedback. The maximum output can reach 300 tons per hour, and the discharge granularity can be adjusted between 15-200mm. What is deserved to be mentioned is that the 2PG700×400 type roller crusher has good effect on sand making for river pebble.
Roller Crusher Classifications
Fote roller crushers are divided into two kinds, roller crusher and toothed roller crusher. Both of the two kinds of roller crushers can be used in the industrial sectors such as mineral processing, chemistry, cement, building materials, etc. for coarse crushing and fine crushing of ores and rocks below medium hardness.
Roller Crusher
The roller crusher is structured with a fixed roller and a movable roller. The driving mechanism of the roller crusher is composed of two electric motors, which are driven by a V-belt to the pulley to drag the roller. The two rollers rotate in the opposite direction. When the raw material is crushed, it will pass through the rollers from the feeding port. After been crushed, the product is discharged from the bottom of the under base.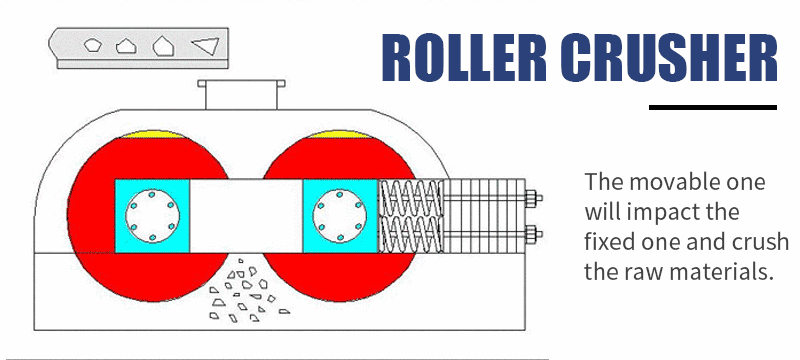 Woking Principle of Roller Crusher
Toothed Roller Crusher
The toothed roller crusher is named after its toothed roller structure. When a toothed roller crusher runs, the feeding device send the raw materials into the crushing cavity. Then the material is cracked and broken by the high-speed rotation of the toothed rollers, forming a high productivity mechanism. The toothed rollers are made of special wear-resistant material. There are wedge-shaped or gasket adjusting device between the two rollers inside the crushing machine, above which are equipped with adjusting bolts. The motor of toothed roller crusher and the reducer are connected by a limited hydraulic coupling. This arrangement can effectively avoid over-loading and ensure a safe and stable operation.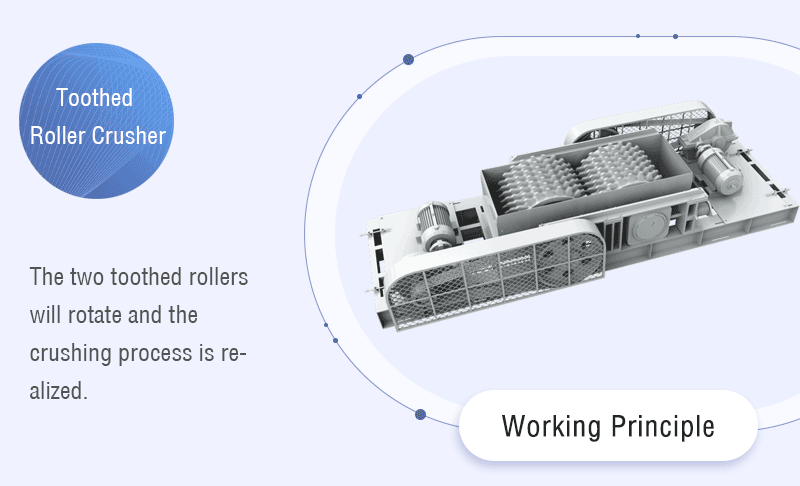 Woking Principle of Toothed Roller Crusher
Benefits of Roller Crusher

Low Noise & Reliable Performance

The roller crusher technology is advanced, which assures a stable and reliable performance. Besides, this crushing technology can reduce noise pollution, and play an environmentally friendly effect.

High Production Efficiency & Large Processing Capacity

The crushed product is in the shape of a cube, with low needle-like particles. And there is no internal cracks with fine grain size, which has improved production quality and efficiency.

Durability & Low Wastage

The roll belt wear-out period is long for it is made of a new type high-strength wear-resistant materials. This material can bear high-hardness material crushing with low loss and long service life, which can bring considerable economic benefits to customers.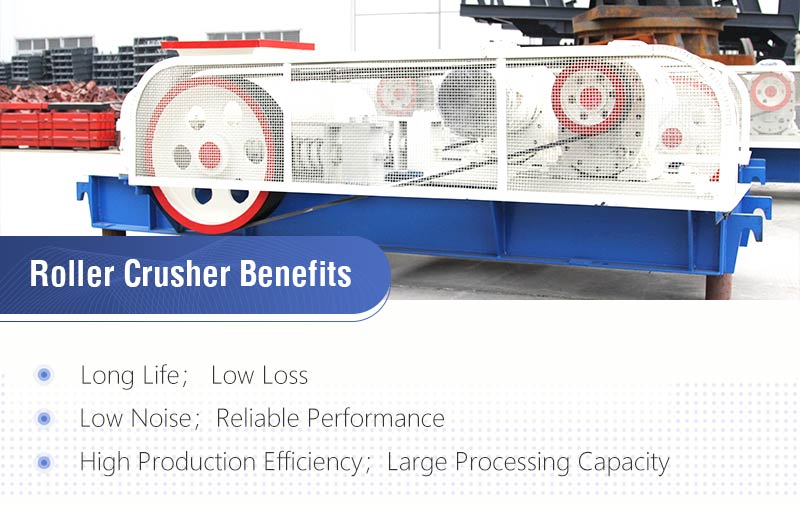 Benefits of Roller Crusher
Roller Crusher Manufacturer Service
There are different equipment and processing to crushing stones and make sand. The most used are impact sand maker, impact crushing machine, hammer crusher, roller crusher, etc. Fote Machinery offers customized solutions based on customers production line scale and budget with the details including roller crusher model selection, the plant flow chart and the roller crusher price, etc. Customers can get the latest quotation about roller crusher by chatting online or sending an email at quote@sinoftm.com