What is Toothed Roll Crusher?
As a kind of roll crusher,toothed roll crusher is also called double toothed roll crusher. Toothed roll crusher has two relatively rotating rollers with sharp teeth on them. The roller is generally made of special wear-resistant materials. When toothed roll crusher works, the two rollers rotate relatively at high speed, so that the material can be split. Fote toothed roll crusher can be divided into double roller crusher and four roll crusher series, customers can choose freely according to their own needs.
Video of FTM Toothed Roll Crusher in Customer Site
Applications of Toothed Roll Crusher
With small bulk and high crushing ratio of 5-8, toothed roll crusher has an extensive application. Toothed roll crusher is mainly used in the coal industry, metallurgy, mine, chemical industry, and building materials industry. It is suitable for crushing raw coal (including coal gangue) in large coal mine and coal separation plant. It is not only suitable for crushing brittle materials of medium and low hardness, such as coal, anthracite, lignite and coal gangue, but also can be used for sinter, coke, slag, shale, and limestone, etc.

Examples of Toothed Roll Crusher Application
Working Principle of Toothed Roll Crusher
Toothed roll crusher mainly crushes materials by the mutual extrusion between two rollers, so the roller is its main component. The rollers, motor, wheels, and other parts are fixed on the foundation bed. When the toothed roller crusher works, the wheels get energy from the motor and drive the roller rotates. Materials fed between the rollers are squeezed to the required size and will be exhausted from the discharging opening beneath the bed. The finished product size is adjusted by the quantity or the thickness of the pads.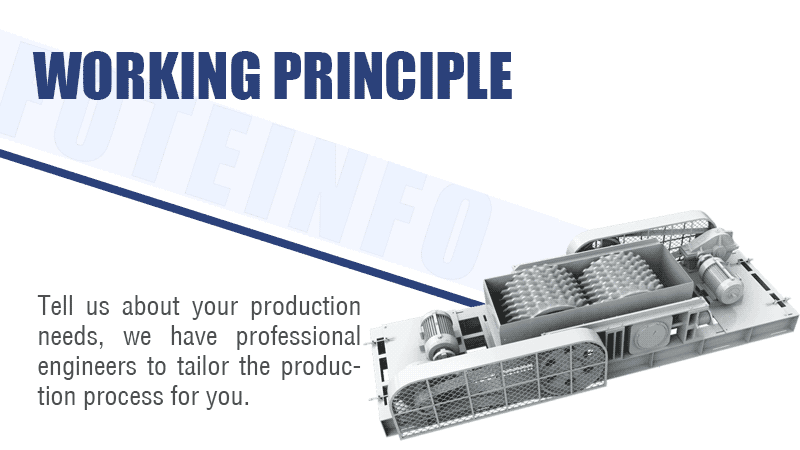 Motor of Toothed Roll Crusher
Structural Advantages of Toothed Roll Crusher
Toothed roll crusher is mainly composed of the roller, roller bearing, compaction and adjusting devices, driving device, etc.
With simple structure, toothed roll crusher has a small volume, convenient maintenance, and lower noise
Double sensitive overload protective device is adopted to ensure a safe and reliable performance
The smart cleaning system can clean the stuck materials on the crushing chamber wall during the time interval
Other advantages: high productivity (1-2 times higher than traditional toothed roll crusher); big crushing ratio (5-8), uniform particle size and low over crushing ratio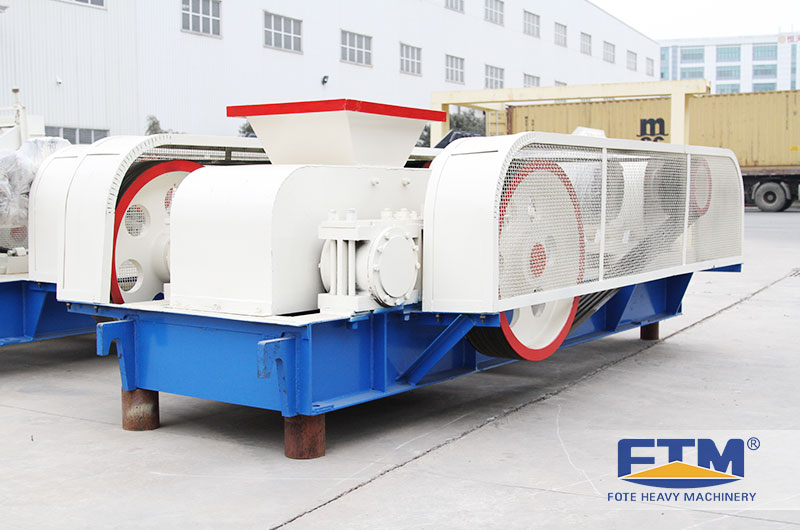 Toothed Roll Crusher Ready for Shipment
Classic Case of Toothed Roll Crusher
In German, FTM double toothed roll crusher is used in an pebble crushing line with a capacity of 100TPH, the input size of 50-200mm and the output size below 50mm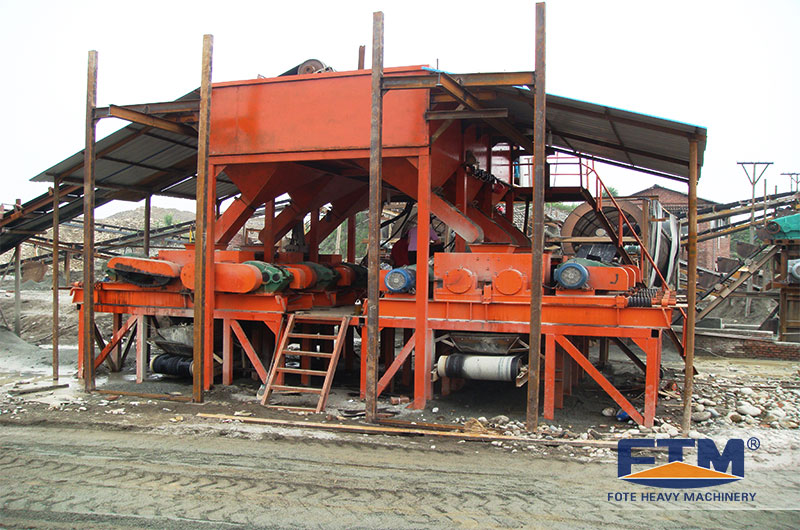 General Specification
Model
Roller
diameter
(mm)
Roller
length
(mm)
Max.
Feeding
Size
(mm)
Discharging
size(mm)
Output
(t/h)
Motor
power
(kw)
Total
weight(t)
Overall
dimension
(L×W×H)
(mm)
2PGC600×500
600
500
200-450
15-100
30-60
4P 11×2
3.8
2450×1800×950
2PGC600×800
600
750
300-600
20-120
60-100
4P 18.5×2
7.2
4500×1900×1350
2PGC800×1000
800
1000
500-800
30-150
100-160
4P 22×2
12.6
2550×2050×1100
2PGC1000×1000
1000
1000
700-950
30-200
150-200
6P 45×2
18.8
2780×4100×1550
2PGC1200×1200
1200
1200
800-1050
30-200
180-250
6P 55×2
29.5
2780×3200×1980
2PGC1500×1200
1500
1200
1000-1150
30-200
200-300
6P 75×2
38.6
8010×4500×2050
Model
Roller
diameter
(mm)
Roller
length
(mm)
Max.
Feeding
Size
(mm)
Discharging
size(mm)
Output
(t/h)
Motor
power
(kw)
Total
weight(t)
Overall
dimension
(L×W×H)
(mm)
2PGC600×500
600
500
200-450
15-100
30-60
4P 11×2
3.8
2450×1800×950
2PGC600×800
600
750
300-600
20-120
60-100
4P 18.5×2
7.2
4500×1900×1350
2PGC800×1000
800
1000
500-800
30-150
100-160
4P 22×2
12.6
2550×2050×1100
2PGC1000×1000
1000
1000
700-950
30-200
150-200
6P 45×2
18.8
2780×4100×1550
2PGC1200×1200
1200
1200
800-1050
30-200
180-250
6P 55×2
29.5
2780×3200×1980
2PGC1500×1200
1500
1200
1000-1150
30-200
200-300
6P 75×2
38.6
8010×4500×2050