Toothed Roller Crusher Introduction
Toothed roller crusher or teethed roller crusher is one kind of roller crusher playing a primary, secondary and tertiary role in crushing. It is actually simple in structure with relatively rotating rollers. There are sharp teeth on them, which are the main part of toothed roller crusher to break materials. These two rollers are made of special wear-resistant materials and set on a heavy and rigid bearing bed.
With advanced technology from German, etc., Fote toothed roller crusher can be commonly used in mine, mine, metallurgy industry, cement industry, power plant, and other industrial departments. Especially, toothed roll crusher performs outstandingly in crushing coal (containing coal gangue) in large-scaled coal preparation plant or coal mining plant.
Video of Fote Toothed Roll Crusher in Customer Site
For its two-roller structure, it is also called toothed roll crusher or double roll crusher. Fote toothed roll crusher can be divided into double roller crusher and four-roller series, customers can consult freely and get customized solutions according to their own needs.
How to Adjust the Toothed Roller Crusher Discharge Size?
The finished product size can be adjusted through virous methods, including the distance between the rollers, the teeth on the rollers, etc.
●The distance between the rollers
This is usually finished by gaskets between the rollers. The adjustment of the amount or thickness of gaskets affects the gap between the two rollers, which will change the discharged particle size.
●The teeth on the rollers:
The size of the number, size and sickness of the teeth on the rollers will also influence the discharged particle size.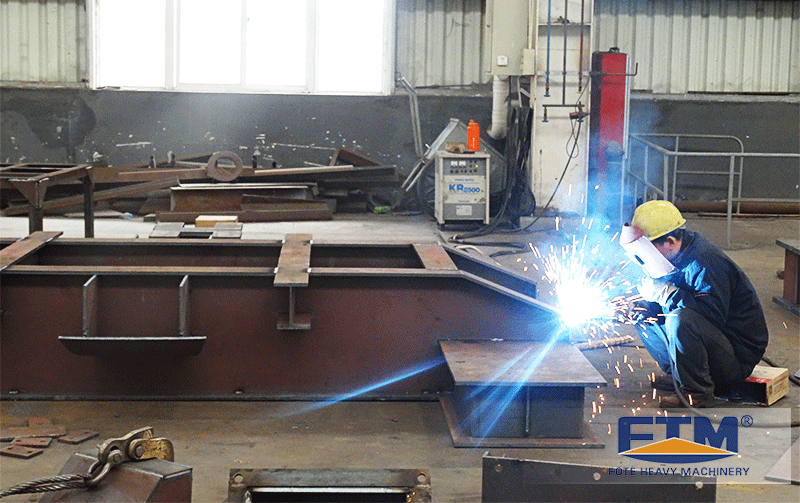 Fote Toothed Roller Crusher Workshop
Fote solutions on toothed roller crusher will take customer requirements as the leading reference. You can choose your own toothed roll crusher based on the discharged particle size needed.
Applications of Toothed Roll Crusher
The raw material market has been much tougher than before for the speeding-up city building and development. Because the resource is limited, more and more plants come to use material with soil or other refuses, some of which are not suitable to be crushed with traditional crushers like jaw crusher or impact crusher. While, here, toothed roller crusher will play its part.
Due to the specially designed structure, toothed roll crushers have small bulk and high crushing ratio of 5-8, which can be employed to process hundreds of kinds of materials in diverse industrial departments.
√ In cement industry, it can be used to break concrete and limestone which are too large to be ground.
√ In mining department, toothed roll crusher is used to process raw ore for more convenient package, storage and transportation.
√ In brick and tile factories, workers use toothed roll crusher to break thick and wet material to apply them as filler.
√ In coal plants, toothed roller crushers are utilized to prepare coal especially, to crush raw coal that contains gangue.
√ In sand making plant, toothed roll crusher can be used as the primary crushing equipment to improve the crushing efficiency.
√ Other applications: pebble, quartz, anthracite, lignite, sinter, coke, slag, shale, and granite, etc. in metallurgy, chemical industry, and building materials industry

Examples of Toothed Roll Crusher Application
Working Principle of Toothed Roll Crusher
Toothed roll crusher mainly crushes materials by the mutual extrusion between two rollers, so the roller is its main component. The rollers, motor, wheels, and other parts are fixed on the foundation bed. When the toothed roller crusher works, the wheels get energy from the motor and drive the roller rotates. Materials fed between the rollers are squeezed to the required size and will be exhausted from the discharging opening beneath the bed. The finished product size is adjusted by the quantity or the thickness of the pads.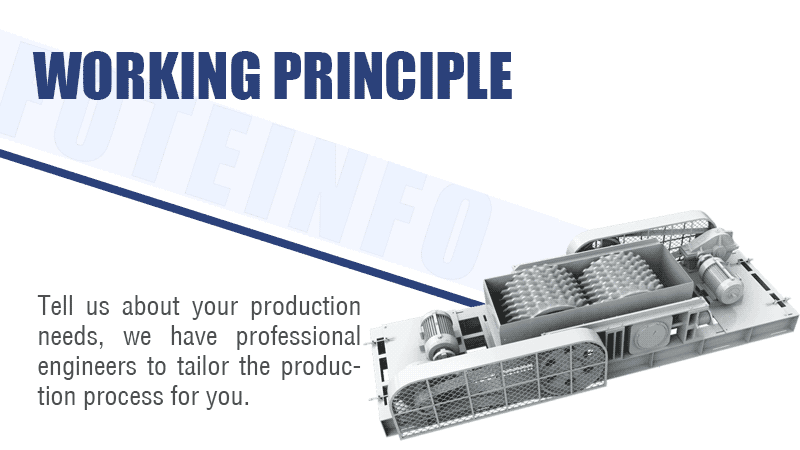 Motor of Toothed Roll Crusher
Toothed Roller Crusher Structural Benefits
Toothed roll crusher is mainly composed of the roller, roller bearing, compaction and adjusting devices, driving device, etc.
Special Design, Wide Application
The toothed roller crusher is equipped with scraper to do timely cleaning on the grooves and the roller surface. This arrangement will efficiently avoid the block even for materials with a certain moisture.

Easy Adjustment, Customized Solution
Thanks to the mentioned adjustable gaskets number and thickness, the discharged size can be adjusted according to the requirements.

High Crushing Ratio, Reliable Performance
This type of crusher is designed with two teethed rollers. When this toothed roller crusher works, these teeth will snap together closely, which will reach a crushing ration of about 5-8.

Small Volume, Low Cost
Compared to other types of crushing machine, this toothed roll crusher has a smaller volume and smaller occupied area. This structure will ensure a lower land cost.

Automatic Hydraulic Retreat Device
When there are materials that cannot be broken, this hydraulic device can make the rollers retreat by itself, which greatly avoids the damage of the machine and prolongs its service life.
Good Performance on Coal Preparation
As mentioned, this equipment is directly used to break raw coal, coke, etc. even to break those contain gangue. This simplifies coal preparation and narrow the investment and production cost.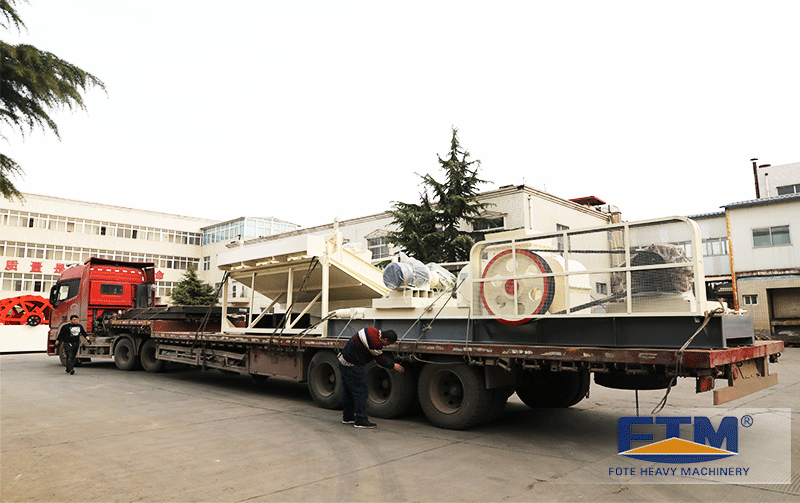 Fote Toothed Roll Crusher Ready for Shipment
Classic Case of Toothed Roll Crusher
In 2017, Fote double toothed roll crushers were introduced to a Germany mining plant to be used in a pebble crushing line. This pebble production line has a capacity of 100TPH, input size of 50-200mm and output size below 50mm.
This foreman happened to know that toothed roller crusher can be used as the primary crushing equipment. He searched teethed roller crusher on Google and saw our web. After chatting with our sales, he got more details about toothed roller crusher including customized solution, the flow chart, the latest quotation and some maintenance tips, etc.
He paid a visit to Fote Machinery workshop one month after the chat. And he made a decision on the last day of his visit. So far, these toothed roller crushers have worked well for him with high crushing ratio.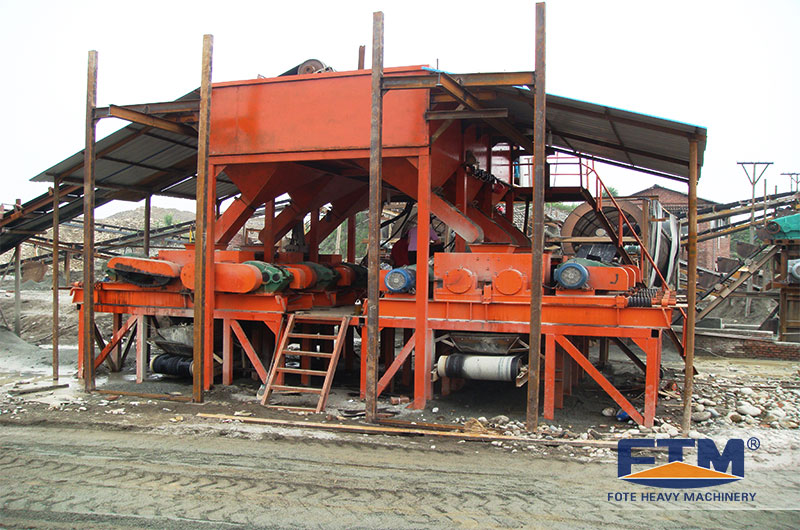 Fote Toothed Roller Crusher Customer Site
Toothed Roll Crusher Machine Manufacturer
Located in the machinery center, Zhengzhou, Henan, Fote Machinery (FTM) has witnessed most of Chinese mining machine development with about 40-year history. Based on tradition, Fote has introduced advanced international technology and formed its own product series.
Insisting the principle of environmental protection, Fote focuses itself on the research of low-noise and low-dust toothed roll crusher. Besides, over 360 Fote engineers is specialized in offering customized solutions based on customer need and providing consultation of prolonging your machine service life. Welcome to chat online or leave an online message to get the latest toothed roll crusher price.
General Specification
Model
Roller
diameter
(mm)
Roller
length
(mm)
Max.
Feeding
Size
(mm)
Discharging
size(mm)
Output
(t/h)
Motor
power
(kw)
Total
weight(t)
Overall
dimension
(L×W×H)
(mm)
2PGC600×500
600
500
200-450
15-100
30-60
4P 11×2
3.8
2450×1800×950
2PGC600×800
600
750
300-600
20-120
60-100
4P 18.5×2
7.2
4500×1900×1350
2PGC800×1000
800
1000
500-800
30-150
100-160
4P 22×2
12.6
2550×2050×1100
2PGC1000×1000
1000
1000
700-950
30-200
150-200
6P 45×2
18.8
2780×4100×1550
2PGC1200×1200
1200
1200
800-1050
30-200
180-250
6P 55×2
29.5
2780×3200×1980
2PGC1500×1200
1500
1200
1000-1150
30-200
200-300
6P 75×2
38.6
8010×4500×2050
Model
Max.
Feeding
Size
(mm)
Discharging
size(mm)
Output
(t/h)
2PGC600×500
200-450
15-100
30-60
2PGC600×800
300-600
20-120
60-100
2PGC800×1000
500-800
30-150
100-160
2PGC1000×1000
700-950
30-200
150-200
2PGC1200×1200
800-1050
30-200
180-250
2PGC1500×1200
1000-1150
30-200
200-300