What is Vibrating Feeder?
Vibrating feeder or vibrating grizzly feeder is mainly used to complete the feeding and batching for a variety of bulk materials in the ore dressing industry, metallurgy industry, coal, chemical industry, building materials and other industrial sectors.
In the production process, it can feed the massive and granular materials from the storage bin to the feeding device uniformly, timely and continuously. In the sand production line, its major role is to feed the crushing equipment and roughly screen the materials.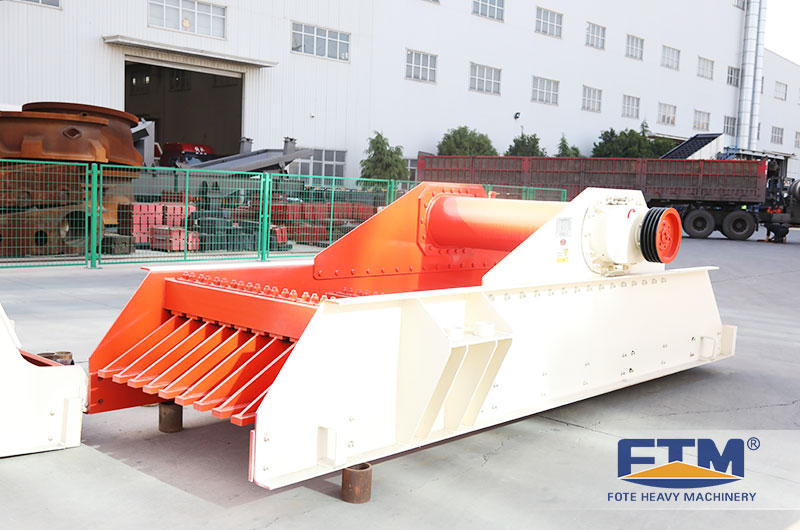 Applications of FTM Vibrating Feeder
Vibratory feeder is conveying equipment for bulk materials, which cannot only convey the fine materials within 5mm particle size but also can transport large materials above 1m size. With its good adaptability, adjustable transmission capacity, uniform and continuous conveying functions, vibrating feeder is widely used in mining, building materials, chemical industry, metallurgy and other departments. For example, in the cement industry, vibrating feeders are often used for conveying bulk limestone and gypsum from the bottom of ore bin to the crusher evenly.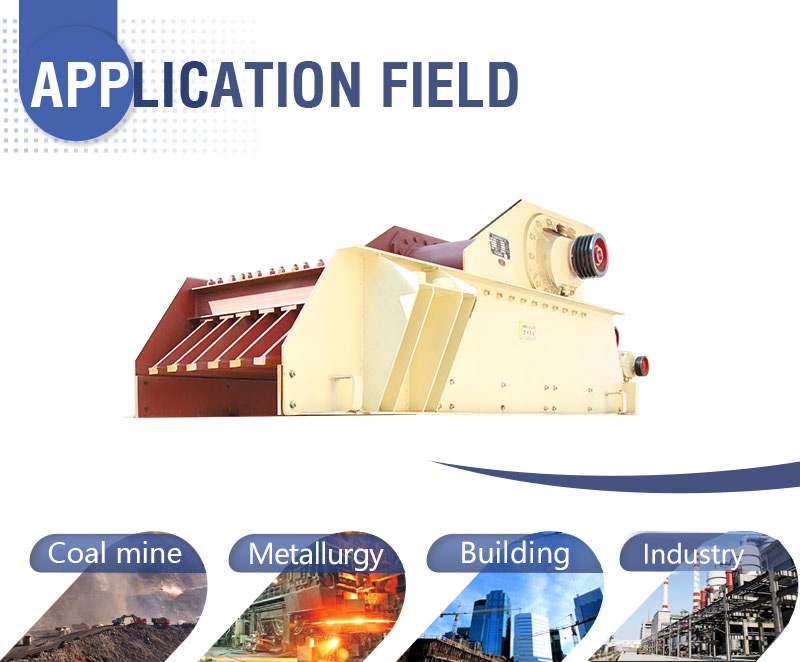 Vibrating Feeder Working Principle
The vibrating feeder machine makes use of the eccentric block rotation in the vibrator to produce centrifugal force, so that the movable parts like screen box and vibrator can be forced to move continuously in a circular way or in approximately circular. The driving shaft is driven by the motor through the triangle belt, and then the passive shaft is rotated by the gear meshing on the active axle. The main and passive shafts rotate inversely at the same time, so that the slot body vibrates and the material flows continuously, so as to achieve the material conveying.
Advantages of Vibrating Feeder Machine
Vibrating feeder motor is sourced by vibration, which assures this feeding machine an excellent performance which can be seen as the following.
Lower power consumption, smaller noise and avoid material blanking.
Easy and stable to adjust, which allows control over the material flow
Well-sealed body prevent dust pollution efficiently.
Other: simple structure, convenient installation, reliable operation, and long service life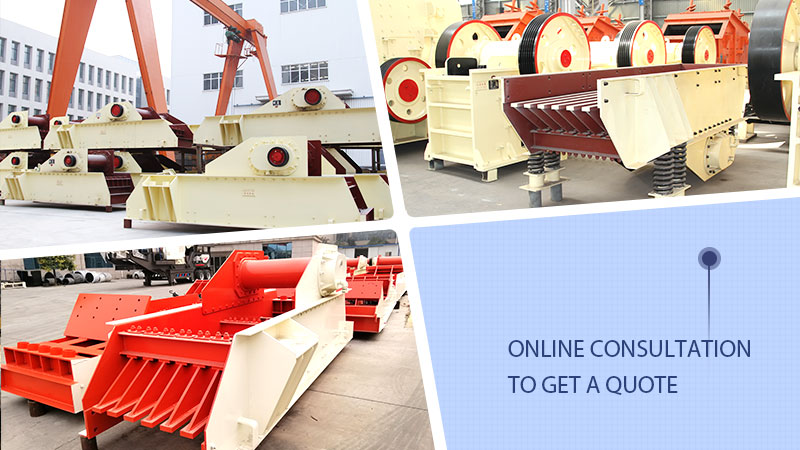 How to Maintain Vibrating Feeder?
>>Pay timely checks on the vibrating feeder to see if it is vibrating stably. When swinging happens, power off the vibrating feeder and have a fix.
>>As the bearing parts lubrication is the key to normal operation, regular lubrication is needed every two months. And in high-temperature season, it is needed every month.
Classic Case of Fote Vibrating Feeder
In Turkey, FTM vibrating feeder machine is used in a copper mine together with Jaw Crusher, Cone Crusher, and Round Vibrating Screen with a production capacity of 100TPH, input size of 750mm and output size of 12mm.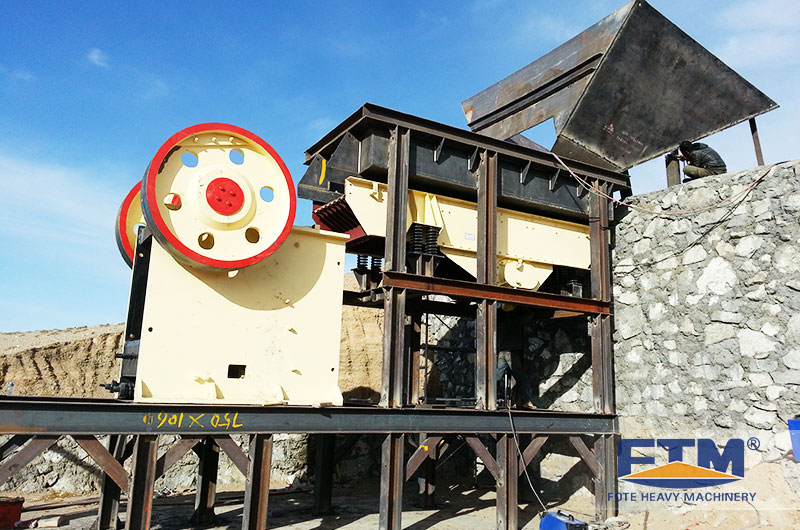 As one of the experienced vibratory feeder manufacturers, Fote Machinery has various types of vibrating feeder for sale. The vibrating feeder price in our company is reasonable in the mining machinery market. With advanced technology and good after-sale service, Fote Machinery is your best choice!
General Specification
Model
Max.
Feeding
Size
(mm)
Processing
Capacity
(t/h)
Motor
Power
(kw)
Obliquity
of material
trough
(°)
Trough
size
(mm)
Dimensions
(L×W×H)(mm)
GZD-650×2300
300
80-100
1.2×2
10-20
650×2300
2300×1360×780
GZD-750×2500
350
100-130
1.5×2
10-20
750×2500
2500×1460×780
GZD-850×3000
400
120-150
3×2
10-20
850×3000
3110×1800×1600
GZD-1000×3600
500
150-200
3.7×2
10-20
1000×3600
3850×1950×1630
GZD-1100×3600
580
240-300
3.7×2
10-20
1100×3600
3600×2050×1660
GZD-1300×3600
650
450-600
7.5×2
10-20
1300×3600
3900×2350×1750
GZD-1500×3600
1050
450-1000
7.5×2
10-20
1500×3600
3900×2000×1750
GZD-2000×3600
1200
550-1000
10×2
10-20
2000×3600
3600×2000×1750
GZD-2500×5000
1500
650-1500
18×2
10-20
2500×5000
5000×2500×1800
ZSW-380×95
500
100-180
11
0-10
3800×960
3920×1640×1320
ZSW-490×110
630
150-400
15
0-10
4900×1100
4980×1830×1320
ZSW-490×130
750
400-700
22
0-10
4900×1300
4980×2580×2083
ZSW-600×130
750
400-700
22
0-10
6000×1300
6082×2580×2083
ZSW-600×150
800
500-900
30
0-10
6000×1300
6086×2662×1912
ZSW-600×180
900
700-1300
45
0-10
6000×1500
6310×3262×2230
ZSW-600×200
1200
800-1500
55
0-10
6000×2000
6310×3462×2230
Model
Max.
Feeding
Size
(mm)
Processing
Capacity
(t/h)
GZD-650×2300
300
80-100
GZD-750×2500
350
100-130
GZD-850×3000
400
120-150
GZD-1000×3600
500
150-200
GZD-1100×3600
580
240-300
GZD-1300×3600
650
450-600
GZD-1500×3600
1050
450-1000
GZD-2000×3600
1200
550-1000
GZD-2500×5000
1500
650-1500
ZSW-380×95
500
100-180
ZSW-490×110
630
150-400
ZSW-490×130
750
400-700
ZSW-600×130
750
400-700
ZSW-600×150
800
500-900
ZSW-600×180
800
700-1300
ZSW-600×200
1200
800-1500