What is Hammer Crusher?
As a kind of impact crusher, hammer crusher is suitable for fine crushing. It is widely applied to break coal, gypsum, alum, brick, tile, limestone and other brittle materials minerals in railway and highway construction, cement, building materials, refractory, ceramics, chemical and other industries. Fote PCZ series and PCX series hammer crusher machines are adopted advanced international technology and have shaping function. One special function of the hammer crusher machine is to break used glass in recycling. It should be pointed out that the gap of castor strips can be adjusted and change the discharge size to meet the different requirements of customers.
Take you Close to the Hammer Stone Crusher
Hammer crusher has several features such as big crushing ratio, high production capacity and uniform product size. Hammer crusher can crush the maximum size of 600-1800mm materials into 25mm or below, so it is also known as crusher hammer or hammer mill crusher. As it is often used for coal crushing in coal mines, it is also called as coal crusher.

Applications of FTM Heavy Hammer Crusher
Hammer crusher is used for crushing all kinds of hard and abrasive materials with less than 100MPa compressive strength and with less than 15% water content, such as coal, salt, chalk, gypsum, limestone, brick, and tile. It also can be used to crush the fiber structure, asbestos cement waste, and asbestos fibers recycling.
There are types of heavy hammer crusher, including mini hammer crusher and larger hammer crusher. They can be used in stone crushing line and sand making line. In addition, it can be a replacement of the cone crusher in ore dressing production line.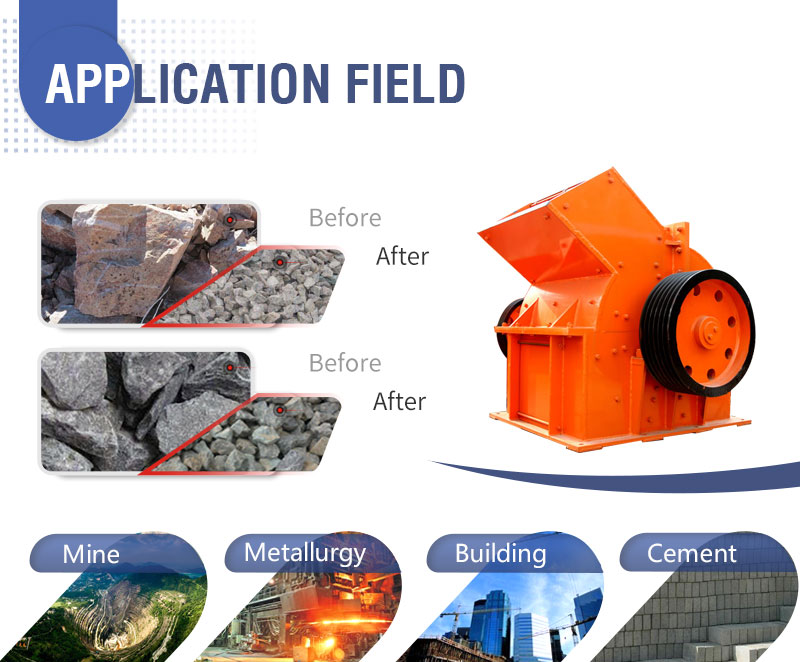 Materials before Crushing and Finished Products of Hammer Crusher
Advantages of Hammer Crusher
Long service life. There is a breakthrough of heavy hammer crusher that particle size control is no longer realized by grates, which reduces the wearing of the hammer head in crushing chamber. This change improves the service life of the main part, hammer head, 4-6 times longer than before.
Low power consumption. Heavy hammer crusher has realized changing third-stage crushing effect to the first-stage. Therefore, it can be used as a crushing equipment for medium and fine crushing with a 40% cost reduction.
Better finished products shape. The specification of the finished product can be adjusted according to your need, including coarse crushing, medium crushing and fine crushing. End products from heavy hammer crusher machine are widely used for its good shape and high anti-strength.
Highly wearable parts. FTM heavy hammer crusher adopts well-made parts, especially the material selection of wearable parts. We use alloy, which is an ideal metal-materials for producing wearable parts, to produce the key part, hammer head.
Other advantages. Big crushing ratio (usually 10-25, even can reach up to 50), strong production ability, less powder rate, easy operation and maintenance.
How Hammer Crusher Works?
Hammer crushing machine crushes materials mainly by impaction. When a heavy hammer crushing machine works, the hammer head rotates at an extreme-high speed. Materials entry the crushing cavity will be crushed by the head and get energy from them. Crushed materials rush up to the back plates. Meanwhile, materials are crushed to each other. After being impacted, polished and squeezed by the hammer head, the materials are extruded through the small interval. Here we get qualified particles.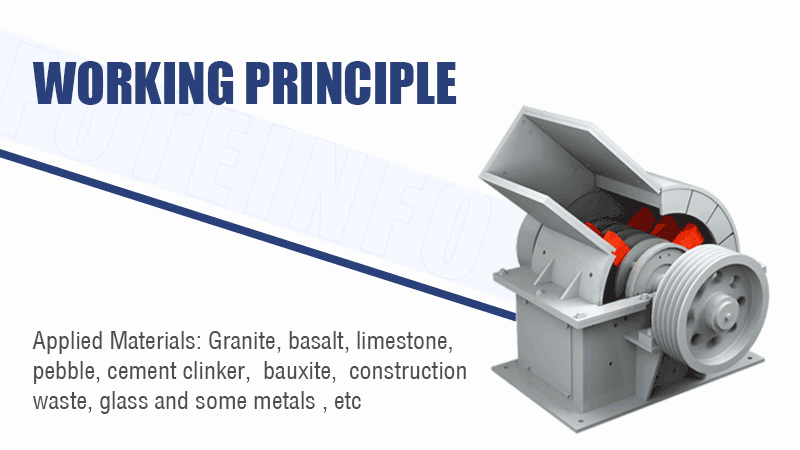 Hammer Crusher Working Principle
How to Select a Suitable Hammer Crusher?
Hammer crusher is a kind of impact crusher, which mainly uses the hammerhead for the crushing process. While there are types of hammer crushers include single-stage hammer crusher, tertiary impact crusher, ring hammer crusher or heavy hammer breaking machine, etc. How to select a suitable crusher faced so many types of hammer crushers? Generally, there are some factors to be taken into consideration as follows.
The characteristics of the raw materials. Hammer crusher is widely used in many fields, while different models are applied to process different materials. Customers shall be familiar with material hardness, viscidity, humidity as well as the processing environment in order to choose the fit model of hammer crusher.
Production capacity. Different sized plants require hammer crushers with different capacities. Customers can take the present production condition and the production capacity into consideration, and select a suitable model.
In addition, the hammer crusher structure is another important role in hammer crusher machine selection. And the roller and the hammerhead are the main parts that influence efficiency. Therefore, hammer crushers with different rollers and hammerheads also deserve attention.
The roller. Two specifications about rollers are the length and the diameter. You can choose rollers of different diameters according to the sizes of the materials and of different lengths based on the capacity of the hammer crusher. The rotating speed is another factor that affects the crushing efficiency and production capacity.
The hammerhead. As the hammerhead is hanged on the hammer plate through the joint, it is necessary to select the hammerhead mass correctly, which has a great effect on the crushing efficiency and energy consumption. If the mass of the hammer is too small, it may not meet the requirement of crushing the material at one time. If it is too large, there will be large energy waste. Therefore, the quality of the hammer must meet the requirement of crushing the material once and reducing the useless power consumption to a minimum, and it is necessary to ensure that the hammer must not be overturned backward.
Working Site of Heavy Hammer Crusher
This video displays a Fote stone crushing solution in Morocco established in 2015. Up to now, based on the feedback from this foreman, this crushing plant still works well with a low failure rate. Here, Fote heavy hammer crusher is used as the secondary crusher with the primary crushing equipment, jaw crusher in basalt crushing line. The capacity is 50 TPH and the discharge sizes are 10mm, 15mm, and 25mm. This customer saw a Fote video on Youtube. He visited our web and left an online message. Our sales contacted him within 24 hours and offered him three customized solutions according to the information he left. Finally, he selected this combination of two hammer crushers with HX series vibrating screen which is more suitable for the working environment and meet the budget.
Hammer Crusher Types and Workshop

Located in the heavy mining machinery center and as a professional heavy hammer crusher supplier, Fote Machinery has complete types of hammer crushers for sale, including heavy hammer crusher, ring hammer crusher, mini hammer crusher and so on. We own centralized hammer crushing machine factory and are working hard to supply high-efficiency hammer crusher with good design to meet your need. Our skilled engineers are ready to offer free consultation including hammer crusher price. Through over 40 years of production experience, we have continuously updated our production technology to bring more benefits to customers!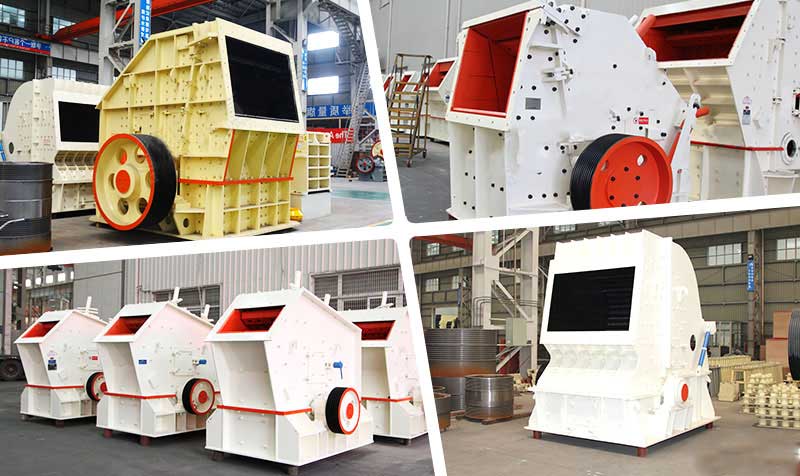 Different Types of Hammer Crusher at FTM Workshop
General Specification
Specification
Capacity(m³/h)

Motor Power
(kw)
PCΦ400×300
5-10
4P 11KW
PCΦ600×400
10-22
4P 22KW
PCΦ800×600
18-40
6P 55KW
PCΦ1000×800
25-50
8P 75KW
PCΦ1000×1000
30-55
8P 90KW
Note: Data may change for the improving technology; we reserve the right of changing without notice; Machine performance may vary depending on application; for more details, please chat online with Fote engineers.
Specification
Capacity(m³/h)

Motor Power
(kw)
PCΦ400×300
5-10
4P 11KW
PCΦ600×400
10-22
4P 22KW
PCΦ800×600
18-40
6P 55KW
PCΦ1000×800
25-50
8P 75KW
PCΦ1000×1000
30-55
8P 90KW
Note: Data may change for the improving technology; we reserve the right of changing without notice; Machine performance may vary depending on application; for more details, please chat online with Fote engineers.