What is Roll Crusher Machine?
Born in 1806, roll crusher has witnessed the development of most crushing equipment. With a simple structure and easy maintenance, it is still widely applied for coarse, medium and fine crushing of medium-hard materials, such as limestone, iron ore, pebble, quartz, silica, etc. in cement industry, chemical industry, electric power industry. Ideal particle size can be achieved by adjusting the gap between rollers.
Roller Crusher Classification
The roll crusher machine can be classified into single roll crusher, double roll crusher, and four-roller crusher according to the roller quantity. Double roll crusher, also known as toothed roll crusher, is the most commonly used. Based on the roller speed, roll crusher machine is laid in high-speed roll crusher, low-speed roll crusher, and differential-speed roll crusher.
Applications of Fote Roller Crusher
Roll crusher is also called roll crusher machine, roller crusher, or roller crusher machine, which has large feeding particle size and adjustable particle size. Roller crusher is suitable for the fine crushing with the required feeding size of less than 80mm and discharging size of 50μm-20mm, such as the artificial sand making of pebble and construction waste, fine crushing for iron ore and quartz/silica in ore dressing industry, raw material crushing in ceramic industry and so on. It is also applied for coarse and medium crushing in cement industry, chemical industry, electric power industry, mine industry, metallurgy industry, building materials industry, refractory materials industry, and coal industry. Especially in the coal industry, roller crusher can directly crush raw coal after the removal of iron and impurity without removing the waste. The finished materials have a uniform particle size, low over-crushing ratio, so as to simplify the separation process as well as reduce the investment and production cost.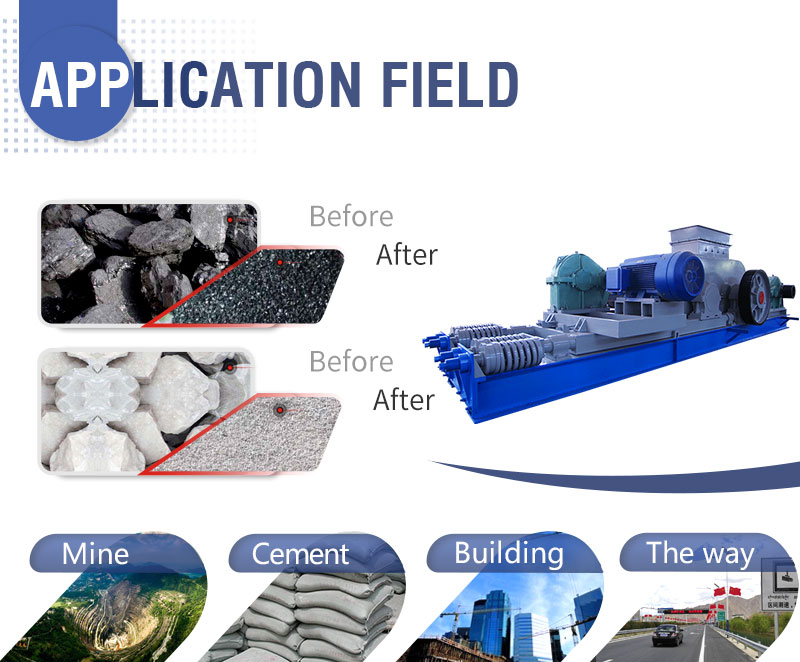 Structural Advantages of Roll Crusher Machine
Large crushing ratio. When a larger crushing ratio is needed, a crushing stick-shaped device can be equipped under the rollers to adjust the crushing ratio.
Simple structure. The modularized frame allows roll crusher to be installed at your place or to have a grouped installation.

Low over-crushing rate. Roller crusher machine adopts a combined crushing mode, not impaction, which avoids a second crushing in the body.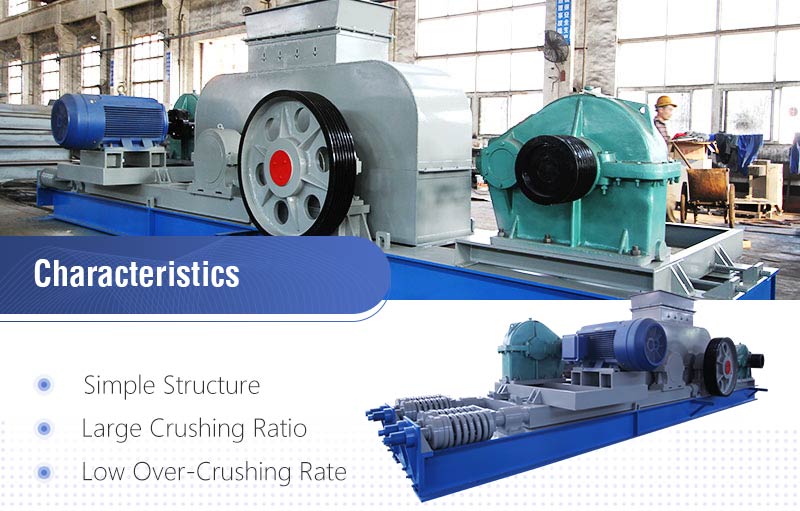 Working Principle of Roller Crusher Machine
The main parts of roll crusher are two rollers, one fixed roller and one movable roller. The two rollers are driven by wheels and belts. When the roll crusher machine works, the movable roller is pushed by the spring between the body and wheel to rotate forth and back. Materials fed by the vibrating feeder fall between the two rollers and get squeezed and crushed. Qualified particles will through the teeth on the rollers and are exhausted out.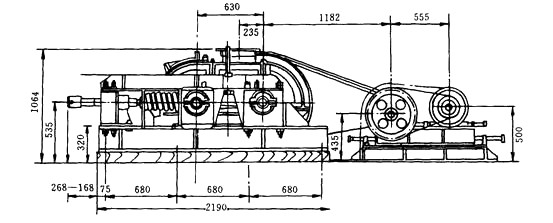 Sturcture of Roll Crusher
Roller Crusher Manufacturer
As one of the leading roller crusher manufacturers in China, Fote Machinery has a high-performance roll crusher for sale, including double roll crusher, toothed roll crusher, and single roll crusher. We provide the highest-quality roll crusher at the most affordable price. We are ready here to offer free and professional consultation.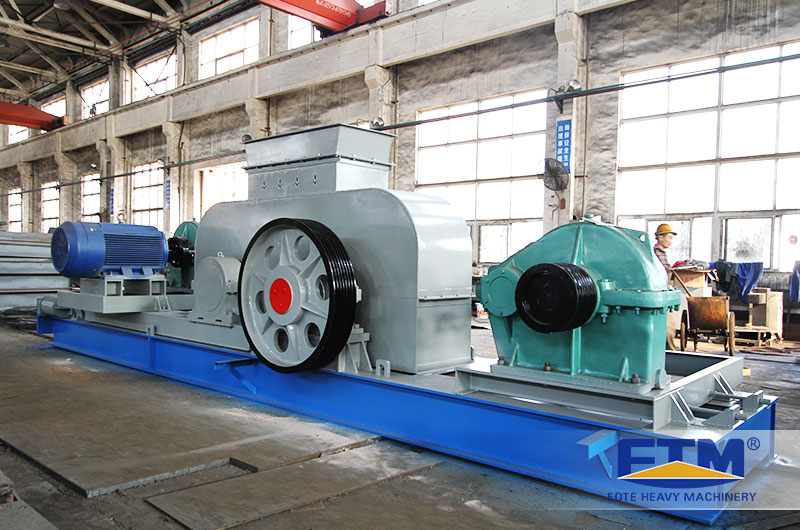 Roll Crusher
General Specification
| | | | | | | | |
| --- | --- | --- | --- | --- | --- | --- | --- |
| Model | 2PG0425 | 2PG0640 | 2PG0740 | 2PG0850 | 2PG1060 | 2PG1260 | 2PG1560 |
| Roller diameter(mm) | Ф400 | Ф600 | Ф700 | Ф800 | Ф1000 | Ф1200 | Ф1500 |
| Roller width(mm) | 250 | 400 | 400 | 500 | 600 | 600 | 600 |
| Input Size(mm) | ≤25 | ≤25 | ≤25 | ≤25 | ≤30 | ≤30 | ≤30 |
| Discharging Gate(mm) | 2-8 | 2-8 | 2-8 | 2-8 | 2-10 | 2-10 | 2-10 |
| Processing capacity(t/h) | 5-10 | 10-20 | 15-30 | 20-40 | 30-50 | 40-70 | 60-110 |
| Power Models | Y132M-6 | Y180L-6 | Y200L-4 | Y225M-4 | Y250M-4 | Y315M-6 | Y315L-6 |
| Motor power(kw) | 5.5×2 | 15×2 | 30×2 | 45×2 | 55×2 | 75×2 | 110×2 |
Model
Input Size
(mm)
Processing capacity
(t/h)
2PG0425
≤25
5-10
2PG0640
≤25
10-20
2PG0740
≤25
15-30
2PG0850
≤25
20-40
2PG1060
≤30
30-50
2PG1260
≤30
40-70
2PG1560
≤30
60-110