What is Jaw Crusher?
Crushers play a fundamental part in the stone crushing process, among which Jaw Crusher is mostly used. Jaw crusher is the firstborn crushing machine that processes materials by adopting the principle of mutual extrusion between jaw plates. With simple structure, reliable performance, and easy maintenance, the jaw crusher machine is widely used in the first process to crush all kinds of rocks with less than 320MPa compressive strength into medium particle size for one time.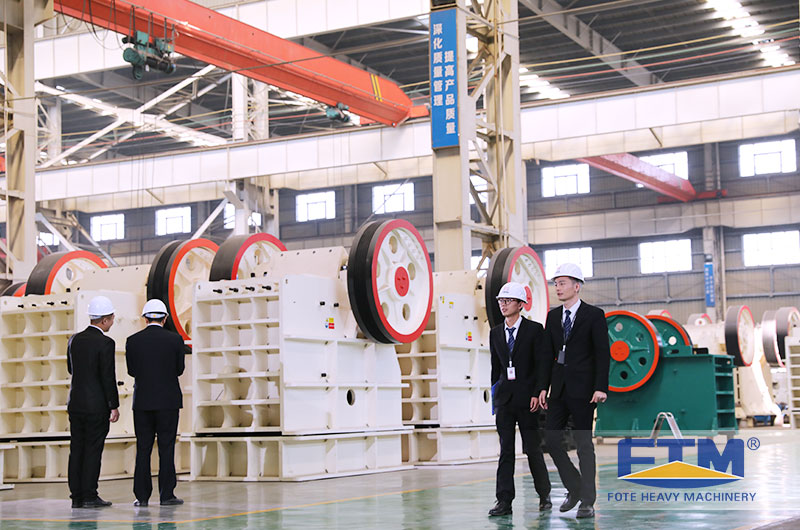 Fote Engineers in Workshop
Fote jaw crusher is always used with cone crusher, impact crusher and sand maker to constitute the sandstone production line. Jaw crusher can be divided into PE series and PEX series, of which the PE jaw crusher is used for coarse crushing, and PEX jaw crusher for medium and fine crushing.
Applications of Jaw Crusher
Jaw crusher is mainly used to reduce the size of various materials. Coarse crushing, medium crushing and fine crushing are all available, the first two of which are the major functions. Jaw crusher can be applied to crush more than 200 kinds of hard and soft ore or stones with less than 300MPa compressive strength. The applied materials are commonly like pebble, calcite, granite, quartz, concrete, dolomite, bluestone, iron ore, limestone, coal gangue, construction waste, ferrosilicon, basalt, sandstone, cement clinker, etc. It is mainly used for the medium and fine crushing of hard ores and rocks in metallurgy industry, mine industry, chemical industry, cement industry, construction industry, refractory materials industry and ceramic industry and other sectors.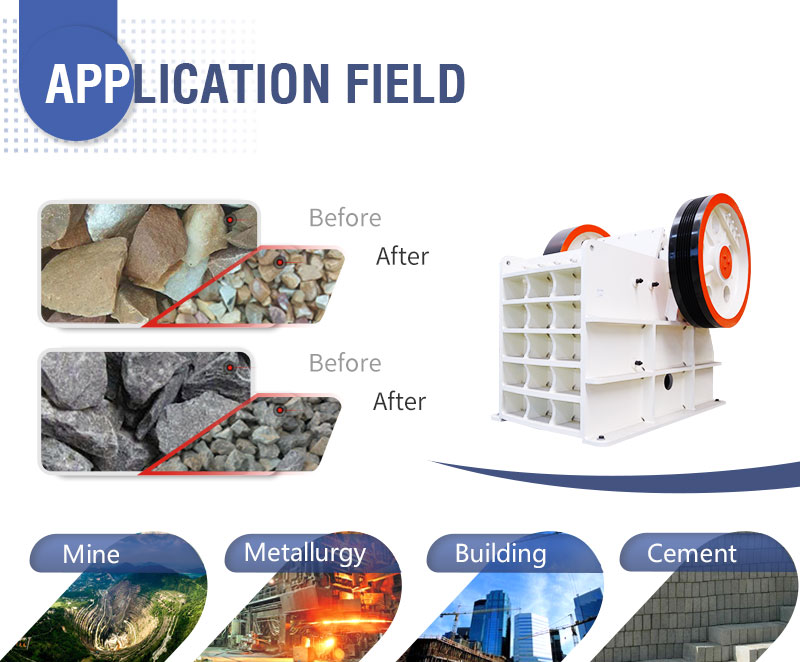 Working Principle of Jaw Crusher Machine
When a jaw crusher works, the motor starts the belt wheel to drive the centrifugal shaft to rotate. The movable jaw blade suspension shaft gets to and away the fixed shaft periodically, which causes a press, rubbing and grinding, etc. to the raw materials. Crushed stone falls down gradually and are discharged out of the jaw crusher when the particle size meets the requirements.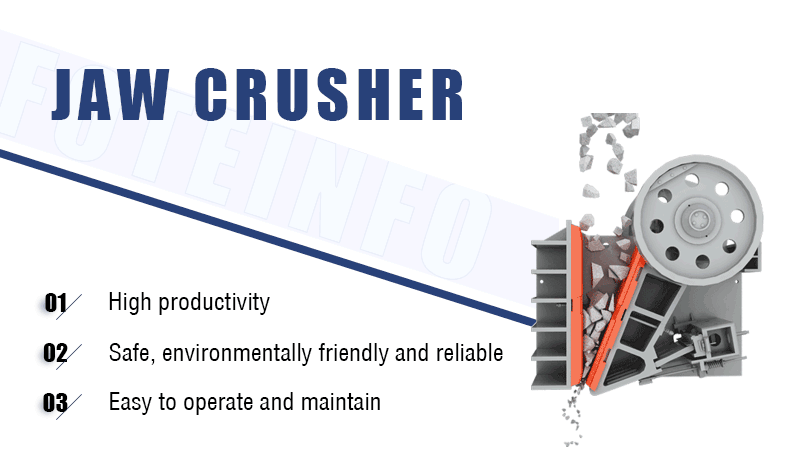 Structure and Advantages of Fote Jaw Crusher Machine
Jaw crusher is made of the frame, the eccentric shaft, a big belt pulley, the flywheel, a side guard plate, toggle plate, toggle plate backseat, clearance adjusting screw, a reset spring, a fixed jaw plate and a movable jaw plate, in which the toggle plate also plays the role of insurance.
Stable and reliable performance with high strength. The bearing block is structured as an integral CS, which ensures the complete co-work with the crusher frame. Meanwhile, finite -element analyzing assures a high strength of jaw crusher.
Advanced technology and wearable parts. The movable jaw blade is made of high-strength and wearable steel and driven by two large CS wheels. Besides, the heavy ccentric shaft is processed by forging stock.
Simple operation and a safe working environment. The crushing cavity is symmetrically V-shaped; thus, the actual feeding port width is consistent with the nominal feeding port width. The outlet is more easily adjusted.
High efficiency and energy-saving. The deep cavity gives fully crushing to the materials and improves the crushing ratio as well as the even particle shape.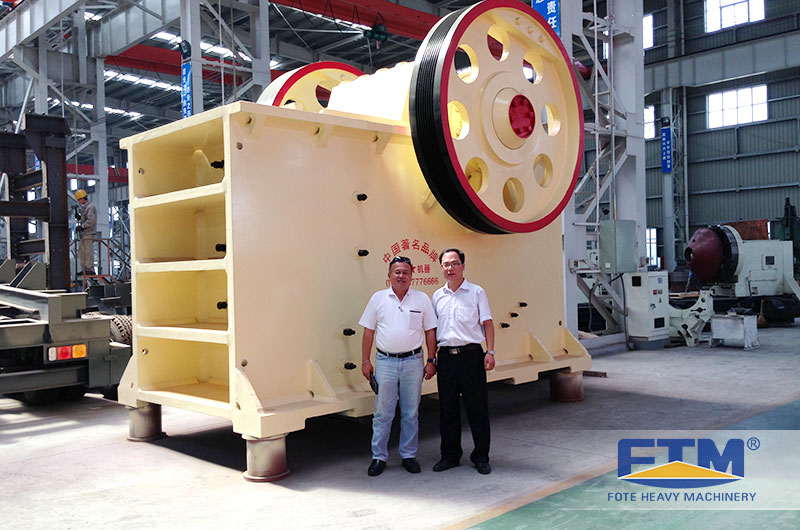 Customer in Fote Factory
When Should I Select Jaw Crusher?
Usually, jaw crusher is used as the primary and medium crushing machine for its large crushing capacity and crushing ratio. With the working principle of a simple pendulum and complex pendulum, jaw crusher has the discharge size of 10-350mm, which is suitable for the feeding port of most of the fine crushing machine. Therefore, if you need a machine for the primary crushing, a jaw crusher is the better choice. When it comes to the differences in jaw crusher V.S. impact crusher, here are mainly three points.
First, as mentioned, the jaw crusher is used for coarse crushing and medium crushing, while the impact crusher is more often used as the fine crusher machine. Second, the jaw crusher works with simple pendulum and the complex pendulum by the fixed jaw and the movable jaw. As for the impact crusher, it works with rotating pendulum. Third, when mentioning the working mean, we always say that jaw crusher always works with regularly short interval while the impact crusher with no interval. Sometimes, impact crusher can be replaced with cone crusher. But jaw crusher plays a more irreplaceable part in crushing plants.
Classic Case of Fote Jaw Crusher
For its big crushing ratio and even particle shape, Fote jaw crushers have received global appraise and exported to more than 200 countries including South Africa, India, Philippine, Malaysia, America, Germany, Pakistan, etc. Here is one of Fote crushing solutions in Philippine with jaw crusher used in pebble crushing line. In this crushing plant, jaw crusher is used with a capacity of 120 TPH, feeding size of 500mm and discharging size of 3/4 ". This customer found our web on Google and left an online message with project details. Fote engineer contacted him through the email and WhatsApp. Then this Philippine customer got four solutions with different series of crushing machines in 24 hours after replying. Compared with different parts of other companies, he selected this plant. In 2017, this plant was installed and started operation. Up to now, the entire line has worked well with a low failure rate and got praised by our customer.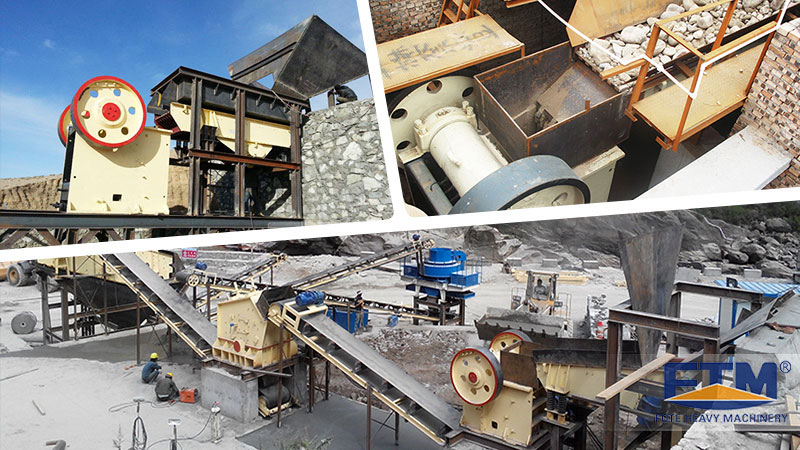 Fote Jaw Crusher Site in Philippine
Jaw Crusher Supplier
Fote Machinery has 300,000 square meters of production base, including crushing equipment workshop, ore beneficiation equipment workshop, dryers, grinding mill plant, etc. The headquarter is located in high-tech development zone of Zhengzhou, Henan province. Fote Machinery supplies jaw crusher machine with a long history, which results in mature technology and effective control over the production cost. We have many types of large jaw crushers and small crushers for sale such as PE series, PEX series and HD series jaw crusher. Tracked jaw crusher and wheel jaw crusher are both customized. Fote guarantees low jaw crusher price with the same quality. Your inquiries are welcome!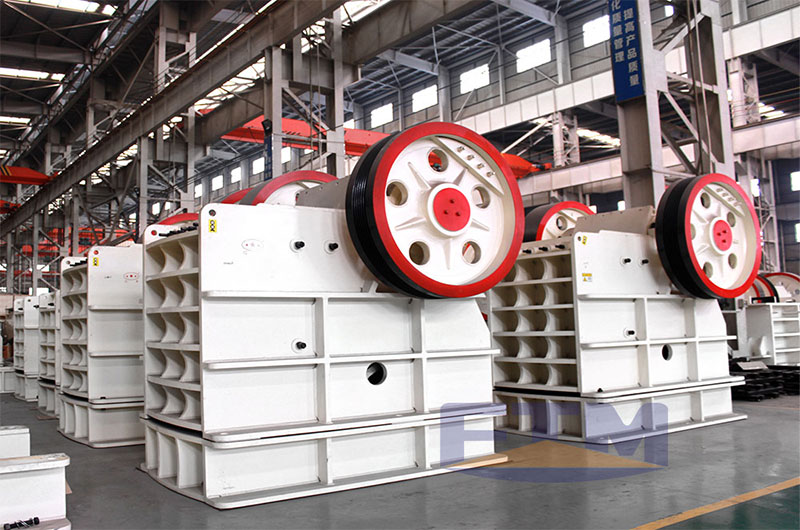 FTM Jaw Crusher Workshop
General Specification
Model

Feed opening
(mm)

Max.feeding
size (mm)

Adjusting range
of discharge
opening (mm)

Processing capacity
(t/h)

Rotation speed of
eccentric shaft (r/min)

Motor power
(kw)

Total weight
(t)

Dimensions
(L×W×H)
(mm)

PE-150×250
150×250
125
10-40
1-3
250
4P 5.5
0.8
720×660×850
PE-200×300
200×300
180
15-50
2-6
260
4P 7.5
1.2
910×750×990
PE-200×350
200×350
180
18-70
3-10
260
4P 11
1.5
1000×870×990
PE-250×400
250×400
210
20-60
5-21
300
6P 15
2.8
1300×1090×1270
PE-400×600
400×600
340
40-100
16-64
275
6P 30
7
1730×1730×1630
PE-500×750
500×750
425
50-100
40-110
275
6P 55
12
1980×2080×1870
PE-600×750
600×750
500
150-200
80-240
275
6P 55
15.8
2070×2000×1920
PE-600×900
600×900
500
65-160
50-160
250
6P 55
17
2190×2206×2300
PE-750×1060
750×1060
630
80-140
110-320
250
8P 110
29
2660×2430×2800
PE-800×1060
800×1060
640
130-190
130-330
250
8P 110
29.8
2710×2430×2800
PE-830×1060
830×1060
650
160-220
150-336
250
8P 110
30.7
2740×2430×2800
PE-870×1060
870×1060
660
200-260
190-336
250
8P 110
31.5
2810×2430×2800
PE-900×1060
900×1060
685
230-290
230-390
250
8P 110
33
2870×2420×2940
PE-900×1200
900×1200
750
95-165
220-380
200
8P 110
52
3380×2870×3330
PE-1000×1200
1000×1200
850
195-265
315-500
200
8P 110
55
3480×2876×3330
PE-1200×1500
1200×1500
1020
150-350
400-800
180
6P 160-220
100.9
4200×3300×3500
PE-1500×1800
1500×1800
1200
220-350
500-1000
180
8P 280-355
139
5160×3660×4248
PEX-150×750
150×750
120
18-48
8-25
320
4P 15
3.8
1200×1530×1060
PEX-250×750
250×750
210
25-60
13-35
330
6P 22
5.5
1380×1750×1540
PEX-250×1000
250×1000
210
25-60
16-52
330
6P 30
7
1560×1950×1390
PEX-250×1200
250×1200
210
25-60
20-61
330
6P 37
9.7
2140×1660×1500
PEX-300×1300
300×1300
250
20-90
16-105
300
6P 55
15.6
2720×1950×1600
Model

Max.feeding
size (mm)

Adjusting range
of discharge
opening (mm)

Processing capacity
(t/h)

PE-150×250
125
10-40
1-3
PE-200×300
180
15-50
2-6
PE-200×350
180
18-70
3-10
PE-250×400
210
20-60
5-21
PE-400×600
340
40-100
16-64
PE-500×750
425
50-100
40-110
PE-600×750
500
150-200
80-240
PE-600×900
500
65-160
50-160
PE-750×1060
630
80-140
110-320
PE-800×1060
640
130-190
130-330
PE-830×1060
650
160-220
150-336
PE-870×1060
660
200-260
190-336
PE-900×1060
685
230-290
230-390
PE-900×1200
750
95-165
220-380
PE-1000×1200
850
195-265
315-500
PE-1200×1500
1020
150-350
400-800
PE-1500×1800
1200
220-350
500-1000
PEX-150×750
120
18-48
8-25
PEX-250×750
210
25-60
13-35
PEX-250×1000
210
25-60
16-52
PEX-250×1200
210
25-60
20-61
PEX-300×1300
250
20-90
16-105