What is Rotary Kiln?
The rotary kiln was created in cement production. Dating back to 1824, an English cement worker developed the first interval operated vertical kiln. About 30 years later, another English people R&D the rotary kiln. From then on, the cement industry gets rapid development and meanwhile, the rotary kiln gets generation development.
As a kind of commonly used calcining equipment, rotary kiln is widely used in construction, building materials, metallurgy, chemical industry and environmental protection industry. In addition to the calcination of clay, limestone, slag, iron, aluminum, copper, zinc, iron ore, concentrate and intermediate materials, it also has thermal reaction, heat exchange, degradation and utilization of waste and other functions.
Fote Rotary Kiln Flow Chart
Applications of Rotary Kiln
>>Building Materials Industry
In addition to the calcination of clinker, the kiln can also be used for the drying of limestone, slag, and clay, etc. In refractory material production, the rotary kiln is used to calcinate and keep a stable size of the raw material and improve the strength.
>>Ore Dressing Industry
In the ore processing, rotary kiln can be used to magnetizing roast the deletion iron to improve the magnetism, which is better for the magnetic concentration.
>>Metallurgical Industry
It is usually used for the sintering of ore, concentrates, intermediate materials and for the smelting of iron, aluminum, copper, zinc, tin, nickel, tungsten, chromium, file, and other non-ferrous and ferrous metal.
>>Environmental Protection Industry
The cement kiln is used in hazardous waste and other waste burning. After the kilning process, waste can be harmless and be used as a resource.
>>Chemical Industry
Rotary kiln for the production of soda, calcined phosphate fertilizer, barium sulfide, etc. The mode of phosphoric acid production by rotary kiln can date back to the 1960s. After near half a century, this process is developed with the advantages of low energy consumption and no use of sulphuric acid, etc.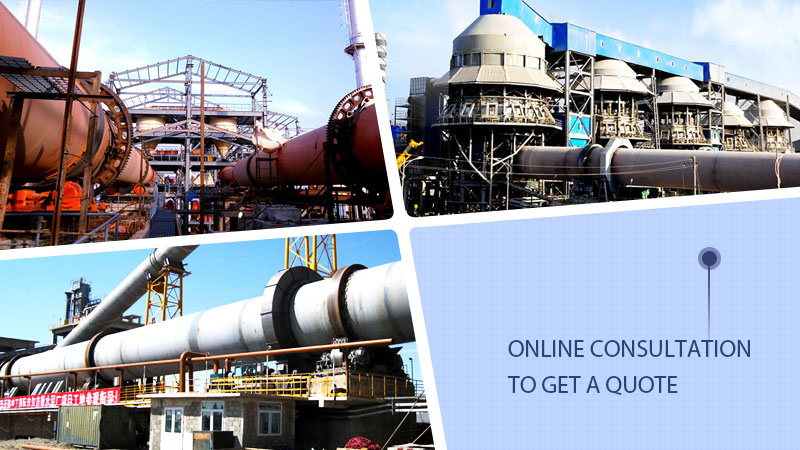 Rotary Kiln Applied in Different Industries
Working Principle of Rotary Kiln
Rotary kiln is a cylinder set at a certain angle. When a rotary kiln works, the cylinder rotates to make the materials inside get fully mixed and contacted. Coal injection combustion at kiln head produces a lot of heat that is transmitted to the materials by the fire radiation, scorching air exchange and the transmission of the body. Materials steps forwards under the effect of gravity and the rotation of the cylinder.
Structural Advantages of Rotary Kiln
It mainly consists of the body, a driving device, a supporting device, blocking wheel, kiln head sealing device, kiln tail sealing device and kiln hood.
Flexible axial movement of the cylinder. The kiln cylinder is made of high-quality sedation steel plate. The cylinder is supported on the supporting device of the sliding bearing of 2×7 gears through the wheel belt, and a mechanical or hydraulic retaining wheel is arranged on one or more of the supporting devices. The customer can flexibly control the axial movement of the cylinder.
Flexible rotation of cylinder. The driving device rotates the cylinder by the gear rings set in the middle part according to the required speed.
Convenient installation and maintenance. The larger-sized rotary kiln is equipped with assistant driving device that is rotating at very low speed. This arrangement is to meet the need of regular check and some maintenance.
Well-sealed cylinder. In order to prevent cold air from entering and smoke dust spilling over the cylinder, reliable kiln tail and kiln head sealing device is arranged at both ends of the cylinder.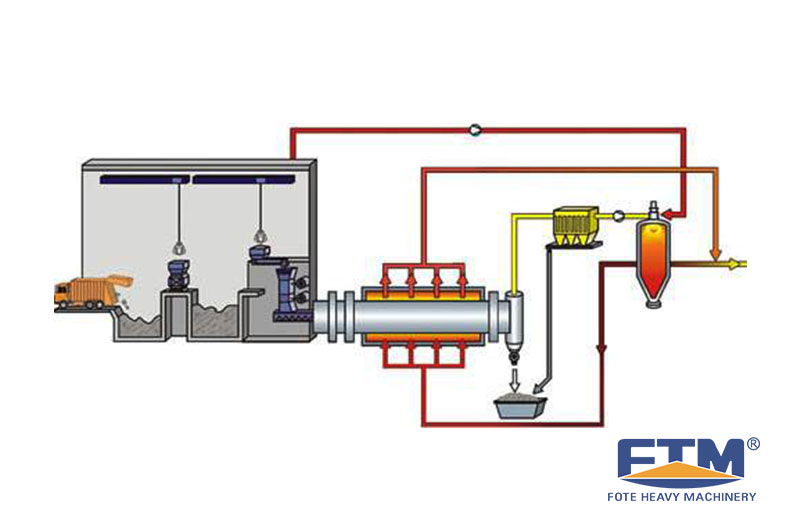 Rotary Kiln Process
Classification of Rotary Kiln
1. According to the exterior, it can be divided into variable-diameter rotary kiln and path rotary kiln;
2. According to the usage, it can be divided into the cement rotary kiln, magnesium metal rotary kiln, ceramsite sand rotary kiln, kaolin rotary kiln, lime rotary kiln, etc.
3. According to the fuel, it can be divided into gas rotary kiln, coal rotary kiln and mixed-fuel rotary kiln.
Classic Case of Rotary Kiln
Early in last year, a customer who runs a medium clinker production plant emailed at quote@sinoftm.com leaving a message for rotary kiln. He needed a kiln to process limestone with a capacity of about 50TPH. Fote engineer gave him a reply as soon as possible and provided him with two alternative solutions based on his requirements.
This customer from South Africa paid a visit to Fote factory and concluded the contract. After about two-week delivery, he received the goods and got a professional site installation guidance from Fote engineer. Recently, our engineer has gained a good feedback from him.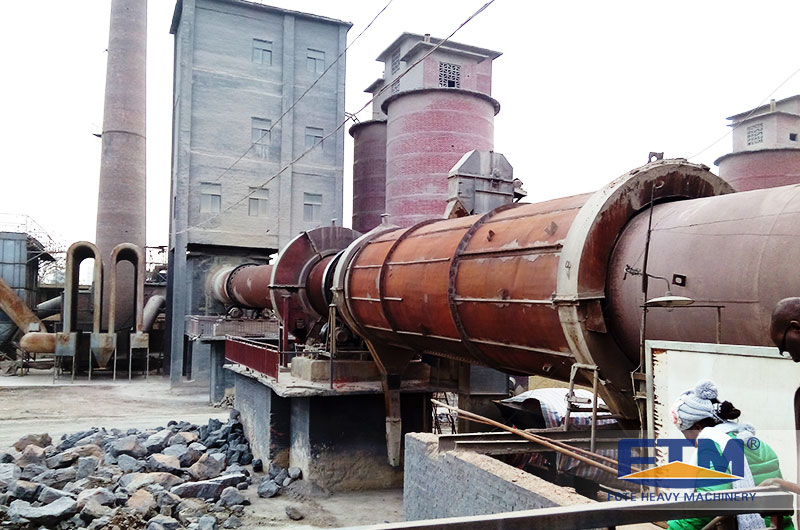 Fote Rotary Kiln at Customer Site
Rotary Kiln Manufacturer
With an about 40-year experience, Fote Machinery has developed itself to a higher stage. More than 2300 employees including over 360 skilled engineers can offer you customized solutions with the by-heart design and production of various rotary kiln for sale, which has passed the ISO9001 quality certification.
The rotary kiln price of our company is favorable among rotary kiln manufacturers. Besides, we have introduced advanced international technology from German, Japan, America, etc. as our support. For more details about rotary kiln, welcome to chat online with our experienced engineers or leave a message.
General Specification
Product
Specification
(m)
Kiln dimensions
Motor
power
(kw)
Total
weight
(t)
note
Diameter
(m)
Length
(m)
Obliquity
(%)
Capacity
(t/d)
Rotation
speed
(r/min)
Φ2.5×40
2.5
40
3.5
180
0.44-2.44
55
149.61

-----

Φ2.5×50
2.5
50
3
200
0.62-1.86
55
187.37
-----
Φ2.5×54
2.5
54
3.5
280
0.48-1.45
55
196.29

outside

disassemble

kiln

Φ2.7×42
2.7
42
3.5
320
0.10-1.52
55
198.5
------
Φ2.8×44
2.8
44
3.5
450
0.437-2.18
55
201.58

outside

disassemble

kiln

Φ3.0×45
3
45
3.5
500
0.5-2.47
75
210.94
------
Φ3.0×48
3
48
3.5
700
0.6-3.48
100
237

outside

disassemble

klin

Φ3.0×60
3
60
3.5
800
0.3-2
100
310
------
Φ3.2×50
3.5
50
4
1000
0.6-3
125
278

disassemble

klin

Φ3.3×52
3.3
52
3.5
1300
0.266-2.66
125
283

kiln with

preheater

precalcine

Φ3.5×54
3.5
54
3.5
1500
0.55-3.4
220
363

kiln with

prehrater

precalcine

Φ3.6×70
3.6
70
3.5
1800
0.25-1.25
125
419

Generating

klin for

usimg ofterheat

Φ4.0×56
4
56
4
2300
0.41-4.07
315
456

klin with

prehrater

precalcine

Φ4.0×60
4
60
3.5
2500
0.396-3.96
315
510

klin with

prehrater

precalcine

Φ4.2×60
4.2
60
4
2750
0.41-4.07
375
633

klin with

prehrater

precalcine

Φ4.3×60
4.3
60
3.5
3200
0.396-3.96
375
583

klin with

prehrater

precalcine

Φ4.5×66
4.5
66
3.5
4000
0.41-4.1
560
710.4

klin with

prehrater

precalcine

Φ4.7×74
4.7
74
4
4500
0.35-4
630
849

klin with

prehrater

precalcine

Φ4.8×74
4.8
74
4
5000
0.396-3.96
630
899

klin with

prehrater

precalcine

Φ5.0×74
5
74
4
6000
0.35-4
710
944

klin with

prehrater

precalcine

Φ5.6×87
5.6
87
4
8000
Max4.23
800
1265

klin with

prehrater

precalcine

Φ6.0×95
6
95
4
10000
Max5
950×2
1659

klin with

prehrater

precalcine
Product
Specification
(m)
Capacity
(t/d)
Rotation
speed
(r/min)
Φ2.5×40
180
0.44-2.44
Φ2.5×50
200
0.62-1.86
Φ2.5×54
280
0.48-1.45
Φ2.7×42
320
0.10-1.52
Φ2.8×44
450
0.437-2.18
Φ3.0×45
500
0.5-2.47
Φ3.0×48
700
0.6-3.48
Φ3.0×60
800
0.3-2
Φ3.2×50
1000
0.6-3
Φ3.3×52
1300
0.266-2.66
Φ3.5×54
1500
0.55-3.4
Φ3.6×70
1800
0.25-1.25
Φ4.0×56
2300
0.41-4.07
Φ4.0×60
2500
0.396-3.96
Φ4.2×60
2750
0.41-4.07
Φ4.3×60
3200
0.396-3.96
Φ4.5×66
4000
0.41-4.1
Φ4.7×74
4500
0.35-4
Φ4.8×74
5000
0.396-3.96
Φ5.0×74
6000
0.35-4
Φ5.6×87
8000
Max4.23
Φ6.0×95
10000
Max5