The Information of Shaking Table
Shaking table is a gravity separation machine used to separate fine materials, which has been widely used in many industries. It can adopt different working modes such as coarse separation, fine separation and cleaning. It is widely used in the selection of tin, tungsten, gold and silver, lead, zinc, antimony, iron, manganese, ferrotitanium and coal. Our factory has a long history of production of shaker table, and constantly develops and innovates, from straight bed surface shaker to single curved wave bed surface shaker (1970s). The treatment capacity, recovery rate and enrichment ratio of double wave bed surface shaker (1990s) were greatly improved.
Gold Shaker Table
Gold shaker table is one of the most important gold separating equipment. Gold generally exists in highly dispersed form in nature, especially alluvial gold. The most widely used in the sorting method of alluvial gold is using the shaking table. Because the gold has high density and certain weight, therefore, adopting the shaking table to separate gold can obtain the final product for one time, which is economical and convenient. In addition, one person can control many shaking tables at the same time, which can save manpower and material resources.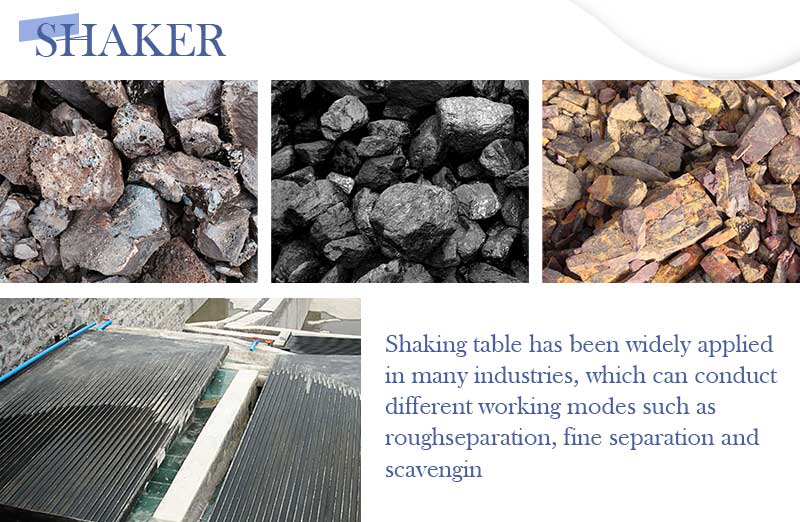 The Application Fields of Shaking Table
Shaking table has been widely applied in many industries, which can conduct different working modes such as rough separation, fine separation and scavenging. It is suitable for separating gold,silver, tungsten, zinc, iron, manganese, lead, coal and other metal or heavy metal materials. Shaking table is suitable for 2-0.5mm coarse sand, 0.5-0.074mm fine sand and slime in different granularity. When processing tungsten, tin and other metal ore materials, the effective recovery range of shaking table is 2-0.22mm.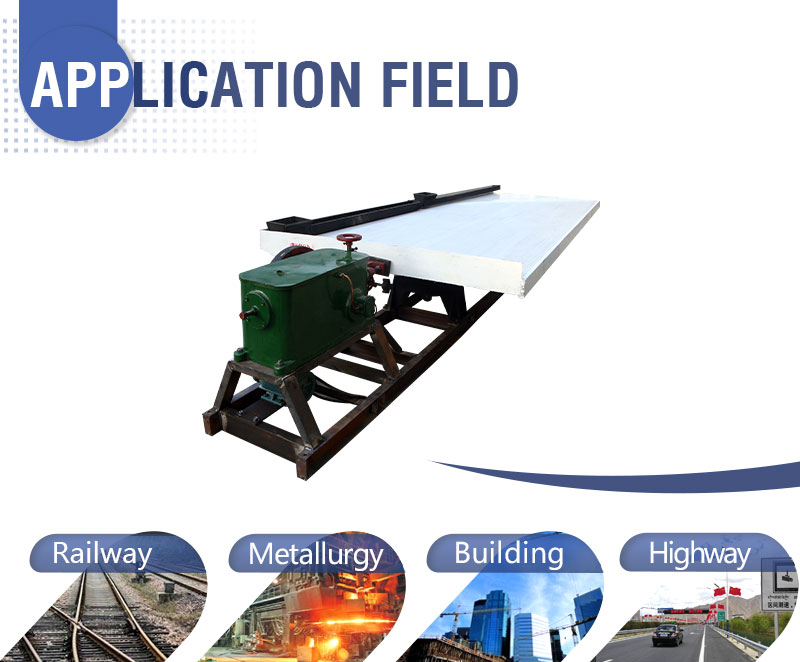 The Applications of Shaking Table
Performance Characteristics of Shaking Table
The shaker table has the advantages of high enrichment ratio, good separation efficiency and simple operation in the beneficiation process.
The finished product has a good effect, and the final concentrate and tailings can be obtained at one time.
Compared with the traditional process, it has the advantages of no need for chemicals, low energy consumption, and easy management.
Price concessions, with a high price/performance ratio.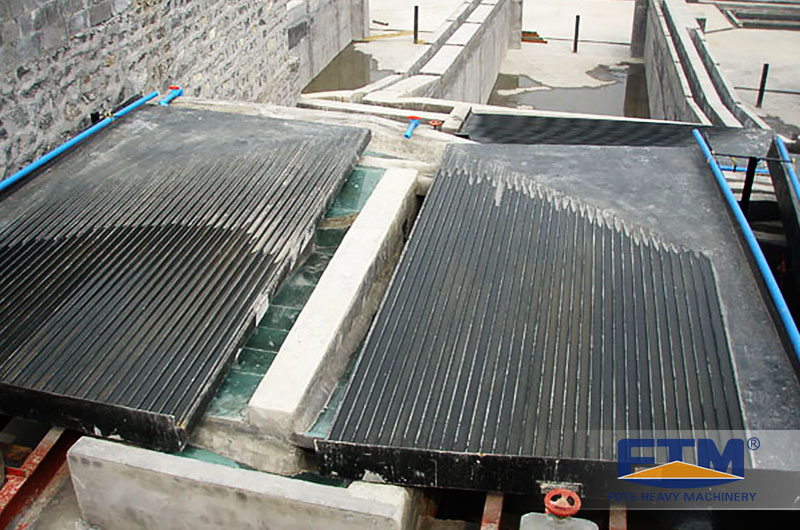 Working Principle of Shaking Table
The motor of the shaking table is driven by a belt to cause the pulley to drive the crankshaft of the shaker device to rotate the rocker up and down. As the rocker moves down, the material comes in through the chute on the tilting table, and the shaker flume provides lateral shock water so that it vibrates and flushes at the same time. Minerals with different specific gravity, particle size and density flow out of the concentrate mouth and tailings mouth of the shaker in respectively different directions to form high quality concentrate. Due to the continuous upgrading of mine shaking table, the processing capacity and accuracy of mine shaker has been greatly improved.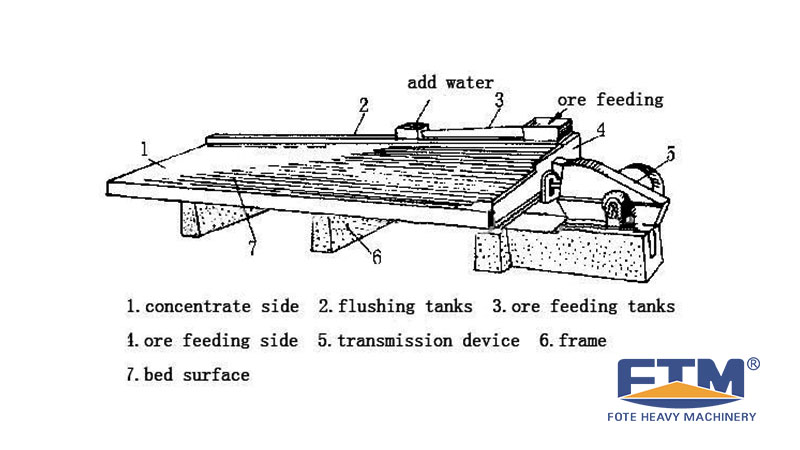 The Working structure of Shaking Table
Customer Case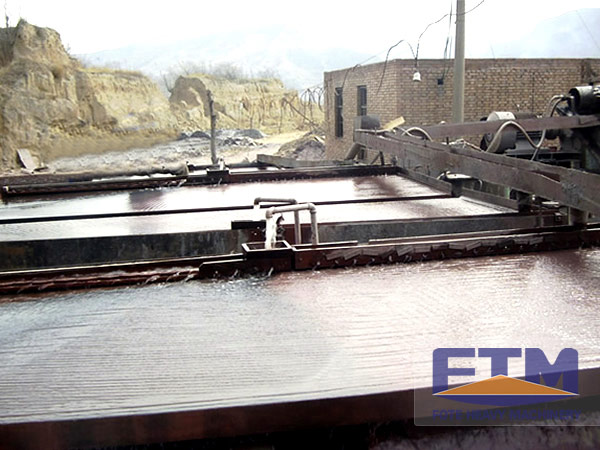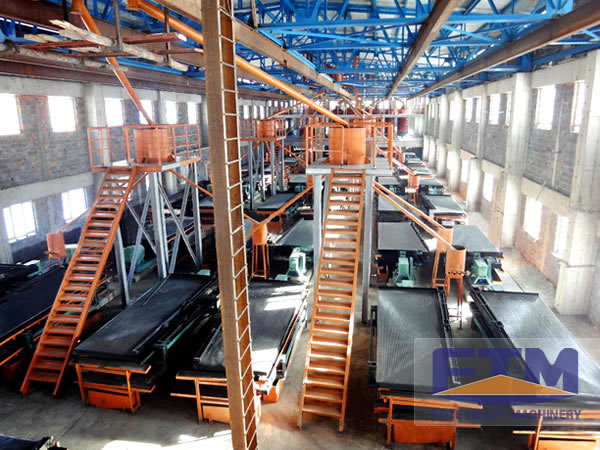 Shaking Table Manufacturer

As a powerful ore dressing equipment manufacturer, Fote Machinery has gold shaking table for sale, which has high separating efficiency, low energy consumption, and simple operation. In addition, FTM shaking table price is preferential in the same industry. Welcome to make an inquiry!
General Specification
Name
Grit
concentrator
table
Fine sand
concentrator
table
Sludge
concentrator
table
Bed surface
Dimensions
Length
(mm)
4450
4450
4450
Driving
part Width
(mm)
1855
1855
1855
Concentrate
part Width
(mm)
1546
1546
1546
Max.feeding
size(mm)
2
0.5
0.15
Feeding
amount
(t/d)
30-60
10-20
15-25
Feeding
thickness
(%)
25-30
20-25
15-25
Stroke
(mm)
16-22
11-16
8-16
Frequency
(f)
45-48
48-53
50-57
Bed surface
Water quantity
(t/d)
80-150
30-60
10-17
Bed surface
Horizontal
obliquity(°)
2.5-4.5
1.5-3.5
1-2
Bed surface
Portrait
obliquity(%)
1.4
0.92
----
Table board
corner(°)
32-42
40
42
Concentrating
area(㎡)
7.6
7.6
7.6
Bed surface
Length ratio
2.6
2.6
2.6
Shape of
side-bed
surface
Rectangle
Zigzag
Triangle
Motor
power(kw)
1.1
1.1
1.1
Transmission
device
Eccentricity Linkage
Name
Max.feeding
size(mm)
Bed surface
Water quantity
(t/d)
Grit
concentrator
table
2
80-150
Fine sand
concentrator
table
0.5
30-60
Sludge
concentrator
table
0.15
10-17