What is Cone Crusher?
Cone crusher is mainly used for the secondary and tertiary crushing in mining and construction aggregates production industry. Cone crusher is applied to crush materials which are below 350 MPa, such as calcite, limestone, pebble, clinker, etc. in artificial sand making industry, concrete sand making industry, building materials and so on. Cone crushing machine has been extensively used for many years for its enormous crushing ratio, high efficiency, low energy consumption, and uniform product size.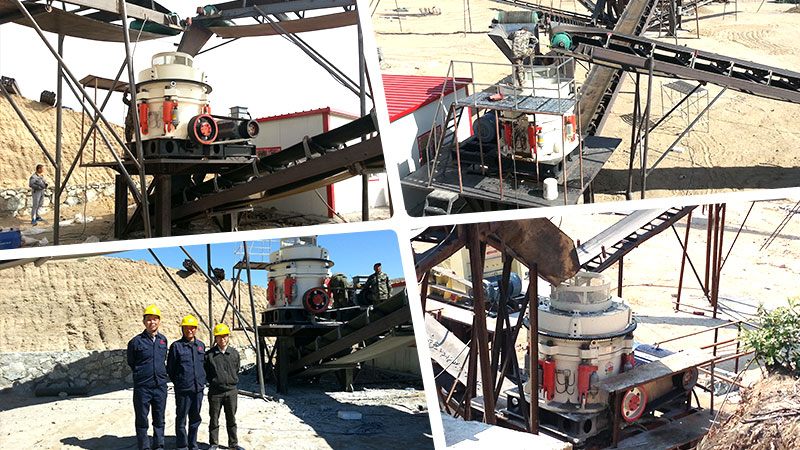 FTM Engineers at Customer Site
Cone Crusher Selection
According to the working mode of the production line, we have two types of cone crushers for your choice, mobile cone crusher and fixed cone crusher. Based on the requirement of material discharging size, cone crusher is laid for coarse crushing, medium crushing, and fine crushing. The standard crushing cavity is for coarse crushing; the middle-sized crushing cavity is for intermediate crushing; the short-sized crushing cavity is for fine crushing. Fote Machinery has different types of cone crusher for sale, like single-cylinder hydraulic cone crusher, multi-cylinder hydraulic cone crusher, compound cone crusher/Symons cone crusher, spring cone crusher, etc.
Cone Crusher in Stone Crushing Plant
Applications of FTM Cone Crusher
Cone crusher is extensively applied in the mining industry, metallurgy, building materials, road construction, silicate making industry, etc. With high crushing ratio and even product size, it is suitable for medium and fine crushing of rocks below 350 MPa, such as iron ore, non-ferrous metal ore, granite, limestone, basalt, sandstone, pebbles, limestone, quartz, gravel and other more than 200 kinds of materials which are not of viscosity.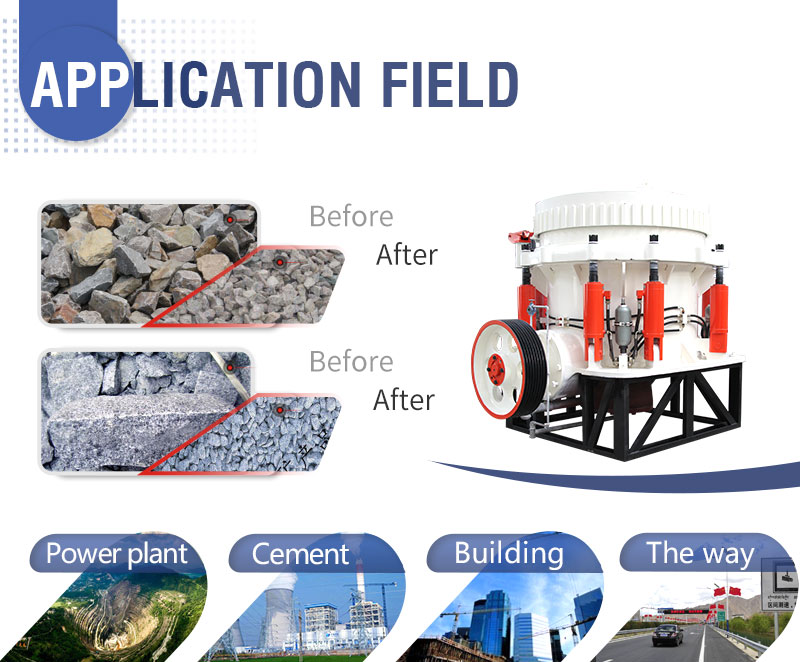 Comparison of Materials Before Crushing and After Crushing
Structural Advantages of Cone Crusher
Cone crusher parts mainly include a frame, a horizontal axis, a balanced wheel, an eccentric sleeve, an upper crushing wall (fixed cone), a low crushing wall (movable cone), hydraulic coupler, lubrication system, hydraulic system, and control system.
Different types of crushing chambers are available with high crushing efficiency, uniform product size, and appropriate grain shape according to the production needs.
The unique dust proof sealing structure extends the change period of lubrication oil and the service life of cone crusher parts.
Key components are made of special material to support the big crushing force.
Long crushing arm, large stroke, big crushing force, high yield.
Hydraulic cavity cleaning system has convenient operation and reduces downtime.
Stable performance, low running cost, and long service life of easily-worn parts.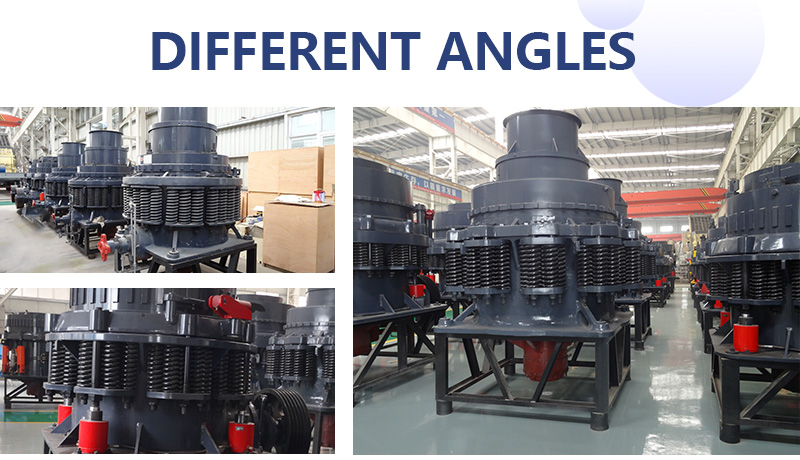 Different Angles of Cone Crusher
Working Principle of Cone Crusher
The entire crushing is completed by a fixed cone and the cyclic-moved cone. When a cone crusher works, the horizontal axis is driven by a motor with a triangle-belt and a wheel. Two different sized wheels make the eccentric bushing rotate through the axis. With the effect of the eccentric bushing, the cone axis moves in a cranking motion, which results in a regular near-and-far between the fixed cone and the crushing wall. Here, materials get constantly pressed and impacted until reaching the required size. Qualified products fall down and are blenched out through the outset.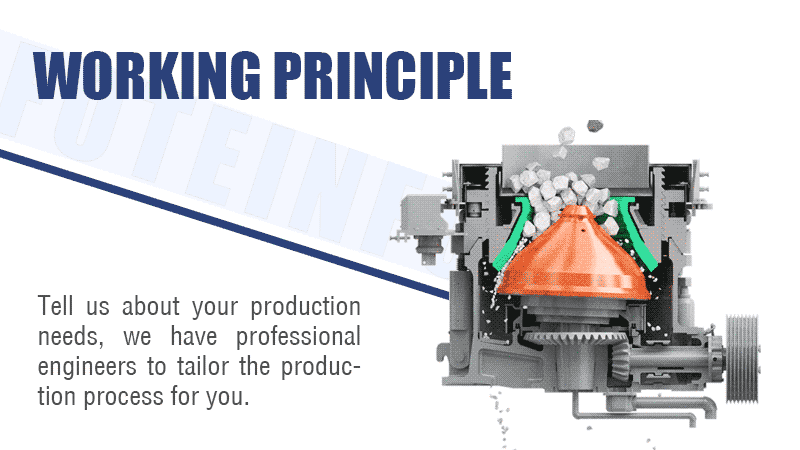 Cone Crusher Working Principle
Cone Crusher VS Impact Crusher
>>Similarity Between Cone Crusher and Impact Crusher
Cone Crusher and Impact Crusher can both be equipped with Jaw Crusher and used for secondary crushing and tertiary crushing in a stone production plant.
>>Difference Between Cone Crusher and Impact Crusher
Working Principle
With the impact crusher, materials are crushed by impaction. Here, materials are impacted between hammers and impacting plates repeatedly. While with cone crusher, materials get crushed by lamination. Rolling mortar wall moves towards the crushing wall and squeezes materials between them the qualified size.
Production Capacity
Impact crusher has a smaller production capacity than a cone crusher. But with a good shaping capacity, it is usually used in middle and small-sized building material or conduction plants. Cone crusher that has a larger production capacity is more widely used in large ore dressing plants.
Material Hardness
To crush materials within intermediate hardness, like limestone, impact crusher is the better choice. If a crushing process for materials with higher hardness is required, like for river pebble, granite, you'd like to choose a cone crusher.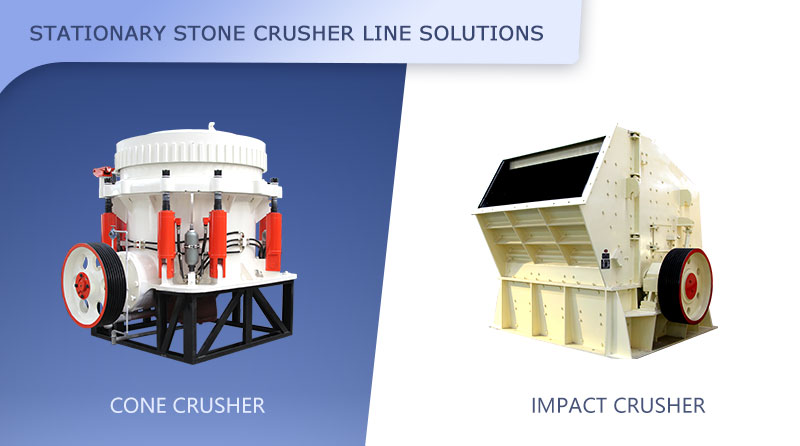 Cone Crusher VS Impact Crusher
Classic Case of Fote Cone Crusher
In Democratic Republic of the Congo, FTM cone crusher is used in the Quartz Sand Making Line with a capacity of 10T/H, input size of 150mm and output size of 4mm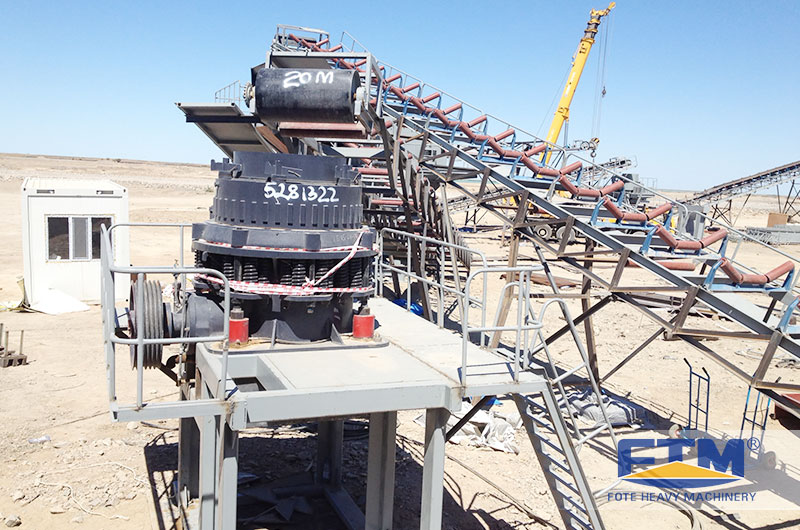 FTM Cone Crusher in Congo
Fote Machinery is experienced in the production of crushing equipment. We have cone crusher for sale, which has complete models, reliable performance and high efficiency. Due to the reasonable cone crusher price and thoughtful after-sales service, we have been entirely approved by customers internationally.
General Specification
Specification
Model
Diameter
of large
end of
crushing
cone
(mm)
Max.feeding
size(mm)
Width of
discharge
opening
(mm)
Processing
capacity
(t/h)
Motor
power
(kw)
Total
weight
(t)
Dimensions
(L×W×H)
(mm)
Φ600
PYB600
600
65
12-25
40
8P 30
5
2234×1370×1675
PYD600
35
3-13
12-23
5.5
2234×1370×1675
Φ900
PYB900
900
115
15-50
50-90
8P 55
11.2
2692×1640×2350
PYZ900
60
5-20
20-65
11.2
2692×1640×2350
PYD900
50
3-13
15-50
11.3
2692×1640×2350
Φ1200
PYB1200
1200
145
20-50
110-168
8P 110
24.7
2790×1878×2844
PYZ1200
100
8-25
42-135
25
2790×1878×2844
PYD1200
50
3-15
18-105
25.3
2790×1878×2844
Φ1750
PYB1750
1750
215
25-50
180-360
8P 160
50.3
3910×2894×3809
PYZ1750
185
10-30
80-210
50.3
3910×2894×3809
PYD1750
85
5-13
60-180
50.2
3910×2894×3809
Φ2200
PYB2200
2200
300
30-60
420-700
8P 280-260
80
4622×3302×4470
PYZ2200
230
10-30
130-410
80
4622×3302×4470
PYD2200
100
5-15
80-200
81.4
4622×3302×4470
Specification
Model
Diameter
of large
end of
crushing
cone
(mm)
Processing
capacity
(t/h)
Φ600
PYB600
600
40
PYD600
12-23
Φ900
PYB900
900
50-90
PYZ900
20-65
PYD900
15-50
Φ1200
PYB1200
1200
110-168
PYZ1200
42-135
PYD1200
18-105
Φ1750
PYB1750
1750
180-360
PYZ1750
80-210
PYD1750
60-180
Φ2200
PYB2200
2200
420-700
PYZ2200
130-410
PYD2200
80-200