What is Belt Conveyor?
With the literal meaning, belt conveyor is a conveying system mainly with the belt. And on the conveyor belt material, it is also called as rubber belt conveyor. Rubber belt conveyor is used extensively for transporting bulk materials or packed products in the mining industry, building materials industry, metallurgy industry, coal, and other industries.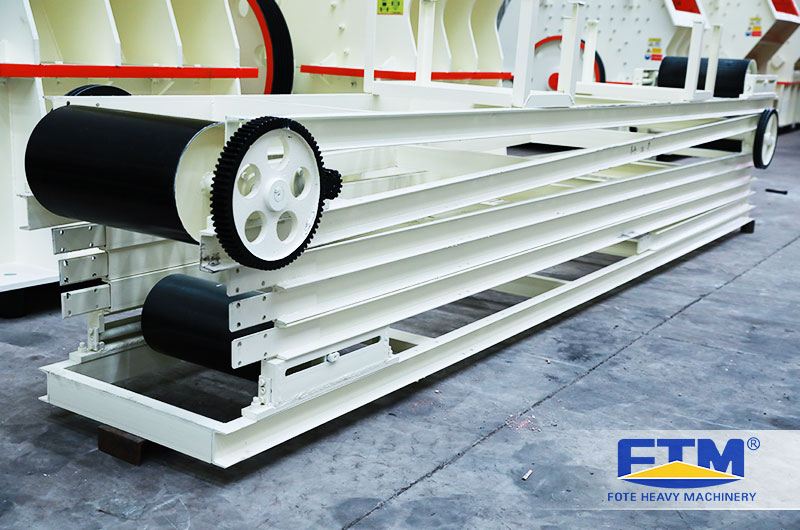 FTM Belt Conveyor
According to the process requirements, it can achieve single delivery, group conveying and the horizontal or inclined conveying system together with additional equipment, so as to meet the different operational requirements. FTM can provide the most economical and efficient configurations for customers according to their requirements.
Functional Advantages of Belt Conveyor
In the production of industries, belt conveyor can realize the continuity and automatization, which improves the production capacity and narrows labor intensive.
Belt conveyor is based on the friction transmission mechanism, thus is characterized as large conveying capacity, long conveying distance and stable conveying, etc.
Based on the process requirement, single belt conveyor, multi belt conveyor and the horizontal or inclined conveying system equipped with additional conveying equipment are available.
Belt conveyor fits the working environment with the temperature of -20-40℃ and the conveyed material can be under 50℃.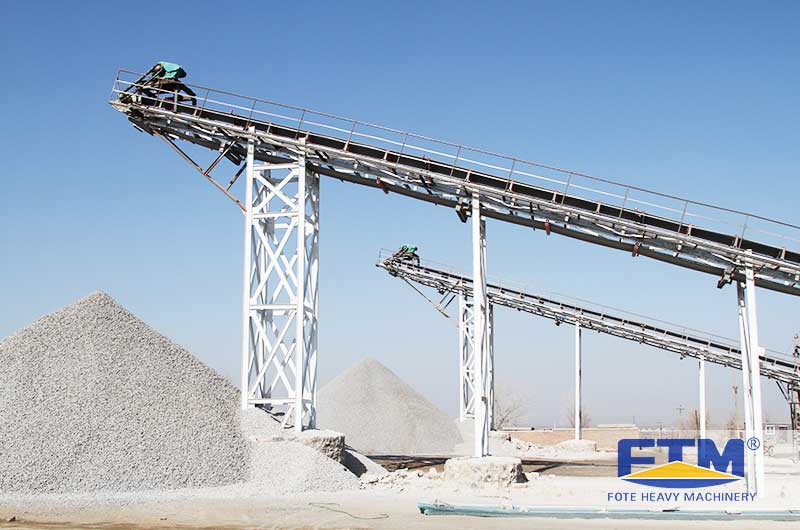 Working Principle of Conveyor Belt
A belt conveyor is mainly composed of the body frame, belt conveyor motor, conveying belt, driving system, belt roller, etc. Connected by high-quality steel plates, the body frame is built on different-height landing legs, resulting in a certain angle to the horizon. Conveying belt is held and driven by the belt rollers and bearing rollers, etc. Two modes of motor drive are alternative, including deceleration motor drive and electric roller drive.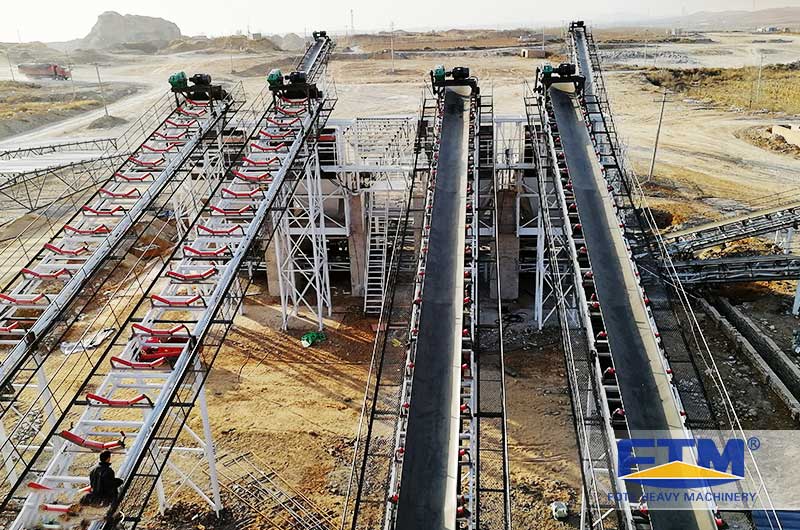 What Shall Be Paid Attention to When Using Belt Conveyor?
Crushed stone will produce lots of powder, which is easily stuck to parts of belt conveyor, such as the roller, bearing roller, motor. Frequent power-off will happen when there are too many blocks, which decreases the belt conveyor service life. There are tips from FTM for your reference.
Regularly lubricate the bearing rollers to reduce the conveying resistance of the belt.
Pay more attention to the motor to protect the belt conveyor motor from being overheating.
Obey the instruction and no overloaded operation of belt conveyor
As a skilled belt conveyor manufacturer, FTM is also experienced in supplying other heavy machines such as crushing equipment, grinding miller, dryer, sand maker, briquette machine and so on. Belt conveyor for sale here has a safe operation, large conveying capacity, low noise and lower energy consumption. We have qualified engineers here to offer you a free consultation to meet your need including belt conveyor price, solutions on machine selection.
General Specification
Belt width(mm)
Conveying length(m)
Power(kw)
Conveying speed(m/s)
Conveying amount(t/h)
400
≤10
3
12-15
3-4
15-30
4-7.5
1.25-2.0
30-60
500
≤10
3
12-15
4-5.5
15-30
5.5-7.5
1.25-2.0
40-80
650
≤10
4
12-15
7.5
15-30
7.5-11
1.25-2.0
80-120
800
≤10
4
12-15
7.5
15-30
7.5-15
1.25-2.0
120-200
1000
≤10
5.5
10-20
7.5-11
20-40
11-22
1.25-2.0
200-320
1200
≤10
7.5
10-20
7.5-15
20-40
15-30
1.25-2.0
290-480
1400
≤10
11
10-20
15-22
20-40
22-45
1.25-2.0
400-680
1600
≤10
15
10-20
22-30
20-50
30-75
1.25-2.0
600-1080
1800
≤10
18.5
10-20
30-45
20-50
45-110
1.0-2.0
800-1500
2000
≤10
22
10-20
45-55
20-50
55-132
1.0-2.0
1000-2000
2400
≤10
30
10-20
55-75
20-50
75-185
1.0-2.0
1500-3000
| | | |
| --- | --- | --- |
| Belt width(mm) | Converying speed(m/s) | Concerying amount(t/h) |
| 400 | 1.25-2.0 | 30-60 |
| 500 | 1.25-2.0 | 40-80 |
| 650 | 1.25-2.0 | 80-120 |
| 800 | 1.25-2.0 | 120-200 |
| 1000 | 1.25-2.0 | 200-320 |
| 1200 | 1.25-2.0 | 290-480 |
| 1400 | 1.25-2.0 | 400-680 |
| 1600 | 1.25-2.0 | 600-1080 |
| 1800 | 1.0-2.0 | 800-1500 |
| 2000 | 1.0-2.0 | 1000-2000 |
| 2400 | 1.0-2.0 | 1500-3000 |