What is Impact Crusher?
Adopting advanced international technology and learning from working experience, FTM engineers keep doing R&D to optimize crushing machine. As a kind of stone crusher, the impact crusher machine is widely used for all coarse, medium and fine materials crushing (granite, limestone, concrete, etc.) which are of less than 500mm side length and less than 350MPa compressive strength. Discharge particle size is adjustable and different specifications of FTM impact crushers are available.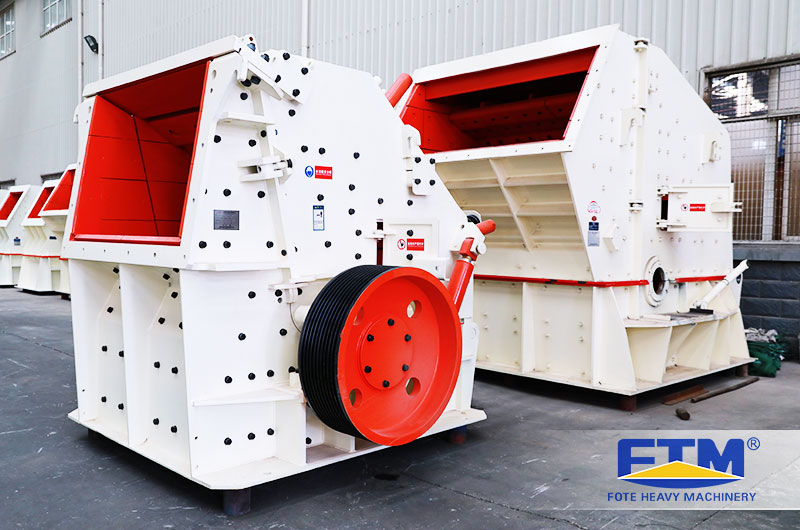 Fote Impact Crusher
Applications of Impact Crusher
Different models of Fote impact crusher can be applied to different areas. For example, CI series impact crusher is utilized to first, second and third stage crushing, that is, for coarse, medium and fine crushing. HX series impact crusher is mainly for the first and second stage crushing. That is the coarse and fine crushing.
Generally, Fote impact crusher is used extensively for crushing pebble, limestone, granite, quartz, concrete, basalt and other minerals in the artificial aggregate production and ore crushing in railway, highway and construction industry, etc.
Impact Crusher Working Principle
Impact crusher machine is a stone breaking machine using the impact force to the materials mainly of medium hardness. When an impact crusher works, the rollers rotate at a high speed powered by the motor. The materials get huge energy from the hammers on rotators and are crushed for the first time. Then they are thrown to the impact plates for the second-time crushing. Lastly, they are sprung back to the hammer and get another impaction of the third crushing. Thus, a crushing process is completed.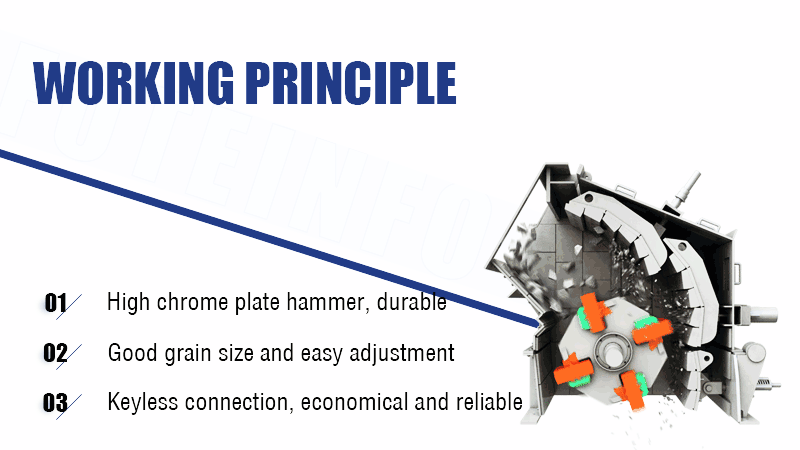 Working Principle of Impact Crusher
Structural Advantages of FTM Impact Crusher
FTM impact crusher is mainly composed of impact plates, rotators, hammers, adjustment devices, etc. After the structural adjustment, the FTM impact crusher gets a functional improvement.
Better particle shape. The interval between the impact plate and hammers is easily adjusted, which ensures an efficient control over the discharging shape of the materials.
Higher efficiency and larger capacity. With a bigger inlet and a higher and multi crushing cavity, the capacity gets an improvement. In addition to the big impact force, there is a massive crushing ratio and high processing efficiency.
Extended service life and investment-saving. The grouped hammerheads are made of high chromium, which improves the durability of the impact crusher.
Easy maintenance. FTM impact crusher is closely structured and the rotators are connected keyless. Therefore, it is convenient to do the regular check on parts of the impact crusher.
Impact Crusher VS Jaw Crusher


Impact Crusher
Jaw Crusher
Inset Size(mm)
400x730-1260x2040
150x250-300x1300/950x1250
Feed Size(mm)
300-1300
125-1200
Capacity(T/H)
30-2000
1-1160
Highlight

Large Impact Force;

Good Particle Shape

Big Crushing Ratio;

Even Particle Shape
Table of Some Specifications of Jaw Crusher and Impact Crusher
Here in the table, we can see it clearly that impact crusher has a larger inset opening size and different working principle of impaction. While the jaw crusher has more models with different inset opening sizes, which means that jaw crusher is adaptable for different sizes of mines and plants. Usually, jaw crusher is used in the primary crushing process, while impact crusher is for the secondary crushing process. Combined with vibrating screen and vibrating feeder, these two crushers are used in the stone crushing plant. With sand making machine, sand washer, screen and feeder, jaw crusher can be used in sand making plant.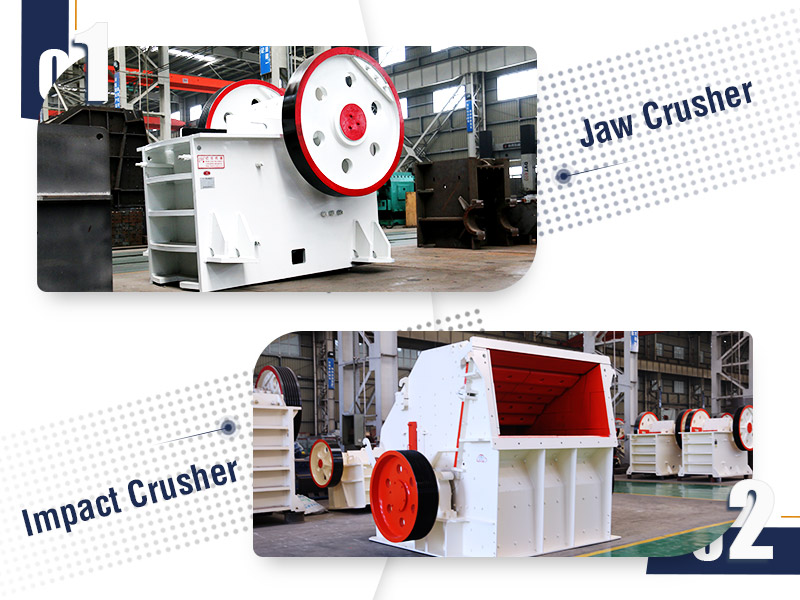 Impact Crusher VS Jaw Crusher
FTM Impact Crusher Case
FTM CI series Impact Crusher in France in a limestone production line with a capacity of 50TPH, the feeding size of 300mm and the discharging size of 15mm, 30mm.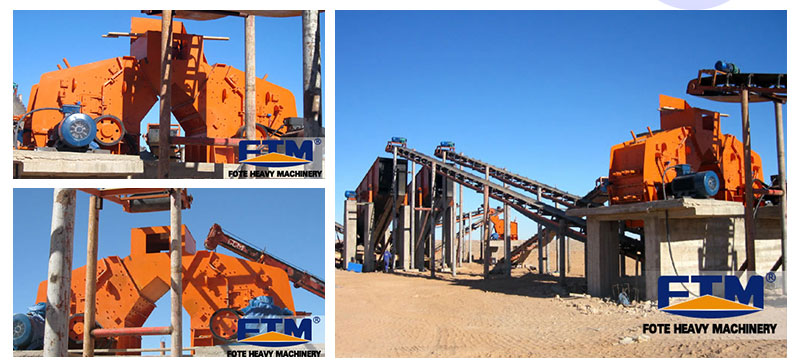 Different Angles of FTM Impact Crusher in Customer Site
Impact Crusher Price Analyzation
Fote Machinery has superior-quality impact crusher for sale. Our impact crusher is priced based on different models. We have fixed impact crusher as well as mobile impact crusher for sale, the latter of which includes tracked type and wheel type. Based on the mine environment, you can choose a fixed impact crusher for its lower cost but fewer flexibility; or you can choose a mobile impact crusher for its flexibility but a little higher cost. However, the impact crusher price of our company is the most favorable. If you want to find out more details about our products, please contact us!
General Specification
Model
Specification
(mm)
Feed
Opening
(mm)
The Maximum
Feeding Size
(mm)
Capacity
(t/h)
Power
(kw)
Overall
Dimension
(L×W×H)
(mm)
Total
Weight
(t)
PF-1007
Φ1000×700
400×730
300
30-70
4P 37-45
2330×1660×2300
12
PF-1010
Φ1000×1050
400×1080
350
50-90
4P 45-55
2370×1700×2390
15
PF-1210
Φ1250×1050
400×1080
350
70-130
6P 110
2680×2160×2800
17.7
PF-1214
Φ1250×1400
400×1430
350
80-180
6P 132
2650×2460×2800
22.4
PF-1315
Φ1320×1500
860×1520
500
100-280
6P 200
3180×2720×3120
27
PF-1320
Φ1300×2000
993×2000
500
140-380
6P 250
3220×3100×3120
34
PF-1520
Φ1500×2000
830×2040
700
200-550
4P 315-400
3959×3564×3330
50.6
PF-1820
Φ1800×2000
1260×2040
800
400-800
4P 630-710
4400×3866×4009
83.21
Model
Feed
Opening
(mm)
The Maximum
Feeding Size
(mm)
Capacity
(t/h)
Φ1000×700
400×730
300
30-70
Φ1000×1050
400×1080
350
50-90
Φ1250×1050
400×1080
350
70-130
Φ1250×1400
400×1430
350
80-180
Φ1320×1500
860×1520
500
100-280
Φ1300×2000
993×20000
500
140-380
Φ1500×2000
830×2040
700
200-550
Φ1800×2000
1260×2040
800
400-800