What is Sand Making Machine?
Sand making machine is the special crushing equipment for the production of construction sand and stone. It can crush a variety of hard rock like granite, basalt, limestone, pebble, metal and nonmetal ores into various sizes mainly used as construction sand and stone. Sand Making Machine has functions both of sand making and product shaping. The finished sand has uniform particle size and high compressive strength. When compared with the natural sand, it can meet the superior construction standard and improve the construction quality.
Generally speaking, the sand making machine is also known as a sand maker and sand manufacturing machine. In the sand making plant, stone crusher, sand making machine, sand washing machine, etc. are generally grouped. FTM mainly has three hot models for sale, HVI Sand Making Machine, VSI Sand Making Machine, and Vertical Shaft Sand Making Machine. In addition, portable sand making machine and fixed sand making machine are both provided by FTM.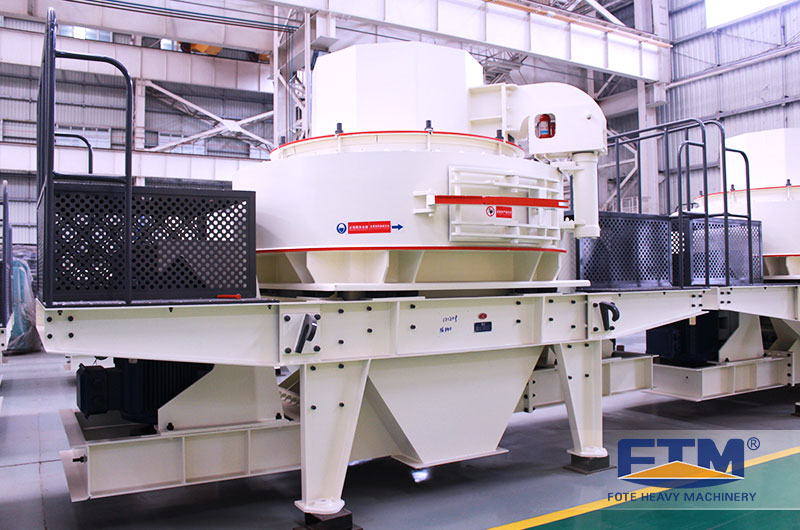 FTM Sand Making Machine
Applications of FTM Sand Making Machine
Sand maker machine is used for the crushing and plastic of soft, medium-hard or super hard, which is widely applied to the fine crushing of granite, basalt, limestone, pebble, cement clinker, quartz, bauxite, and other minerals. At the same time, the sand maker is usually used as artificial sand making machine in highway, railway, water conservancy, airport, construction, cement, refractory, metallurgy, and other industries. Usually, a portable sand making machine is regarded as a favorable choice.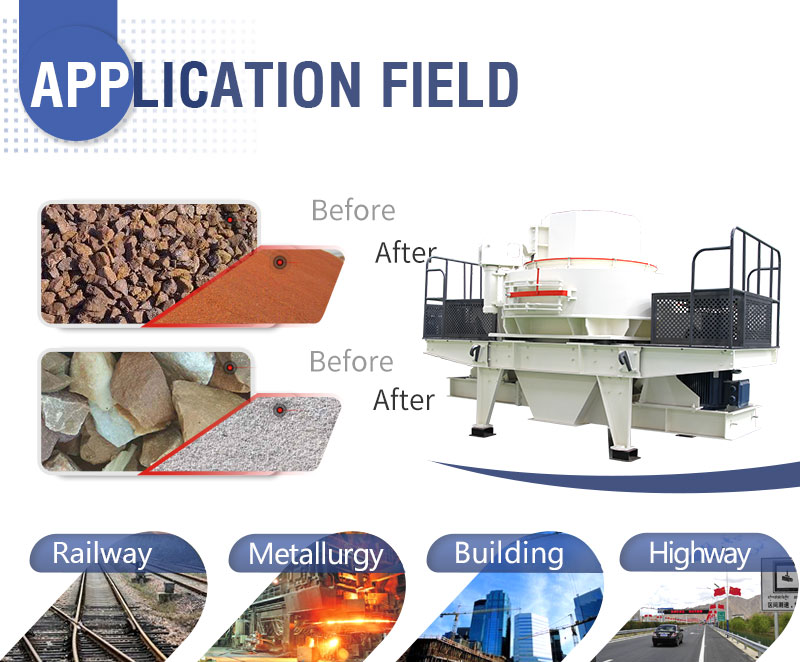 Application of Sand Making Machine
How Sand Making Machine Works?
Materials enter into crushers through feeding hopper and fall on a material-separating plate via bulk material awl. Here materials are divided into two parts by the material-separating plate. One part enters into a high-speed running impeller and is speeded up quickly. Then it is thrown out of the channel with high speed. It is impacted and gets crushed by the other part of the materials falling around from the other side of the plate. This impaction happens on material liners in the crushing cavity and incline-up rebounded to the top crushing cavity, changing direction downwards, while the material is thrown out of the impeller channel. In this way, a stone is crushed after repeated striking, clashing and grinding. With gravity action, crushed material enters into the lower cabinet. Here is the characteristic: after being thrown into the impeller, the material is accelerated by it. Almost half particles impact and clash with the falling material and liners. Or crushing is finished by mutual high running striking, which is "stone hits stone.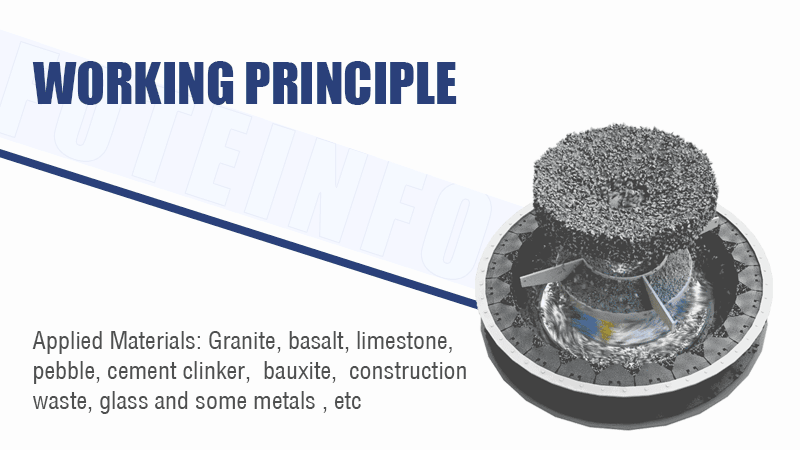 Sand Making Machine Working Principle
Differences Between HVI, VSI and Vertical Shaft Impact Sand Maker
As a skilled sand maker manufacturer, Fote Machinery has established a series of sand making machine, mainly including HVI Sand Making Machine, VSI Sand Making Machine and Vertical Shaft Sand Making Machine. Among these three types, the HVI Impact Sand Making Machine is the most advanced. Different types have their own features.
HVI Sand Making Machine
Combined polishing head. Only need to replace the worn parts. Cost is reduced by 30%.
Dilute oil lubrication and grease modularization are alternative.
Center and peripheral feeding are both available.
VSI Sand Making Machine
Hydraulic opening device allows a convenient maintenance.
Stone-to-iron crushing cavity ensures a high crushing efficiency.
Deep-cavity rotator design provides a higher throughput.
Vertical Shaft Sand Making Machine
Cubic-shaped products, big bulk density.
Air flows in self-circulation inside the vortex cavity decreases the dust and noise.
A few worn parts are made of ultra-hard and wear resistant material, extending the service life of the sand making machine.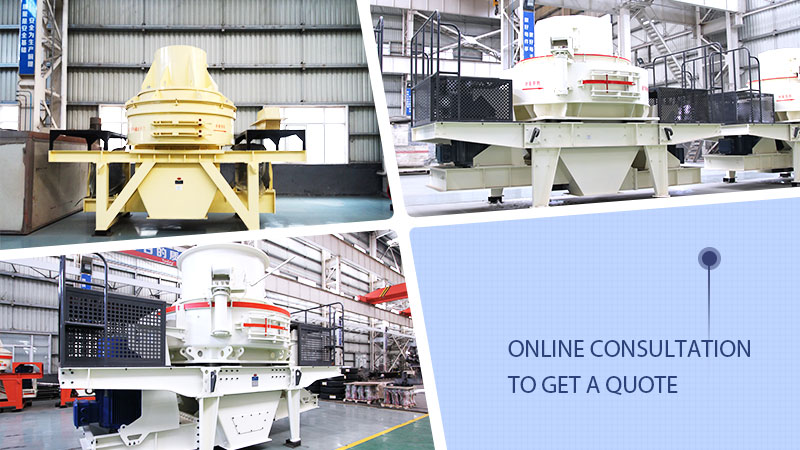 Different Types of Fote Sand Making Machine
Classic Case of FTM Sand Making Machine
In Ethiopia, FTM VSI sand making machine for processing Basalt Stone with a capacity of 100 TPH, input size of 60mm and output size of less than 5mm.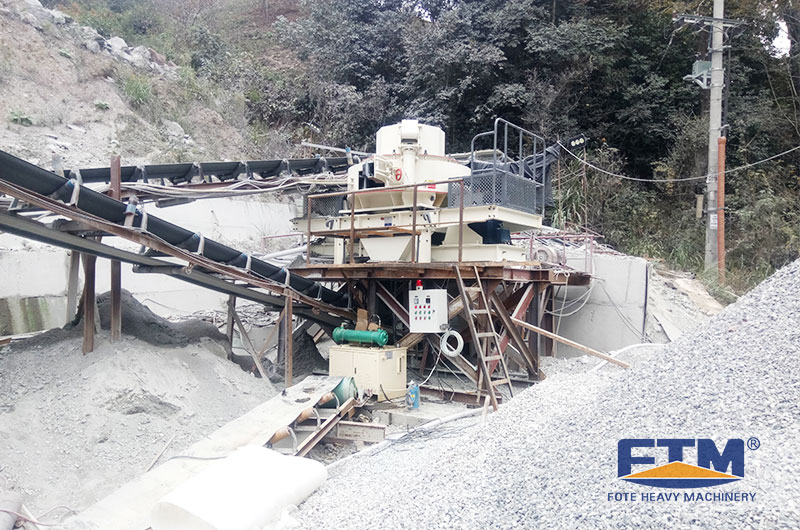 Customer Site of FTM Sand Making Machine
Fote-Sand Making Machine Manufacturer
Fote Machinery is a specialized sand making machine manufacturer in China. Different sized sand making machines are supplied, including small sand making machine, middle sand making machine, and large sand making machine. The sand making machine price of our company is reasonable, and we have complete sand maker models and thoughtful after-sales services. A free consultant is here for you.
General Specification
Model
specification
Max.feeding
size
(mm)
Power
(kw)
Rotation
speed of
impeller
(r/min)
Capacity
(t/h)
Overall
dimension
(L×W×H)
(mm)
FTM-06
35
2P 37-55KW
2000-3000
12-30
2500×1620×2600
FTM-07
45
4P 55-75KW
1500-2500
25-55
2700×1760×2800
FTM-09
50
4P 110-150KW
1200-2000
55-100
3900×2000×3070
FTM-10
60
4P 150-180KW
1000-1700
100-160
4600×2350×3450
Model
specification
Capacity
(t/h)
FTM-06
12-30
FTM-07
25-55
FTM-09
55-100
FTM-10
100-160