What is Spring Cone Crusher?
Spring cone crusher is the firstborn cone crusher with a big crushing ratio and high efficiency. FTM spring cone crusher is based on lamination crushing and the principle of more crushing than grinding. We are working hard to supply modern spring cone crusher with high swing frequency, optimized cavity, and reasonable stroke design. It is suitable for medium and fine crushing of various ores and rocks, such as iron ore, limestone, granite, basalt, quartz, etc. The overload protection device adopts a spring system, that is why it is called spring cone crusher.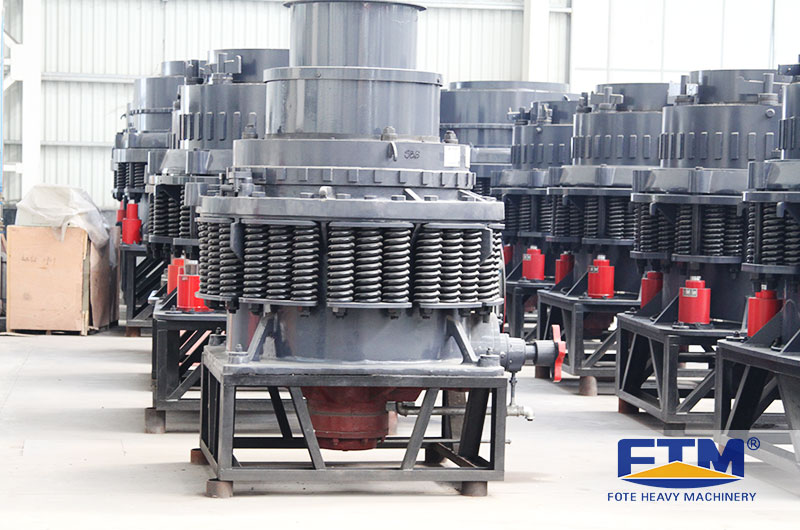 FTM Spring Cone Crusher
Applications of Spring Cone Crusher

Spring cone crusher is applicable for medium and fine crushing over 200 kinds of materials with medium and high hardness.
>>Limestone, quartz, granite, sandstone and other materials in sand making plant and building materials
>>Iron ore, copper ore, and other metal ore in ore dressing line
>>Cobble, dolomite, bluestone, gravel, basalt, etc. in the mining industry
>>Other applications like concrete mixing plant, dry mortar, artificial quartz/silica sand, desulfurization of a power plant and so on.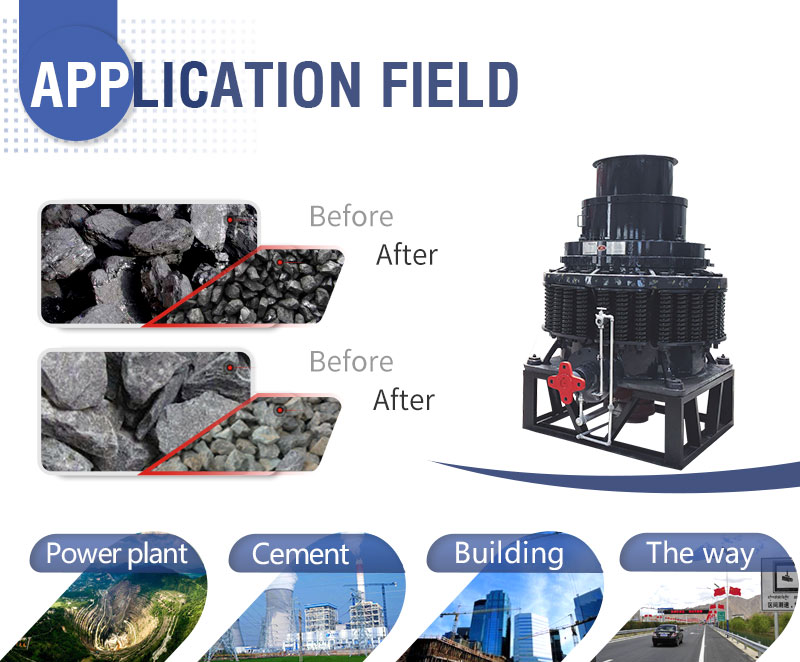 Spring Cone Crusher Application
Working Principle of Spring Cone Crusher
Spring cone crusher is mainly composed of a major frame, the fixed cone, the movable cone, the overload protection system: spring system, etc. And the assistant devices consist of the lubricating system, hydraulic cavity-cleaning system, and the electrical system.
When a spring cone crusher works, the eccentric bushing is driven to rotate by the motor through the belt, wheels and driving shafts. The main axis is forced to rotate swing, resulting in that the crushing wall gets close and gets near regularly to the rolling mortar wall. Here in the ring-shaped cavity, the materials are constantly squeezed, bent and crushed by the fixed cone and the movable cone.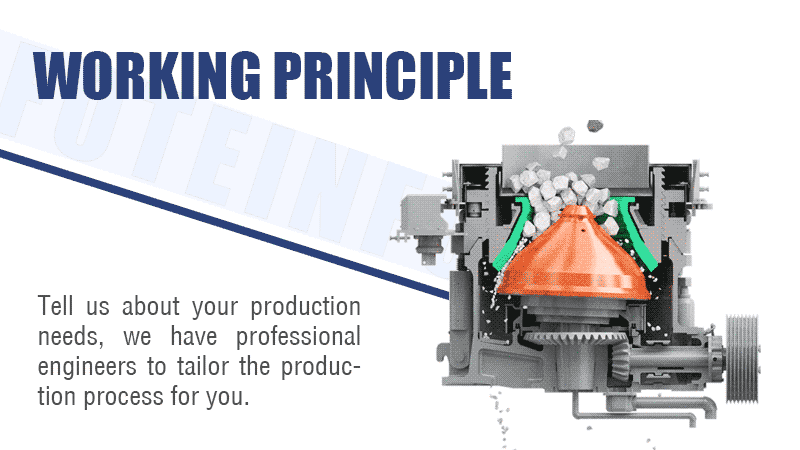 Spring Cone Crusher Working Principle
Structural Advantages of Spring Cone Crusher
Good performance and low cost. Combined with suitable crushing speed, stoking structure and optimized chamber, FTM spring cone crusher is with improved crushing frequency and production capacity.
Safe and reliable operation. Large-diameter spindle and heavy main frame give a guarantee on the durability and reliability of this spring cone crusher machine to the operator. In addition, an independent multipoint controlled lubrication system ensures double protection on the bearing parts.
Easy to operate and maintain. All the parts can be disassembled from the sides or top, which is convenient to disassemble the stable and movable cones. Besides, the hydraulic cleaning system cleans the cavity in time, reducing the downtime greatly.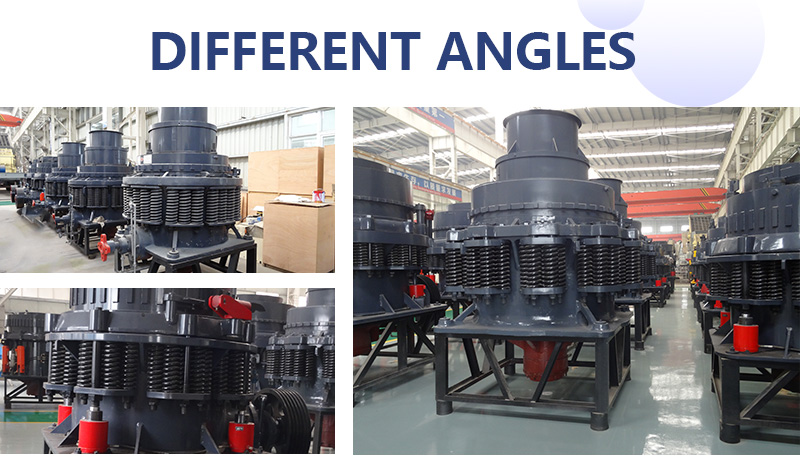 Details of Spring Cone Crusher
Classic Case of Fote Spring Cone Crusher
In South Africa, Fote Spring Cone Crusher in a granite mining plant with a capacity of 100TPH, input size of 80mm and the output size of 0-3mm, 3-8mm, 8-15mm.
Cone Crusher Manufacturer
Fote Machinery is one of the professional cone crusher manufacturers in China. We have a centralized cone crusher plant in high-tech and development zone. In addition to spring cone crusher, we also produce rock cone crusher and hydraulic cone crusher. Fote offers free consultation including cone crusher price, solution and flow chart.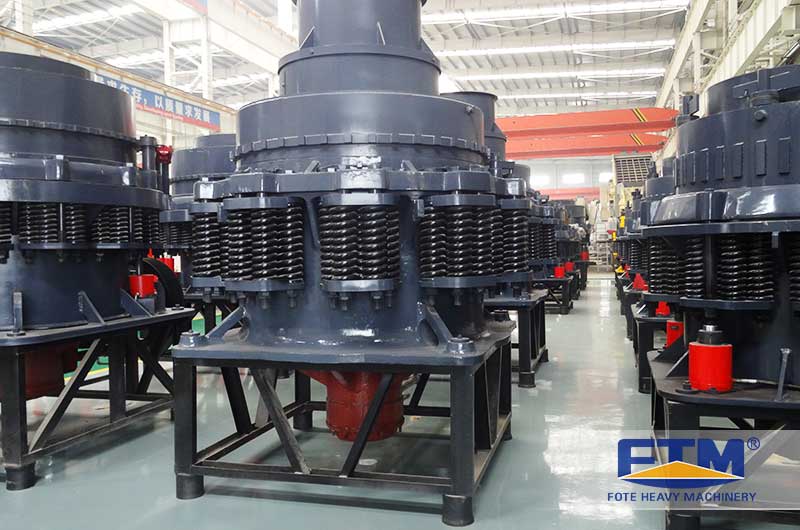 Workshop of Spring Cone Crusher
General Specification
Specification
Model
Diameter
of large
end of
crushing
cone
(mm)
Max.feeding
size(mm)
Width of
discharge
opening
(mm)
Processing
capacity
(t/h)
Motor
power
(kw)
Total
weight
(t)
Dimensions
(L×W×H)
(mm)
Φ600
PYB600
600
65
12-25
40
8P 30
5
2234×1370×1675
PYD600
35
3-13
12-23
5.5
2234×1370×1675
Φ900
PYB900
900
115
15-50
50-90
8P 55
11.2
2692×1640×2350
PYZ900
60
5-20
20-65
11.2
2692×1640×2350
PYD900
50
3-13
15-50
11.3
2692×1640×2350
Φ1200
PYB1200
1200
145
20-50
110-168
8P 110
24.7
2790×1878×2844
PYZ1200
100
8-25
42-135
25
2790×1878×2844
PYD1200
50
3-15
18-105
25.3
2790×1878×2844
Φ1750
PYB1750
1750
215
25-50
180-360
8P 160
50.3
3910×2894×3809
PYZ1750
185
10-30
80-210
50.3
3910×2894×3809
PYD1750
85
5-13
60-180
50.2
3910×2894×3809
Φ2200
PYB2200
2200
300
30-60
420-700
8P 280-260
80
4622×3302×4470
PYZ2200
230
10-30
130-410
80
4622×3302×4470
PYD2200
100
5-15
80-200
81.4
4622×3302×4470
Specification
Model
Diameter
of large
end of
crushing
cone
(mm)
Processing
capacity
(t/h)
Φ600
PYB600
600
40
PYD600
12-23
Φ900
PYB900
900
50-90
PYZ900
20-65
PYD900
15-50
Φ1200
PYB1200
1200
110-168
PYZ1200
42-135
PYD1200
18-105
Φ1750
PYB1750
1750
180-360
PYZ1750
80-210
PYD1750
60-180
Φ2200
PYB2200
2200
420-700
PYZ2200
130-410
PYD2200
80-200