What is Symons Cone Crusher?
Symons cone crusher, also known as Symons crusher or compound crusher, is the integrated cone crusher with springs and hydraulic cylinder. It is suitable for crushing all kinds of medium and hard ores and rocks. Compared with the spring cone crusher, it has reliable structure, high production efficiency, convenient adjustment and economic usage. The spring safety system is the overload protection device, which protects the machine from the extraneous matter when it passes through the cavity. It adopts grease seal form to make the powder and oil isolated, so as to ensure the reliable work of the machine.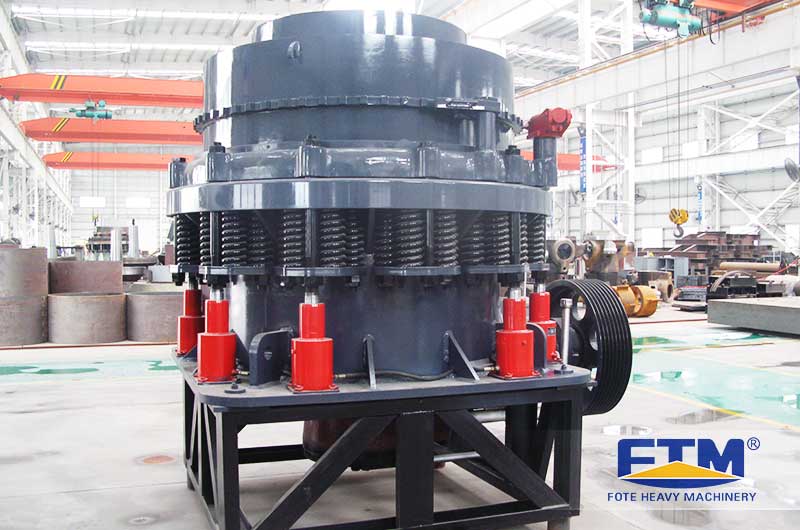 Symons Cone Crusher Workshop
Symons Cone Crusher Selection

Symons cone crusher has four kinds of crushing cavities to be selected, respectively coarse, medium, fine and ultra-fine crushing cavity. It is structured in standard Symons cone crusher and short-head Symons cone crusher. Generally, the standard Symons cone crusher has a larger feeding size and discharging size, therefore, it is more commonly used for coarse and medium crushing. While the short-head type of Symons cone crusher has a sharper cone with a smaller feeding size, which is better used for medium and fine crushing.
Applications of Symons Cone Crusher
Symons cone crusher can be widely used in metal and nonmetal ore, cement factory, building industry and metallurgy industry, which is suitable for sand, iron ore, non-ferrous metal ore, granite, limestone, quartz rock, sandstone and pebbles. It is the preferred cone crusher in building, mine and coal industry.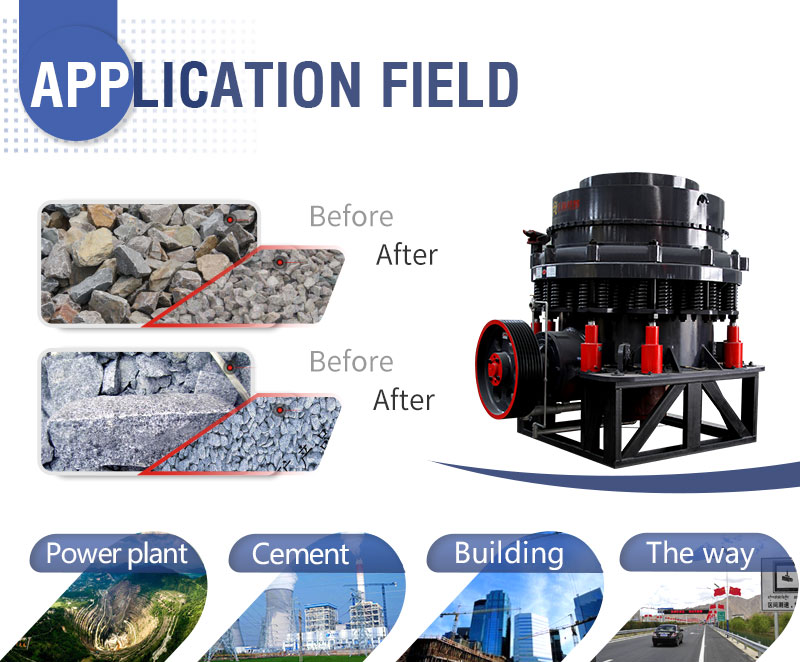 Application of Symons Cone Crusher
Structural Advantages of Symons Cone Crusher
Higher production capacity and better performance. Optimized crushing cavity design combined with reasonable crushing speed allows Symons cone crusher more energy working with the same movable cone-diameter. And the principle of lamination reduces needle-shaped and leaf-shaped finished products.
Stable operation. When uncrushed foreign materials such as iron block enter the machine, the protection device will automatically release the foreign materials and then automatically reset. The protection device has a fixed return point at the discharge port. After foreign materials passing through the chamber, the original discharge port can be recovered quickly.

Easy to clean. When the Symons cone crusher is off under loading conditions, the hydraulic cleaning system will clean the chamber quickly, which narrows the downtime greatly.
Other advantages. The unique dustproof sealing structure extends the oil change period and service life of its spare parts; key components made of special materials support a big crushing force.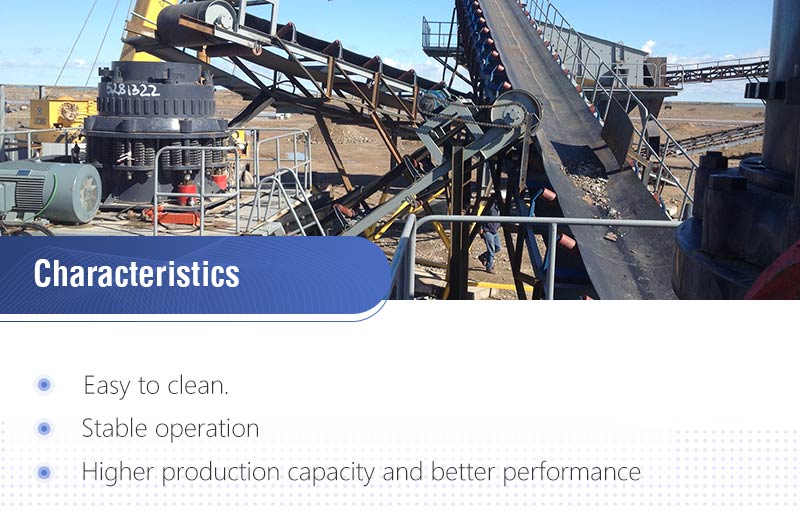 Advantages of Symons Cone Crusher
Working Principle of Symons Cone Crusher
Symons cone crusher crushing cavity is composed of a fixed cone (or upper crushing wall) and movable cone (or lower crushing wall). The movable cone is set on the main axis, which is in the eccentric axis sleeve. When the Symons cone crusher works, the movable cone is rotating and swings with the main axis. The upper crushing wall and the lower crushing wall are moving towards and away from each other, which results in materials crushing and then being exhausted.
Symons Cone Crusher Operating Principle on Safety Device
When foreign matter that cannot be crushed enters the crushing cavity, the springs around the Symons cone crusher body work. Bearing rings and adjusting rings will be raised and the springs are pressed. Thus, the outset is enlarged and the extraneous matter is exhausted.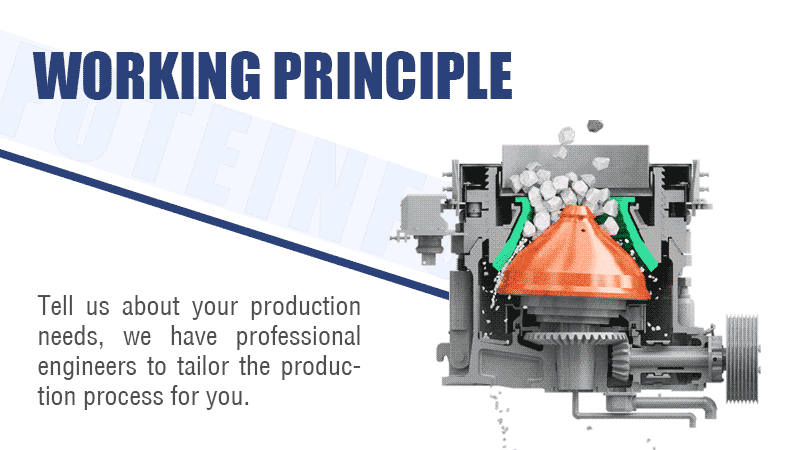 Symons Cone Crusher Working Principle

Classic Case of FTM Symons Cone Crusher
In Serbia, FTM Symons cone crusher is used in Asphalt and Limestone Line equipped with jaw crusher, ball mill, rotary dryer, etc. with a production capacity of 100TPH, input size of 600mm and output size of 0.4mm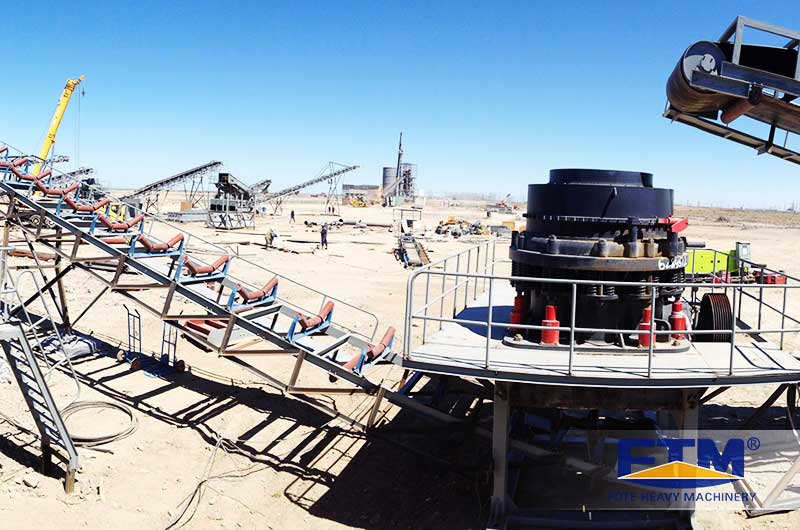 Symons Cone Crusher Customer Site

As the experienced Symons cone crusher supplier, Fote Machinery has won great support from customers internationally for our professionally centralized Symons cone crusher factory. We are here to offer free consultation including the Symons cone crusher price and Symons cone crusher instruction manual.
General Specification
Type
Model
Diameter
of large
end of
crushing
cone(mm)
Adjusting
Range of
Discharge
Opening(mm)
Feed
opening
size of the
open edge
when
recommending
the min.
Discharge
opening
(mm)
Max.feeding
size(mm)
Processing
capacity
(t/h)
Main
motor
power
(kw)
Machine
weight
(kg)
PSG 900
0910
914 (3′)
9-22
102
85
45-91
6P 75
9980
0917
13-38
175
150
59-163
0904
3-13
41
35
27-90
0906
3-16
76
65
27-100
PSG 1300
1313
1295 (4¼′)
13-31
137
115
109-181
6P 160
22460
1321
16-38
210
178
132-253
1324
19-51
241
205
172-349
1306
3-16
64
54
36-163
1308
6-16
89
76
82-163
1310
8-25
105
89
109-227
PSG 1600
1620
1676 (5½′)
16-38
209
178
181-327
6P 250
43270
1624
22-51
241
205
258-417
1626
25-64
269
228
299-635
1607
5-13
70
60
90-209
1608
6-19
89
76
136-281
1613
10-25
133
113
190-336
Type
Model
Max.feeding
size(mm)
Processing
capacity
(t/h)
PSG 900
0910
85
45-91
0917
150
59-163
0904
35
27-90
0906
65
27-100
PSG 1300
1313
115
109-181
1321
178
132-253
1324
205
172-349
1306
54
36-163
1308
76
82-163
1310
89
109-227
PSG 1600
1620
178
181-327
1624
205
258-417
1626
228
299-635
1607
60
90-209
1608
76
136-281
1613
113
190-336