The Introduction of Mobile Crusher
Mobile crusher can also be called mobile crushing station, which is inevitable product under the new era of high-tech crushing technology. Its main characteristics are a mobile operation, walking freely, more convenient to transfer, ensuring the safety of equipment production at the same time, more reliable operation. The portable rock crushers, mobile impact crusher, mobile cone crusher and mobile jaw crushers are very useful for contractors in rock mining, aggregate production, road construction, recycling companies, etc. In many cases, waste generated at the site can be recycled and reused to create other valuable products and reduce landfill and dumping costs.
Mobile crusher is a mobile crusher integrated by a variety of equipment, powered by its own or by the tractor to provide power, which can be easily moved to the appropriate location of the mechanical equipment. The site can be directly selected and placed on-site to be put into production. It is carefully developed by many experts of Fote Machinery in combination with the actual situation of sand and stone production at home and abroad. Compared with the ordinary crusher, it has the advantages of convenient movement and small area occupied. It is widely used in different production projects in the mining industry.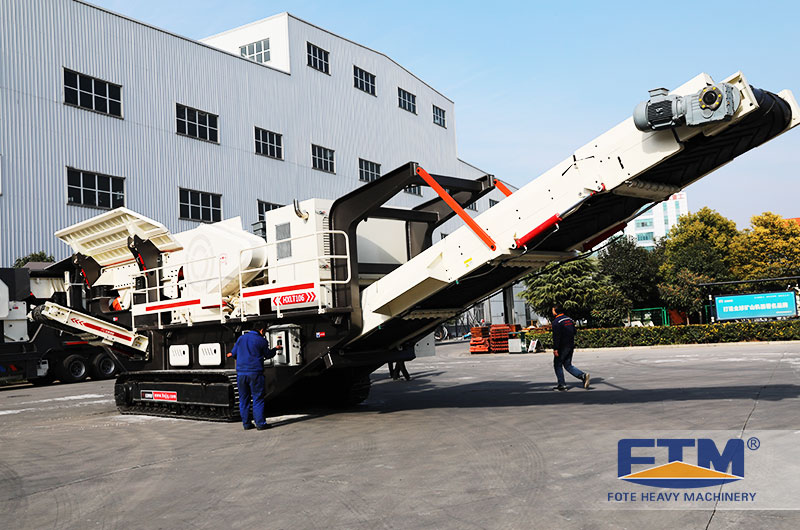 Flexibility is everything. A wide range of mobile crusher plant and screens for sale in Fote Machinery, both tracked and wheeled, including jaw crushers, impact crushers, cone crushers, screens and VSI crushers for quarrying and construction projects.
The Classification of Mobile Crusher
Mobile crusher is also known as vehicle type mobile crusher which can be divided into wheeled mobile crusher and tracked mobile crusher. It is a new type of efficient rock crushing equipment, which greatly solves the limitation of crushing operation in displacement space, also can solves the disadvantage of poor maneuverability of crusher. This environment friendly and efficient mobile rock crisher can be seen in many industrial fields.
According to the diverse production requirements from users, we have configured many types of them. More common types are mobile jaw crusher, mobile cone crusher, mobile hammer crusher, mobile impact crusher, mobile sand machine and so on.
Mobile crushers and screening equipment are basically fixed crushing and screening equipment, installed on a moving wheel or crawler platform.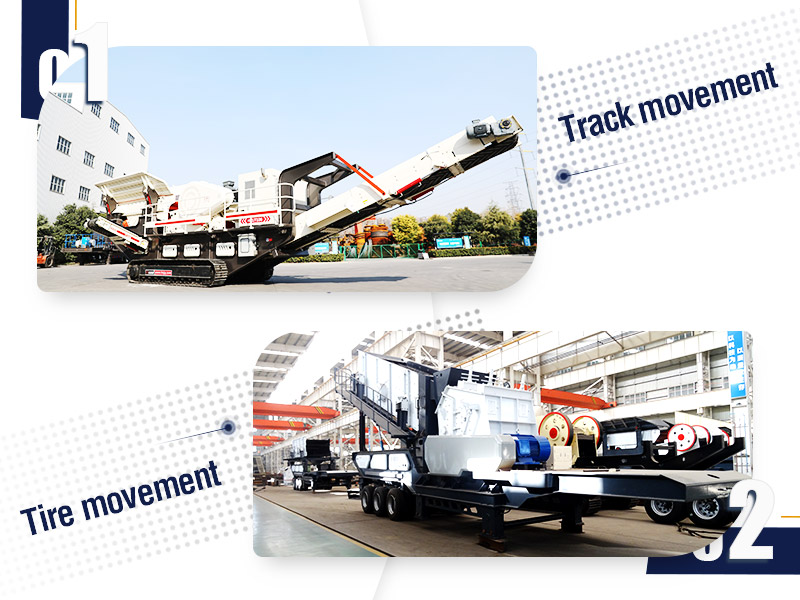 The Classification of Mobile Crusher
Performance Characteristics of Mobile Crusher
Mobile crushing plant is highly intelligent. In the early stage, parameters and other debugging can be carried out. In the later stage, unmanned operation can be basically realized except for the engine. Its own generator can run on diesel and electricity, making it more efficient and productive.
In the raw material selection of new wear-resistant, compression of the raw material, the operation is also more durable, long service life. And there is a sealed crushing space, but also equipped with spray device, dust removal, noise elimination device, improving the operating environment, achieving green production.
Reasonable structure design, fashionable shape, flexibility, simple operation, and stable quality of equipment, fewer faults, and smooth operation can reduce the cost of maintenance, maintenance, etc.
It can overcome ultra-low temperature environment (crawler mobile crusher not affected by winter rain, snow weather and icy road), low requirements for the work site.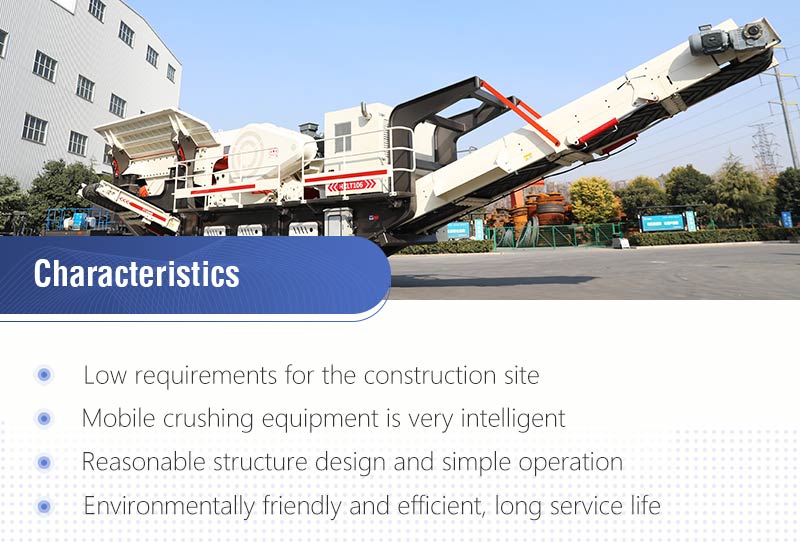 Customer Case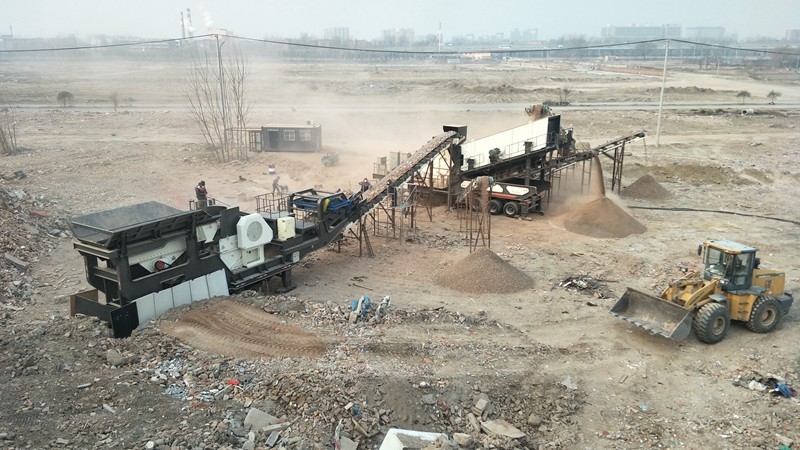 The Manufacturer of Mobile Crusher
Whether you want to crush tons of hard rock with our high-throughput mobile screens or produce various aggregates sizes, the versatility and various optional accessories of FTM equipment will ensure that they are always able to provide you with the right machine. Fote Machinery is a large-scale mobile crusher manufacturer in Henan province, with high reputation in the industry, and there are many models for you to choose.
We can customize the production line in line with your site and materials for free. Fote Machinery crushing plant can carry a variety of crushing models, and there must be one suitable for you. In addition, our products are exported to many countries and regions in the world, such as southeast Asia, South Asia, Africa, Latin America and so on. Welcome to visit our factory or bring raw materials to the factory to test the machine. Fote machinery is willing to help you achieve great success.
Test Site of Fote Mobile Crushing Plant
General Specification
MOBLIE IMPACT CRUSHER TECHICAL PARAMETERS
| | | | | | |
| --- | --- | --- | --- | --- | --- |
| Model | FTM938F1210 | FTM938FW1214 | FTM1149F1315 | FTM1349HD1110 | FTM1349HD1315 |
| Transportation Length(mm) | 12000 | 12000 | 13900 | 15450 | 15450 |
| Transportation Width(mm) | 2550 | 2550 | 2900 | 2950 | 2950 |
| Transportation Height(mm) | 3900 | 3900 | 4450 | 4500 | 4500 |
| Maximum Length(mm) | 12500 | 12500 | 13900 | 15450 | 15450 |
| Maximum Width(mm) | 3250 | 3260 | 3250 | 3250 | 3250 |
| Maximum Height(mm) | 5100 | 5200 | 5200 | 5200 | 5200 |
| Weight(t) | 39 | 44 | 54 | 62 | 62 |
| Crusher Model | PF-1210 | PF-1214 | PF-1315 | HD1110 | HD1315 |
| The Maximum Feeding Size(mm) | 350 | 350 | 500 | 400 | 700 |
| Production Capacity(t/h) | 70-130 | 100-180 | 130-250 | 112 | 280 |
| Vibrating Feeder | ZSW950×3800 | ZSW950×3800 | ZSW110×4900 | ZSW130×4900 | ZSW130×4900 |
| Main Belt Conveyor | B800×8.5M | B800×8.5M | B1000×9.5M | B800×11M | B1200×11M |
| Side-opening Belt conveyor(Optional) | B500×3.2M | B500×3.2M | B650×4M | B650×4M | B650×4M |
| Genset(Optional) (kw) | 320 | 320 | 400 | 320 | 440 |
| Iron Separator (Optional)(kw) | RCYD(C)-8 | RCYD(C)-8 | RCYD(C)-10 | RCYD(C)-8 | RCYD(C)-12 |
MOBLIE JAW CRUSHER TECHNICAL PARAMETERS
| | | | | |
| --- | --- | --- | --- | --- |
| Model | FTM938HD80 | FTM1149HD98 | FTM1349HD110 | FTM1349HD125 |
| Transportation Length(mm) | 12600 | 13500 | 14500 | 15200 |
| Transportation Width(mm) | 2600 | 2700 | 2800 | 2900 |
| Transportation Height(mm) | 3870 | 4200 | 4450 | 4500 |
| Maximum Length(mm) | 12500 | 14000 | 16100 | 16700 |
| Maximum Width(mm) | 4100 | 4500 | 5100 | 5100 |
| Maximum Height(mm) | 4100 | 4900 | 5000 | 5300 |
| Weight(t) | 39 | 57 | 55 | 65 |
| Tire Configuration | Dual-axial | Dual-axial | Dual-axial | Dual-axial |
| Jaw Crusher | HD80 | HD98 | HD110 | HD125 |
| Maximum Feeding Size(mm) | 500 | 550 | 660 | 800 |
| Discharge Opening Size(mm) | 50-150 | 75-175 | 100-200 | 125-225 |
| Capacity(t/h) | 85-275 | 110-350 | 215-510 | 280-650 |
| Vibrating Model | ZSW380×95 | ZSW420×110 | ZSW490×130 | ZSW490×130 |
| Main Belt Conveyor | B800×8.5M | B1000×9.5M | B1000×11M | B1200×11M |
| Side-opening Belt conveyor(Optional) | B500×3M | B650×3.5M | B650×4M | B650×4M |
| Genset(Optional) (kw) | 200 | 250 | 270 | 400 |
| Iron Separator (Optional) | RCYD(C)-8 | RCYD(C)-10 | RCYD(C)-10 | RCYD(C)-12 |
MOBLIE IMPACT CRUSHER TECHNICAL PARAMETERS
Model
The Maximum
Feeding Size(mm)
Production Capacity
(t/h)
FTM938F1210
350
70-130
FTM938FW1214
350
100-180
FTM1149F1315
500
130-250
FTM1349HD1110
400
112
FTM1349HD1315
700
280
MOBLIE JAW CRUSHER TECHNICAL PARAMETERS
Model
Maximum Feeding
Size(mm)
Capacity(t/h)
FTM938HD80
500
85-275
FTM1149HD98
550
110-350
FTM1349HD110
660
215-510
FTM1349HD125
800
280-650