Introduction of Tracked Cone Crusher
Tracked cone crusher plant, also has the user to call it mobile cone crushing station. This is kind of efficient crushing equipment that developed and produced by Fote Machinery with more than 40 years of production experience in mining equipment and combined with advanced crushing principle abroad. This device is characterized by strong crushing force, easy to move, strong adaptability, and it is suitable for a variety of fields. The tracked cone crusher adopts various design type of the crushing chamber to meet the rough, medium, fine and ultrafine crushing operations of materials, so as to create aggregates with high-quality grain type.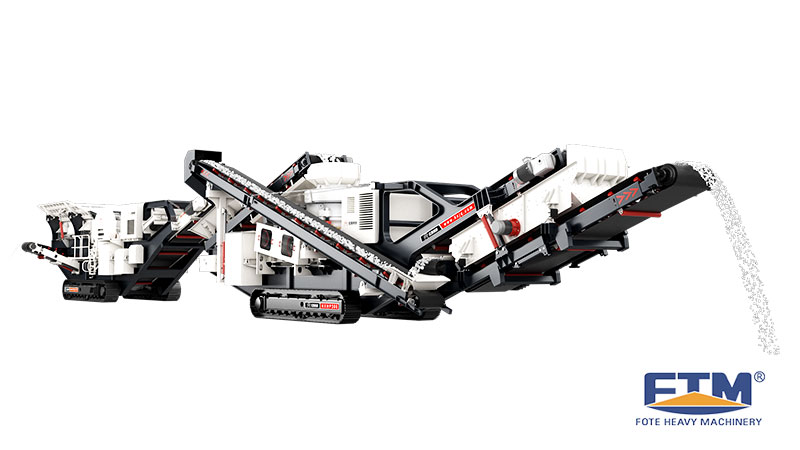 Performance Characteristics of Tracked Cone Crusher
Exquisite structure, a line of design:This device uses tracked frame, which is exquisitely designed, including crushing, screening, transportation and other functions. It's a small production line, but it's very productive.
Energy conservation, environmental protection, less fault: This device is popular, because it is in line with the current sand industry development of "environmental protection, energy saving" concept. In addition, the maintenance of this device is very simple and the failure rate is low.
One-key intelligent detection, high production efficiency: This device still adopts PLC intelligent control system and touch screen, and the user can operate the device in very simple steps. The one-button test of the equipment operation data makes the production process more stable and safe.
Wide range of applications: The equipment can meet the crushing requirements of many users, adjusting crushing cavity according to the different conditions, achieving diversified crushing effect.
Good adaptability: The device is highly mobile, whether it is rugged mountains, or small broken ground, it can easily adapt.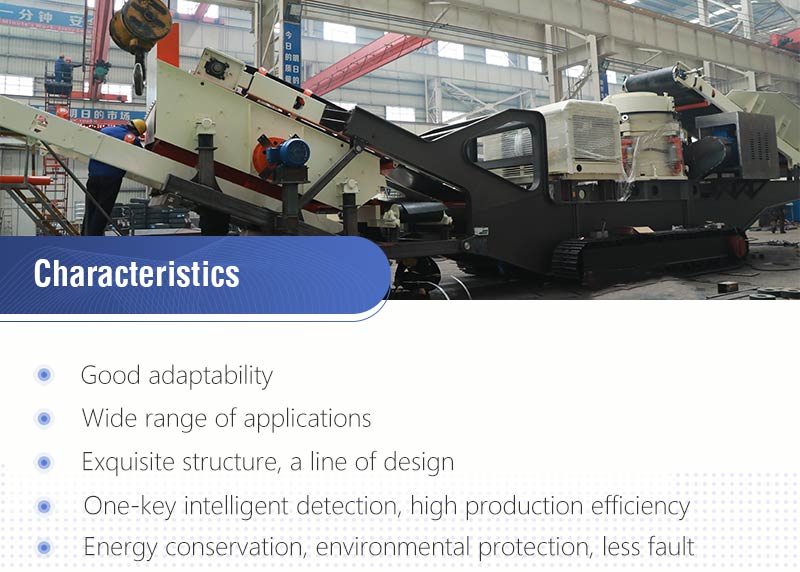 Applications of Tracked Cone Crusher
It is widely used for the crushing and screening operations of rocks with various hardness such as iron ore, copper ore, granite, basalt, etc. Its highest yield is up to 500 tons. The successful research and development of tracked mobile cone crusher have met the market demand, which guides customers to reduce costs, lean production and improve the working efficiency with the scientific concept. It is warmly welcomed by large numbers of building materials, construction waste, opencast coal mine, mining, sand, and cement companies.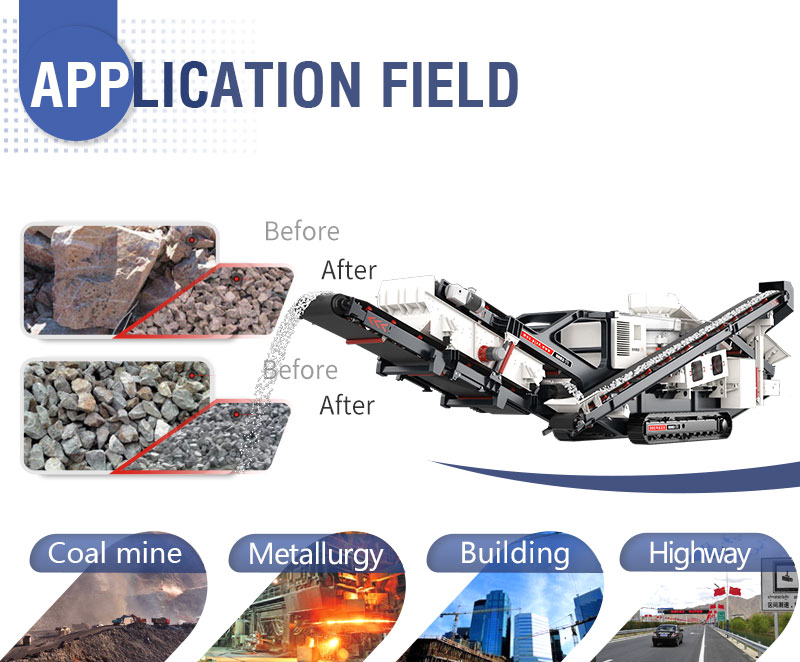 Applications of Tracked Cone Crusher
Configuration and Advantages of Tracked Mounted Cone Crusher
Tracked mobile cone crushing plant mainly consists of efficient cone crusher, vibrating screen, high-performance motor, control box, belt conveyor, etc. The whole equipment has integrated installation and coordinated operation, which fully embodies its convenience and flexibility. Tracked cone crusher can be customized according to customer requirements. We can customize cone crusher, vibrating screen, motor, and other equipment in strict accordance with an actual production site for customers, which has a large capacity, high efficiency, fine crushing strength, strong adaptability, etc.
Customer Case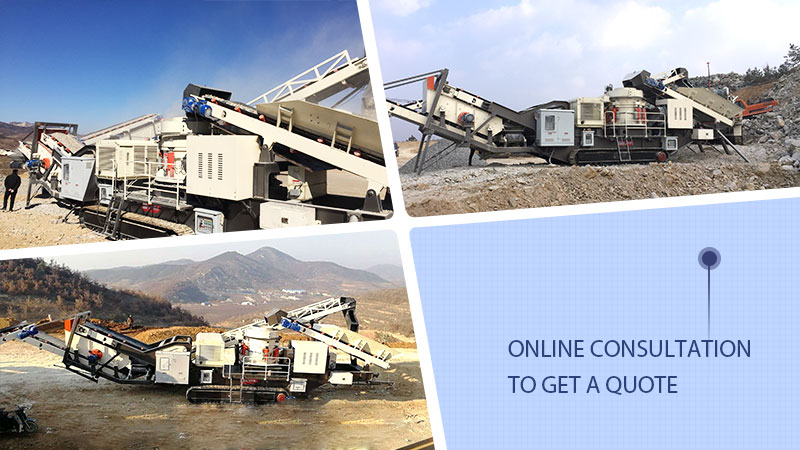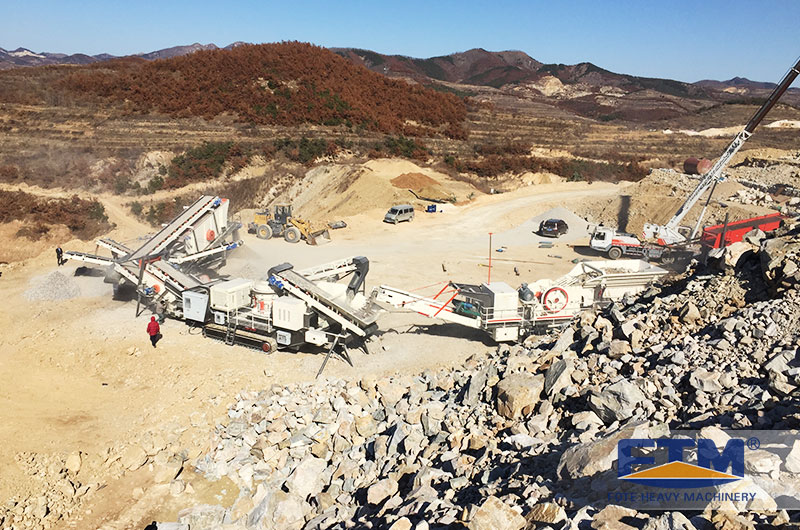 Manufacturer Advantages and Tracked Cone Crusher Price
Fote tracked cone crusher is a kind of high-efficiency crushing equipment, which has self-driven mode, advanced technology, complete functions and models. Tracked cone crusher has large crushing ratio and the optimized design, which can meet the crushing technology needed by crushing equipment, which has high productivity and uniform product granularity. Fote tracked cone crusher for sale is economical, factory direct sale, saving middlemen marketing costs. Welcome to our factory to visit.
General Specification
Model
WT160SC
WT250SC
WT300HPM
WT400HPM
Dimensions of Transmission Devices
Length
16800mm
19000mm
19000mm
19500mm
Width
3500mm
3600mm
3900mm
3900mm
Height
3700mm
3800mm
3800mm
3800mm
Weight
50t
60t
55t
65t
Belt Conveyor
Hopper Volume
3m³
3m³
3m³
3m³
Loading Height
2600m
2600m
2600m
2800m
Loading Width
1900mm
1900mm
1900mm
1900mm
Dimensions
(Width×Length)
1000×6300mm
1000×6300mm
1000×6300mm
1200×6500mm
Crusher
Model
SC160
SC250
HP300
HP400
Inlet Dimensions
75-360mm
75-450mm
60-200mm
68-280mm
Max.Feeding Size
360mm
450mm
200mm
280mm
Min. Discharging Size
8-25mm
8-35mm
8-45mm
8-51mm
Main Belt Conveyor
Dimensions
(Width×Length)
1000×9000mm
1000×10000mm
1000×10000mm
1000×11000mm
Dumping Height
3100mm
3490mm
3490mm
3690mm
Secondary Screen
Dumping Height
4200mm
4200mm
4400mm
4400mm
Model
HX1536
HX1536
HX1536
HX1536
Sieve Dimensions
1500×3600mm
1500×3600mm
1500×3600mm
1500×3600mm
Belt Conveyors at the Bottom
Dimensions
(Width×Length)
1000×5600mm
1000×5600mm
1000×5600mm
1000×6500mm
Dumping Height
3020mm
3020mm
3020mm
3300mm
Belt Conveyors to the Sieve
Dimensions
(Width×Length)
650×2100mm
650×2100mm
650×2100mm
650×2100mm
Dumping Height
1370mm
1370mm
1370mm
1370mm
Belt Conveyors for Discharging Material
Dimensions
(Width×Length)
650×10000mm
650×10000mm
650×11000mm
650×11000mm
Dumping Height
4200mm
4200mm
4400mm
4400mm
Diesel Engine
Power
96kw
132kw
106kw
132kw
Manufacturer
Carter Perkins
Carter Perkins
Carter Perkins
Carter Perkins
The Main Machine
Power
207.12kw
297.12kw
267.12kw
362.12kw
Ways of Controlling
Wired/Wireless (optional)
Wired/Wireless (optional)
Wired/Wireless (optional)
Wired/Wireless (optional)
Model WT160SC and WT250SC
Model
WT160SC
WT250SC
Dimensions of Transmission Devices
Length
16800mm
19500mm
Width
3500mm
3600mm
Height
3700mm
3800mm
Weight
50t
60t
Belt Conveyor
Hopper Volume
3m³
3m³
Loading Height
2600m
2600m
Loading Width
1900mm
1900mm
Dimensions
(Width×Length)
1000×6300mm
1000×6300mm
Crusher
Model
SC160
HP400
Inlet Dimensions
75-360mm
75-450mm
Max.Feeding Size
360mm
450mm
Min. Discharging Size
8-25mm
8-35mm
Main Belt Conveyor
Dimensions
(Width×Length)
1000×9000mm
1000×11000mm
Dumping Height
3100mm
3490mm
Secondary Screen
Dumping Height
4200mm
4400mm
Model
HX1536
HX1536
Sieve Dimensions
1500×3600mm
1500×3600mm
Belt Conveyors at the Bottom
Dimensions
(Width×Length)
1000×5600mm
1000×6500mm
Dumping Height
3020mm
3020mm
Belt Conveyors to the Sieve
Dimensions
(Width×Length)
650×2100mm
650×2100mm
Dumping Height
1370mm
1370mm
Belt Conveyors for Discharging Material
Dimensions
(Width×Length)
650×10000mm
650×10000mm
Dumping Height
4200mm
4200mm
Diesel Engine
Power
96kw
132kw
Manufacturer
Carter Perkins
Carter Perkins
The Main Machine
Power
207.12kw
362.12kw
Ways of Controlling
Wired/Wireless (optional)
Wired/Wireless (optional)
Model WT300HPM and WT400HPM
Model
WT300HPM
WT400HPM
Dimensions of Transmission Devices
Length
19000mm
19500mm
Width
3900mm
3900mm
Height
3800mm
3800mm
Weight
55t
65t
Belt Conveyor
Hopper Volume
3m³
3m³
Loading Height
2600m
2800m
Loading Width
1900mm
1900mm
Dimensions
(Width×Length)
1000×6300mm
1200×6500mm
Crusher
Model
HP300
HP400
Inlet Dimensions
60-200mm
68-280mm
Max.Feeding Size
200mm
280mm
Min. Discharging Size
8-45mm
8-51mm
Main Belt Conveyor
Dimensions
(Width×Length)
1000×10000mm
1000×11000mm
Dumping Height
3490mm
3690mm
Secondary Screen
Dumping Height
4400mm
4400mm
Model
HX1536
HX1536
Sieve Dimensions
1500×3600mm
1500×3600mm
Belt Conveyors at the Bottom
Dimensions
(Width×Length)
1000×5600mm
1000×6500mm
Dumping Height
3020mm
3300mm
Belt Conveyors to the Sieve
Dimensions
(Width×Length)
650×2100mm
650×2100mm
Dumping Height
1370mm
1370mm
Belt Conveyors for Discharging Material
Dimensions
(Width×Length)
650×11000mm
650×11000mm
Dumping Height
4400mm
4400mm
Diesel Engine
Power
106kw
132kw
Manufacturer
Carter Perkins
Carter Perkins
The Main Machine
Power
267.12kw
362.12kw
Ways of Controlling
Wired/Wireless (optional)
Wired/Wireless (optional)