Introduction of Mobile Crushing and Screening Plant
The mobile screening and crushing plant is a common mobile screening plant in the production of crushing process. It can not only work in combination with the primary jaw mobile crusher, but also can be used alone as a sorting and screening machine for four kinds of aggregate size, and provide a finer mixture. Therefore, it is widely used in today's crushing market. Based on this, the following is a brief introduction of the relevant equipment knowledge of the mobile crushing and screening, as follows:
As an efficient screening equipment, the mobile crushing and screening plant mainly adopts self-driven mode in the structural design, with advanced technology and complete functions. In addition, under any terrain conditions, the equipment can reach any position of the work site to complete the efficient crushing and screening of materials. Mobile screening station, also known as mobile screening equipment or mobile screen, can meet the requirements of mine, hydropower station and mine engineering project climbing and screening. Mobile crushing and screening plant produced by Fote Machinery can be divided into rubber-tired mobile screening station and tracked mobile screening station.
Performance Advantages of Mobile Crushing and Screening Plant
The strong DIY:Customers can choose "screening before crushing" or "crushing after screening" to meet product requirements. Through the increase of return material conveyor, it can realize closed circuit and open circuit conversion, also increase the use of the equipment.
High efficiency: A car body, the model can be universal; the feeding unit interchange system, the screening unit interchange system. Its work efficiency and production capacity are better than the same level or fixed screening station.
Integrated operation: Set receiving, screening, transfer and other process equipment as one. Through the combination of different types, a powerful crushing and screening production line is formed to complete multi-demand processing operations.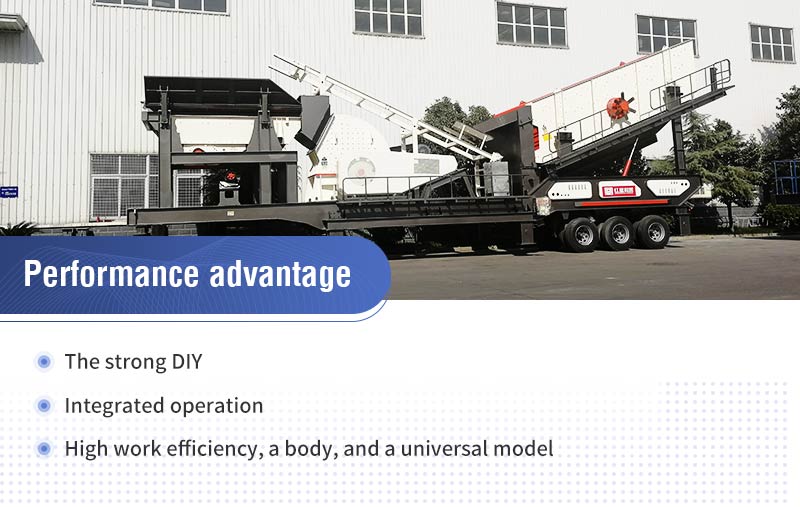 Advantages of Mobile Crushing and Screening Plant
Applications of Mobile Crushing and Screening Plant
Mobile crushing and screening equipment can be applied in water and electricity industry, expressway, artificial gravel, ore crushing and other fields, and especially for urban construction waste treatment is more practical. It is also widely used in various quarries, waste building materials screening, mobile sand making, mining, metallurgy, energy and other fields. According to the screening of different materials, the sieve weight is 55~105t/h. Mobile crushing and screening plant not only has mature technology and simple maintenance, but also has good adaptability to traffic volume, material size and abrasion performance, so it has become a mobile crushing and screening machine for crushing and screening road construction waste, rock, ore and old asphalt concrete blocks.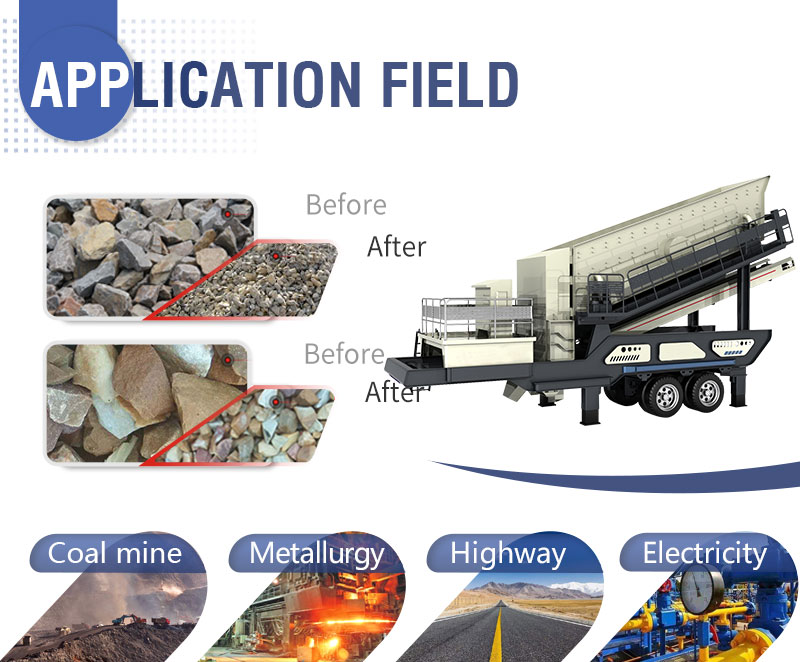 Applications of Mobile Crushing and Screening Plant
Working Principle of Mobile Crushing and Screening Plant
Materials are transported to the crushing equipment by belt conveyor, and the broken materials are sent out by belt conveyor. The materials sent out are returned to the belt conveyor above the vibrating screen through the transfer hopper to transfer the materials to the vibrating screen. The qualified materials sorted out by the vibrating screen are sent out by the hopper or sent out by the belt conveyor below the vibrating screen for stacking. Sieving out of the unqualified bulk is directly sent back to the crusher to continue crushing.
Customer Case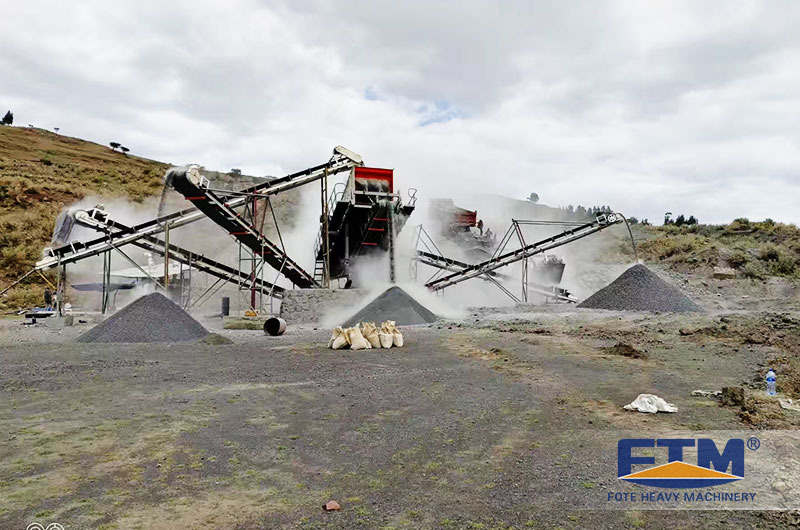 Manufacturer and Price of Mobile Crushing and Screening Plant
Due to different equipment ratio, the different specifications of the equipment under the mobile crushing and screening equipment prices are different. If you want to know exactly how much the mobile crushing and screening price, you also need to consult specific equipment manufacturers. Fote Machinery as a professional direct selling manufacturer of large-scale crushing equipment, the mobile screening plant for sale is with low factory prices.
General Specification
| | | | |
| --- | --- | --- | --- |
| Model | FTM3S1848 | FTM3S1860 | FTM3S2160 |
| Transportation Length(mm) | 10280 | 11480 | 11480 |
| Transportation Width(mm) | 2830 | 2830 | 3150 |
| Transportation Height(mm) | 4350 | 4350 | 4350 |
| Maximum Length(mm) | 11100 | 11800 | 11800 |
| Maximum Width(mm) | 3600 | 3600 | 3970 |
| Maximum Height(mm) | 6000 | 6000 | 6500 |
| Weight(t) | 16 | 18 | 19 |
| Tire Configuration | biax fitted | biax fitted | biax fitted |
| Vibrating Screen | 3YZS1848 | 3YZS1860 | 3YZS2160 |
| | | | |
| --- | --- | --- | --- |
| Model | FTM3S1848 | FTM3S1860 | FTM3S2160 |
| Transportation Length(mm) | 10280 | 11480 | 11480 |
| Transportation Width(mm) | 2830 | 2830 | 3150 |
| Transportation Height(mm) | 4350 | 4350 | 4350 |
| Maximum Length(mm) | 11100 | 11800 | 11800 |
| Maximum Width(mm) | 3600 | 3600 | 3970 |
| Maximum Height(mm) | 6000 | 6000 | 6500 |
| Weight(t) | 16 | 18 | 19 |
| Tire Configuration | biax fitted | biax fitted | biax fitted |
| Vibrating Screen | 3YZS1848 | 3YZS1860 | 3YZS2160 |