Introduction of Tracked Jaw Crusher
Tracked jaw crusher is a kind of tracked crusher plant with compact structure, equipped with vibration feeder with pre-screening function, portable jaw crusher with strong structure, hopper, belt conveyor, reliable engine and various equipment. It also has other names such as tracked mounted jaw crusher. Tracked jaw crusher, also known as jaw mobile crusher station, is a combination of jaw crusher and mobile crusher station. The equipment is mainly used for hard rock crushing, aggregate production, open pit mining, waste crushing and recycling, cement production, tunnel crushing and so on. In any terrain conditions, it can reach everywhere of the working site, which reduces the handling operation of materials, and it is convenient for the coordination of all auxiliary equipment. It is manipulated by wireless remote control, which can very easily drive the crusher to the trailer and deliver it to the work place. The equipment can be put to work immediately after it arriving at the production site.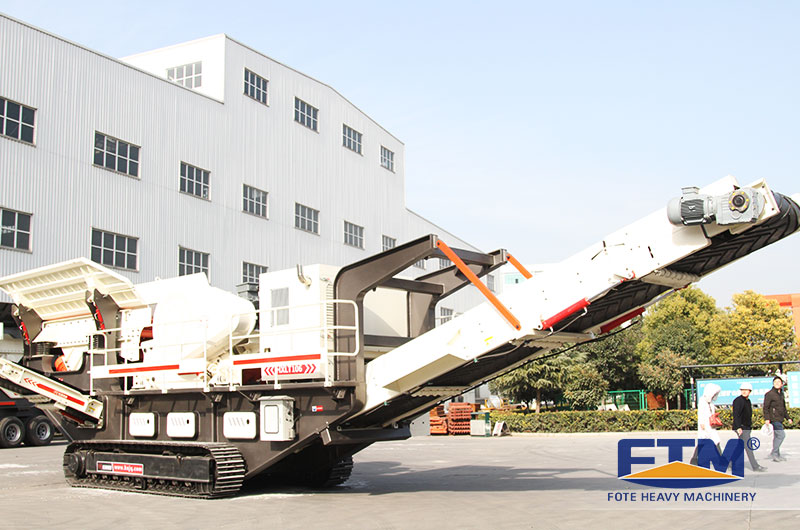 Applications of Tracked Jaw Crusher
Quarry projects: the full set of rock processing, from mining to crushing and processing;
Tunnel engineering: drilling and blasting equipment;
Open-air projects: highway, railway and other infrastructure construction;
Recycling industry: the crushing of construction waste.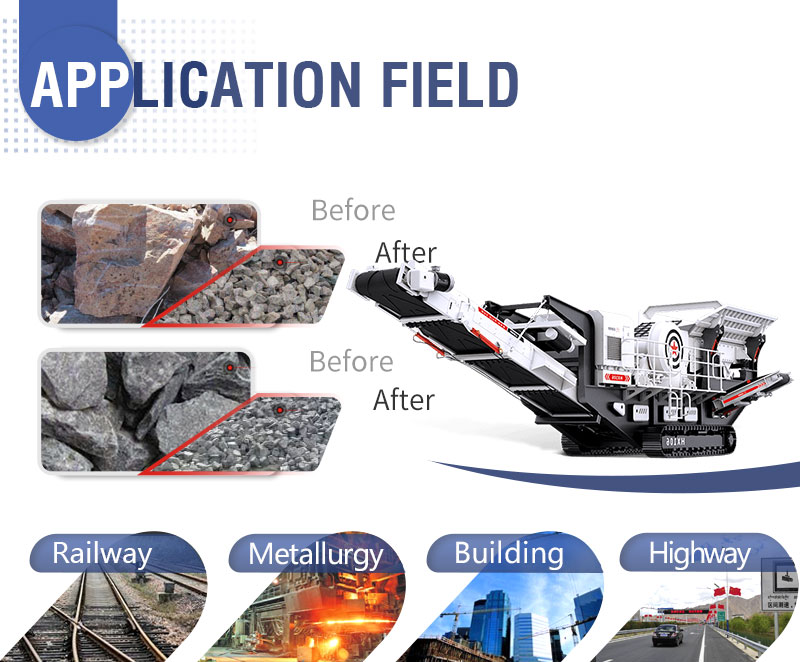 Applications of Tracked Jaw Crusher
Performance Advantages of Tracked Jaw Crusher
Overall design: The space layout of tracked mobile jaw crusher station is more compact and flexible, with reasonable configuration of each module.
Mobile mode: Tracked jaw mobile crushing station adopts crawler hydraulic drive mode with higher automation degree. Its walking system can be controlled by remote control, making it easier to drive to a trailer. It is also easier to turn around on rough roads.
Stable performance: The tracked jaw mobile crushing station has a low center of gravity and a large tonnage, and the crawler touches the ground, so the grounding area is large and more stable. At the same time, it can be directly put it into work at the site without time for assembly, and site requirements are almost no restrictions.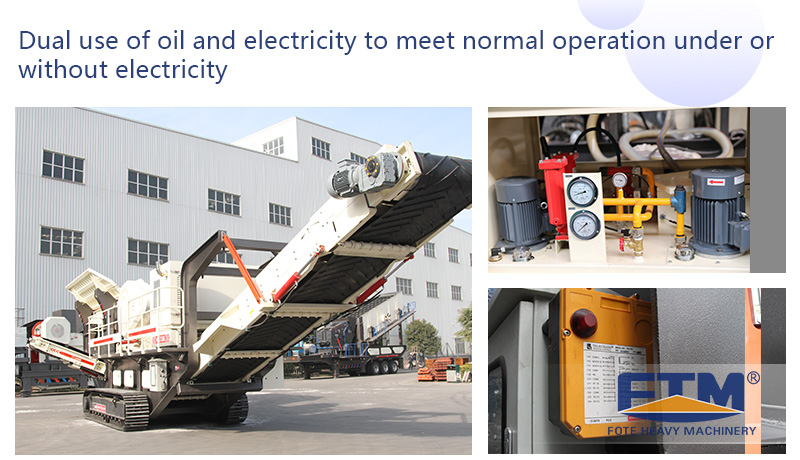 Performance Advantages of Tracked Jaw Crusher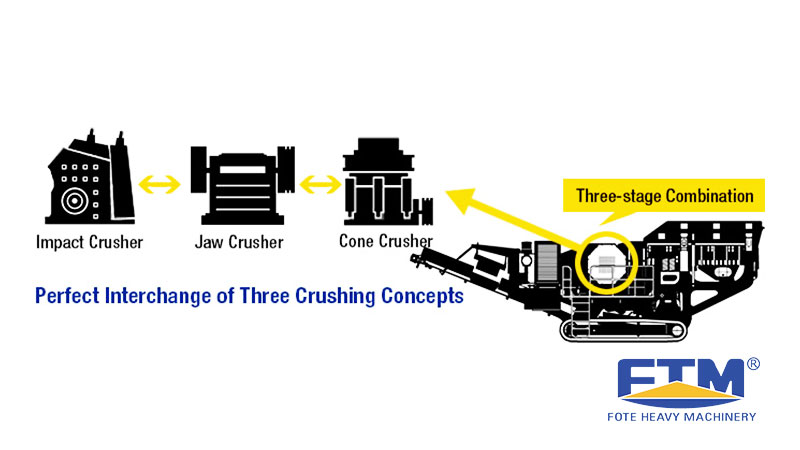 Structural advantages of Tracked Jaw Crusher
Customer Case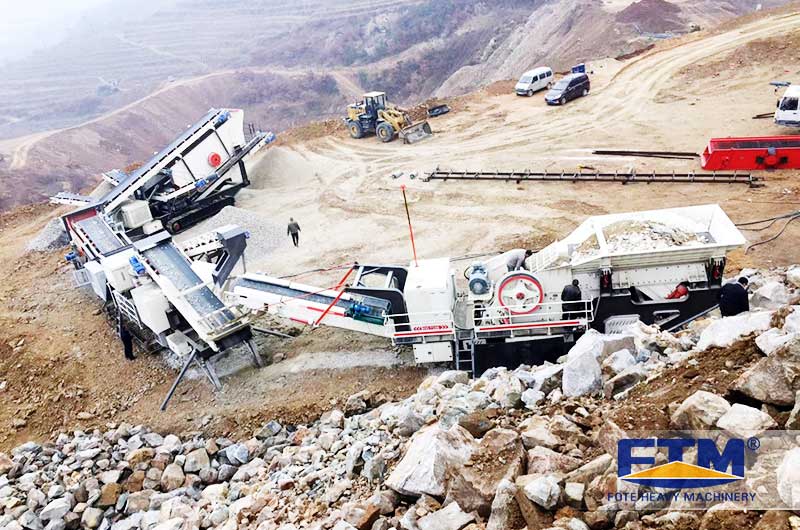 Why Choose Fote Machinery?
Fote tracked jaw crusher is a kind of high efficiency crushing equipment, which has self-driven mode, advanced technology, complete functions and models, such as large track jaw crusher and mini track jaw crusher. Tracked jaw crusher has large crushing ratio, and the optimized design can meet the crushing technology needed by crushing equipment, which has high productivity and uniform product granularity. Fote tracked mobile jaw crusher for sale is economical, factory direct sale, saving middlemen marketing costs. Welcome to visit our factory.
General Specification
Model
WT96
WT106
WT120
Dimensions of Transmission Devices
Length
14200mm
14900mm
15200mm
Width
2900mm
3000mm
3200mm
Height
3470mm
3600mm
3700mm
Weight
38t
50t
65t
Feeder
Hopper Volume
5m³
5m³
6m³
Loading Height
3900mm
4100mm
4300mm
FeederModel
GZDT3895
GZDT1145
GZDT1245
Unearthed Belt Conveyors
Dimensions
(Width×Length)
800×9000mm
1000×10000mm
1200×12000mm
Dumping Height
3100mm
3200mm
3400mm
Crusher
Model
CJ96
CJ106
CJ120
Inlet Dimensions
930×580mm
1060×700mm
1200×870mm
Max.Feeding Size
480mm
560mm
700mm
Main Belt Conveyor
Dimensions
(Width×Length)
800×9000mm
1000×10000mm
1200×12000mm
Dumping Height
3100mm
3200mm
3400mm
Iron Remover
Model
RCYQ-8
RCYQ-10
RCYQ-10
Diesel Engine
Power
96kw
106kw
132kw
Manufacturer
Carter Perkins
Carter Perkins
Carter Perkins
The Main Machine
Power
112.9kw
141.4kw
196.2kw
Ways of Controlling
Wired/Wireless (optional)
Wired/Wireless (optional)
Wired/Wireless (optional)
Model WT96 and WT106
Model
WT96
WT106
Dimensions of Transmission Devices
Length
14200mm
15200mm
Width
2900mm
3000mm
Height
3470mm
3600mm
Weight
38t
50t
Feeder
Hopper Volume
5m³
6m³
Loading Height
3900mm
4100mm
FeederModel
GZDT3895
GZDT1145
Unearthed Belt Conveyors
Dimensions
(Width×Length)
800×9000mm
1200×12000mm
Dumping Height
3100mm
3200mm
Crusher
Model
CJ96
CJ120
Inlet Dimensions
930×580mm
1060×700mm
Max.Feeding Size
480mm
560mm
Main Belt Conveyor
Dimensions
(Width×Length)
800×9000mm
1200×12000mm
Dumping Height
3100mm
3200mm
Iron Remover
Model
RCYQ-8
RCYQ-10
Diesel Engine
Power
96kw
132kw
Manufacturer
Carter Perkins
Carter Perkins
The Main Machine
Power
112.9kw
196.2kw
Ways of Controlling
Wired/Wireless (optional)
Wired/Wireless (optional)
Model WT120
Model
WT120
Dimensions of Transmission Devices
Length
15200mm
Width
3200mm
Height
3700mm
Weight
65t
Feeder
Hopper Volume
6m³
Loading Height
4300mm
FeederModel
GZDT1245
Unearthed Belt Conveyors
Dimensions
(Width×Length)
1200×12000mm
Dumping Height
3400mm
Crusher
Model
CJ120
Inlet Dimensions
1200×870mm
Max.Feeding Size
700mm
Main Belt Conveyor
Dimensions
(Width×Length)
1200×12000mm
Dumping Height
3400mm
Iron Remover
Model
RCYQ-10
Diesel Engine
Power
132kw
Manufacturer
Carter Perkins
The Main Machine
Power
196.2kw
Ways of Controlling
Wired/Wireless (optional)